I've finally finished my last quarterly reading wrap up for 2021! I haven't read a lot as much as I wanted to and I don't really have any excuse for that except that I was not feeling it. It's not really a slump, I think, but I couldn't seem to focus on what I'm reading. I've also decided to stick to monthly wrap ups instead of the quarterly one so this is going to be the last one. Anyway, this is going to be a long post so let's start.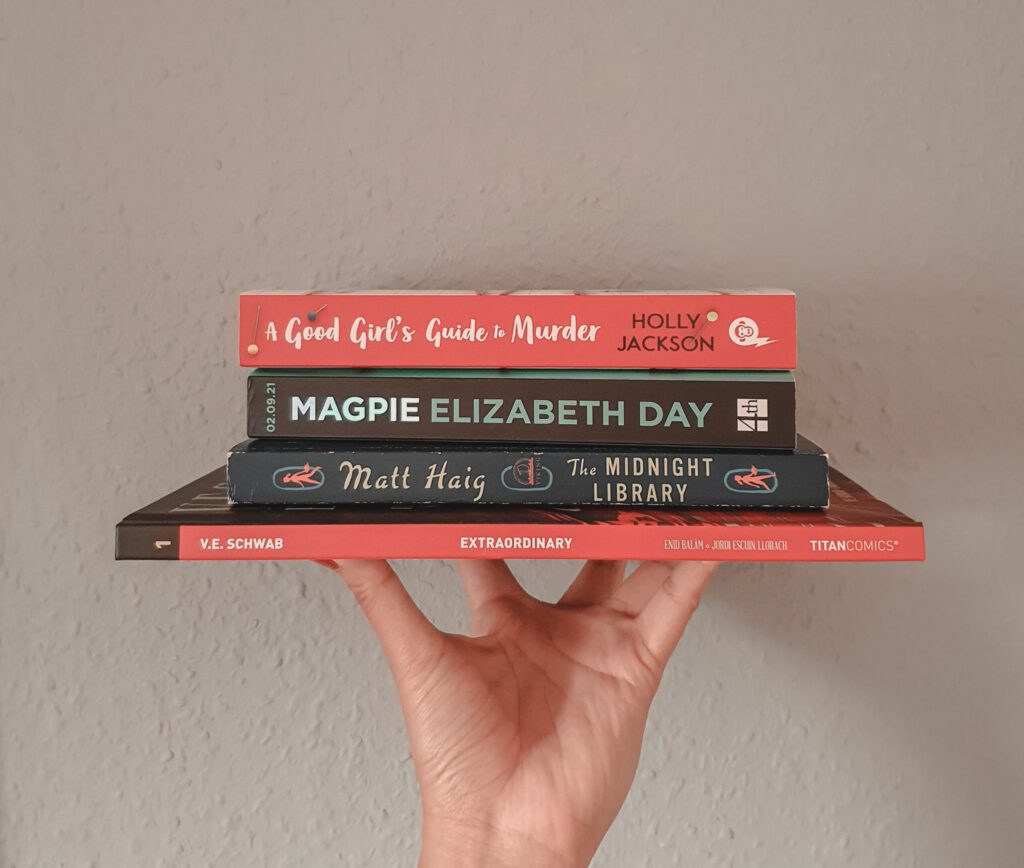 Total Books Read: 19 books ( 4 physical, 6 eBook, and 9 audiobook)
Audience: 6 young adult, 13 adult
Total Pages: 3,212 pages / Total Minutes: 5,520 minutes ( 92 hours)
Translated: 1 book / Asian authors: 3 books
Publication Year: 13 new releases, 6 backlist

Magpie by Elizabeth Day
Marissa knows that she finds the perfect boyfriend in Jake so she agrees to move in with him and start trying for a baby. But everything starts to change when they take in a lodger. Just when I thought I knew what was happening! I thought the twist in this one was very clever. Both the female characters are brave and really interesting. I didn't enjoy the evil mother-in-law trope though. I also thought the ending was too wrap up. Overall, this book is well-written and pretty much a quick read. Some heavy themes such as infertility and mental illness were handled quite sensitively by the author. I'm looking forward to read more from this author.
The Ex Hex by Erin Sterling (Rachel Hawkins)
Vivienne has put a curse on her boyfriend after he breaks her heart. With magic, vodka, and a cheap scented candle, she's not expecting that it will work. Until Rhys returns almost a decade later and disasters start happening not only to him but also to the whole town. I enjoyed the cosy and witch-y atmosphere in this book. There were also scenes that made me laugh. Vivienne was a fun character to read same with her cousin Gwyn. I would definitely love to read a book about Gwyn. Rhys' character, on the other hand, felt flat. There's chemistry between the two but it wasn't enough for me and the steamy parts felt off. To be honest, I was more excited about the talking cat and ghosts than their romance. I wished the conflict towards the end were quite fleshed out. Overall, this was a light, fast-paced, and a great seasonal read. Also, I wasn't aware that Erin Sterling is Rachel Hawkin's pen name.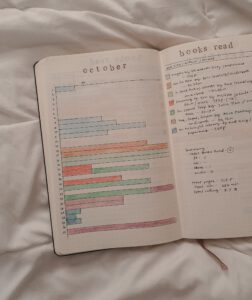 A Head Full of Ghosts by Paul G. Tremblay
Meredith recalls the events that have happened when she and her family were in a reality tv show called The Possession fifteen years ago. This was my very first Tremblay book and thanks to Katja for bringing it on my radar. I really enjoyed listening to the audiobook. I liked that it's written in the past and the present timeline. It wasn't scary (at least for me) but there were disturbing, graphic, and creepy scenes. This book reminded me of Jackson's We Have Always Lived in the Castle.
Dreaming of You by Melissa Lozada-Oliva
A young LatinX poet resurrects Selena Quintanilla from the dead. I requested this because of the premise and the book cover. I was really excited to read it. I grew up listening to Selena and Dreaming of You is still my go-to karaoke song. It's a shame that I didn't like it as much as I wanted to. The author's writing style is very intriguing and unique. There were some poems I enjoyed but I was confused most of the time. It also didn't read as novel in verse. For me, it was more like a collection of poetry.
The Donut Trap by Julie Tieu
Without having any job prospects, Jasmine Tran returns home and starts working in her parent's donut shop. She loves helping with the business but at the same time she feels stuck. Jasmine's struggles were very relatable. I was the same after I graduated college. I had no idea what I wanted to do careerwise. I have already read quite a lot of books with the same plot so this wasn't a refreshing read for me. But it's the first time for me to read a book featuring an Asian-owned donut shop/business. I didn't feel the chemistry between Jasmine and her love interest probably because I'm more focused on Jasmine's future and career. My favorite was definitely the family dynamic and all the donuts!
Rock Paper Scissors by Alice Feeney
Amelia wins a weekend getaway in a Scottish Highlands and she thinks it may be what she and Adam, her husband, need to save their marriage. Along with their dog, Bob, they make the journey and soon after they arrived, strange things start to happen. I really loved the atmosphere in this book. The setting was just so perfect! I also liked that we get both of Amelia and Adam's perspectives. The short chapters give enough tension which made this book more gripping and the plot twists! They were really good! This was my first Feeney book and definitely won't be the last.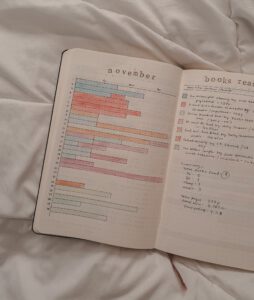 The Midnight Library by Matt Haig
I wasn't really sure what to expect when I started reading this book. I picked it up because of all the hype when it was published. We follow Nora Seed who struggles with depression and is suicidal. She has lost her job, her brother, and also her cat. She tries to kill herself and wakes up in a library. This has a very intriguing and unique premise. It's easy to get into the story and I personally liked the short chapters. I thought the idea of the midnight library was interesting and also cool. Definitely a thought-provoking and memorable read.
A Good Girls Guide to Murder by Holly Jackson
Five years ago, Andie Bell was murdered by her boyfriend Sal Singh but her body was never found. The case is considered closed but not for Pippa Fitz-Amobi. She chooses the case as the topic for her senior capstone project. I can't believe I waited so long to read this book. I loved the characters especially Pipa and Ravi though I wished they're more fleshed out. I really enjoyed the use of mixed media in this book. It's easy to follow and it made my reading experience more entertaining. I also recommend listening to the audiobook because it's nicely done!
Good Girl, Bad Blood by Holly Jackson
I jumped in to this book right after finishing the first one. Pippa and Ravi start a true crime podcast about the Andie Bell case and the ongoing trial. Pippa vows to never play detective again especially after all what happened in the previous book. She needs to focus on her school and exams. But Connor, one of her best friends, needs her help to find his older brother who suddenly goes missing. This one did not disappoint! I loved that we get to know more about Pippa and Ravi as well as their families and friends. I loved how the author connected some of the storylines from the first book into this one to create a new plot and mystery. Also, the addition of podcast is brilliant. I loved all the mysteries and how everything was revealed towards the end.
You've Reached Sam by Dustin Thao
Julie's plan is to move out of their small town together with her boyfriend Sam. They will live in an apartment they both love, atteng college and visit Japan in summer. But everything changes when Sam dies. There's so much hype going on around this book even before it was published. I did like the writing. It gave me a Japanese animation kind of vibe especially with the transitions between the flashbacks and the present time. I wished the characters were more fleshed out especially Sam. I know everyone reacts to loss in different ways and I was really trying to understand Julie's situation but sometimes she's just aggravating. I cried in the beginning but the ending didn't move me as much as I wanted to. I thought the author did an incredible job with the portrayal of grief. Overall, this is a beautiful, raw, and a promising debut.
As Good As Dead by Holly Jackson
The third and last book in the series! In this book, we see how the previous events have affected her physically and mentally. She also starts getting death threats. She thinks that a new case can help her to move on. I wasn't really sure what to expect. Pip is so much different in this book. I thought most of her actions were out of character. I thought it's pretty clever how everything leads back to the very first crime. There were just some things that didn't sit well with me but I will not mention them because they're spoilers. This book was more heavy, serious, and dark than the first two. It's my least favorite in the series but overall, it's still entertaining and engrossing.
ExtraOrdinary by V.E. Schwab
This follows the story of Charlotte who wakes up from a fatal accident only to find that she gains the ability to foresee people's deaths including hers. She sees her own death at the hands of a notorious EO assassin. She sets off to hunt him and to change her fate. Gorgeous cover! I'm really inlove with the art style. Even though I'm already familiar with some of the events, it's still an entertaning and very exciting read. I also think that this is a good introduction if you haven't read the Vicious series yet.
The Golden Couple by Greer Hendricks and Sarah Pekkanen
Avery Chambers is a therapist but she has lost her license due to her controversial methods. She now calls herself a "consultant" and guarantees her clients that their issues will be fixed in 10 sessions. But she's having doubts with her new clients, Marissa and Matthew. Marissa cheats on Matthew and wants to fix things so she hires Avery to help them. I listened to the audiobook and it's really great! I enjoyed reading both Avery's and Marissa's perspectives and their backstories. I also loved how Romeo, Avery's rescue dog, was incorporated in the story. This was an engaging read with lots of twists and turns. I'm looking forward to reading more from these authors.

November 9 by Colleen Hoover
Before her scheduled flight to New York, Fallon meets Ben. They immediately connect and make a deal to meet every year on the same day for the five years. I thought the concept is unique and interesting. I enjoy CoHo's writing eversince and that's the reason why I'm still reading her books. I think my problem in this one was the love interest. I personally didn't him for Fallon. I thought he's a little creepy. I got a little excited with the cameo of my favorite couple from her other books. The revelation towards the end was very predictable but this isn't a thriller novel so I was okay with that. I was curious what romance books Fallon asked Ben to read though. It wasn't as amazing as her other books in my opinion, but it's still a wonderful read.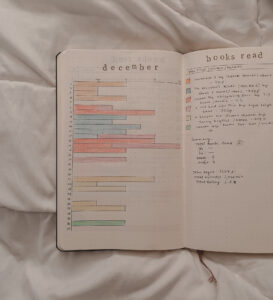 The Assassin's Blade by Sarah J. Maas
I buddy read Crown of Midnight with Joyce back in 2015 and I thought that was it. I've actually decided not to continue the series but Joyce has changed my mind. Haha. After she reread the first two books, we decided to read The Assassin's Blade. I thought it's a great way to get back to the series again. It's a collection of five novellas showing us more of Celaena's backstory. To be honest, it felt like reading a novel which is divided into five parts. My favorites were The Assassin and the Dessert and The Assassin and the Empire.
Under the Whispering Door by T.J. Klune
Wallace Price finds himself at his own funeral. He is not aware of what is happening until a young woman introduces herself as a reaper and that she comes to collect him. The reaper takes him in a tea shop where he meets the owner Hugo, Nelson, and Apollo the dog. Wallace isn't ready to go but he is given a week to cross over, whether he's ready or not. I loved The House in the Cerulean Sea so I was really excited to read this book. This book has some similarities to Cerulean, but it's still unique. There were so many scenes that I loved. My favorite were definitely Mei the reaper and Apollo! I actually cried towards the end and I blamed Apollo for that. I liked the character growth and the humor! This book is heart-warming, funny, and very cosy!
It Will End Like This by Kyra Leigh
Charlotte and Madi are still grieving the death of their mother but it seems like their father has already moved on getting enganged with their mother's assistant. The situation gives Charlotte and Madi reasons to believe that their mother's heart had just not stopped. They start finding clues which make them more convinced that she'd been murdered. I was really excited for this one because I read that it's inspired by the Lizzie Borden case. The story is told from both of the sisters' perspectives which I really liked. We see how they both differently deal with loss and grief. There were some things that I loved like the atmosphere and some that I hated such as the execution. I thought it was quite lacking which was disappointing because this book has so much potential.
A Season for Second Chances by Jenny Bayliss
Annie needs a fresh start and honestly, she deserves it. She finds the perfect place called Saltwater Nook located in a small seaside town. The locals are very welcoming and she easily becomes acquainted with them. Except the owner's nephew who plans to sell the place to a developer. I thought this is more of a women's fiction than a romance novel. I liked Annie's character development. She's always been smart and strong and I was genuinely happy for her. There were also a lot of great and interesting characters in this book. The writing was beautiful but sometimes it felt like there were too much details which made this book longer than necessary. Overall, it's a fun, heartwarming, and perfect Christmas/Winter read.
Lemon by Kwon Yeo-Sun, translated by Janet Hong
This isn't really a crime/thriller book. The story circles around the murder of Kim Hae-on and we get the perspectives of the people who are directly and indirectly connected to the her including her younger sister Da-on. The alternating voices can be confusing so I was thankful for the audiobook. This was a quick and short read which explores envy, grief and trauma.
Happy Weekend!
Always,