Another reading challenge? Hell yeah!
First of all, thanks to my fellow Pinay booklover Shari of Colour Me Read for posting about this challenge on her blog.
The challenge is called Year of the Asian Reading Challenge 2019 or YARC 2019. It's a year-long reading challenge organized and hosted by Shealea from Shut Up, Shealea, CW from The Quiet Pond, Lily from Sprinkles of Dreams, and Vicky from Vicky Who Reads.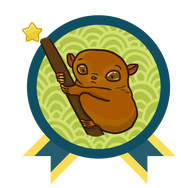 The goal is to read as many books written by Asian authors starting from January to December 2019.
There are six different target levels and badges in this challenge depending on the number of books you want to read. I am aiming for the Philippine tarsier badge which means I have to read 1 to 10 books but I'm hoping to read more. Also, all the badges are really adorable. You can check the complete details (such as how to join and some important dates) about this awesome reading challenge here.
I'm going to update this post regularly and share my reading updates on my bookstagram account. You can find my reading tracker below and the #YARC2019 rice bowl logo on the sidebar is also a shortcut to this post.
I haven't created a definite TBR list (mood reader here) but you can find some of the books that I want to read on my goodreads account. I don't own some of the books that I want to read but hopefully I can borrow them from the library. As much as possible I would like to read the ones that I already have on my shelves and these are the following books :
Always and Forever, Lara Jean by Jenny Han
When Dimple Met Rishi by Sandhya Menon
Forest of A Thousand Lanterns by Julie Dao
The Reader by Traci Chee
Everything I Never Told You by Celeste Ng
Killing Commendatore by Haruki Murakami
Colorless Tsukuru Tazaki and His Years of Pilgrimage by Haruki Murakami
Monsoon Mansion by Cinelle Barnes
Strange Weather in Tokyo by Hiromi Kawakami
Let me know if you want to buddy read any from these books.
---

Reading Tracker
January
February
March
May
June
July
August
September
October
November
December
Storm by Gurpreet Kaur Sidhu
---
Are you also joining the YARC2019? Feel free to comment your recommendation or some of your favorite books written by Asian authors. Have a great weekend!
Always,