Hey guys! It's time for my March reading wrap up! I read a total of 10 books (7 physical books, 2 ebooks and an audiobook) and even one in German which makes me very happy. Thanks to #8intwo readathon I was able to squeeze in three books on the last two days of March.
My goal for this year is to read 33 books and so far I have read 25 (76%). I read a total of 2,470 pages (physical and ebooks) and 8 hours 11 minutes (audiobook). Here are the books I read in no particular order.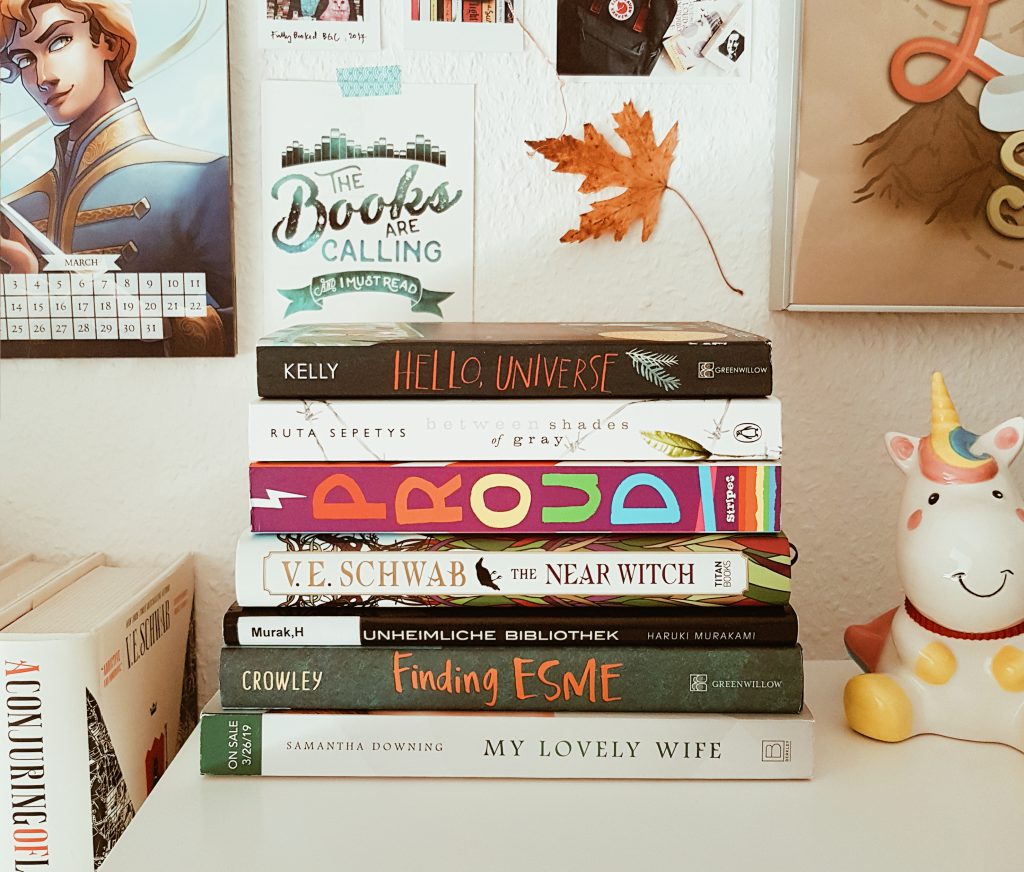 PHYSICAL COPIES
PROUD is a collection of short stories and poetry accompanied by beautiful illustrations by new and established lgbtq+ young adult authors and illustrators. The theme of the stories is pride and I really admired every single one of them. They are funny, inspiring and powerful. The foreword written by June Dawson is one of my most favorites in this book. It's honest and very empowering. There are ten short stories and two poems in this collection. All are contemporaries, except for one which is a fairytale fantasy, with diverse and interesting characters. I just wished there's a story that features an Aromantic/Asexual character. The stories tackle a lot of important subjects such as homophobia, transphobia, anxiety, and even dementia in a very sensitive way. Read my full review here.
V.E. Schwab's out-of-print debut novel is back with a new cover, new introduction, and an in-universe novella. There's no denying that Schwab is a brilliant storyteller and this book is a valid proof. She always has the perfect words. The vivid description, the fairytale-like atmosphere mixed with mystery and dark fantasy of this book will give the readers an eerie feeling. It's not as unique and exceptional as the Shades of Magic and Vicious but it has the Schwab signature which still makes this book an astounding debut. Read my full review here.
This book tells the story of Esme, a girl who shares a special gift with her grandmother. Both of them can find things and people. One day, Esme discovers dinosaur skeleton on their peach farm but decided to keep it a secret. She believes that finding the skeleton is her dead grandfather's way of sending her a very important message. I really liked how the whole story unfolds. I really don't want to say a lot about this because it's best to experience it by yourself. This was a very heart-warming and deeply moving read. It's not only a story about family and friendship, it's also about loss, grief, acceptance and happiness. A mix of supernatural, mystery, suspense and adventure. Finding Esme is not only for younger readers. I think people of all ages will appreciate the beauty of this book. Read my full review here.
This book grabbed my full attention right from the beginning. The chapters are short and end on cliffhangers which made this book addictive and a real page-turner. I thought it's clever to have the husband as the narrator. Sure I would love to know more about Millicent and read her thoughts but it was quite an interesting experience to see her through her husband's perspective. Both of them commit horrendous acts but it will still make the readers think who really is the evil one. Instead of focusing on bloody and gruesome details, the author gives us shocking twists and turns and disturbing yet satisfying ending which makes this a highly entertaining read. Read my full review here.
I finished this book (with 320 pages) in less than 5 hours. It's quite a big deal for me because I'm a slow reader. I really enjoyed this one. I loved the diverse cast of characters. We have Virgil who comes from a Filipino-American family, Valencia who has a hearing disability and pretty inredible, and Kaori who is Japanese-American and a self-proclaimed psychic. Not to mention Virgil's Lola (grandmother), and Kaori's little sister slash sidekick Gen. I adore them all! I liked the magical realism, the Philippine folktales and myths that were included in the story (which I'm honestly not familiar of), and the humor in this book. I thought the ending was a bit anticlimactic and the parents could be more present or at least have a good portrayal. I wish there's an illustrated edition of this book because that would be wonderful!
A boy goes to a library to borrow some books. Nothing unusual until he is asked to go to the basement and meet an old sinister man who accompanies him through the labyrinth leading to the reading room which eventually becomes his prison. There he meets a sheep man and a mysterious girl who doesn't talk. I borrowed the German edition from the library after I saw the illustrations by Kat Menschik. I loved the dark and contrasting style. This is definitely a classic Murakami story. It's strange, weird, beautiful, and magical. As always, it's hard for me to review a Murakami book and I don't know why. I'll probably recommend this book as an introduction to Murakami aside from Norwegian Wood.
This is a very inspiring story of a fifteen-year-old Lina who is deported from Lithuania under Stalin's order. Together with her mother, little brother, and other Lithuanians, they are forced to take crowded train cars to a work camp in Siberia. Through drawings and letters, Lina documents all their experiences during their distressing and tragic times in Siberia. She places all her works in a jar and buries it hoping that someday people will know about them. One of my favorite about Ruta Sepetys is her writing style. She writes brutally honest and doesn't sugar-coat but it's still beautiful. I first read Salt to the Sea and it broke me. I liked her dedication towards her books and stories. All the researches and interviews she does. The topic is very important especially not a lot of people know about it including me. This is also what I like about Sepetys' books, she tells stories that are very important but somehow didn't mention a lot in history classes (at least not in mine). This is a quick read but definitely not an easy one because of all the emotions. But I think everyone should read this. It's a story of survival, kindness, and hope.
AUDIOBOOK
Mateo Torrez and Rufus Emeterio both get a call from Death-Cast that they're going to die today. They don't know each other but they end up finding each other with the help of an app called Last Friend. It's an app where you can look for a new friend on your End Day. They only have today to live without even knowing the exact time or how they will die. But they both know that they have less than 24 hours to live their lives to the fullest. This book takes place within 24 hours which seems longer because there are so many things that have happened. Mateo and Rufus are both great characters. They have different personalities so it's interesting to see how they get along and learn new things from each other. I also liked that aside from Mateo and Rufus, we also get POVs of the side characters. I don't know why I waited so long to read this. This was technically my first Silvera read and I really loved it and even cried towards the end. I normally don't like abrupt endings but this one worked out perfectly for me. We already know what will happen at the end because of the spoiler-y title but there are still a lot of unpredictability and excitement in the story. What I didn't like was the romance because it felt forced. I'm totally fine without it in this book. Overall, this was a great read with a bittersweet story that will definitely stay with me for quite a long time.
E-BOOKS
Set in '50s, Home After Dark tells the story of a thirteen-year-old boy named Russell. His parents get divorced so his father decided to move to California with him to start all over again. Russell struggles to survive and fit in especially when his drunken father suddenly disappeared and left him alone. Luckily, their landlords, a generous Chinese immigrant couple, took him in. I personally admired the illustrations. The style is superb. There's very few dialogue in this book which was totally okay for me because the drawings tell the story itself. It can be hard and painful to read sometimes because this book is dark and brutal. I would have liked it more if maybe some (not all) of the major issues were resolved or properly addressed. Animal cruelty, suicide, bullying, homophobia, and racism are some of the sensitive subjects included in this book. Home After Dark is a reminder that we learn from our mistakes and how our actions, decisions and behavior can affect the people around us both in good and bad ways.
The Diary of Anne Frank is one of my all-time favorite books and this short illustrated book was a great introduction to the life of Anne Frank, her family and of the Second World War. The book is simple yet very informative. There is also a glossary at the end of the book which I thought is very helpful. The illustrations by Paola Escobar are captivating. My favorite would be the diagram of the secret annex. Anne Frank is one of the most important and inspiring figures in history and this book will definitely inspire a lot of younger children. I'll definitely buy a finished copy of this book to add on my Anne Frank book collection. This book will be out on April 23. *I received an earc from Lauence King Publishing via NetGalley. This did not affect my overall opinion of the book.
---
My favorites were My Lovely Wife, Hello, Universe, They Both Die at the End, and Between Shades of Gray. How many books have you read last month? What are some of your favorites?
Happy Weekend, everyone!
Always,