Hey guys! My February wrap up post is finally here. As usual, it's late again. I read eight books last month including two comics, an audiobook, and a novella. Still haven't found a 5-star read yet, but I'm not rushing. I've been drafting this post for 2 weeks now and to be honest, I'm not sure why it took so long for me to post it. Anyway, without further ado, here are the books I read in February.
You can purchase your copy of the books by clicking the book title. It will lead you to my BookDepo affiliate link.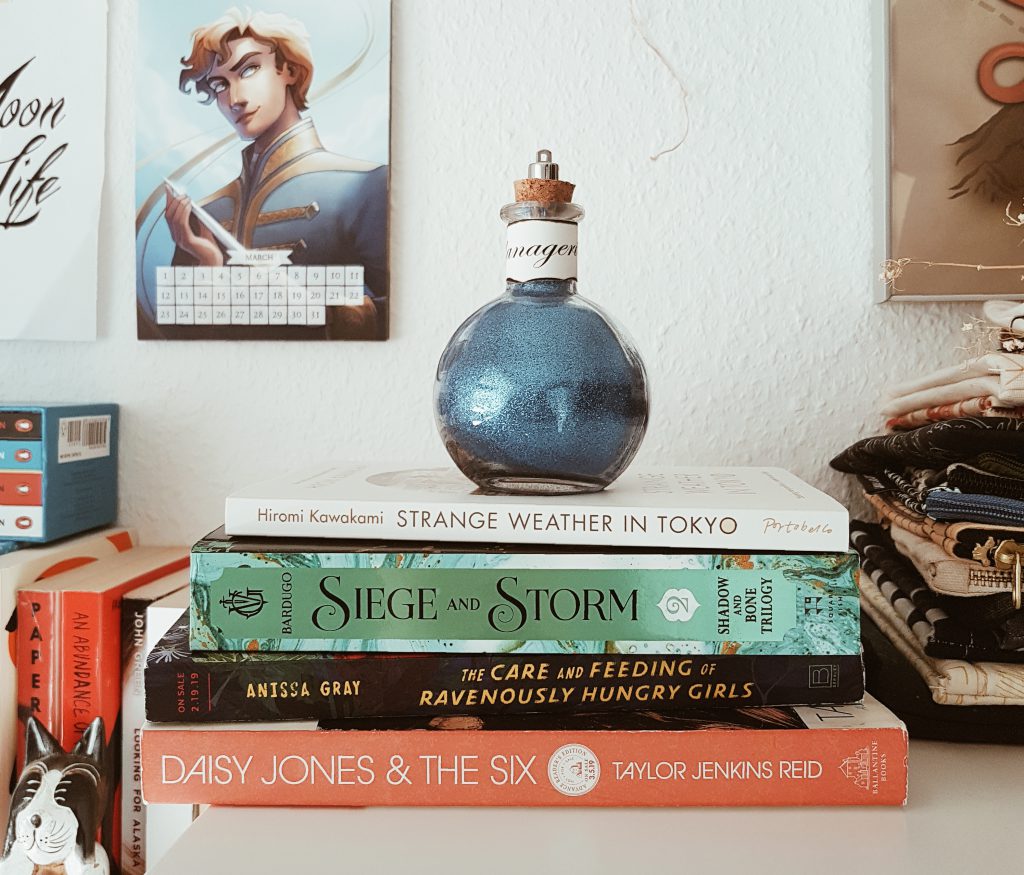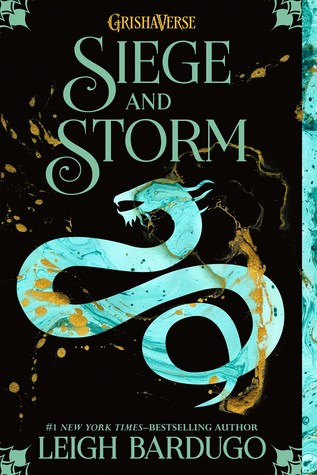 Hunted across the True Sea, haunted by the lives she took on the Fold, Alina must try to make a life with Mal in an unfamiliar land. She finds starting new is not easy while keeping her identity as the Sun Summoner a secret. She can't outrun her past or her destiny for long. The Darkling has emerged from the Shadow Fold with a terrifying new power and a dangerous plan that will test the very boundaries of the natural world. With the help of a notorious privateer, Alina returns to the country she abandoned, determined to fight the forces gathering against Ravka. But as her power grows, Alina slips deeper into the Darkling's game of forbidden magic, and farther away from Mal. Somehow, she will have to choose between her country, her power, and the love she always thought would guide her–or risk losing everything to the oncoming storm. (via Goodreads)
My Rating : ★★★☆☆
My Thoughts : Wow! It took awhile for me to finish reading this book. Alina and Mal start to frustrate me. I want Alina to choose and make her own decisions. Meanwhile, I love the new characters. They are very intriguing and amazing especially the infamous Nikolai Lantsov. I honestly wasn't surprised when I read the revelation about this character probably because I was expecting it. But I still love him! This was definitely a very slow read for me. For me, the best parts would be the last 50 pages except the ending because it felt like a let down after all the exciting story build-up. I still can't wait to read the final installment and finally dive into Six of Crows.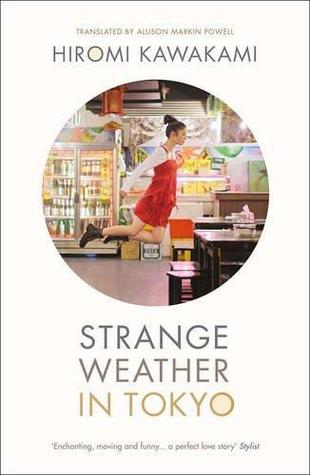 Tsukiko is in her late 30s and living alone when one night she happens to meet one of her former high school teachers, 'Sensei', in a bar. He is at least thirty years her senior, retired and, she presumes, a widower. After this initial encounter, the pair continue to meet occasionally to share food and drink sake, and as the seasons pass – from spring cherry blossom to autumnal mushrooms – Tsukiko and Sensei come to develop a hesitant intimacy which tilts awkwardly and poignantly into love. Perfectly constructed, funny, and moving, Strange Weather in Tokyo is a tale of modern Japan and old-fashioned romance. (via Goodreads)
My Rating : ★★★★☆
My Thoughts : Strange Weather in Tokyo is about a woman on her late-thirties who happens to meet her former teacher who is thirty years her senior at a local bar one night. The story plays out slowly but still beautiful. It works perfectly with the characters' journey from being friends to lovers. Loneliness is a big aspect in this book but it didn't come off too melodramatic which I really liked. SWiT is strange in an astonishing way. I love the atmospheric writing and the bittersweet ending. Also, reading this book gave me a craving for some Japanese food!
Overall, this was a heartwarming read perfect for a fan of Japanese literature and romance. Also, this book is originally published (in English) as "The Briefcase" which I think is more fitting than "Strange Weather in Tokyo". I really love the book cover! It didn't quite make sense to me at first especially the girl on the cover looks young but it made sense after reading the book.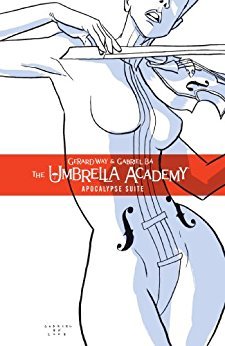 In an inexplicable worldwide event, forty-seven extraordinary children were spontaneously born to women who'd previously shown no signs of pregnancy. Millionaire inventor Reginald Hargreeves adopted seven of the children; when asked why, his only explanation was, "To save the world." These seven children form the Umbrella Academy, a dysfunctional family of superheroes with bizarre powers. Their first adventure at the age of ten pits them against an erratic and deadly Eiffel Tower, piloted by the fearsome zombie-robot Gustave Eiffel. Nearly a decade later, the team disbands, but when Hargreeves unexpectedly dies, these disgruntled siblings reunite just in time to save the world once again. (via Goodreads)
My Rating : ★★★☆☆
My Thoughts : I wanted to read the comics first before watching the tv series adaptation. The trailer caught my attention especially when I noticed that this was written by Gerard Way of My Chemical Romance. I was a fan during my younger years. Luckily, there are online copies available in the library so i borrowed Volume 1 & 2.
It was confusing for me to read because of the lack of character back stories and unclear background of the story itself. Why do they have superpowers? How do they get them? What happened to Number One and Number Six? So many questions.
As for the illustrations, I liked the gothic-like style but I'm not a huge fan of the art as a whole. This has a really intriguing story and unique characters. I loved the concept itself and I hope I'll get some answers on the second volume.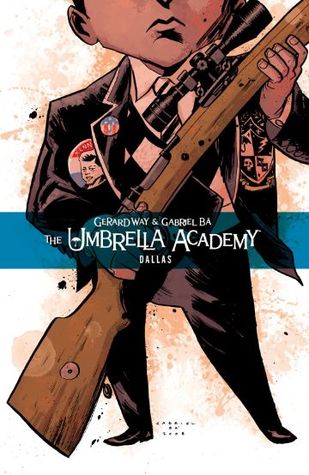 The team is despondent following the near apocalypse created by one of their own and the death of their beloved mentor Pogo. So it's a great time for another catastrophic event to rouse the team into action. Trouble is – each member of the team is distracted by some very real problems of their own. The White Violin is bedridden due to an unfortunate blow to the head. Rumor has lost her voice – the source of her power. Spaceboy has eaten himself into a near-catatonic state, while Number Five dives into some shady dealings at the dog track and the Kraken starts looking at his littlest brother as the key to unraveling a mysterious series of massacres… all leading to a blood-drenched face-off with maniacal assassins, and a plot to kill JFK! (via Goodreads)
My Rating : ★★★☆☆
My Thoughts : The second volume somehow focuses more on Number Five but all the characters are still around. In the first volume, Vanya (Number Seven) is my only favorite character but here in the second volume, Séance and Number Five caught my attention. I also liked the addition of Hazel and Chacha even for a short period of time. In terms with the plot, it's still confusing for me. There were so many storylines and I couldn't follow them. I still want to read the third volume though.
Now let's talk about the Netflix adaptation of The Umbrella Academy. I watched the 10 episodes in two days. I loved it way more than the comics. There were lots of changes but I'm totally okay with that. My ultimate favorites are Klaus, Ben and Number Five. There were some slow parts but it didn't really distract me. I cannot wait for the second season!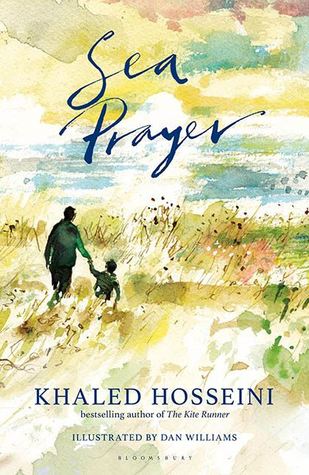 A short, powerful, illustrated book written by Khaled Hosseini in response to the current refugee crisis, Sea Prayer is composed in the form of a letter, from a father to his son, on the eve of their journey. Watching over his sleeping son, the father reflects on the dangerous sea-crossing that lies before them. It is also a vivid portrait of their life in Homs, Syria, before the war, and of that city's swift transformation from a home into a deadly war zone. 
Impelled to write this story by the haunting image of young Alan Kurdi, the three-year-old Syrian boy whose body washed upon the beach in Turkey in September 2015, Hosseini hopes to pay tribute to the millions of families, like Kurdi's, who have been splintered and forced from home by war and persecution, and he will donate author proceeds from this book to the UNHCR (the UN Refugee Agency) and The Khaled Hosseini Foundation to help fund lifesaving relief efforts to help refugees around the globe. Hosseini is also a Goodwill Envoy to the UNHCR, and the founder of The Khaled Hosseini Foundation, a nonprofit that provides humanitarian assistance to the people of Afghanistan. (via Goodreads)
My Rating : ★★★★☆
My Thoughts : I was in a bookstore when I spotted this book. I had no idea what it was about. All I knew was it's a short illustrated book. I read it while standing and finished it around 8 minutes.
The inspiration of the story was the photo of Alan Kurdi, a 3-year old boy who drowned in the sea while trying to reach safety in Europe from Syria in 2015. Just like the photo of Alan, this book has made me tear up. This isn't just the story of Alan. This is the story of all the refugees and their hopes in finding a safer place and better lives for their families.
The watercolor illustrations by Dan Williams are beautiful. I loved the changed of colors alongside the story. This was a very short read but it has a very huge impact and powerful message. A very quick read that will definitely stay with me for a very very long time.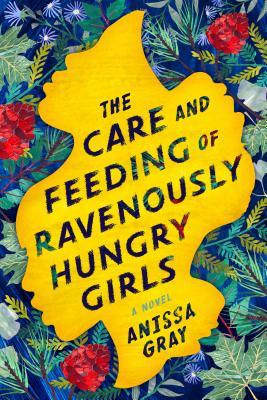 The Mothers meets An American Marriage in this dazzling debut novel about mothers and daughters, identity and family, and how the relationships that sustain you can also be the ones that consume you. The Butler family has had their share of trials—as sisters Althea, Viola, and Lillian can attest—but nothing prepared them for the literal trial that will upend their lives. Althea, the eldest sister and substitute matriarch, is a force to be reckoned with and her younger sisters have alternately appreciated and chafed at her strong will. They are as stunned as the rest of the small community when she and her husband Proctor are arrested, and in a heartbeat the family goes from one of the most respected in town to utter disgrace. The worst part is, not even her sisters are sure exactly what happened. As Althea awaits her fate, Lillian and Viola must come together in the house they grew up in to care for their sister's teenage daughters. What unfolds is a stunning portrait of the heart and core of an American family in a story that is as page-turning as it is important. (via Goodreads)
My Rating : ★★★☆☆
My Thoughts : When highly respected couple and local restaurant owners, Althea and Proctor, are arrested and sent to jail, her sisters come together to care for their two teenage daughters as well as dealing with the consequences of the couple's crime. The story is told in alternating perspectives between the Butler sisters – Althea, Viola and Lillian. Through this, we get to know the deep hidden secrets that still haunt each member of the family and how their dark pasts still affect them as adults. Aside from the catchy book title and stunning cover, I enjoyed the writing and the complex characters. I thought that the family dynamic was quite refreshing to read. I also liked that this book isn't only about complicated family relationships.
There are sensitive and heavy subjects in this book such as body shaming, domestic and child abuse, trauma, and eating disorders. I did have a hard time getting into the story at first and it took quite awhile for me to get use to each of the character's voices which was a little disappointing since I love reading books with multiple POVs. Also, I wasn't that invested with the characters. I wanted to care about them but I couldn't. That's probably why it took so long for me to finish reading this book. Overall, this was still a great debut novel. I enjoyed the story and was glad to meet the Butler family.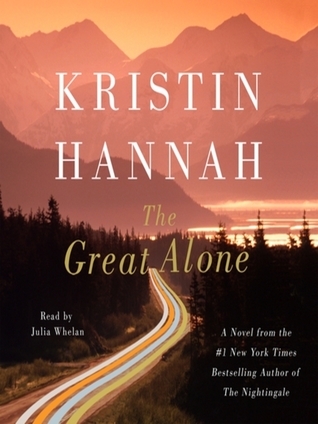 Alaska, 1974. Untamed. Unpredictable. A story of a family in crisis struggling to survive at the edge of the world, it is also a story of young and enduring love.
Cora Allbright and her husband Ernt, a recently-returned Vietnam veteran scarred by the war, uproot their thirteen-year-old daughter Leni to start a new life in Alaska. Utterly unprepared for the weather and the isolation, but welcomed by the close-knit community, they fight to build a home in this harsh, beautiful wilderness. At once an epic story of human survival and love, and an intimate portrait of a family tested beyond endurance, The Great Alone offers a glimpse into a vanishing way of life in America. With her trademark combination of elegant prose and deeply drawn characters, Kristin Hannah has delivered an enormously powerful story that celebrates the resilience of the human spirit and the remarkable and enduring strength of women. About the highest stakes a family can face and the bonds that can tear a community apart, this is a novel as spectacular and powerful as Alaska itself. It is the finest example of Kristin Hannah's ability to weave together the deeply personal with the universal. (via Goodreads)
My Rating : ★★★★☆
My Thoughts : I read The Nightingale last year and I really loved it. I gave it a perfect 5-star rating because it's just so beautiful and brilliant. I was also listening to the audiobook edition which was also great. I immediately got hooked with The Great Alone. The author's writing is incredible, no doubt about that. I loved the atmosphere and vivid descriptions of Alaska. It's just breathtaking. Reading this made me want to visit Alaska but probably not during the winter season.
Leni, our main character, was very likable and relatable. I admire her relationship with her mom. It's not perfect but still beautiful and moving. I loved the strong female characters as well. I honestly wasn't expecting that there will be a romance in this book and it wasn't a problem for me except that I didn't feel any connection between the two characters involved. I liked that they both love books but I felt like the male character felt flat.
I liked the first 75% of the book despite of some repetitions but the rest felt rushed. There were so many emotional things that happened which made the last chapters too dramatic and quite exhausting. This book was too painful and difficult to read at times and there are some sensitive subjects involved such as PTSD and physical abuse. Overall, this was still a great read for me but not as exceptional as The Nightingale.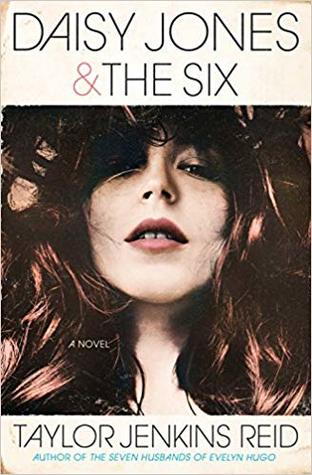 Everyone knows Daisy Jones & The Six, but nobody knows the reason behind their split at the absolute height of their popularity . . . until now. Daisy is a girl coming of age in L.A. in the late sixties, sneaking into clubs on the Sunset Strip, sleeping with rock stars, and dreaming of singing at the Whisky a Go Go. The sex and drugs are thrilling, but it's the rock and roll she loves most. By the time she's twenty, her voice is getting noticed, and she has the kind of heedless beauty that makes people do crazy things. Also getting noticed is The Six, a band led by the brooding Billy Dunne. On the eve of their first tour, his girlfriend Camila finds out she's pregnant, and with the pressure of impending fatherhood and fame, Billy goes a little wild on the road. Daisy and Billy cross paths when a producer realizes that the key to supercharged success is to put the two together. What happens next will become the stuff of legend. The making of that legend is chronicled in this riveting and unforgettable novel, written as an oral history of one of the biggest bands of the seventies. Taylor Jenkins Reid is a talented writer who takes her work to a new level with Daisy Jones & The Six, brilliantly capturing a place and time in an utterly distinctive voice. (via Goodreads)
My Rating : ★★★★☆
My Thoughts : Set in the 70's (sex, drug, rock n roll), this book follows the rise of Daisy Jones and The Six on becoming one of the most legendary bands in the world up to their infamous breakup. It's written in an interview format but not in a Q&A style which is really refreshing. This format might not be for everyone but it worked perfectly for me. It's interesting to read the characters perspectives both from their personal and professional lives. This was my first read from Reid and I already admired her. She did a brilliant job writing believable characters and engaging story. The female characters in this book are my most favorites. They are captivating and very powerful. I liked that the author was able to cover some important issues about female body image and abortion.
I loved this book right from the start. It's absolutely entertaining to read. I want Daisy Jones and The Six to be real. I want to watch and hear them perform live. Luckily, there's an upcoming tv series adaptation of this book and I'm really excited about it. I also cannot wait to listen to the audiobook. Daisy Jones and The Six might be fictional but that doesn't stop me from loving this book. If the format doesn't bother you and you love the 70's rock scene, this book is for you!
---
My favorite were Sea Prayer, Strange Weather in Tokyo, and Daisy Jones & The Six. How many books have you read last month? What were your favorites?
Happy Friday! ♥
Always,