Happy First Tuesday of 2020! Today's topic is all about the books that are hitting the shelves for the next six months. All about the books that we're exciting to have and read. It was not easy picking just 10 because I have tons on my list. Luckily, I already have copies of the first three books and I can't wait to read them. Also, there will be a seperate post for my most anticipated book releases by Filipino authors so watch our for it.
Without further ado, here are my top ten book releases from January to June 2020.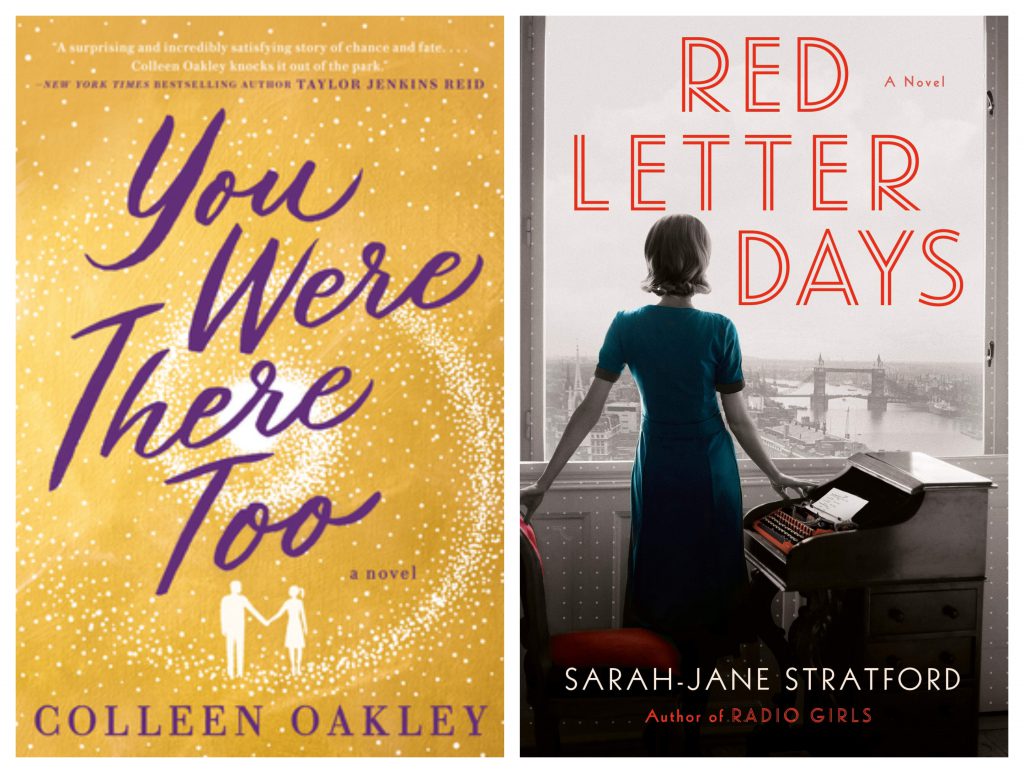 Mia Graydon's life looks picket-fence perfect; she has the house, her loving husband, and dreams of starting a family. But she has other dreams too — unexplained, recurring ones starring the same man. Still, she doesn't think much of them, until a relocation to small-town Pennsylvania brings her face to face with the stranger she has been dreaming about for years. And this man harbors a jaw-dropping secret of his own—he's been dreaming of her too. Determined to understand, Mia and this not-so-stranger search for answers. But when diving into their pasts begins to unravel her life in the present, Mia emerges with a single question—what if?
Red Letter Days by Sarah-Jane Stratford / February 25
Nineteen-fifties America is bright and full of promise, and Phoebe Adler, a New Yorker brimming with talent and ambition, is forging her way as the rarest of things: a female television writer in Hollywood. But fears of a growing Red Menace cloud the optimism, egged on by the hate-mongering of Senator McCarthy. A blacklist is created to cast out communist sympathizers, smashing careers and ruining lives. When Phoebe finds herself caught in the hysteria's web, she flees to London. Though postwar London is struggling and work is precarious, Phoebe finds camaraderie with other Americans living in exile, including the restless and ambitious Hannah Wolfson. Determined to fight the injustices of the Red Scare, Hannah is a successful producer who hires blacklisted writers at great risk to her career and company. Together Phoebe and Hannah successfully fight unfair bias and sexism, but danger still looms in this supposed sanctuary. And when their families and friends—their very lives—are threatened, they will have to make impossible choices.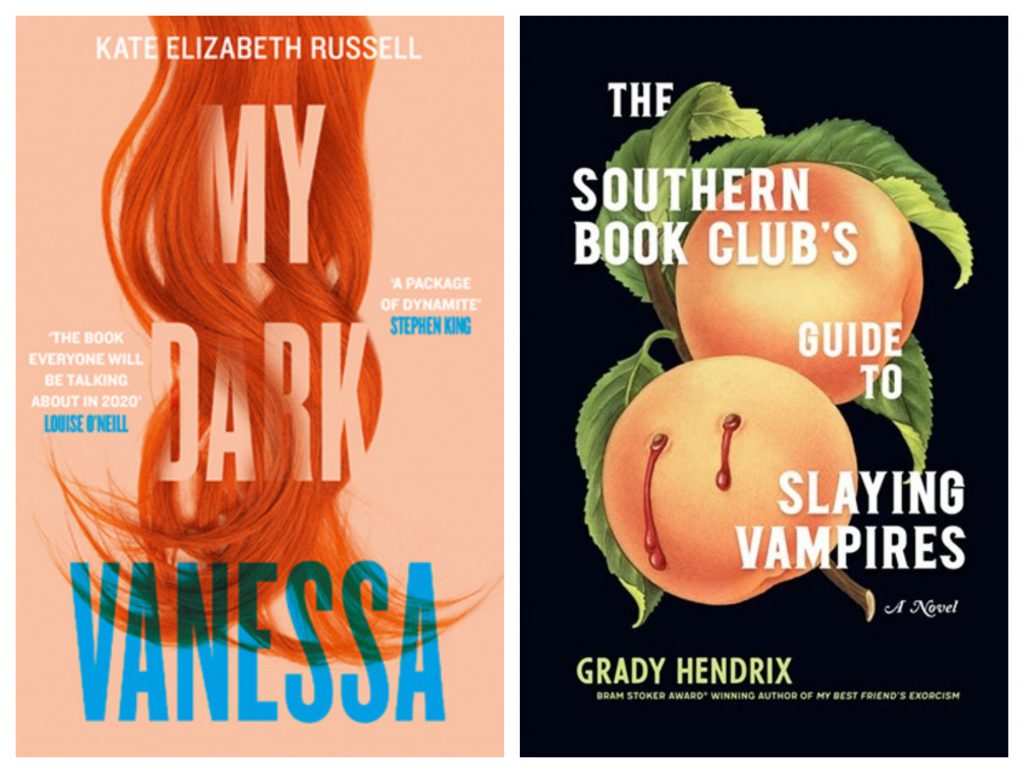 Vanessa Wye was fifteen years old when she first had sex with her English teacher. She is now thirty-two and the teacher, Jacob Strane, has just been accused of sexual abuse by another former student of his. Vanessa is horrified by this news, because she is quite certain that the relationship she had with Strane wasn't abuse. It was love. She's sure of that. But now, in 2017, in the midst of allegations against powerful men, she is being asked to redefine the great love story of her life – her great sexual awakening – as rape.
Patricia Campbell had always planned for a big life, but after giving up her career as a nurse to marry an ambitious doctor and become a mother, Patricia's life has never felt smaller. The days are long, her kids are ungrateful, her husband is distant, and her to-do list is never really done. The one thing she has to look forward to is her book club, a group of Charleston mothers united only by their love for true-crime and suspenseful fiction. In these meetings, they're more likely to discuss the FBI's recent siege of Waco as much as the ups and downs of marriage and motherhood. But when an artistic and sensitive stranger moves into the neighborhood, the book club's meetings turn into speculation about the newcomer. Patricia is initially attracted to him, but when some local children go missing, she starts to suspect the newcomer is involved. She begins her own investigation, assuming that he's a Jeffrey Dahmer or Ted Bundy. What she uncovers is far more terrifying, and soon she–and her book club–are the only people standing between the monster they've invited into their homes and their unsuspecting community.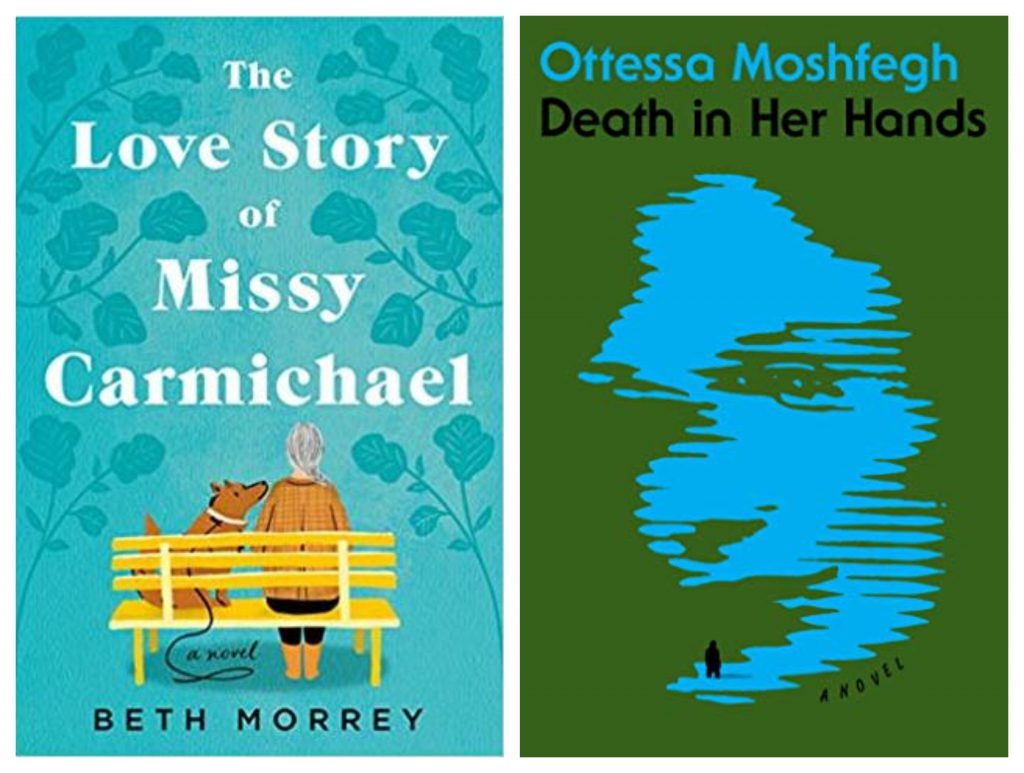 The world has changed around Missy Carmichael. At seventy-nine, she's estranged from her daughter, her son and only grandson live across the world in Australia, and her great love is gone. Missy spends her days with a sip of sherry, scrubbing the kitchen in her big empty house and reliving her past–though it's her mistakes, and secrets, that she allows to shine brightest. The last thing Missy expects is for two perfect strangers and one spirited dog to break through her prickly exterior and show Missy just how much love she still has to give. Filled with wry laughter and deep insights into the stories we tell ourselves, The Love Story of Missy Carmichael shows us it's never too late to teach an old dog new tricks. It's never too late to love.
While on her normal daily walk with her dog in the nearby forest woods, our protagonist comes across a note, handwritten and carefully pinned to the ground with a frame of stones. Her name was Magda. Nobody will ever know who killed her. It wasn't me. Here is her dead body. Our narrator is deeply shaken; she has no idea what to make of this. She is new to this area, having moved here from her longtime home after the death of her husband, and she knows very few people. And she's a little shaky even on her best days. Her brooding about this note quickly grows into a full-blown obsession, and she begins to devote herself to exploring the possibilities of her conjectures about who this woman was and how she met her fate. Her suppositions begin to find echoes in the real world, and with mounting excitement and dread, the fog of mystery starts to form into a concrete and menacing shape. But as we follow her in her investigation, strange dissonances start to accrue, and our faith in her grip on reality weakens, until finally, just as she seems to be facing some of the darkness in her own past with her late husband, we are forced to face the prospect that there is either a more innocent explanation for all this or a much more sinister one—one that strikes closer to home.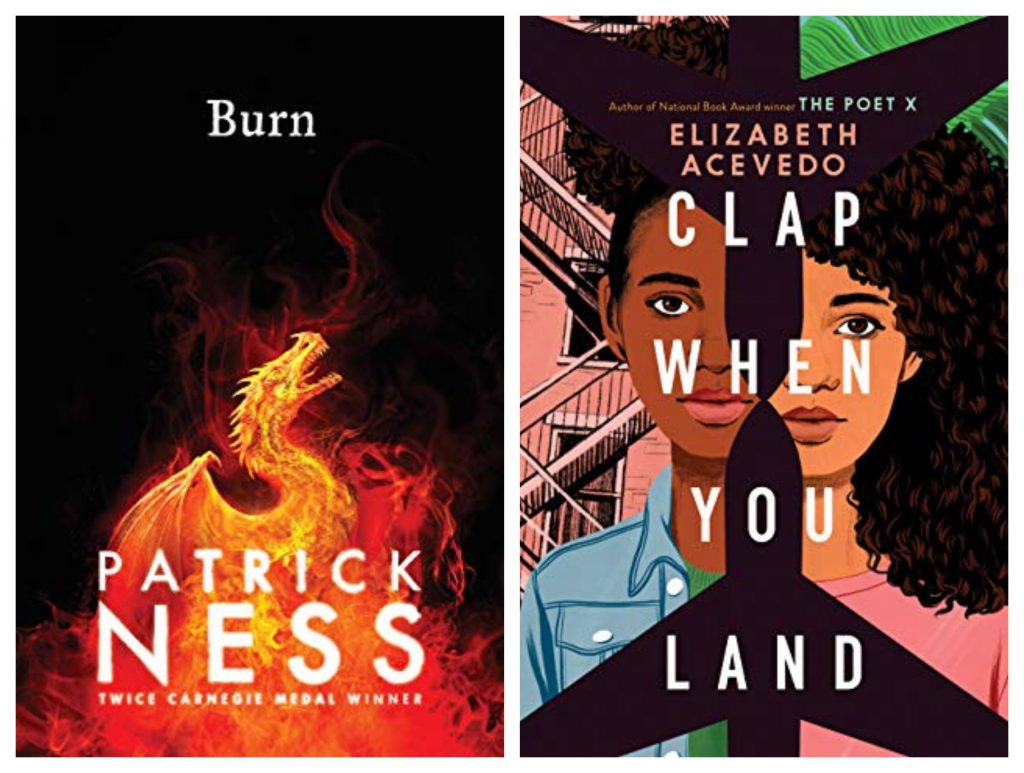 Burn by Patrick Ness / May 7
In 1956 Sarah Dewhurst's father shocks her by hiring a dragon to work the farm. The dragon is a smaller blue rather than the traditional larger reds, though even the reds are now scarce. When the blue dragon, Kazimir, unexpectedly saves Sarah and her friend Jason Inagawa from the attentions of the racist police deputy, Kelby, everything changes. Sarah is part of a prophecy and she must escape the clutches of Malcolm, an assassin from a Believer Cell, the dragon-worshiping cult. When Sarah, Malcolm and Kazimir eventually converge, they are thrown into another universe, where dragons seem never to have existed. Can they save this world and the one they left?
Camino Rios lives for the summers when her father visits her in the Dominican Republic. But this time, on the day when his plane is supposed to land, Camino arrives at the airport to see crowds of crying people. In New York City, Yahaira Rios is called to the principal's office, where her mother is waiting to tell her that her father, her hero, has died in a plane crash. Separated by distance – and Papi's secrets – the two girls are forced to face a new reality in which their father is dead and their lives are forever altered. And then, when it seems like they've lost everything of their father, they learn of each other. Papi's death uncovers all the painful truths he kept hidden, and the love he divided across an ocean. And now, Camino and Yahaira are both left to grapple with what this new sister means to them, and what it will now take to keep their dreams alive.
When Nishat comes out to her parents, they say she can be anyone she wants—as long as she isn't herself. Because Muslim girls aren't lesbians. Nishat doesn't want to hide who she is, but she also doesn't want to lose her relationship with her family. And her life only gets harder once a childhood friend walks back into her life. Flávia is beautiful and charismatic and Nishat falls for her instantly. But when a school competition invites students to create their own businesses, both Flávia and Nishat choose to do henna, even though Flávia is appropriating Nishat's culture. Amidst sabotage and school stress, their lives get more tangled—but Nishat can't quite get rid of her crush on Flávia, and realizes there might be more to her than she realized.
The Ballad of Songbirds and Snakes will revisit the world of Panem sixty-four years before the events of The Hunger Games, starting on the morning of the reaping of the Tenth Hunger Games.
---
Feel free to share your TTT link on the comment so I can check them out. I might find some good books that I can add on my never-ending list. ♥
Always,