Better late than never! I have a total of 15 books on my tbr. I know that it's a lot and I also know that it would be hard (but possible) for me to read all of them but making list is one of the things that makes me happy.
Majority of the books i'll be reading for October are perfect for the theme of the month which is Halloween. I have added two young adult contemporary to lighten up my reading month. Though I'm not really sure if these two books are light reads.
I have backlist titles on my tbr as well. I almost forgot about the #startonyourshelfathon reading challenge which I am currently participating! So I think this is my chance to finally read all the books that have been collecting dust in my bookshelf. lol
The top 5 books on my TBR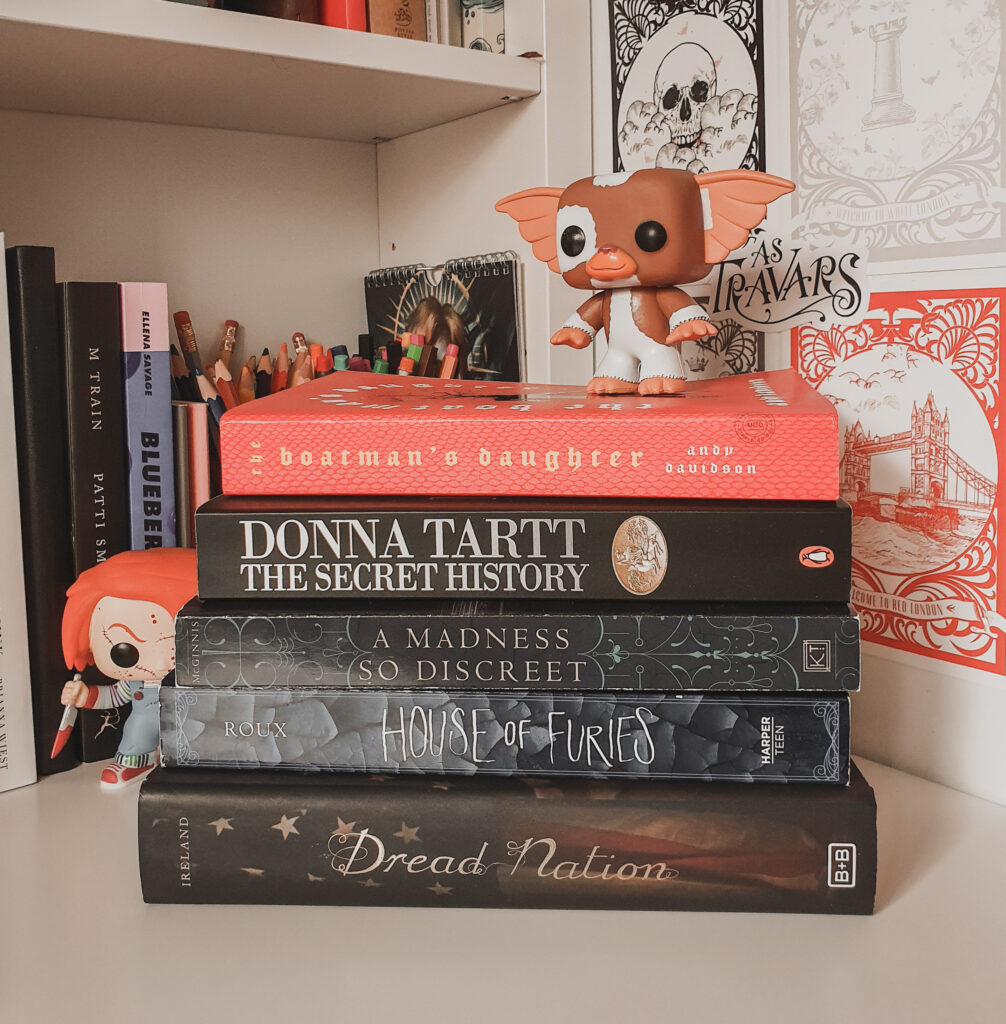 The Boatman's Daughter by Andy Davidson
"Ever since her father was killed when she was just a child, Miranda Crabtree has kept her head down and her eyes up, ferrying contraband for a mad preacher and his declining band of followers to make ends meet and to protect an old witch and a secret child from harm. But dark forces are at work in the bayou, And when the preacher makes an unthinkable demand, it sets Miranda on a desperate, dangerous path, forcing her to consider what she is willing to sacrifice to keep her loved ones safe."

The Secret History by Donna Tartt
"Under the influence of their charismatic classics professor, a group of clever, eccentric misfits at an elite New England college discover a way of thinking and living that is a world away from the humdrum existence of their contemporaries. But when they go beyond the boundaries of normal morality they slip gradually from obsession to corruption and betrayal, and at last – inexorably – into evil."

A Madness So Discreet by Mindy McGinnis
"Grace Mae knows madness. She keeps it locked away, along with her voice, trapped deep inside a brilliant mind that cannot forget horrific family secrets. Those secrets, along with the bulge in her belly, land her in a Boston insane asylum. When her voice returns in a burst of violence, Grace is banished to the dark cellars, where her mind is discovered by a visiting doctor who dabbles in the new study of criminal psychology. With her keen eyes and sharp memory, Grace will make the perfect assistant at crime scenes. Escaping from Boston to the safety of an ethical Ohio asylum, Grace finds friendship and hope, hints of a life she should have had. But gruesome nights bring Grace and the doctor into the circle of a killer who stalks young women. Grace, continuing to operate under the cloak of madness, must hunt a murderer while she confronts the demons in her own past."

House of Furies by Madeleine Roux
"After escaping a harsh school where punishment was the lesson of the day, seventeen-year-old Louisa Ditton is thrilled to find employment as a maid at a boarding house. But soon after her arrival at Coldthistle House, Louisa begins to realize that the house's mysterious owner, Mr. Morningside, is providing much more than lodging for his guests. Far from a place of rest, the house is a place of judgment, and Mr. Morningside and his unusual staff are meant to execute their own justice on those who are past being saved. Louisa begins to fear for a young man named Lee who is not like the other guests. He is charismatic and kind, and Louisa knows that it may be up to her to save him from an untimely judgment. But in this house of distortions and lies, how can Louisa be sure whom to trust?"

Dread Nation by Justina Ireland
"Jane McKeene was born two days before the dead began to walk the battlefields of Gettysburg and Chancellorsville—derailing the War Between the States and changing America forever. In this new nation, safety for all depends on the work of a few, and laws like the Native and Negro Reeducation Act require certain children attend combat schools to learn to put down the dead. But there are also opportunities—and Jane is studying to become an Attendant, trained in both weaponry and etiquette to protect the well-to-do. It's a chance for a better life for Negro girls like Jane. After all, not even being the daughter of a wealthy white Southern woman could save her from society's expectations. But that's not a life Jane wants. Almost finished with her education at Miss Preston's School of Combat in Baltimore, Jane is set on returning to her Kentucky home and doesn't pay much mind to the politics of the eastern cities, with their talk of returning America to the glory of its days before the dead rose. But when families around Baltimore County begin to go missing, Jane is caught in the middle of a conspiracy, one that finds her in a desperate fight for her life against some powerful enemies. And the restless dead, it would seem, are the least of her problems."

And here are the other books
---
Have you read any from these books? Which should I read first? Have a great day!
Always,