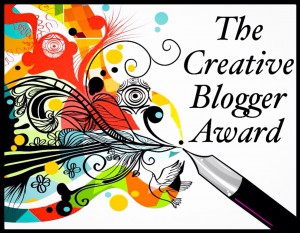 Hi guys! How are you all doing? I hope you are having a great day. The lovely Nagina of OhBookish nominated me for The Creative Blogger Award. Thank you so much!
The Rules
Nominate 15-20 blogs and notify all nominees via their social media or blogs
Thank the blogger who nominated you and post the link of said blog
Share five facts about yourself to your readers
Five Facts About Me
I cannot read in a moving car. It's not totally a motion sickness because I can read in a moving train, bus or tram. I also love rollercoasters.
I love visiting museums and graveyards.
I got married in July this year.
I love wearing black clothes.
I just started reading the Harry Potter series by J.K. Rowling and A Song of Ice and Fire by George R.R. Martin this year .
I Am nominating
I will not be nominating 15 – 20 bloggers because I feel like most of the blogs I'm following here got nominated already. The following are some of my favorite bloggers.
Don't forget to check out their blogs. Have a great week!