Last year, I joined quite a lot of reading challenges but ended up completing just one. I've been looking for interesting book challenges since January this year and I'm trying to be a little picky. My buddy, Joyce, informed me about the Bookish Bingo Challenge and she didn't have to force me to participate because it is the kind of challenge I was looking for.
2016 Bookish Bingo Challenge is hosted by Maddie of The Girly Geek. It works pretty simple. There are 35 squares and each features a different task. Once you're done with the task, you just have to cross it out. There are also 5 boxes on the bingo card called "mystery missions" and every two months, one mission will be announced on the blog. It's so exciting. Check out Maddie's post if you're interested to participate.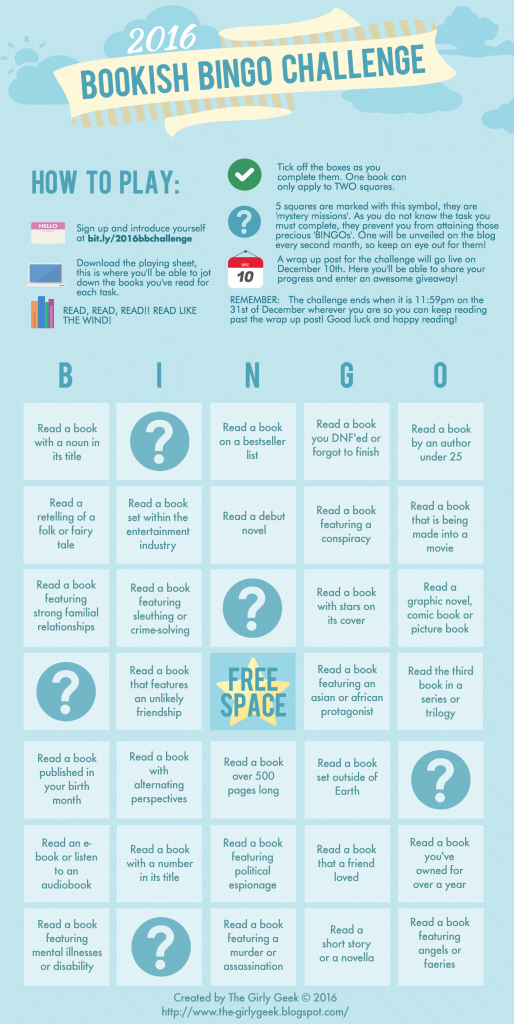 Joining this type of reading challenge will definitely help me to discover new authors and genres. It's one of the many ways of having fun while reading. Are you also doing the Bookish Bingo Challenge? Let me know.