Hey guys! Another unboxing? Why not! I'm pretty sure by now that you guys know already what Page Habit is and how awesome their boxes are. So a week ago, I received my YA Fiction Quarterly Box and it's pretty awesome!
To refresh your memory, the Quarterly Box is curated by different best-selling authors each quarter. It includes a new release book of the featured author with written annotations as well as 2-3 bookish items and two additional books to accompany her/his brand new release. Quarterly boxes ship out every three months : January, April, July and October. Aside from YA Fiction, they also have Literary Fiction and Cookbook. Each box costs $49.99 plus shipping.
Let's get straight to the unboxing, shall we?
SPOILERS AHEAD!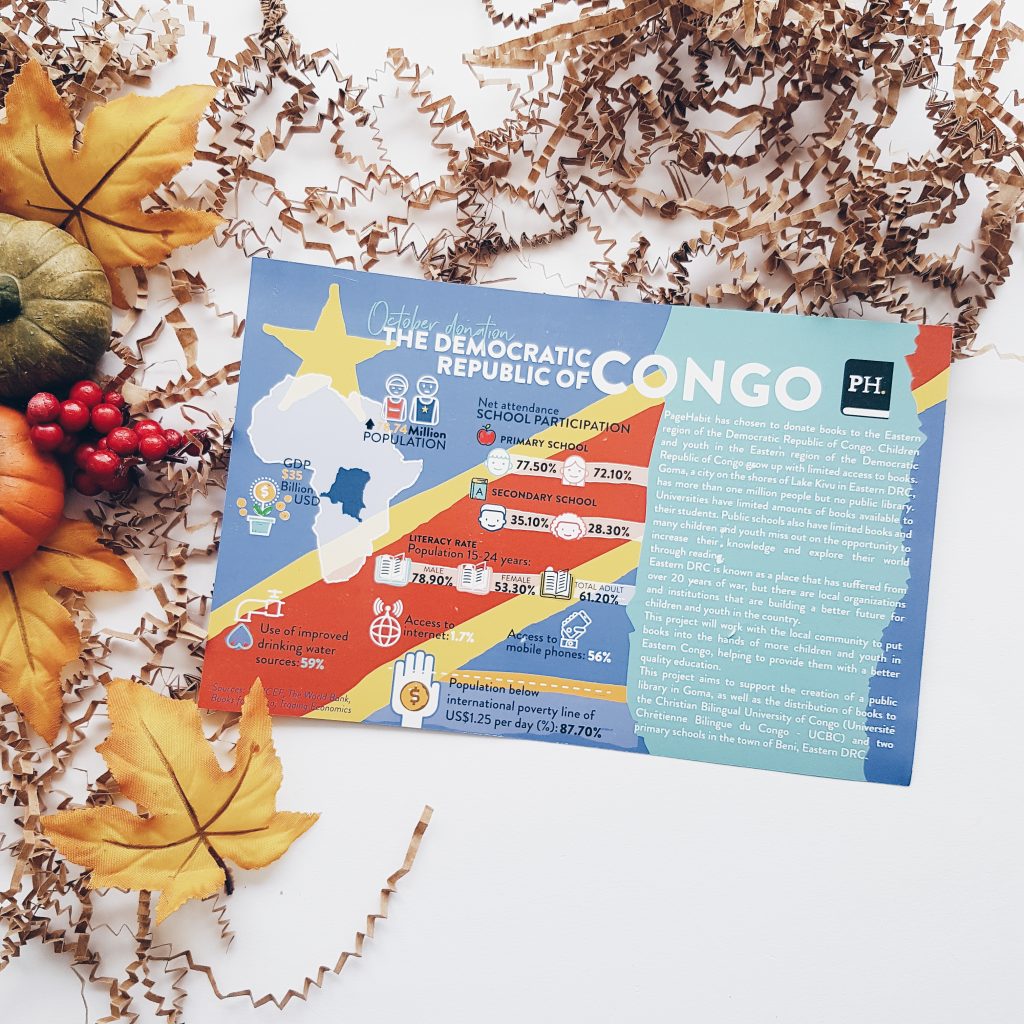 First we have the Page Habit information card. For the month of October, Page Habit has chosen to donate books to the Eastern Region of the Democratic Republic of Congo.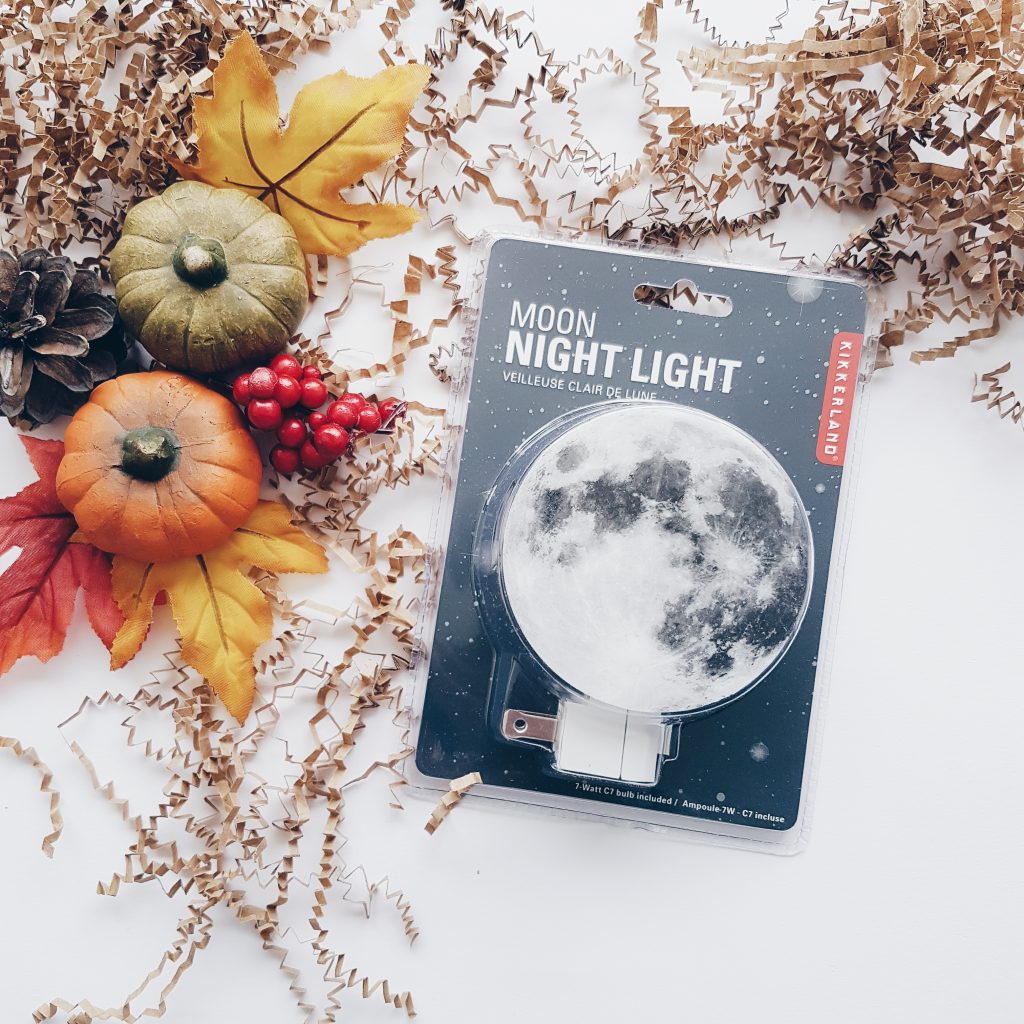 The first item is a Moon Night Light (by Kikkerland). I'm already using this one in our sleeping room and it's so lovely.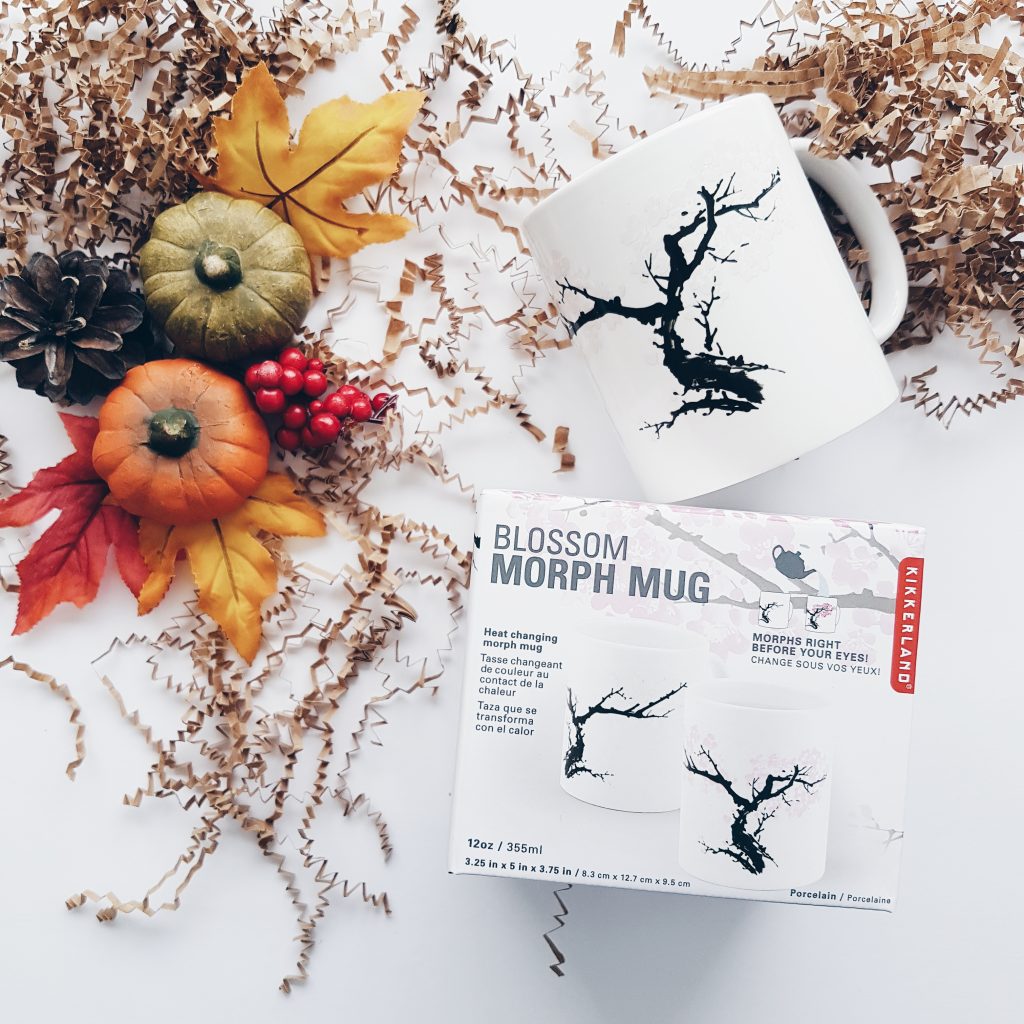 Next item is a Blossom Morph Mug (also by Kikkerland). This is my very first "morph" mug and I really love the design.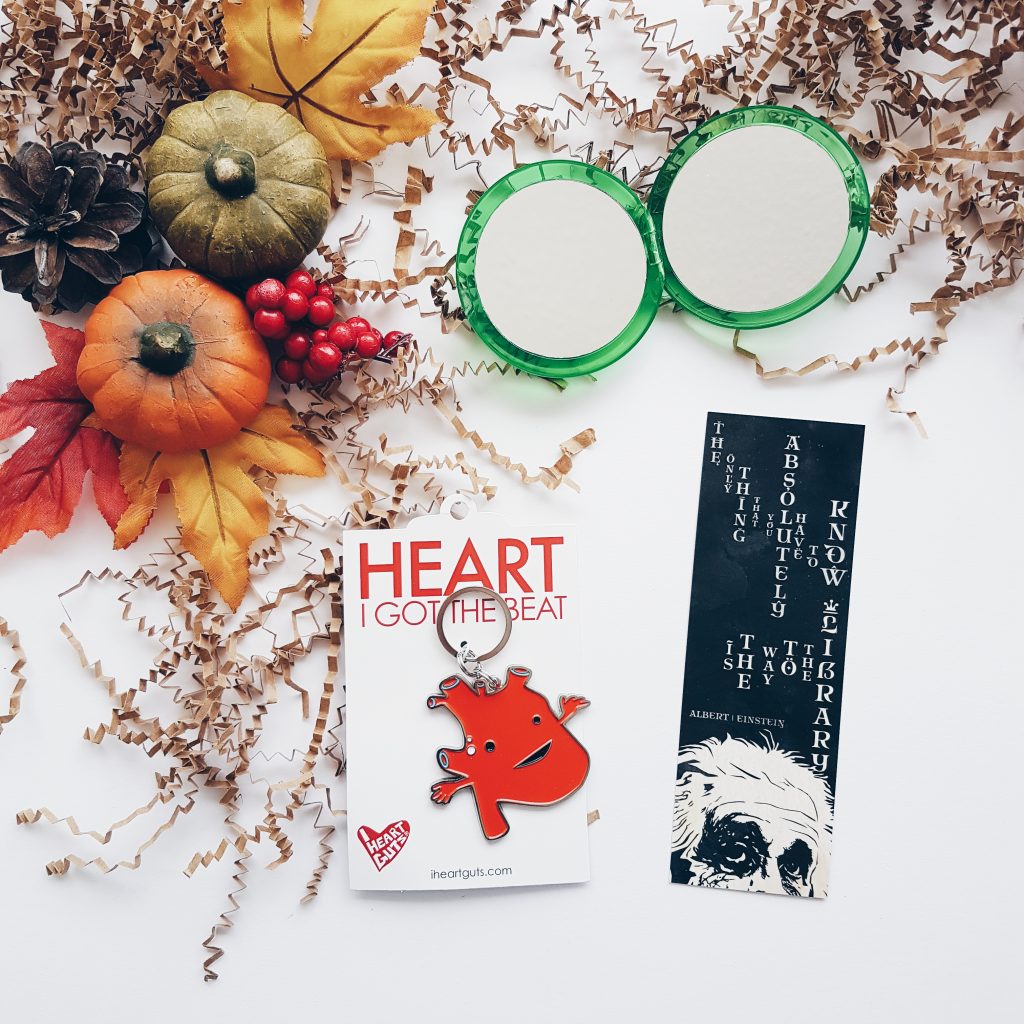 Then we also have a heart keychain from I Heart Guts, a compact mirror and this beautiful bookmark with one of my favorite quotes from Albert Einstein : "The only thing that you absolutely have to know is the way to the library."
NOW LET'S GET TO THE BOOKS!
The featured author personally selected these two books to accompany her new novel.
"I chose these two fantasies as companions to Forest because they both have powerful female leads and well-developed worlds."
The first book is Marie Lu's Legend. This really made me happy because I've been wanting to get myself a copy of this book. This is also my very first book from this author.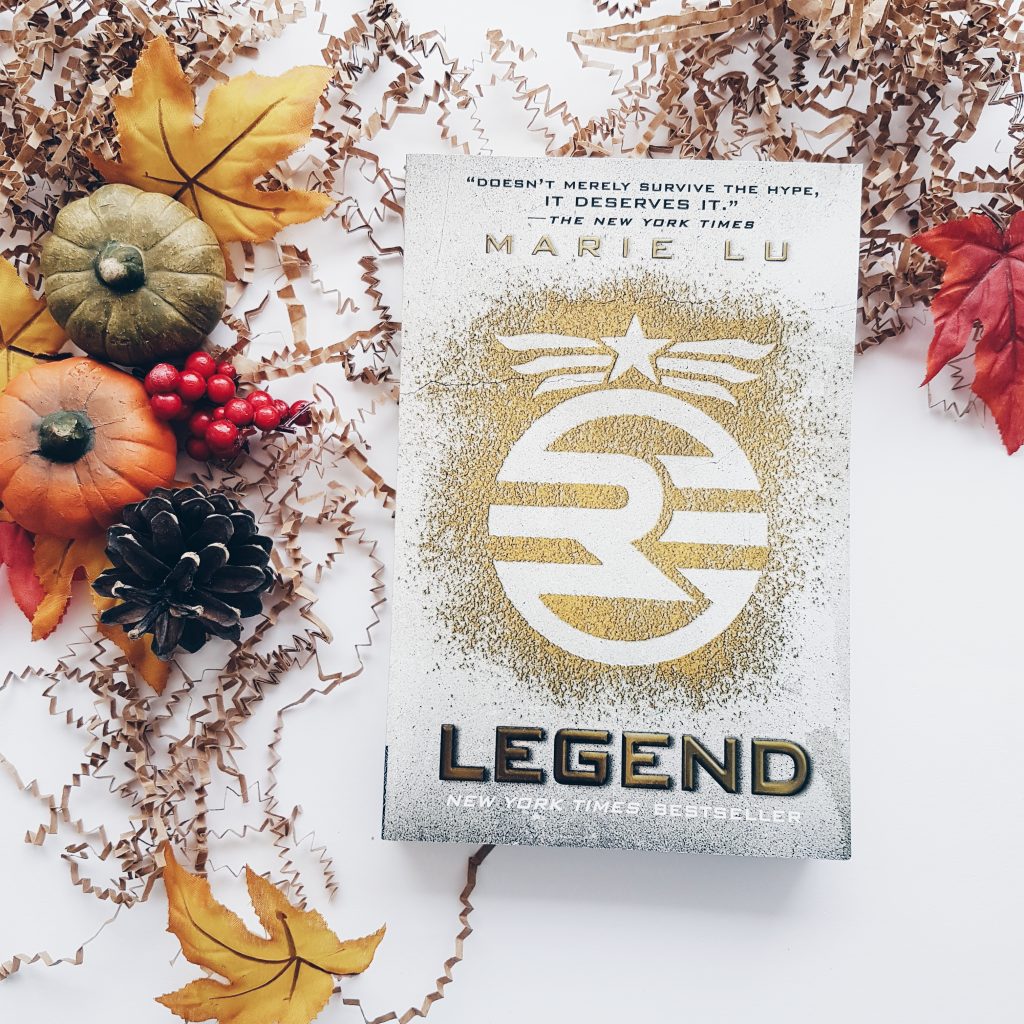 "Marie Lu's enthralling Legend features one of the most frighteningly determined girls I have yet to see in young adult literature."
ABOUT THE BOOK
What was once the western United States is now home to the Republic, a nation perpetually at war with its neighbors. Born into an elite family in one of the Republic's wealthiest districts, fifteen-year-old June is a prodigy being groomed for success in the Republic's highest military circles. Born into the slums, fifteen-year-old Day is the country's most wanted criminal. But his motives may not be as malicious as they seem.
From very different worlds, June and Day have no reason to cross paths—until the day June's brother, Metias, is murdered and Day becomes the prime suspect. Caught in the ultimate game of cat and mouse, Day is in a race for his family's survival, while June seeks to avenge Metias's death. But in a shocking turn of events, the two uncover the truth of what has really brought them together, and the sinister lengths their country will go to keep its secrets. (via Goodreads)
The second book is The Wrath & The Dawn by Renee Ahdieh. I've been hearing a lot of great things about this book so I'm really looking forward on reading this.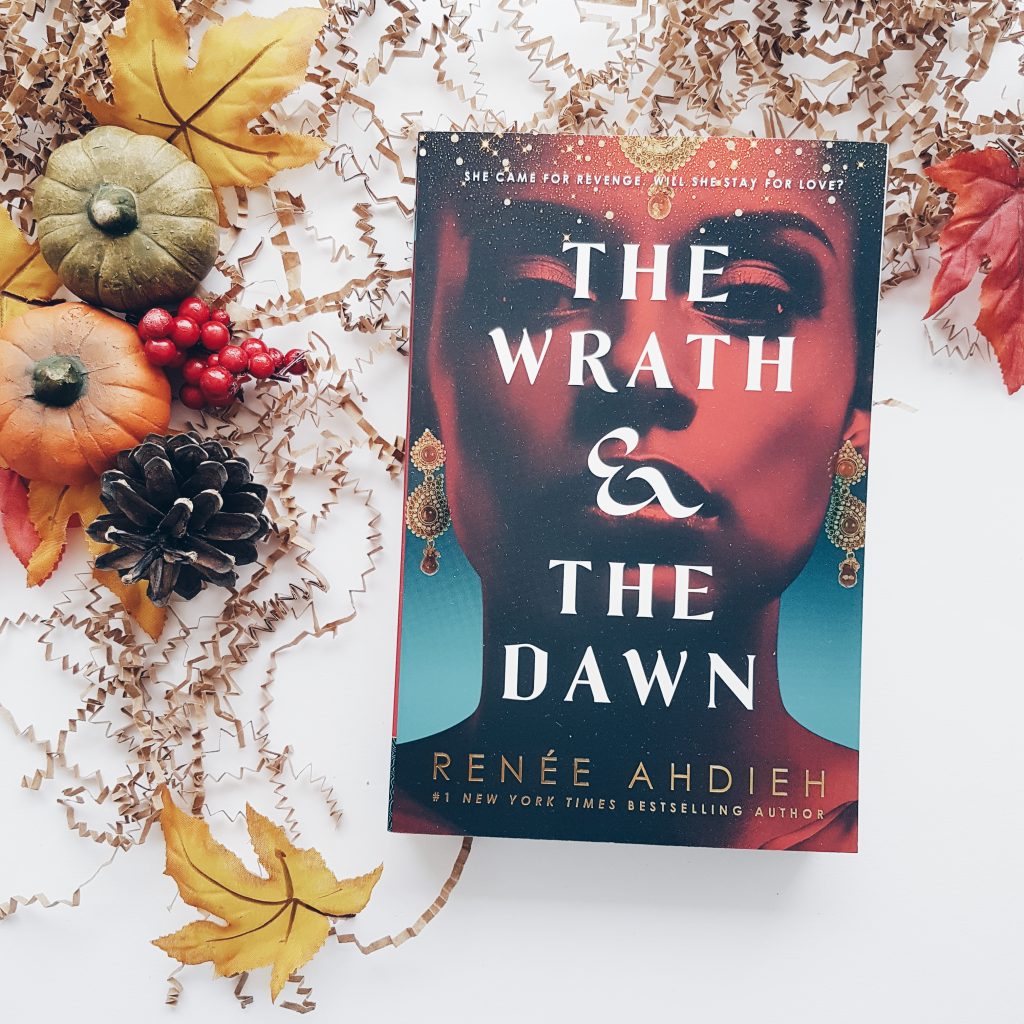 "I truly enjoyed TWATD, a sumptous and romantic retelling of the Arabian Nights helmed by a fierce, bright heroine."
ABOUT THE BOOK
One Life to One Dawn.
In a land ruled by a murderous boy-king, each dawn brings heartache to a new family. Khalid, the eighteen-year-old Caliph of Khorasan, is a monster. Each night he takes a new bride only to have a silk cord wrapped around her throat come morning. When sixteen-year-old Shahrzad's dearest friend falls victim to Khalid, Shahrzad vows vengeance and volunteers to be his next bride. Shahrzad is determined not only to stay alive, but to end the caliph's reign of terror once and for all.
Night after night, Shahrzad beguiles Khalid, weaving stories that enchant, ensuring her survival, though she knows each dawn could be her last. But something she never expected begins to happen: Khalid is nothing like what she'd imagined him to be. This monster is a boy with a tormented heart. Incredibly, Shahrzad finds herself falling in love. How is this possible? It's an unforgivable betrayal. Still, Shahrzad has come to understand all is not as it seems in this palace of marble and stone. She resolves to uncover whatever secrets lurk and, despite her love, be ready to take Khalid's life as retribution for the many lives he's stolen. Can their love survive this world of stories and secrets? (via Goodreads)
FEATURED AUTHOR AND BOOK
The curator of YA Fiction Quarterly Box for the month of October is Julie Dao featuring her debut novel, Forest of a Thousand Lanterns. We also have a letter from her and a signed bookplate.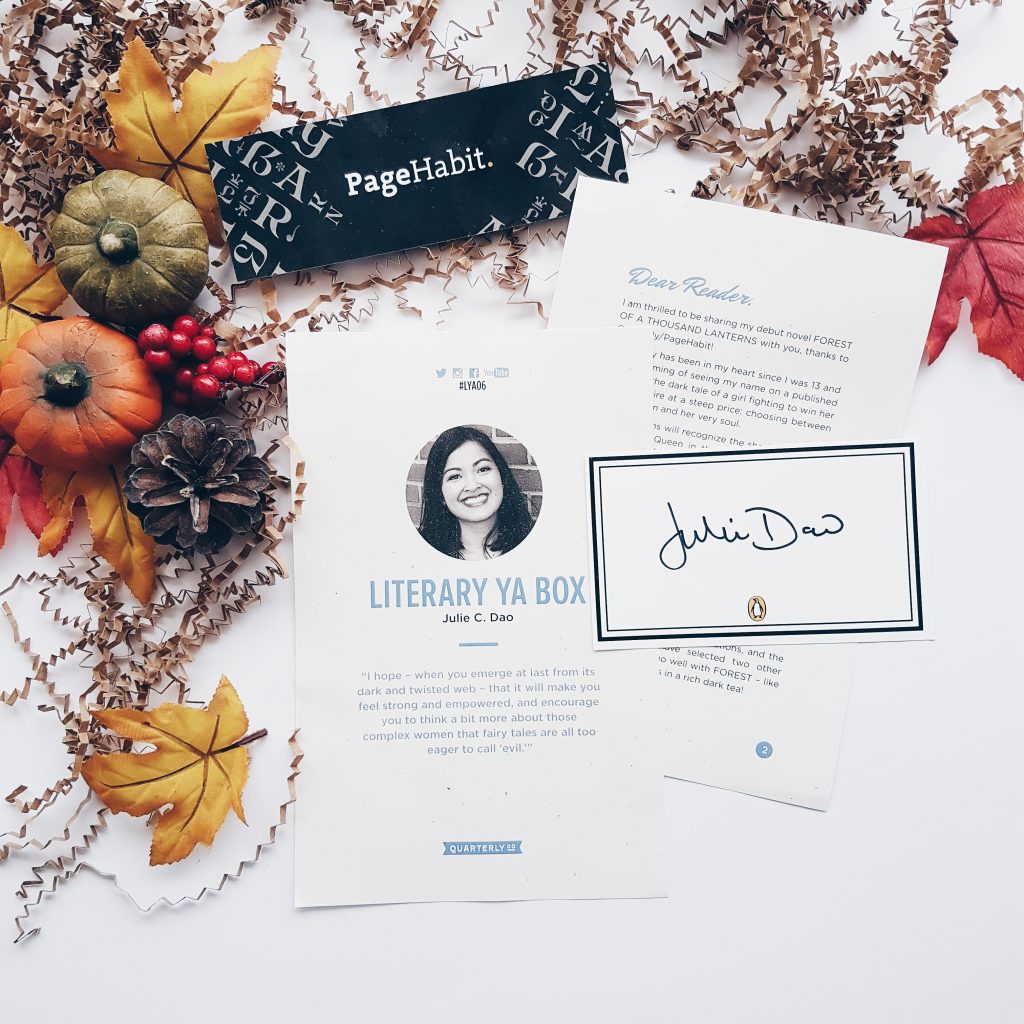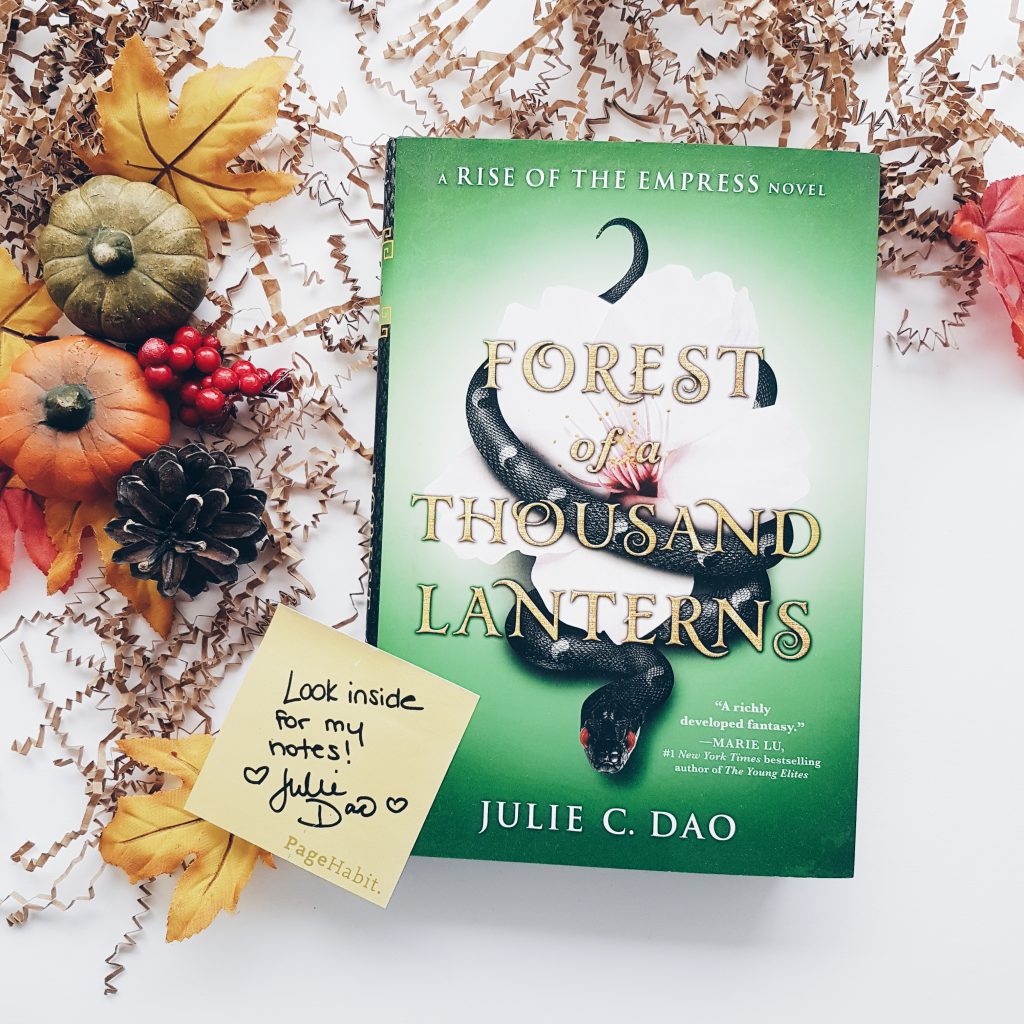 "I hope – when you emerge at last from its dark and twisted web – that it will make you feel strong and empowered, and encourage you to think a bit more about those compley women that fairy tales are all too eager to call 'evil'."
ABOUT THE BOOK
An East Asian fantasy reimagining of The Evil Queen legend about one peasant girl's quest to become Empress–and the darkness she must unleash to achieve her destiny.
Eighteen-year-old Xifeng is beautiful. The stars say she is destined for greatness, that she is meant to be Empress of Feng Lu. But only if she embraces the darkness within her. Growing up as a peasant in a forgotten village on the edge of the map, Xifeng longs to fulfill the destiny promised to her by her cruel aunt, the witch Guma, who has read the cards and seen glimmers of Xifeng's majestic future. But is the price of the throne too high?
Because in order to achieve greatness, she must spurn the young man who loves her and exploit the callous magic that runs through her veins–sorcery fueled by eating the hearts of the recently killed. For the god who has sent her on this journey will not be satisfied until his power is absolute. (via Goodreads)
ABOUT THE AUTHOR
Julie C. Dao is a proud Vietnamese-American who was born in upstate New York. She studied medicine in college, but came to realize blood and needles were her Kryptonite. By day, she worked in science news and research; by night, she wrote books about heroines unafraid to fight for their dreams, which inspired her to follow her passion of becoming a published author. Forest of a Thousand Lanterns is her debut novel. Julie lives in New England.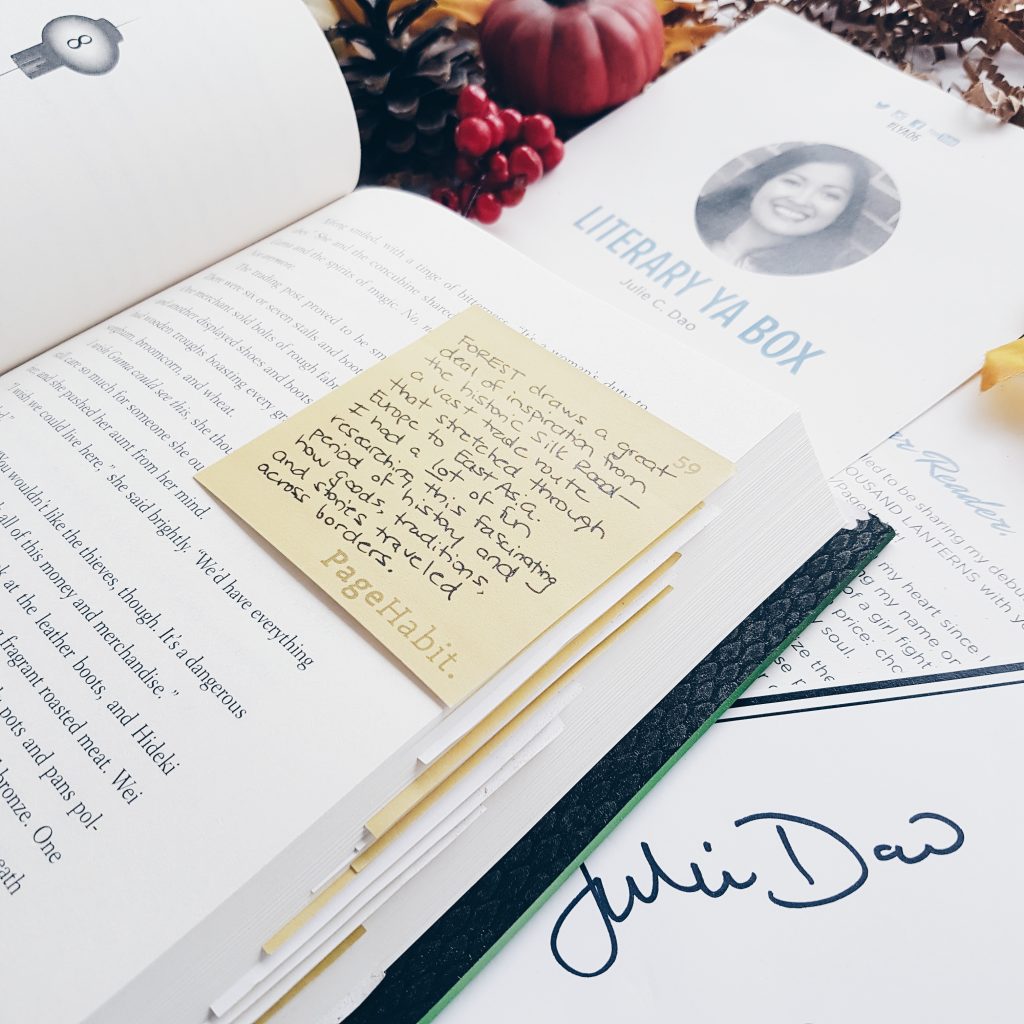 It's not Page Habit if the book is not annotated, right? This is like their "signature". The author's annotations give the readers a chance to know some behind-the-scenes information like the author's favorite chapter to write, the inspiration of the story/characters and so much more. It's like a VIP ticket to the book which is absolutely cool.

There you have it! The next Quarterly Box will be available in January next year but while you're waiting, you can subscribe to their monthly box first. Feel free to check out my September Mystery Box Unboxing here.
Subscribe at www.pagehabit.com and use my code KATH to get free shipping (U.S. residents) or $5 shipping discount (outside the U.S.). This code is applicable both for monthly and quarterly boxes.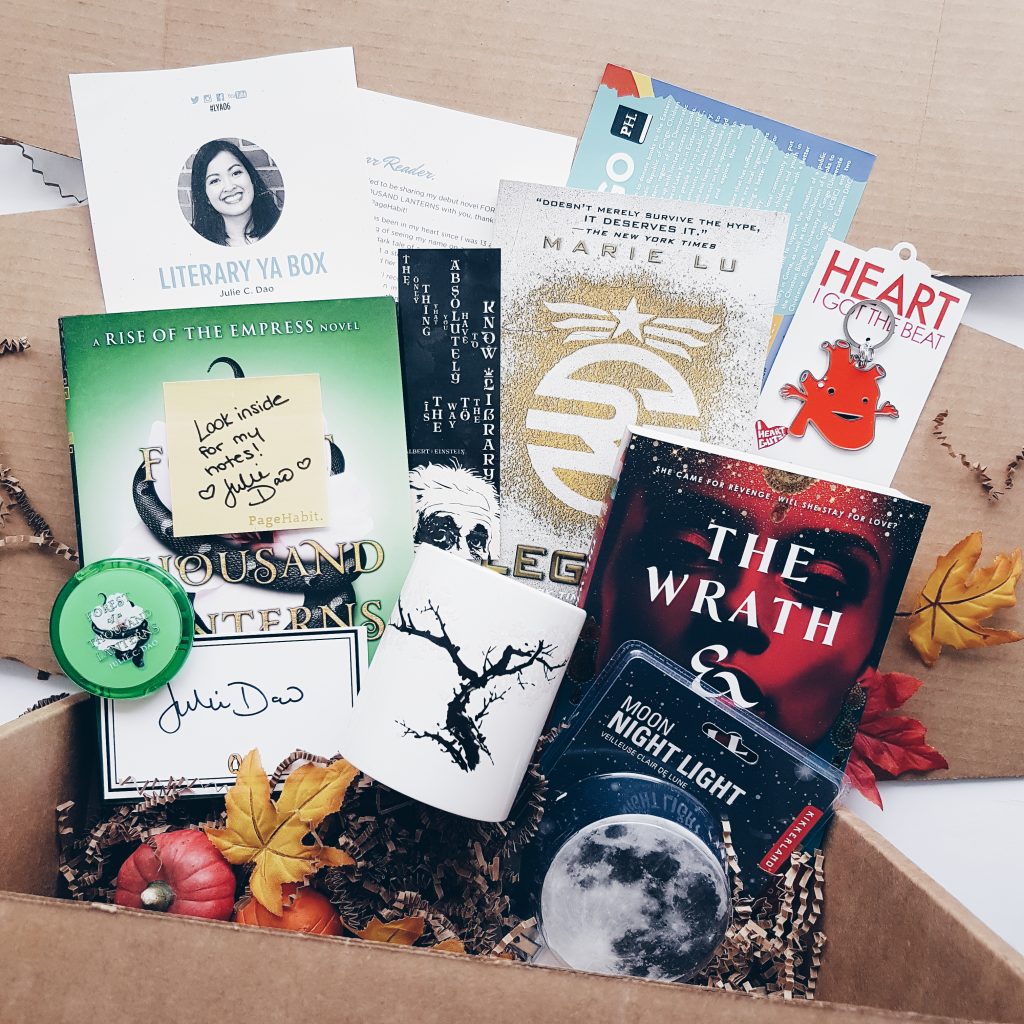 Check out Page Habit on:
Website | Instagram | Facebook | Twitter