Author : Amy Harmon
Published on : April 28, 2020
Publisher : Lake Union Publishing
Genre : Fiction, Romance, Historical Fiction
get your copy | add to Goodreads
Hey friends! It's been awhile since I posted a Once Upon A Book Club unboxing. I'm still part of the "Book Club VIP" and I received the May Adult box few weeks ago. The featured book was Where The Lost Wander, a western historical romance by Amy Harmon. You will find my full review and the items (unwrapped) that were included in the box.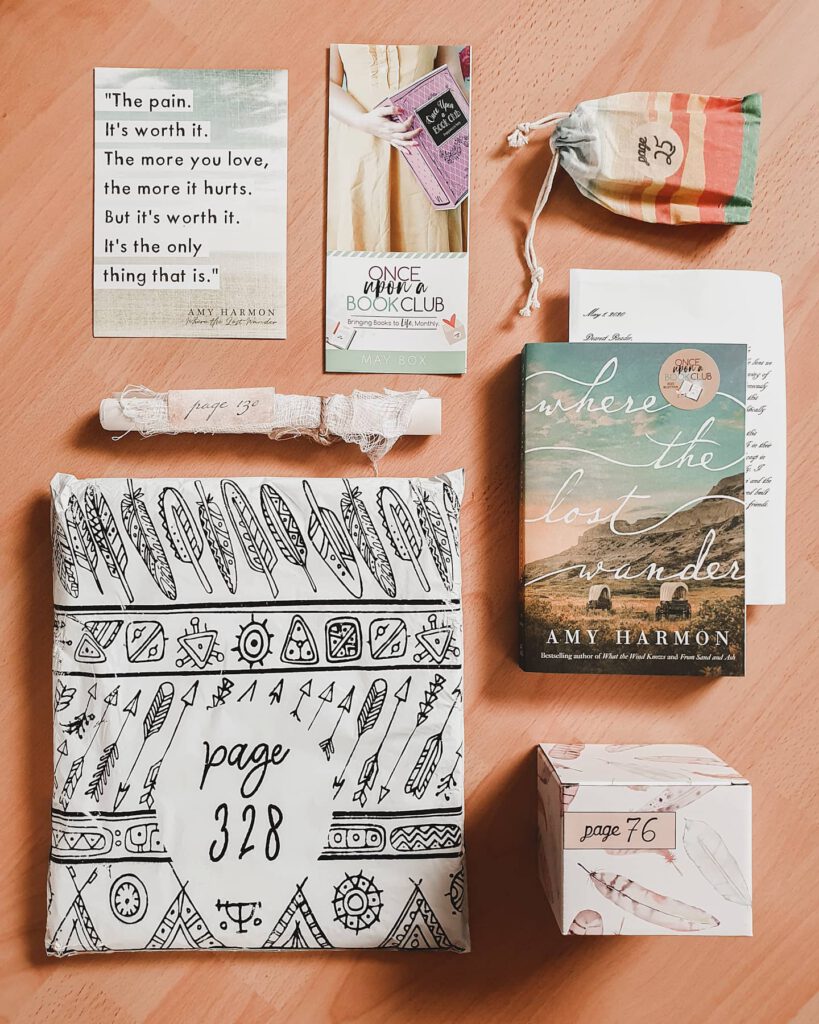 May Adult Box
In case you haven't heard about Once Upon A Book Club, it's a bookish subscription service which offers an incredible and unique way of reading. Their monthly box comes with a newly released book, a quote card, and 3-5 wrapped gifts. The gifts, which have specific page numbers on them, are only allowed to open once you have reached the corresponding page in the book. You can choose between their Adult and Young Adult boxes. Aside from read-alongs, you can also join the live book discussions and gift unwrappings.
You can use my code "kath10" to get discount on their shop.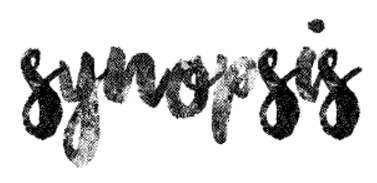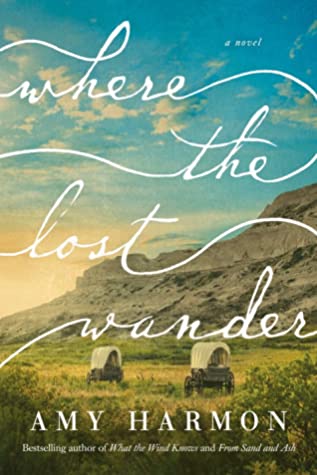 In this epic and haunting love story set on the Oregon Trail, a family and their unlikely protector find their way through peril, uncertainty, and loss.
The Overland Trail, 1853: Naomi May never expected to be widowed at twenty. Eager to leave her grief behind, she sets off with her family for a life out West. On the trail, she forms an instant connection with John Lowry, a half-Pawnee man straddling two worlds and a stranger in both.
But life in a wagon train is fraught with hardship, fear, and death. Even as John and Naomi are drawn to each other, the trials of the journey and their disparate pasts work to keep them apart. John's heritage gains them safe passage through hostile territory only to come between them as they seek to build a life together.
When a horrific tragedy strikes, decimating Naomi's family and separating her from John, the promises they made are all they have left. Ripped apart, they can't turn back, they can't go on, and they can't let go. Both will have to make terrible sacrifices to find each other, save each other, and eventually…make peace with who they are.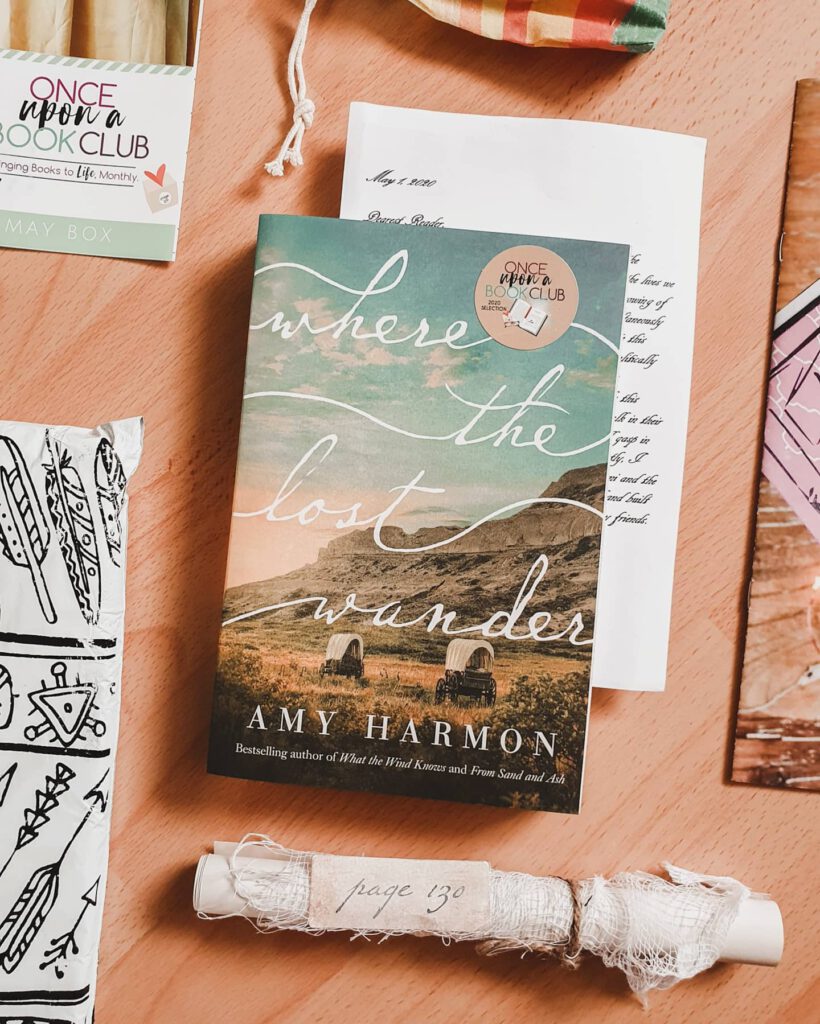 I mostly read historical fiction novels set during WWII so this book was a breath of fresh air.
The story is set on the Oregon Trail in 1853. Naomi May and her family together with others are travelling on a wagon train from Missouri to California to start a new life. John Lowry, a half-Pawnee half-white, is the one leading the train. He has no intention of moving to California but it has changed when he meets Naomi.
The book started with a prologue which was horrifying that you would want to know the events that leads to that incident and what happened after. The cast of characters were fleshed out and memorable. It didn't bother me that Naomi and John instantly fell in love with each other because the chemistry between them was strong. Life was hard for them but they're both brave and strong.
This was a slow read (at least for me) but I thought it was meant to read like that. You need to savour every moments in this book which wasn't hard because of the author's remarkable way of telling the story. She didn't sugarcoat things and this made this book more heartbreaking yet hopeful and powerful. The hardship, challenges, and loss that the characters went through were raw and felt so real.
This was already the third book (one was also from Once Upon A Book Club Box) I read from the author and I'm still fascinated by her beautiful and flawless writing. This book is also inspired by real people and one of them was John Lowry. He was the five times great grandfather of the author's husband. I haven't read a lot of books about Native Americans so I couldn't really say a lot about the accuracy but I could say that this book was well researched. I liked that author showed us the good and the bad sides of both the pioneers and Indians. I also liked the author's statement on the author's note in the end.
Where the Lost Wander was a captivating read and I highly recommend it if you're looking for an amazing historical romance novel.
"Put your energy into rising above the things you can't change, Naomi. Keep your mind right. And everything will work out for the best." "Even if there's a lot of pain along the way?" "Especially if there's pain along the way," Mama says firmly.
My Rating : ★★★★☆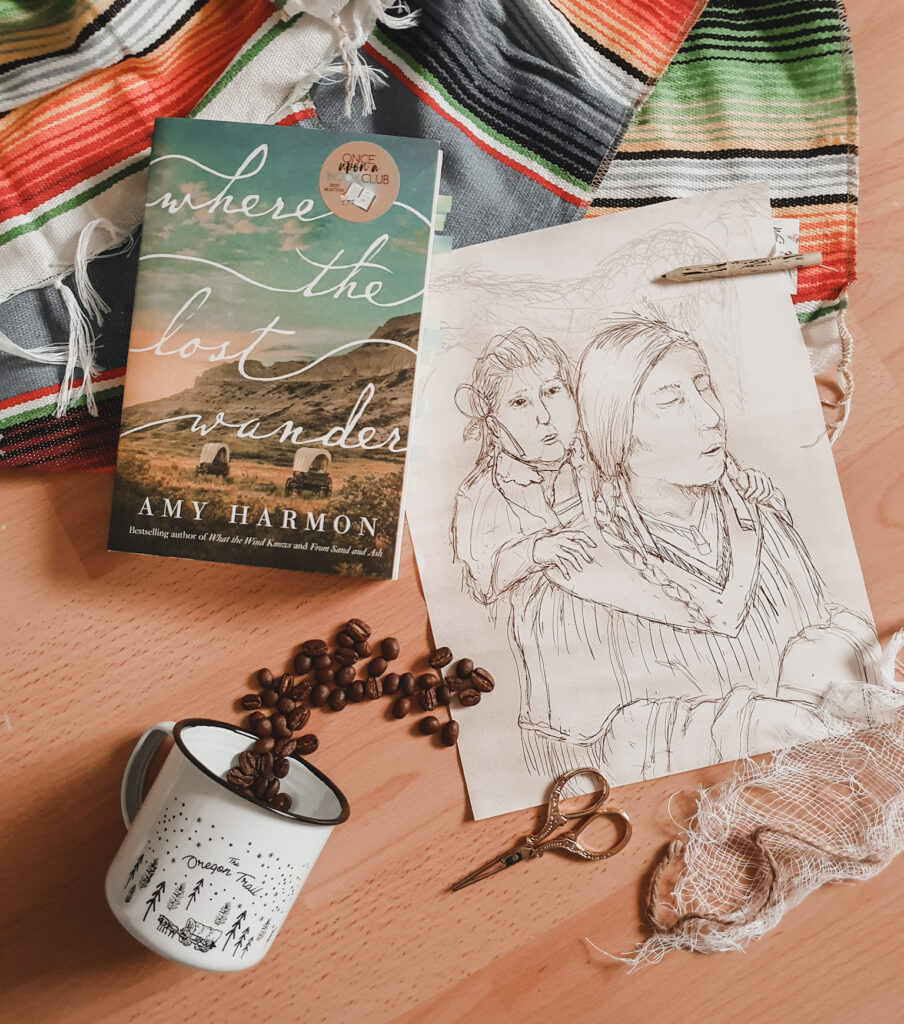 The following are the lines from the book, which inspired the items in the box:
"She begins her work, snipping and clipping, until she sets down her shears, brushes off her apron, and lifts the cloth from my shoulders, shaking it out briskly into the yard." – page 25
"He sets his coffee down and begins to rise." – page 76
"When I give him a picture of a nodding Indian girl, a little boy at her back with his hands in her hair, a suggestion of a horse transposed over the top of them…" – page 130
"She washed him and wrapped him in a small wool blanket with a stripe of every color." – page 328
---
What do you think about this subscription box? Have you read any books written by Amy Harmon?
Happy Weekend! ♥
Always,