Here's another reason to get excited for August!
In the Philippines, we celebrate Buwan ng Wika (National Language Month) in August! I remember when I was in elementary and highschool, we had different kinds of activities during Buwan ng Wika. We had poster-making contest, SayAwit (sing and dance performances), and Sabayang Pagbigkas (choral recitation).
In celebration of Buwan ng Wika, Kate of YourTitaKate together with Kat of HerBookishSide, Gerald of Gerald the Bookworm, Alex of AlexontheBlock, and Julienne of Love, Julienne are hosting a month-long readathon dedicated to Filipino authors called Wikathon! The main goal of this readathon is to read books written by Filipino authors. That's all! But if you want some fun challenges, there are reading prompts that you can do.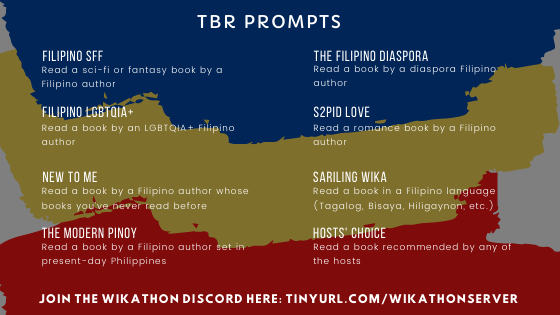 click the photo for the complete details
Here are the books I'm planning to read for Wikathon! I actually have more than eight books on my Wikathon tbr but the following titles are my priorities. I have also included some book recommendations.
Filipino SFF
Read a Science Fiction or Fantasy book by Filipino Author
I'll be reading Blood and Sand by C.V. Wyk. I got this book back in 2018 and I honestly didn't have any idea that the author is half-Filipino half-Mexican. I recommend The Never Tilting World by Rin Chupeco, The Wolf of Oren-Yaro by K.S. Villoso, and Ignite the Stars by Maura Milan for this prompt.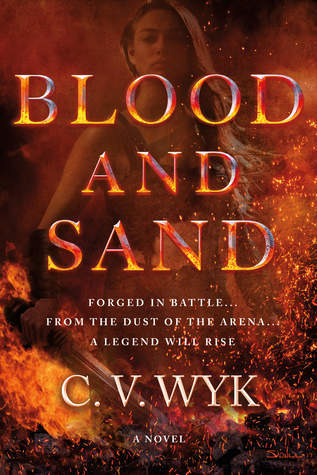 The action-packed tale of a 17-year-old warrior princess and a handsome gladiator who dared take on the Roman Republic—and gave rise to the legend of Spartacus…
Roma Victrix. The Republic of Rome is on a relentless march to create an empire―an empire built on the backs of the conquered, brought back to Rome as slaves.
Attia was once destined to rule as the queen and swordmaiden of Thrace, the greatest warrior kingdom the world had seen since Sparta. Now she is a slave, given to Xanthus, the Champion of Rome, as a sign of his master's favor. Enslaved as a child, Xanthus is the preeminent gladiator of his generation.
Against all odds, Attia and Xanthus form a tentative bond. A bond that will spark a rebellion. A rebellion that threatens to bring the Roman Republic to its end―and gives rise to the legend of Spartacus.

Filipino LGBTQPIA+
Read a book written by an LGBTQPIA+ Filipino author
My original pick was The Bone Witch Trilogy by Rin Chupeco (non-binary/genderfluid) but I just recently found out that Elaine Castillo, the author of America Is Not The Heart, is bisexual so I've decided to read her book instead. I'll still read Rin's book but for a different prompt.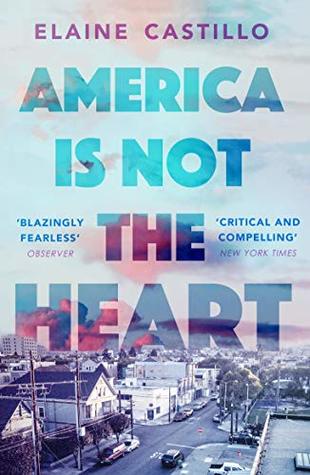 How many lives can one person lead in a single lifetime? When Hero de Vera arrives in America, disowned by her parents in the Philippines, she's already on her third. Her uncle, Pol, who has offered her a fresh start and a place to stay in the Bay Area, knows not to ask about her past. And his younger wife, Paz, has learned enough about the might and secrecy of the De Vera family to keep her head down. Only their daughter Roni asks Hero why her hands seem to constantly ache.
Illuminating the violent political history of the Philippines in the 1980s and 1990s and the insular immigrant communities that spring up in the suburban United States with an uncanny ear for the unspoken intimacies and pain that get buried by the duties of everyday life and family ritual, Castillo delivers a powerful, increasingly relevant novel about the promise of the American dream and the unshakable power of the past. In a voice as immediate and startling as those of Junot Diaz and NoViolet Bulawayo, America Is Not the Heart is a sprawling, soulful telenovela of a debut novel. With exuberance, muscularity, and tenderness, here is a family saga; an origin story; a romance; a narrative of two nations and the people who leave home to grasp at another, sometimes turning back.

New to Me
Read a book by a Filipino author that whose books you've never read before
I'm really looking forward on reading Insurrecto by Gina Apostol. Some books I can recommend are Natalie Tan's Book of Luck and Fortune by Roselle Lim and Smaller and Smaller Circles by F.H. Batacan. I immediately fell inlove with the authors' writing.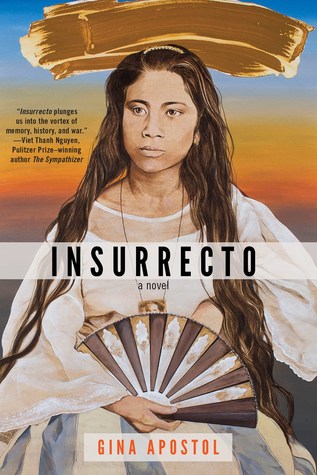 Two women, a Filipino translator and an American filmmaker, go on a road trip in Duterte's Philippines, collaborating and clashing in the writing of a film script about a massacre during the Philippine-American War. Chiara is working on a film about an incident in Balangiga, Samar, in 1901, when Filipino revolutionaries attacked an American garrison, and in retaliation American soldiers created "a howling wilderness" of the surrounding countryside. Magsalin reads Chiara's film script and writes her own version. Insurrecto contains within its dramatic action two rival scripts from the filmmaker and the translator—one about a white photographer, the other about a Filipino schoolteacher.
Within the spiraling voices and narrative layers of Insurrecto are stories of women—artists, lovers, revolutionaries, daughters—finding their way to their own truths and histories. Using interlocking voices and a kaleidoscopic structure, the novel is startlingly innovative, meditative, and playful. Insurrecto masterfully questions and twists narrative in the manner of Italo Calvino's If on a Winter's Night a Traveler, Julio Cortázar's Hopscotch, and Nabokov's Pale Fire. Apostol pushes up against the limits of fiction in order to recover the atrocity in Balangiga, and in so doing, she shows us the dark heart of an untold and forgotten war that would shape the next century of Philippine and American history.

Modern Pinoy
Read a book by a Filipino author set in present day Philippines (anything set in the year 2000 up to the present)
My pick for this prompt is Keep The Faith by Ana Tejano. It's available on Romance Class podcast. This book is also perfect for the S2PID Love prompt. I recommend My Fate According to the Butterfly by Gail Villanueva, Everlasting Nora by Marie Miranda Cruz, and Stay A Little Longer by Dawn Lanuza.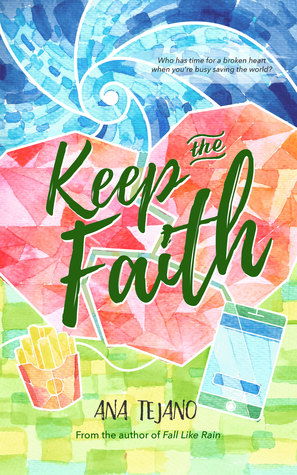 As a community development worker, Faith was quite familiar with heartbreak and recovery after all the time she spent on disaster relief missions. So when her five-year relationship ends right before she left for a mission trip to a typhoon-stricken town in Iloilo, she tries not to make a big deal out of it. How can she be broken up about a breakup when she's with people who literally lost everything?
But now that she's back, all Faith wants is for her life to go back to normal and have people stop looking at her with pity. Never mind that she still has a lot of questions about the breakup, or that she feels a tiny ache every time her ex comes up in conversations. She's okay now, and happily distracted by Nico Tamayo, the attractive new guy at work.
With new possibilities in the horizon, Faith thinks she is well on her way to moving on. But when her past comes calling back to her, will all the good things in her present be enough to keep her on the path? Or will she finally learn that there was more to heartbreak and recovery than what she knows?

Filipino Diaspora
Read a book written by a Diaspora Filipino author
Filipino diaspora authors are Filipino authors who have migrated to other countries or were born/raised abroad. I have picked Private Lessons by Cynthia Salaysay. Salaysay is currently living in California and her mother is a Filipino. For this prompt I can highly recommend Patron Saints of Nothing by Randy Ribay, Monsoon Mansion by Cinelle Barnes, and Hello, Universe by Erin Entrada.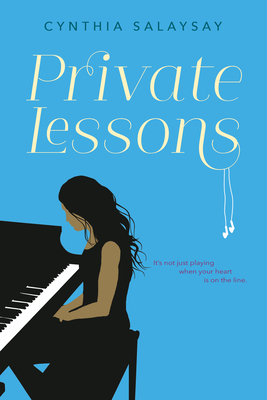 In a standout debut for the #MeToo era, a young pianist devotes herself to her art — and to the demanding, charismatic teacher she idolizes.
After seventeen-year-old Claire Alalay's father's death, only music has helped her channel her grief. Claire likes herself best when she plays his old piano, a welcome escape from the sadness — and her traditional Filipino mother's prayer groups. In the hopes of earning a college scholarship, Claire auditions for Paul Avon, a prominent piano teacher, who agrees to take Claire as a pupil. Soon Claire loses herself in Paul's world and his way of digging into a composition's emotional core. She practices constantly, foregoing a social life, but no matter how hard she works or how well she plays, it seems impossible to gain Paul's approval, let alone his affection.
Author Cynthia Salaysay composes a moving, beautifully written portrait of rigorous perfectionism, sexual awakening, and the challenges of self-acceptance. Timely and vital, Private Lessons delves into a complicated student/teacher relationship, as well as class and cultural differences, with honesty and grace.

S2PID Love
Read a romance book by a Filipino author
For this prompt I picked Once Upon A Sunset by Tif Marcelo. This was released in March 2020. Luckily, Scribd have it. I'm also planning on reading her other book called Happily Ever After. You can also check the RomanceClassBooks for more romance books by Filipino authors.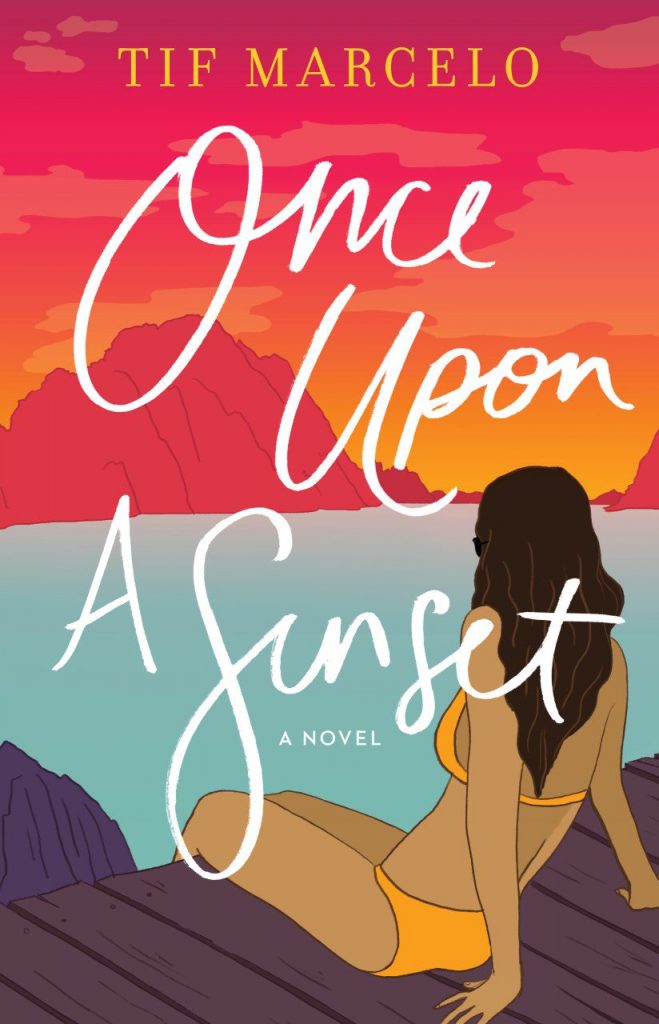 Diana Gallagher-Cary is at a tipping point. As a Washington, DC, OB/GYN at a prestigious hospital, she uses her career to distract herself from her grief over her granny's death and her breakup from her long-term boyfriend after her free-spirited mother moves in with her. But when she makes a medical decision that disparages the hospital, she is forced to go on a short sabbatical.
Never one to wallow, Diana decides to use the break to put order in her life, when her mother, Margo, stumbles upon a box of letters from her grandfather, Antonio Cruz, to her grandmother from the 1940s. The two women always believed that Antonio died in World War II, but the letters reveal otherwise. When they learn that he lived through the war, and that they have surviving relatives in the Philippines, Diana becomes determined to connect with the family that she never knew existed, though Margo refuses to face her history. But Diana pushes on, and heads on a once-in-a-lifetime trip that challenges her identity, family history, and her idea of romantic love that could change her life forever.

Sariling Wika
Read a book in a Filipino language (Tagalog, Bisaya, Hiligaynon, etc.)
I was born and raised in Metro Manila and my native language is Tagalog. I only have one book written in Tagalog with me which is Bob Ong's 56 and I read it twice already. As much as I love Bob Ong's books, I think it's time for me to read other Tagalog books. I don't have a lot of options when it comes to buying books written in Tagalog but thankfully, Jerry Gracio's books are free to download (pdf version). So for this prompt, I will be reading Bagay Tayo and Hindi Bagay. I'm glad I'm in the Wikathon Discord channel or else I wouldn't know about this. For this prompt, I recommend any books by Lualhati Bautista and Bob Ong. Noli Me Tangere and El Filibusterismo by Jose Rizal are perfect for this prompt too.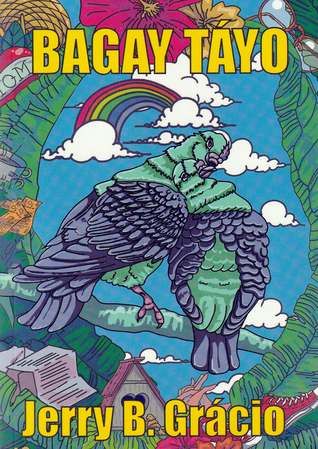 Bagay Tayo – Love Story ito na parang hindi. O life story. Sa pamamagitan ng serye ng maiikling sanaysay, ikukuwento sa atin ni Jerry B. Gracio ang kanyang buhay kasama si Pitbull, ibabahagi kung paano kiligin, magpaubaya, kumapit, bumitaw, magtiwala, magmahal. Nagsimula bilang serye ng mga FB post, patatawanin kayo at paiiyakin ng aklat na ito mula sa isa sa pinakamahusay na manunulat na Filipino sa kasalukuyan. Ipadarama sa inyo ng Bagay Tayo ang pag-ibig "na kahit langit, hindi mahuhusgahan sa ganda.
Hindi Bagay – Koleksiyon ito ng mga tula tungkol sa pag-ibig, pagtitiwala, paghihintay, pagtataksil, at muling pagyakap sa minamahal. Kambal na aklat ito ng BAGAY TAYO, mula sa makata na itinuturing ng mga kritiko bilang "isa sa pinakamatingkad na tinig sa panulaang Filipino sa kasalukuyan."

Host's Choice
Read a book recommended by any of the hosts
My initial pick was The Gilded Wolves by Roshani Chokshi but for some reasons my copy hasn't arrived yet. So I'll be reading The Bone Witch by Rin Chupeco. I read (via audiobook) it in April but I recently got my physical copy and I want to continue the series so I'll be rereading it. This trilogy is highly recommended by Kate.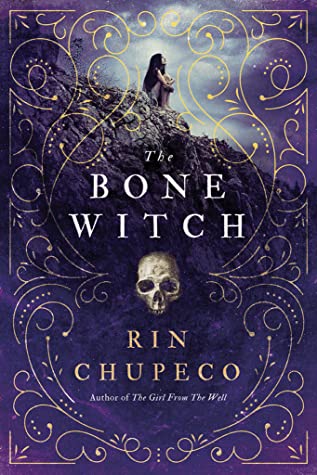 Let me be clear: I never intended to raise my brother from his grave, though he may claim otherwise. If there's anything I've learned from him in the years since, it's that the dead hide truths as well as the living.
When Tea accidentally resurrects her brother from the dead, she learns she is different from the other witches in her family. Her gift for necromancy means that she's a bone witch, a title that makes her feared and ostracized by her community. But Tea finds solace and guidance with an older, wiser bone witch, who takes Tea and her brother to another land for training.
In her new home, Tea puts all her energy into becoming an asha-one who can wield elemental magic. But dark forces are approaching quickly, and in the face of danger, Tea will have to overcome her obstacles…and make a powerful choice.
---
There you have it! Make sure to follow Wikathon's Twitter and Instagram account for updates, book recommendations, and giveaways! And since you're already here, please take some time to check out https://currentinfo.carrd.co/. Thanks!
Happy Tuesday!
Always,