I can't believe that it's already 2016. Happy New Year, by the way! I would like to share my Top 10 Favorite Books of 2015. Sadly, I wasn't able to complete my reading challenge last year. I read 49 books and my goal was 50. I know right! Just one book. I still stick to 50 books for this year and hopefully, i'll be able to complete the challenge.
So, let me start with my top five favorite stand-alones, in no particular order.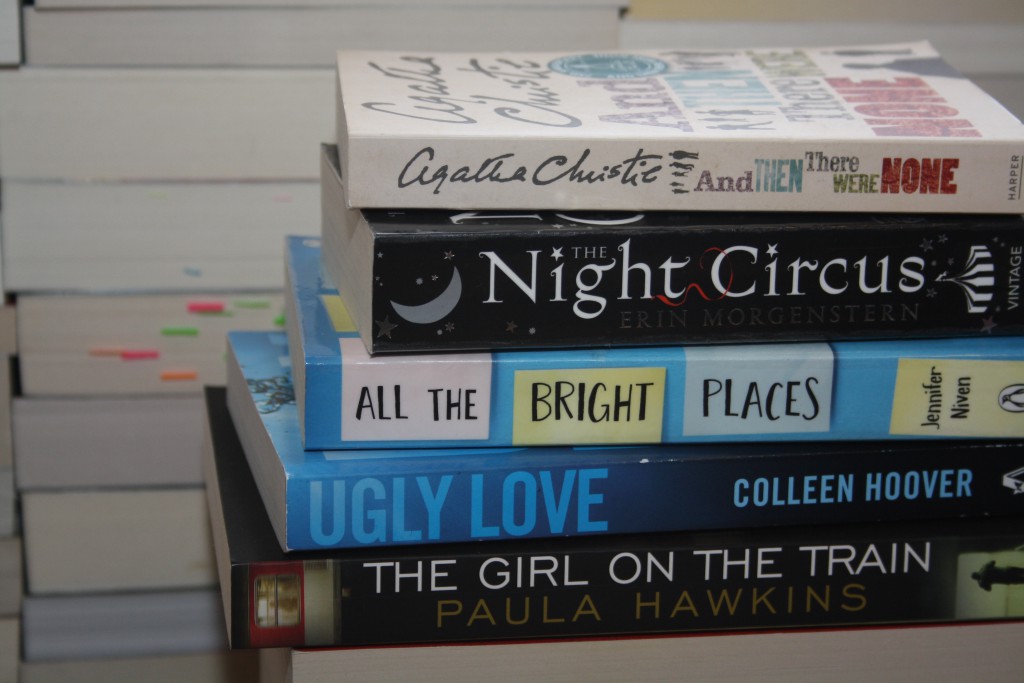 And Then There Where None by Agatha Christie – 5 out of 5 stars
One of my goal in 2015 is to read Agatha Christie's books and I was able to read three from her works. I also joined a read-along called #QueenofCrimeReadalong (hosted by three of my favorite bookstagramer) and it was fun. ATTWN is so far my favorite. This book is brilliant and I'm looking forward to read more of her works. My full review here.
The Night Circus by Erin Morgenstern – 4.5 out of 5 stars
This book is magical! The characters are unique and interesting, the storyline is brilliant, and the author made me want to wish that Le Cirque des Rêves is real. I highly recommend this book. It may be a little slow in the beginning but just continue and I'm telling you, it's worth it.
All The Bright Places by Jennifer Niven – 5 out of 5 stars
I shed big buckets of tears on the last few chapters and this book broke my heart. I can definitely say that the story and characters (especially Theodore Finch) will stay with me forever. I can still feel the pain while typing this. I'm over reacting! Just rad this book so you'll know.  My full review here.
Ugly Love by Colleen Hoover – 5 out of 5 stars
Aside from the gorgeous book cover and Nick Bateman playing as Miles Archer in the movie adaptaion, this book is really worth the hype. Ugly Love is now my favorite from Colleen Hoover. My full review here.
The Girl on the Train by Paula Hawkins – 4 out of 5 stars
This was my first read from Paula Hawkins and I like it. Her writing style is compelling and I love how twisted her characters. My full review here.
Now, here are my top five favorites books from a series, still in no particular order.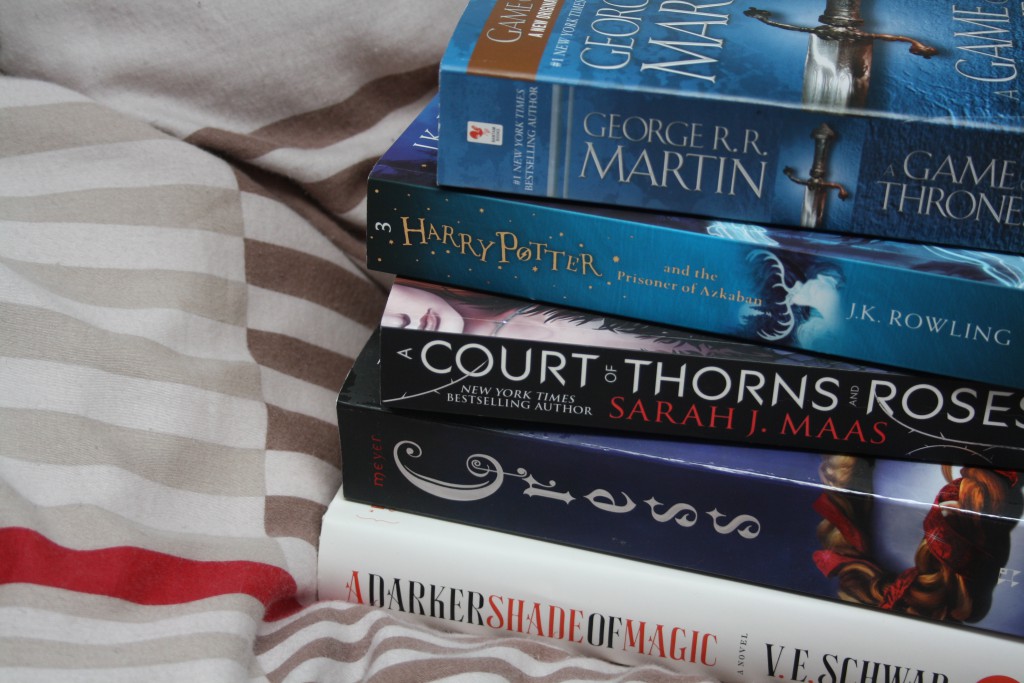 A Game of Thrones (A Song of Ice and Fire #1) by George R.R. Martin – 5 out of 5 stars
I think I don't have to say a lot about how brilliant this book is! My favorite characters are Daenerys Targaryen, Arya Stark, Tyrion Lannister and Jon Snow. I considered this as an intimidating book (835 pages and "high" fantasy) that's why I'm so proud to say that I've read and enjoy this novel. I also love the tv series adaptation.
Harry Potter and the Prisoner of Azkaban (Harry Potter #3) by J.K. Rowling – 5 out of 5 stars
My awesome husband bought me the Harry Potter box set (Bloomsbury edition) last year and I started reading the series and finished until the fourth book. I'm so glad I read the books because there are so many things I still didn't know about HP. I watched the movie adaptations a lot of times and I like them but reading the books made me love them. Just an advice, it's never too late to start reading this magical series so go ahead! Grab a copy.
A Court of Thorns and Roses (ACOTAR #1) by Sarah J. Maas – 5 out of 5 stars
My first Sarah Maas book. Strong female protagonist and captivating story. Not to mention, lovely book cover! My full review here.
Cress (The Lunar Chronicles #3) by Marissa Meyer – 4.5 out of 5 stars
A fairytale retelling of Rapunzel (one of my favorites)  with a unique twist. It's quite hard for me to write a decent review of this book because I don't know where to start. Cress is my favorite book from The Lunar Chronicles series. A mix of action, comedy and romance. The world-building is superb and the characters are all great. My favorites are Captain Thorne, Iko and of course, Cress. I highly recommend this series!
A Darker Shade of Magic (ADSOM #1) by V.E. Schwab – 4.5 out of 5 stars
My first V.E. Schwab book. I bought the hardcover edition because I love the cover and I'm honestly considering of still buying the paperback edition because the cover is also gorgeous. I finished ADSOM few days ago and I love it. The concept is unique and interesting. Four Londons and a guy who can travel through wall. The characters are amazing especially when Kell (the traveller with an awesome coat) is together with Lila Bard (a girl who wants to be a pirate). These two make a perfect team. The writing style is superb. I'll be writing my full review soon. I can't wait for the second book, A Gathering of Shadows.
There you are! My top 10 of 2015! Looking forward for an awesome year of reading!