Hi everyone! It's May which means it's AAPI Heritage Month! It is also Tuesday which means it's "pub day". There are so many new books coming out this month and I'm not really sure what to pick first. I have 14 books on my list, 13 of them are written by Asian authors.
By the way, this year I'm co-hosting StanAsianAuthors readathon! It's a month-long readathon created by Eunice (@nerdytalksbookblog) last year to celebrate AAPI month by reading books written by Asian authors. We have created some reading prompts but they're optional. The important thing is we read books by Asian and Pacific Islander authors. It is just one of the many ways we can support and celebrate them and their works. I hope this will also help us to diversify our shelves and read books by marginalized authors all year round.
So getting back to new releases. Which of these books are on your tbr?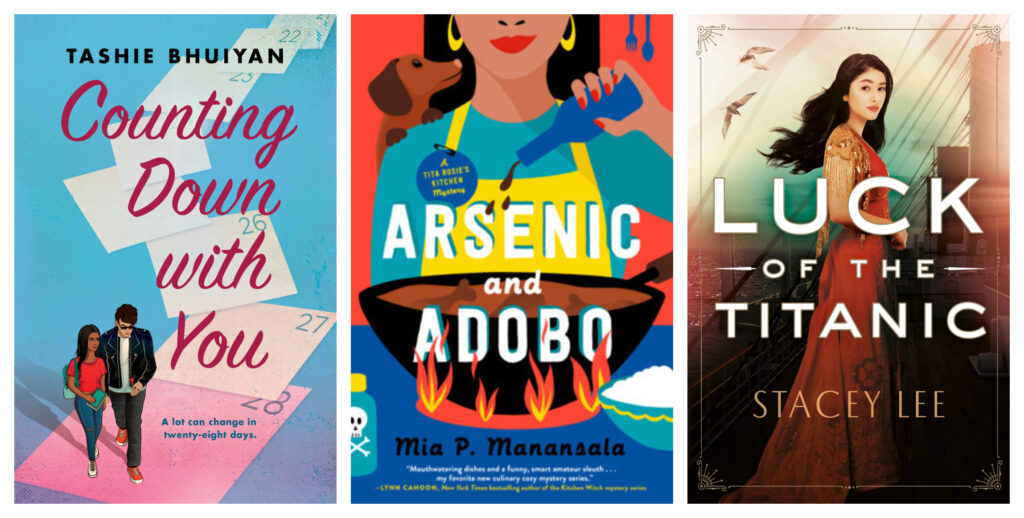 Counting Down with You by Tashie Bhuiyan / May 4
A reserved Bangladeshi teenager has twenty-eight days to make the biggest decision of her life after agreeing to fake date her school's resident bad boy. How do you make one month last a lifetime? Karina Ahmed has a plan. Keep her head down, get through high school without a fuss, and follow her parents' rules—even if it means sacrificing her dreams. When her parents go abroad to Bangladesh for four weeks, Karina expects some peace and quiet. Instead, one simple lie unravels everything. Karina is my girlfriend. Tutoring the school's resident bad boy was already crossing a line. Pretending to date him? Out of the question. But Ace Clyde does everything right—he brings her coffee in the mornings, impresses her friends without trying, and even promises to buy her a dozen books (a week) if she goes along with his fake-dating facade. Though Karina agrees, she can't help but start counting down the days until her parents come back. T-minus twenty-eight days until everything returns to normal—but what if Karina no longer wants it to?
Arsenic and Adobo by Mia P. Manansala / May 4
When Lila Macapagal moves back home to recover from a horrible breakup, her life seems to be following all the typical rom-com tropes. She's tasked with saving her Tita Rosie's failing restaurant, and she has to deal with a group of matchmaking aunties who shower her with love and judgment. But when a notoriously nasty food critic (who happens to be her ex-boyfriend) drops dead moments after a confrontation with Lila, her life quickly swerves from a Nora Ephron romp to an Agatha Christie case. With the cops treating her like she's the one and only suspect, and the shady landlord looking to finally kick the Macapagal family out and resell the storefront, Lila's left with no choice but to conduct her own investigation. Armed with the nosy auntie network, her barista best bud, and her trusted Dachshund, Longanisa, Lila takes on this tasty, twisted case and soon finds her own neck on the chopping block.
Luck of the Titanic by Stacey Lee / May 4
Southampton, 1912: Seventeen-year-old British-Chinese Valora Luck has quit her job and smuggled herself aboard the Titanic with two goals in mind: to reunite with her twin brother Jamie–her only family now that both their parents are dead–and to convince a part-owner of the Ringling Brothers Circus to take the twins on as acrobats. Quick-thinking Val talks her way into opulent firstclass accommodations and finds Jamie with a group of fellow Chinese laborers in third class. But in the rigidly stratified world of the luxury liner, Val's ruse can only last so long, and after two long years apart, it's unclear if Jamie even wants the life Val proposes. Then, one moonless night in the North Atlantic, the unthinkable happens–the supposedly unsinkable ship is dealt a fatal blow–and Val and her companions suddenly find themselves in a race to survive.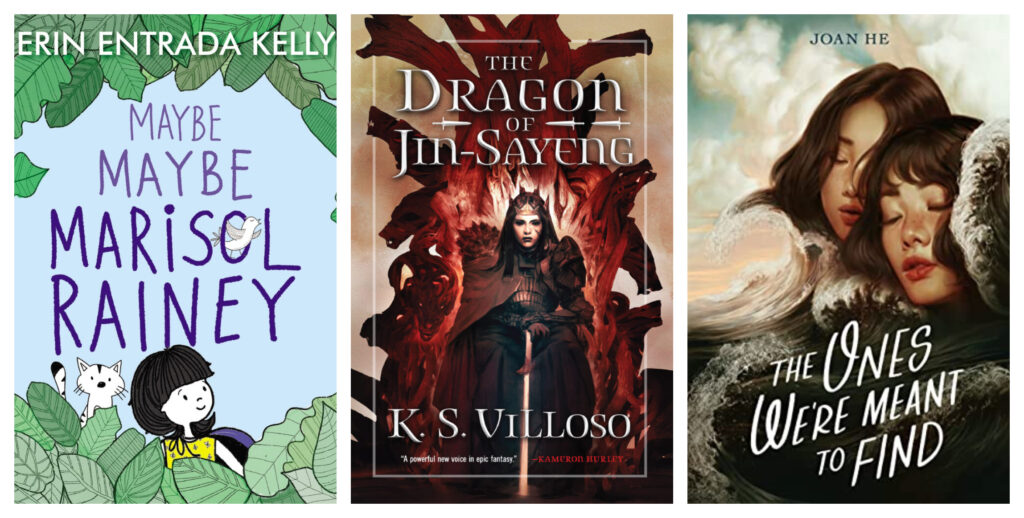 Maybe Maybe Marisol Rainey by Erin Entrada Kelly / May 4
Marisol Rainey's mother was born in the Philippines. Marisol's father works and lives part-time on an oil rig in the Gulf of Mexico. And Marisol, who has a big imagination and likes to name inanimate objects, has a tree in her backyard she calls Peppina . . . but she's way too scared to climb it. This all makes Marisol the only girl in her small Louisiana town with a mother who was born elsewhere and a father who lives elsewhere (most of the time)–the only girl who's fearful of adventure and fun. Will Marisol be able to salvage her summer and have fun with Jada, her best friend? Maybe. Will Marisol figure out how to get annoying Evie Smythe to leave her alone? Maybe. Will Marisol ever get to spend enough real time with her father? Maybe. Will Marisol find the courage to climb Peppina? Maybe.
The Dragon of Jin-Sayeng by K.S. Villoso / May 4
Queen Talyien is finally home, but dangers she never imagined await her in the shadowed halls of her father's castle. War is on the horizon. Her son has been stolen from her, her warlords despise her, and across the sea, a cursed prince threatens her nation with invasion in order to win her hand. Worse yet, her father's ancient secrets are dangerous enough to bring Jin Sayeng to ruin. Dark magic tears rifts in the sky, preparing to rain down madness, chaos, and the possibility of setting her nation aflame. Bearing the brunt of the past and uncertain about her future, Talyien will need to decide between fleeing her shadows or embracing them before the whole world becomes an inferno.
The Ones We're Meant To Find by Joan He / May 4
Cee has been trapped on an abandoned island for three years without any recollection of how she arrived, or memories from her life prior. All she knows is that somewhere out there, beyond the horizon, she has a sister named Kay. Determined to find her, Cee devotes her days to building a boat from junk parts scavenged inland, doing everything in her power to survive until the day she gets off the island and reunites with her sister. In a world apart, 16-year-old STEM prodigy Kasey Mizuhara is also living a life of isolation. The eco-city she calls home is one of eight levitating around the world, built for people who protected the planet―and now need protecting from it. With natural disasters on the rise due to climate change, eco-cities provide clean air, water, and shelter. Their residents, in exchange, must spend at least a third of their time in stasis pods, conducting business virtually whenever possible to reduce their environmental footprint. While Kasey, an introvert and loner, doesn't mind the lifestyle, her sister Celia hated it. Popular and lovable, Celia much preferred the outside world. But no one could have predicted that Celia would take a boat out to sea, never to return. Now it's been three months since Celia's disappearance, and Kasey has given up hope. Logic says that her sister must be dead. But as the public decries her stance, she starts to second guess herself and decides to retrace Celia's last steps. Where they'll lead her, she does not know. Her sister was full of secrets. But Kasey has a secret of her own.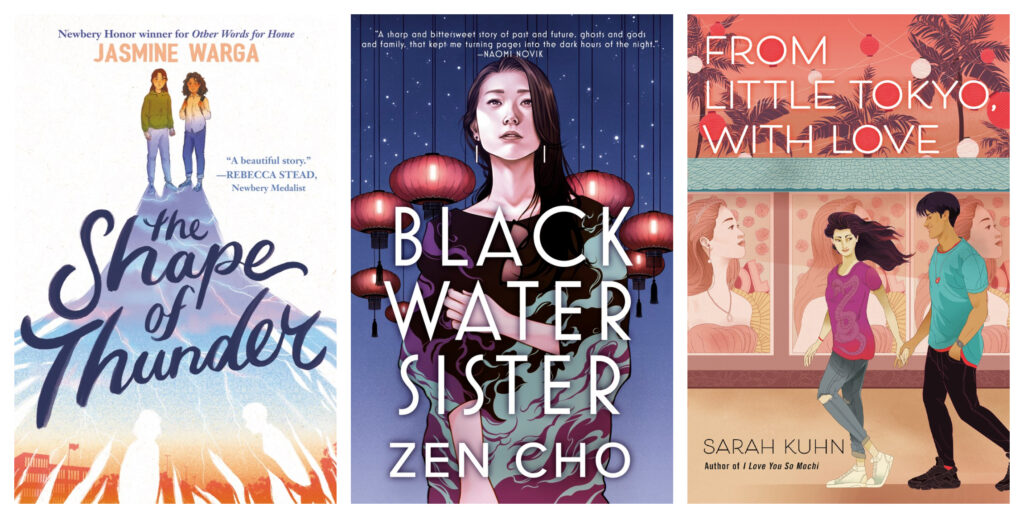 The Shape of Thunder by Jasmine Warga / May 11
Cora hasn't spoken to her best friend, Quinn, in a year. Despite living next door to each other, they exist in separate worlds of grief. Cora is still grappling with the death of her beloved sister in a school shooting, and Quinn is carrying the guilt of what her brother did. On the day of Cora's twelfth birthday, Quinn leaves a box on her doorstep with a note. She has decided that the only way to fix things is to go back in time to the moment before her brother changed all their lives forever—and stop him. In spite of herself, Cora wants to believe. And so the two former friends begin working together to open a wormhole in the fabric of the universe. But as they attempt to unravel the mysteries of time travel to save their siblings, they learn that the magic of their friendship may actually be the key to saving themselves.
Black Water Sister by Zen Cho / May 11
Jessamyn Teoh is closeted, broke and moving back to Malaysia, a country she left when she was a toddler. So when Jess starts hearing voices, she chalks it up to stress. But there's only one voice in her head, and it claims to be the ghost of her estranged grandmother, Ah Ma. In life Ah Ma was a spirit medium, the avatar of a mysterious deity called the Black Water Sister. Now she's determined to settle a score against a gang boss who has offended the god–and she's decided Jess is going to help her do it. Drawn into a world of gods, ghosts, and family secrets, Jess finds that making deals with capricious spirits is a dangerous business. As Jess fights for retribution for Ah Ma, she'll also need to regain control of her body and destiny. If she fails, the Black Water Sister may finish her off for good.
From Little Tokyo, with Love by Sarah Kuhn / May 11
If Rika's life seems like the beginning of a familiar fairy tale–being an orphan with two bossy cousins and working away in her aunts' business–she would be the first to reject that foolish notion. After all, she loves her family (even if her cousins were named after Disney characters), and with her biracial background, amazing judo skills and red-hot temper, she doesn't quite fit the princess mold. All that changes the instant she locks eyes with Grace Kimura, America's reigning rom-com sweetheart, during the Nikkei Week Festival. From there, Rika embarks on a madcap adventure of hope and happiness–searching for clues about her long-lost mother, exploring Little Tokyo's hidden treasures with a cute actor, and maybe…finally finding a sense of belonging. But fairy tales are fiction and the real world isn't so kind. Rika knows she's setting herself up for disappointment, because happy endings don't happen to girls like her. Should she walk away before she gets in even deeper, or let herself be swept away?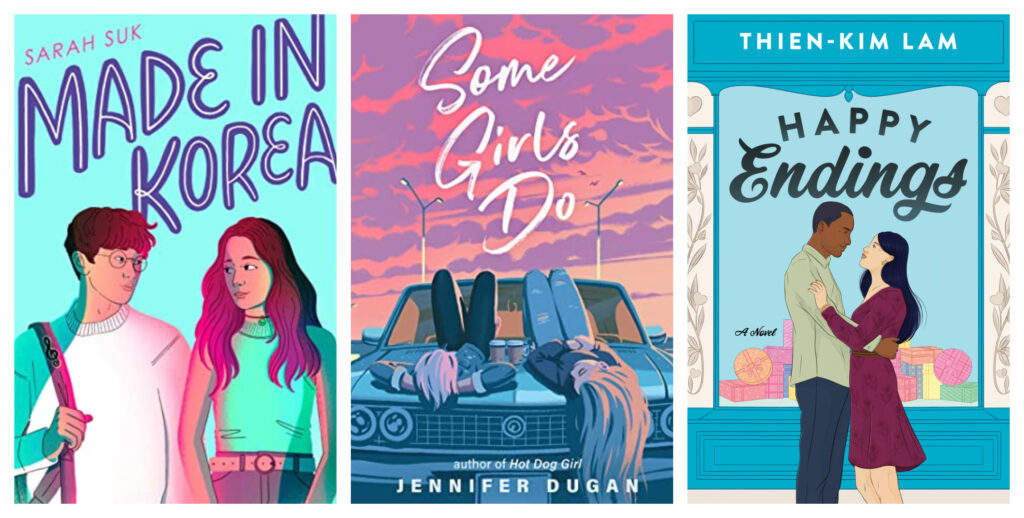 Made in Korea by Sarah Suk / May 18
There's nothing Valerie Kwon loves more than making a good sale. Together with her cousin Charlie, they run V&C K-BEAUTY, their school's most successful student-run enterprise. With each sale, Valerie gets closer to taking her beloved and adventurous halmeoni to her dream city, Paris. Enter the new kid in class, Wes Jung, who is determined to pursue music after graduation despite his parents' major disapproval. When his classmates clamor to buy the K-pop branded beauty products his mom gave him to "make new friends," he sees an opportunity—one that may be the key to help him pay for the music school tuition he knows his parents won't cover… What he doesn't realize, though, is that he is now V&C K-BEAUTY's biggest competitor. Stakes are high as Valerie and Wes try to outsell each other, make the most money, and take the throne for the best business in school—all while trying to resist the undeniable spark that's crackling between them. From hiring spies to all-or-nothing bets, the competition is much more than either of them bargained for. But one thing is clear: only one Korean business can come out on top.
Some Girls Do by Jennifer Dugan / May 18
Morgan, an elite track athlete, is forced to transfer high schools late in her senior year after it turns out being queer is against her private Catholic school's code of conduct. There, she meets Ruby, who has two hobbies: tinkering with her baby blue 1970 Ford Torino and competing in local beauty pageants, the latter to live out the dreams of her overbearing mother. The two are drawn to each other and can't deny their growing feelings. But while Morgan–out and proud, and determined to have a fresh start–doesn't want to have to keep their budding relationship a secret, Ruby isn't ready to come out yet. With each girl on a different path toward living her truth, can they go the distance together?
Happy Endings by Thien-Kim Lam / May 18
Trixie Nguyen is determined to make her sex toy business a success, proving to her traditional Vietnamese parents that she can succeed in a nontraditional career. She's made a fresh start in Washington DC, and her first pop-up event is going well—until she runs into the ex who dumped her. With a Post-it note. The last person Andre Walker expected to see in his soul food restaurant was the woman he left behind in New Orleans. Their chemistry is still scorching, but he's desperately trying to save his family restaurant from gentrifying developers. The solution? Partnering with his ex to turn Mama Hazel's into a vibrator pop-up shop for hungry and horny clients. Thanks to their steamy truce, both businesses start to sizzle and their red-hot desire soon reignites deeper feelings. But when Trixie receives an incredible career opportunity, will pride ruin their second chance at happiness?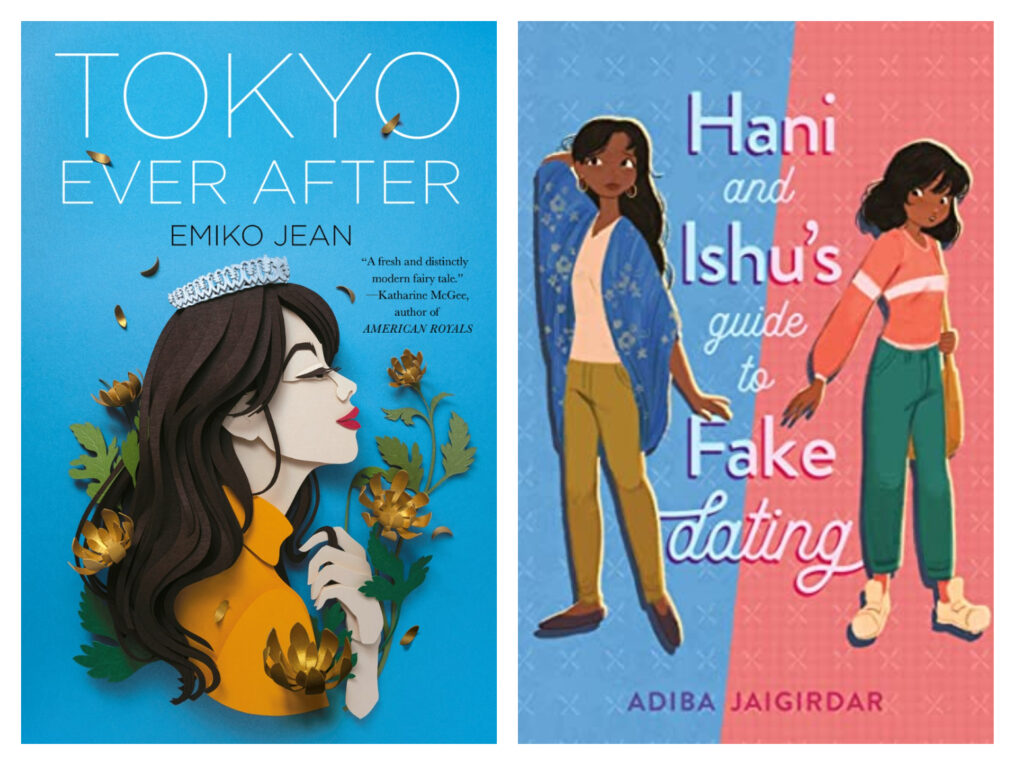 Tokyo Ever After by Emiko Jean / May 18
Izumi Tanaka has never really felt like she fit in—it isn't easy being Japanese American in her small, mostly white, northern California town. Raised by a single mother, it's always been Izumi—or Izzy, because "It's easier this way"—and her mom against the world. But then Izzy discovers a clue to her previously unknown father's identity… and he's none other than the Crown Prince of Japan. Which means outspoken, irreverent Izzy is literally a princess. In a whirlwind, Izzy travels to Japan to meet the father she never knew and discover the country she always dreamed of. But being a princess isn't all ball gowns and tiaras. There are conniving cousins, a hungry press, a scowling but handsome bodyguard who just might be her soulmate, and thousands of years of tradition and customs to learn practically overnight. Izzy soon finds herself caught between worlds, and between versions of herself—back home, she was never "American" enough, and in Japan, she must prove she's "Japanese" enough. Will Izumi crumble under the weight of the crown, or will she live out her fairytale, happily ever after?
Hani and Ishu's Guide to Fake Dating by Adiba Jaigirdar / May 25
Everyone likes Humaira "Hani" Khan—she's easy going and one of the most popular girls at school. But when she comes out to her friends as bisexual, they invalidate her identity, saying she can't be bi if she's only dated guys. Panicked, Hani blurts out that she's in a relationship…with a girl her friends absolutely hate—Ishita "Ishu" Dey. Ishu is the complete opposite of Hani. She's an academic overachiever who hopes that becoming head girl will set her on the right track for college. But Ishita agrees to help Hani, if Hani will help her become more popular so that she stands a chance of being elected head girl. Despite their mutually beneficial pact, they start developing real feelings for each other. But relationships are complicated, and some people will do anything to stop two Bengali girls from achieving happily ever after.
---
* book descriptions are from goodreads
* this post may contain affiliate links.