It's officially March and we're getting so many new exciting books! These are just the ones that I can't wait to read hopefully soon.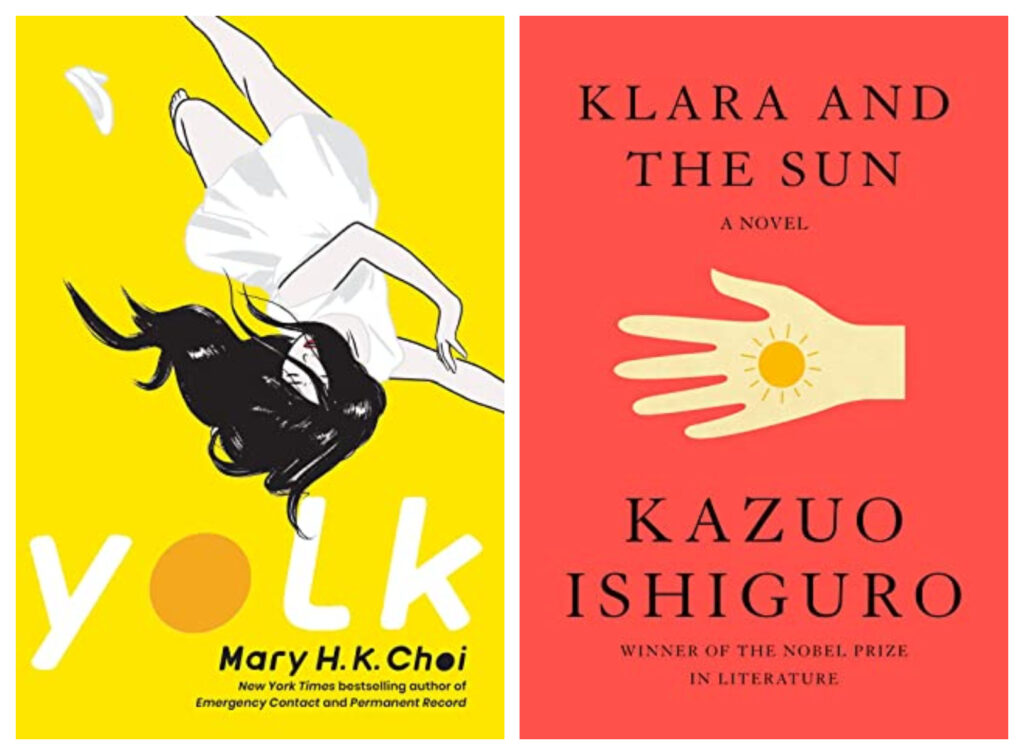 Yolk by Mary H.K. Choi / March 2
Jayne Baek is barely getting by. She shuffles through fashion school, saddled with a deadbeat boyfriend, clout-chasing friends, and a wretched eating disorder that she's not fully ready to confront. But that's New York City, right? At least she isn't in Texas anymore, and is finally living in a city that feels right for her. On the other hand, her sister June is dazzlingly rich with a high-flying finance job and a massive apartment. Unlike Jayne, June has never struggled a day in her life. Until she's diagnosed with uterine cancer. Suddenly, these estranged sisters who have nothing in common are living together. Because sisterly obligations are kind of important when one of you is dying.
Klara and the Sun by Kazuo Ishiguro / March 2
Klara and the Sun, the first novel by Kazuo Ishiguro since he was awarded the Nobel Prize in Literature, tells the story of Klara, an Artificial Friend with outstanding observational qualities, who, from her place in the store, watches carefully the behavior of those who come in to browse, and of those who pass on the street outside. She remains hopeful that a customer will soon choose her. Klara and the Sun is a thrilling book that offers a look at our changing world through the eyes of an unforgettable narrator, and one that explores the fundamental question: What does it mean to love?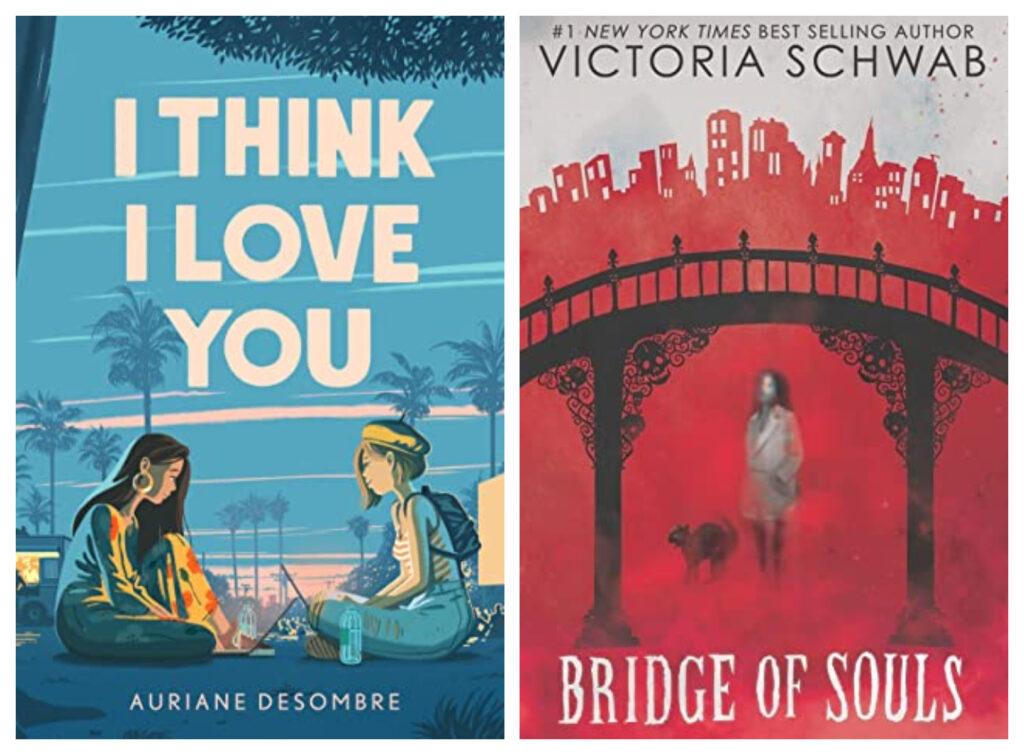 I Think I Love You by Auriane Desombre / March 2
Emma is a die-hard romantic. She loves a meet-cute Netflix movie, her pet, Lady Catulet, and dreaming up the Gay Rom Com of her heart for the film festival competition she and her friends are entering. If only they'd listen to her ideas. Sophia is pragmatic. She's big into boycotts, namely 1) relationships, 2) teen boys and their BO (reason #2347683 she's a lesbian), and 3) Emma's nauseating ideas. Forget starry-eyed romance, Sophia knows what will win: an artistic film with a message. Cue the drama. The movie is doomed before they even start shooting… until a real-life plot twist unfolds behind the camera when Emma and Sophia start seeing each other through a different lens. Suddenly their rivalry is starting to feel like an actual rom-com.
Bridge of Souls by Victoria Schwab / March 2
Where there are ghosts, Cassidy Blake follows … unless it's the other way around? Cass thinks she might have this ghost-hunting thing down. After all, she and her ghost best friend, Jacob, have survived two haunted cities while travelling for her parents' TV show. But nothing can prepare Cass for New Orleans, which wears all of its hauntings on its sleeve. In a city of ghost tours and tombs, raucous music and all kinds of magic, Cass could get lost in all the colourful, grisly local legends. And the city's biggest surprise is a foe Cass never expected to face: a servant of Death itself. Cass takes on her most dangerous challenge yet.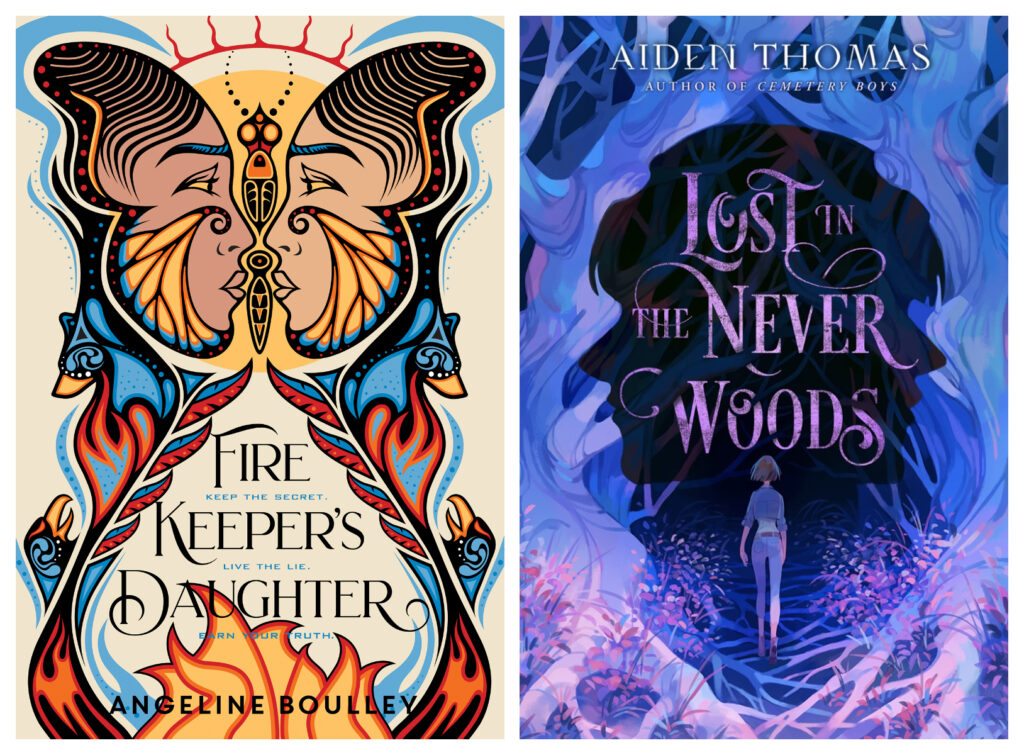 Firekeeper's Daughter by Angeline Boulley / March 2
As a biracial, unenrolled tribal member and the product of a scandal, eighteen-year-old Daunis Fontaine has never quite fit in, both in her hometown and on the nearby Ojibwe reservation. Daunis dreams of studying medicine, but when her family is struck by tragedy, she puts her future on hold to care for her fragile mother. The only bright spot is meeting Jamie, the charming new recruit on her brother Levi's hockey team. Yet even as Daunis falls for Jamie, certain details don't add up and she senses the dashing hockey star is hiding something. Everything comes to light when Daunis witnesses a shocking murder, thrusting her into the heart of a criminal investigation. Reluctantly, Daunis agrees to go undercover, but secretly pursues her own investigation, tracking down the criminals with her knowledge of chemistry and traditional medicine. But the deceptions—and deaths—keep piling up and soon the threat strikes too close to home. Now, Daunis must learn what it means to be a strong Anishinaabe kwe (Ojibwe woman) and how far she'll go to protect her community, even if it tears apart the only world she's ever known.
The Lost Apothecary by Sarah Penner / March 2
Rule #1: The poison must never be used to harm another woman.
Rule #2: The names of the murderer and her victim must be recorded in the apothecary's register.
One cold February evening in 1791, at the back of a dark London alley in a hidden apothecary shop, Nella awaits her newest customer. Once a respected healer, Nella now uses her knowledge for a darker purpose—selling well-disguised poisons to desperate women who would kill to be free of the men in their lives. But when her new patron turns out to be a precocious twelve-year-old named Eliza Fanning, an unexpected friendship sets in motion a string of events that jeopardizes Nella's world and threatens to expose the many women whose names are written in her register. In present-day London, aspiring historian Caroline Parcewell spends her tenth wedding anniversary alone, reeling from the discovery of her husband's infidelity. When she finds an old apothecary vial near the river Thames, she can't resist investigating, only to realize she's found a link to the unsolved "apothecary murders" that haunted London over two centuries ago. As she deepens her search, Caroline's life collides with Nella's and Eliza's in a stunning twist of fate—and not everyone will survive.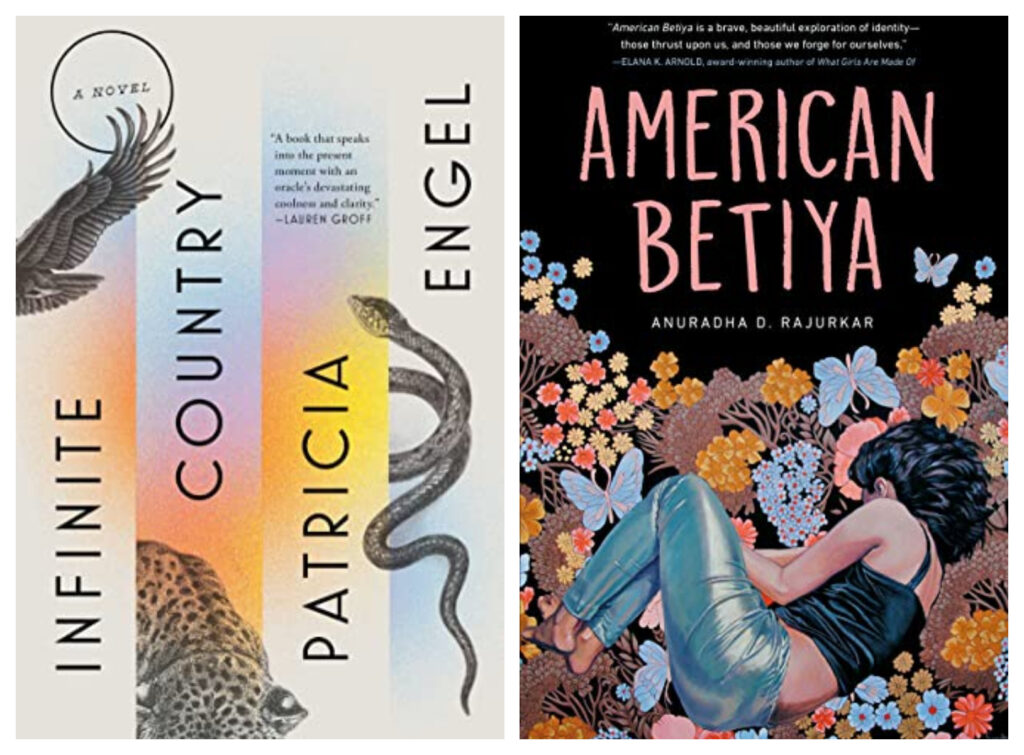 Infinite Country by Patricia Engel / March 2
At the dawn of the new millennium, Colombia is a country devastated by half a century of violence. Elena and Mauro are teenagers when they meet, their blooming love an antidote to the mounting brutality of life in Bogotá. Once their first daughter is born, and facing grim economic prospects, they set their sights on the United States. They travel to Houston and send wages back to Elena's mother, all the while weighing whether to risk overstaying their tourist visas or to return to Bogotá. As their family expands, and they move again and again, their decision to ignore their exit dates plunges the young family into the precariousness of undocumented status, the threat of discovery menacing a life already strained. When Mauro is deported, Elena, now tasked with caring for their three small children, makes a difficult choice that will ease her burdens but splinter the family even further.
American Betiya by Anuradha D. Rajurkar / March 9
Rani Kelkar has never lied to her parents, until she meets Oliver. The same qualities that draw her in–his tattoos, his charisma, his passion for art–make him her mother's worst nightmare. They begin dating in secret, but when Oliver's troubled home life unravels, he starts to ask more of Rani than she knows how to give, desperately trying to fit into her world, no matter how high the cost. When a twist of fate leads Rani from Evanston, Illinois to Pune, India for a summer, she has a reckoning with herself–and what's really brewing beneath the surface of her first love. Winner of the SCBWI Emerging Voices award, Anuradha Rajurkar takes an honest look at the ways cultures can clash in an interracial relationship. Braiding together themes of sexuality, artistic expression, and appropriation, she gives voice to a girl claiming ownership of her identity, one shattered stereotype at a time.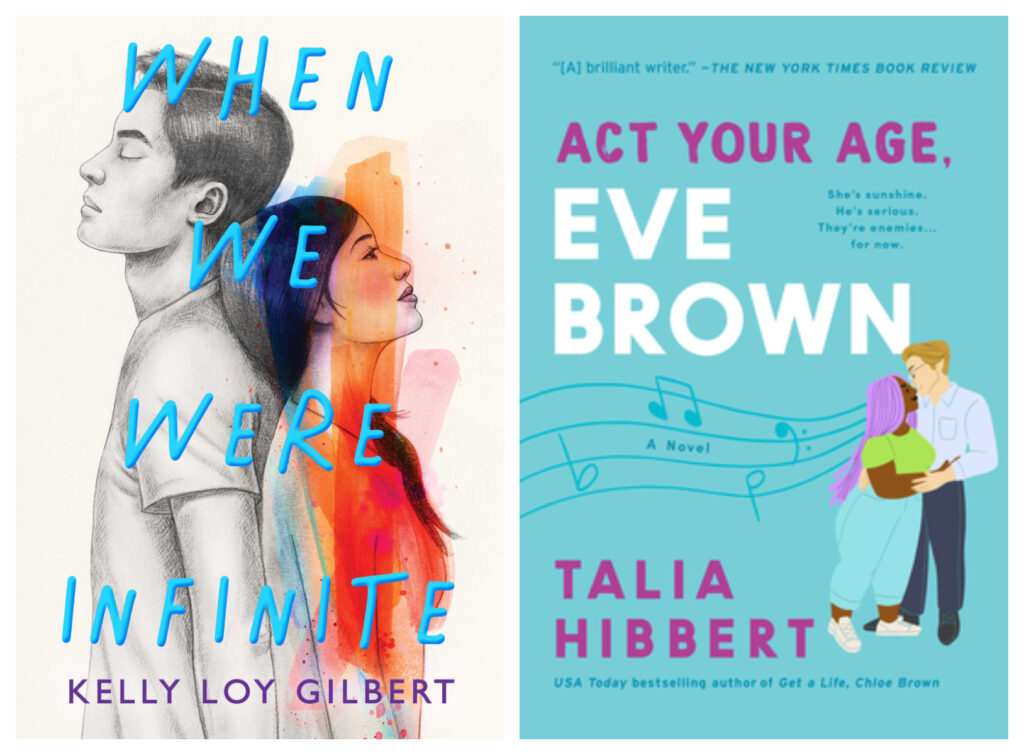 When We Were Infinite by Kelly Loy Gilbert / March 9
All Beth wants is for her tight-knit circle of friends — Grace Nakamura, Brandon Lin, Sunny Chen, and Jason Tsou — to stay together. With her family splintered and her future a question mark, these friends are all she has — even if she sometimes wonders if she truly fits in with them. Besides, she's certain she'll never be able to tell Jason how she really feels about him, so friendship will have to be enough. Then Beth witnesses a private act of violence in Jason's home, and the whole group is shaken. Beth and her friends make a pact to do whatever it takes to protect Jason, no matter the sacrifice. But when even their fierce loyalty isn't enough to stop Jason from making a life-altering choice, Beth must decide how far she's willing to go for him—and how much of herself she's willing to give up.
Act Your Age, Eve Brown by Talia Hibbert / March 9
Eve Brown is a certified hot mess. No matter how hard she strives to do right, her life always goes horribly wrong—so she's given up trying. But when her personal brand of chaos ruins an expensive wedding (someone had to liberate those poor doves), her parents draw the line. It's time for Eve to grow up and prove herself—even though she's not entirely sure how… Jacob Wayne is in control. Always. The bed and breakfast owner's on a mission to dominate the hospitality industry—and he expects nothing less than perfection. So when a purple-haired tornado of a woman turns up out of the blue to interview for his open chef position, he tells her the brutal truth: not a chance in hell. Then she hits him with her car—supposedly by accident. Yeah, right. Now his arm is broken, his B&B is understaffed, and the dangerously unpredictable Eve is fluttering around, trying to help. Before long, she's infiltrated his work, his kitchen—and his spare bedroom. Jacob hates everything about it. Or rather, he should. Sunny, chaotic Eve is his natural-born nemesis, but the longer these two enemies spend in close quarters, the more their animosity turns into something else. Like Eve, the heat between them is impossible to ignore—and it's melting Jacob's frosty exterior.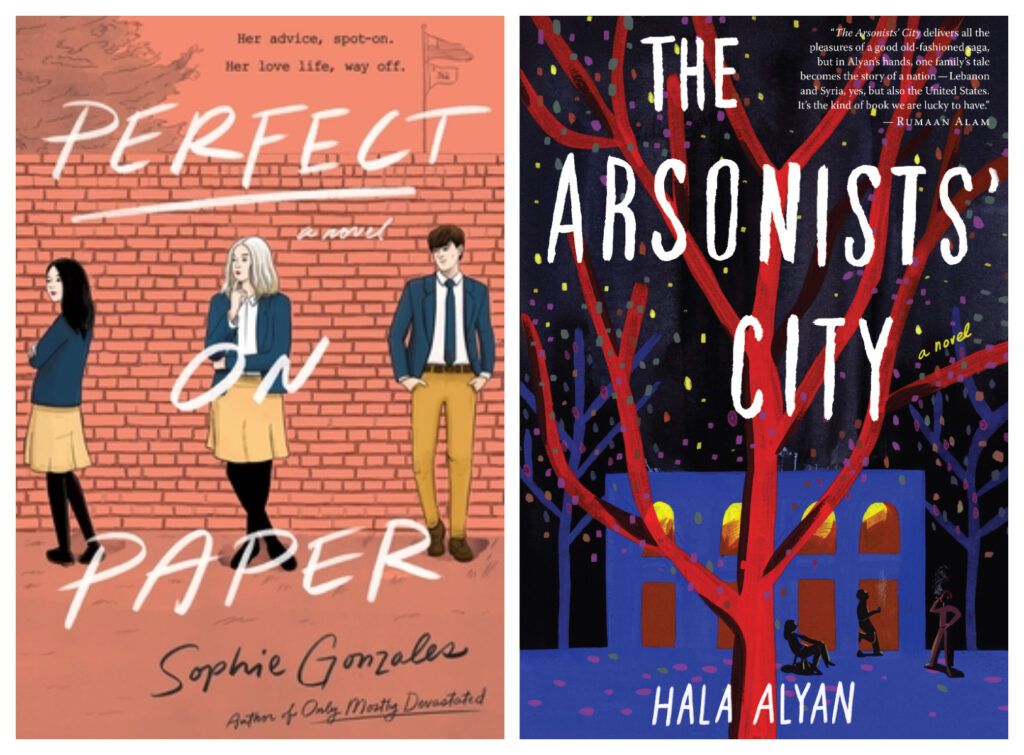 Perfect on Paper by Sophie Gonzales / March 9
Her advice, spot on. Her love life, way off.
Darcy Phillips:
Can give you the solution to any of your relationship woes―for a fee.
Uses her power for good. Most of the time.
Really cannot stand Alexander Brougham.
Has maybe not the best judgement when it comes to her best friend, Brooke…who is in love with someone else.
Does not appreciate being blackmailed.
However, when Brougham catches her in the act of collecting letters from locker 89―out of which she's been running her questionably legal, anonymous relationship advice service―that's exactly what happens. In exchange for keeping her secret, Darcy begrudgingly agrees to become his personal dating coach―at a generous hourly rate, at least. The goal? To help him win his ex-girlfriend back. Darcy has a good reason to keep her identity secret. If word gets out that she's behind the locker, some things she's not proud of will come to light, and there's a good chance Brooke will never speak to her again. Okay, so all she has to do is help an entitled, bratty, (annoyingly hot) guy win over a girl who's already fallen for him once? What could go wrong?
The Arsonists' City by Hala Alyan / March 9
The Nasr family is spread across the globe—Beirut, Brooklyn, Austin, the California desert. A Syrian mother, a Lebanese father, and three American children: all have lived a life of migration. Still, they've always had their ancestral home in Beirut—a constant touchstone—and the complicated, messy family love that binds them. But following his father's recent death, Idris, the family's new patriarch, has decided to sell. The decision brings the family to Beirut, where everyone unites against Idris in a fight to save the house. They all have secrets—lost loves, bitter jealousies, abandoned passions, deep-set shame—that distance has helped smother. But in a city smoldering with the legacy of war, an ongoing flow of refugees, religious tension, and political protest, those secrets ignite, imperiling the fragile ties that hold this family together.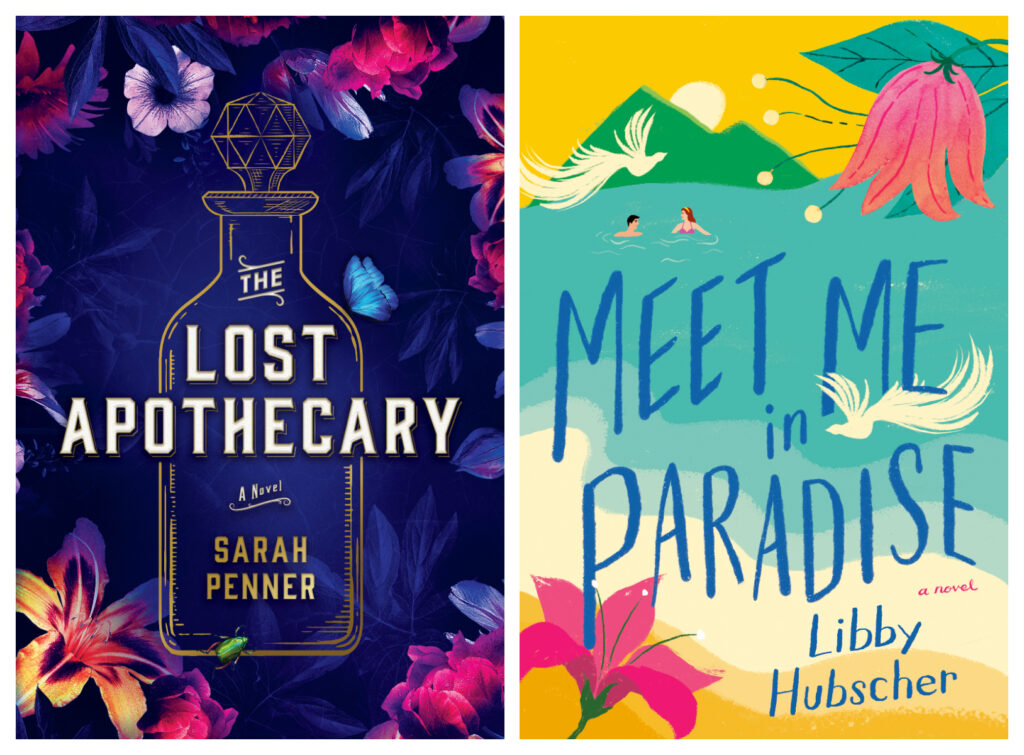 Lost in the Never Woods by Aiden Thomas / March 23
It's been five years since Wendy and her two brothers went missing in the woods, but when the town's children start to disappear, the questions surrounding her brothers' mysterious circumstances are brought back into light. Attempting to flee her past, Wendy almost runs over an unconscious boy lying in the middle of the road, and gets pulled into the mystery haunting the town. Peter, a boy she thought lived only in her stories, claims that if they don't do something, the missing children will meet the same fate as her brothers. In order to find them and rescue the missing kids, Wendy must confront what's waiting for her in the woods.
Meet Me in Paradise by Libby Hubscher / March 23
Ever since her journalist mother died on assignment, Marin has played it safe, refusing to set foot outside the state of Tennessee. Her wild-child younger sister, Sadie, has trotted the globe as a photographer, living off of art and adrenaline. When Sadie returns from a tough assignment abroad and looks a little worse for wear, Marin reluctantly agrees to a sisters' spa weekend on the tropical island of Saba. But her lifelong fear of travel is affirmed when Sadie misses the flight, Marin's luggage gets mixed up with another passenger's, and an episode of turbulence sends her hurtling into the lap of Lucas Tsai, the handsome stranger who stole her sister's seat. For the first time in a long time, Marin has to step outside of her comfort zone as she explores the island with Lucas and learns what she's been missing out on. With each breathtaking new experience, Marin gets closer to her real self, the man she's falling for, and the heart-wrenching truth about why she's there in the first place.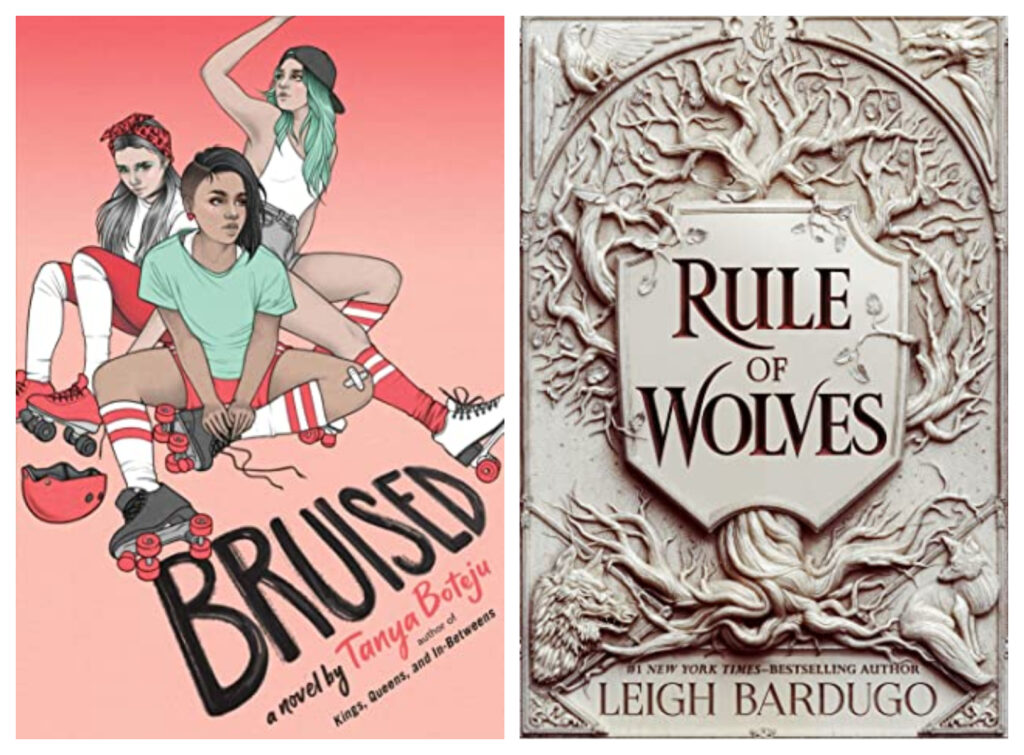 Bruised by Tanya Boteju / March 23
To Daya Wijesinghe, a bruise is a mixture of comfort and control. Since her parents died in an accident she survived, bruises have become a way to keep her pain on the surface of her skin so she doesn't need to deal with the ache deep in her heart. So when chance and circumstances bring her to a roller derby bout, Daya is hooked. Yes, the rules are confusing and the sport seems to require the kind of teamwork and human interaction Daya generally avoids. But the opportunities to bruise are countless, and Daya realizes that if she's going to keep her emotional pain at bay, she'll need all the opportunities she can get. The deeper Daya immerses herself into the world of roller derby, though, the more she realizes it's not the simple physical pain-fest she was hoping for. Her rough-and-tumble teammates and their fans push her limits in ways she never imagined, bringing Daya to big truths about love, loss, strength, and healing.
Rules of Wolves by Leigh Bardugo / March 30
The Demon King. As Fjerda's massive army prepares to invade, Nikolai Lantsov will summon every bit of his ingenuity and charm—and even the monster within—to win this fight. But a dark threat looms that cannot be defeated by a young king's gift for the impossible.
The Stormwitch. Zoya Nazyalensky has lost too much to war. She saw her mentor die and her worst enemy resurrected, and she refuses to bury another friend. Now duty demands she embrace her powers to become the weapon her country needs. No matter the cost.
The Queen of Mourning. Deep undercover, Nina Zenik risks discovery and death as she wages war on Fjerda from inside its capital. But her desire for revenge may cost her country its chance at freedom and Nina the chance to heal her grieving heart.
King. General. Spy. Together they must find a way to forge a future in the darkness. Or watch a nation fall.
---
* book descriptions are from goodreads
* this post may contain affiliate links.