And just like that, it's February! I'm here to share some of the new books that are releasing this month that I can't wait to get my hands on. There are different book genres on my list but majority of them are contemporary fiction which is my favorite or go-to genre. I have advance digital copies of the three (out of the twelve) books I have on my list and I can't to share my thoughts with you once I finished reading them. Happy Tuesday!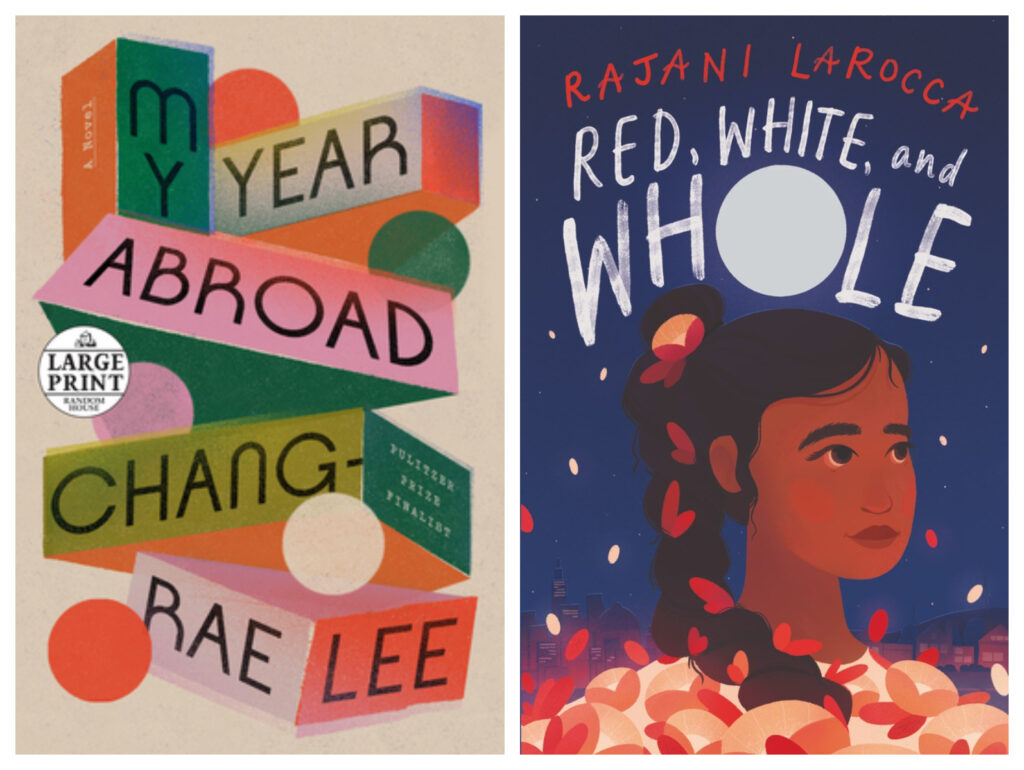 My Year Abroad by Chang-rae Lee / February 2
Tiller is an average American college student with a good heart but minimal aspirations. Pong Lou is a larger-than-life, wildly creative Chinese American entrepreneur who sees something intriguing in Tiller beyond his bored exterior and takes him under his wing. When Pong brings him along on a boisterous trip across Asia, Tiller is catapulted from ordinary young man to talented protagonist, and pulled into a series of ever more extreme and eye-opening experiences that transform his view of the world, of Pong, and of himself.
Red, White, and Whole by Rajani Larocca – February 2
Reha feels torn between two worlds: school, where she's the only Indian American student, and home, with her family's traditions and holidays. But Reha's parents don't understand why she's conflicted—they only notice when Reha doesn't meet their strict expectations. Reha feels disconnected from her mother, or Amma, although their names are linked—Reha means "star" and Punam means "moon"—but they are a universe apart. Then Reha finds out that her Amma is sick. Really sick. Reha, who dreams of becoming a doctor even though she can't stomach the sight of blood, is determined to make her Amma well again. She'll be the perfect daughter, if it means saving her Amma's life.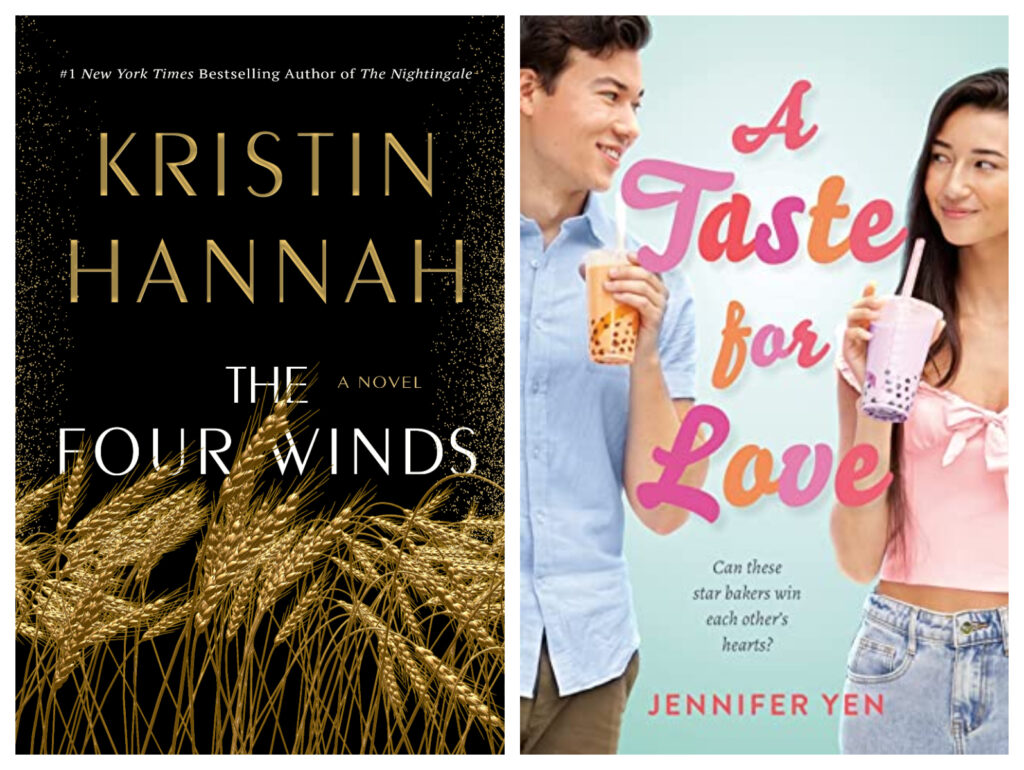 The Four Winds by Kristin Hannah – February 2
Texas, 1934. Millions are out of work and a drought has broken the Great Plains. Farmers are fighting to keep their land and their livelihoods as the crops are failing, the water is drying up, and dust threatens to bury them all. One of the darkest periods of the Great Depression, the Dust Bowl era, has arrived with a vengeance. In this uncertain and dangerous time, Elsa Martinelli—like so many of her neighbors—must make an agonizing choice: fight for the land she loves or go west, to California, in search of a better life. The Four Winds is an indelible portrait of America and the American Dream, as seen through the eyes of one indomitable woman whose courage and sacrifice will come to define a generation.
A Taste for Love by Jennifer Yen – February 2
To her friends, high school senior Liza Yang is nearly perfect. Smart, kind, and pretty, she dreams big and never shies away from a challenge. But to her mom, Liza is anything but. Compared to her older sister Jeannie, Liza is stubborn, rebellious, and worst of all, determined to push back against all of Mrs. Yang's traditional values, especially when it comes to dating. The one thing mother and daughter do agree on is their love of baking. Mrs. Yang is the owner of Houston's popular Yin & Yang Bakery. With college just around the corner, Liza agrees to help out at the bakery's annual junior competition to prove to her mom that she's more than her rebellious tendencies once and for all. But when Liza arrives on the first day of the bake-off, she realizes there's a catch- all of the contestants are young Asian American men her mother has handpicked for Liza to date. The bachelorette situation Liza has found herself in is made even worse when she happens to be grudgingly attracted to one of the contestants; the stoic, impenetrable, annoyingly hot James Wong. As she battles against her feelings for James, and for her mother's approval, Liza begins to realize there's no tried and true recipe for love.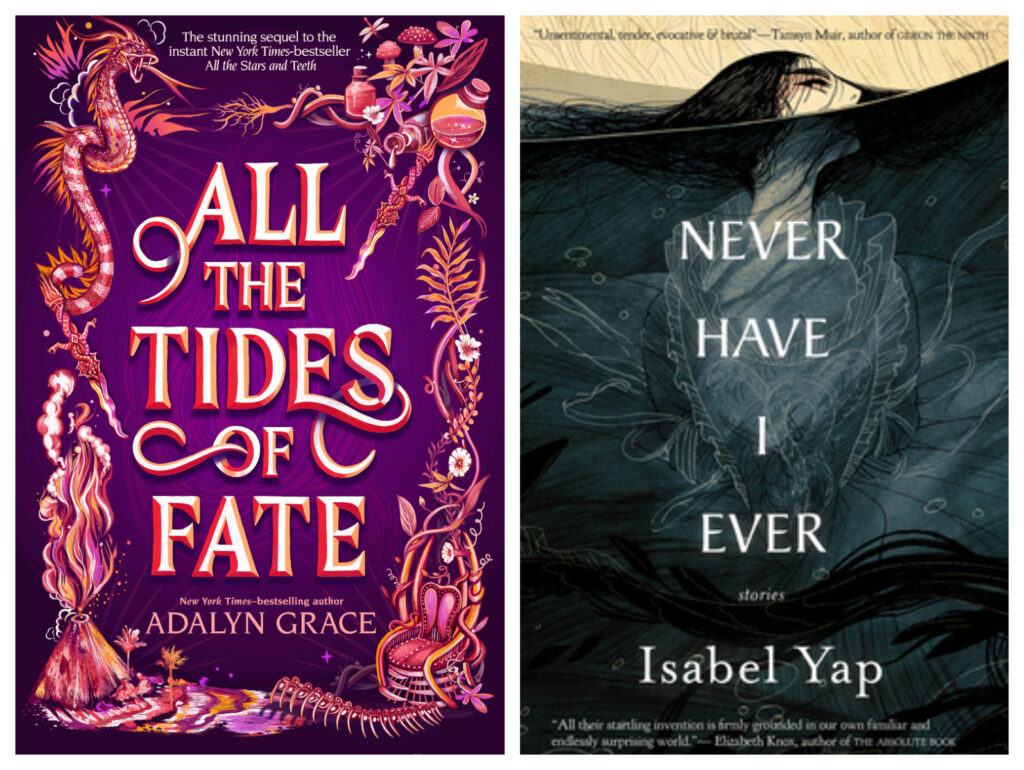 All the Tides of Fate by Adalyn Grace – February 2
Through blood and sacrifice, Amora Montara has conquered a rebellion and taken her rightful place as queen of Visidia. Now, with the islands in turmoil and the people questioning her authority, Amora cannot allow anyone to see her weaknesses. No one can know about the curse in her bloodline. No one can know that she's lost her magic. No one can know the truth about the boy who holds the missing half of her soul. To save herself and Visidia, Amora embarks on a desperate quest for a mythical artifact that could fix everything―but it comes at a terrible cost. As she tries to balance her loyalty to her people, her crew, and the desires of her heart, Amora will soon discover that the power to rule might destroy her. 
Never Have I Ever by Isabel Yap – February 9
"Am I dead?" Mebuyen sighs. She was hoping the girl would not ask. Spells and stories, urban legends and immigrant tales: the magic in Isabel Yap's debut collection jumps right off the page, from the joy in her new novella, "A Spell for Foolish Hearts" to the terrifying tension of the urban legend "Have You Heard the One About Anamaria Marquez."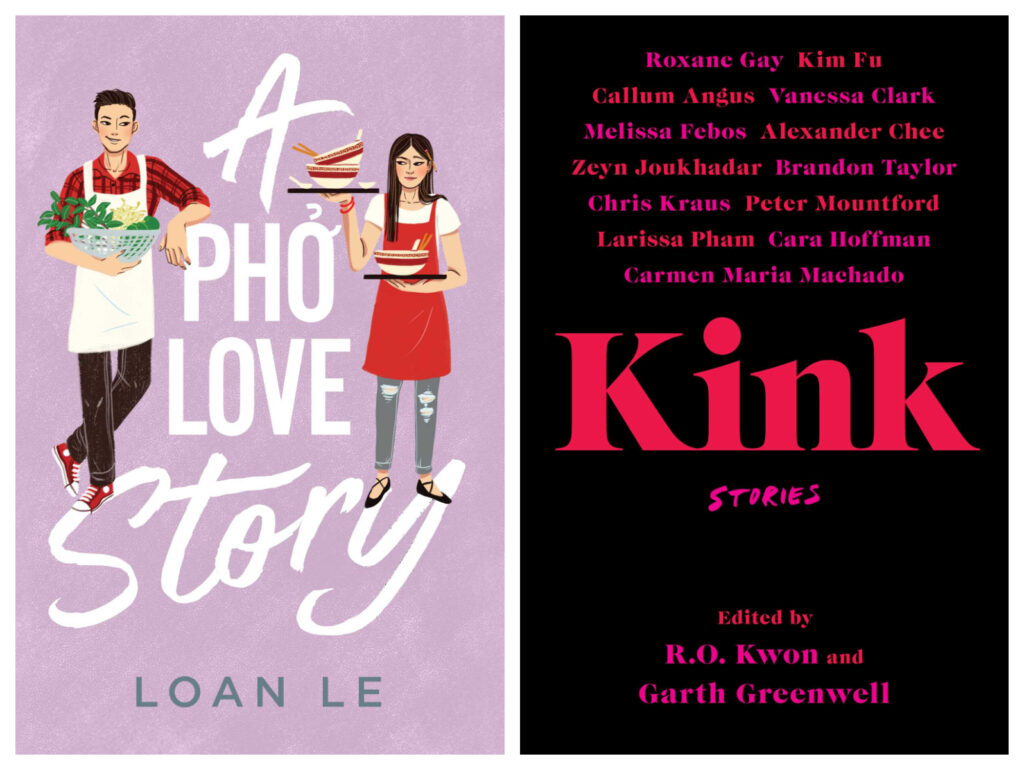 A Pho Love Story by Loan Le – February 9
If Bao Nguyen had to describe himself, he'd say he was a rock. Steady and strong, but not particularly interesting. His grades are average, his social status unremarkable. He works at his parents' pho restaurant, and even there, he is his parents' fifth favorite employee. Not ideal. If Linh Mai had to describe herself, she'd say she was a firecracker. Stable when unlit, but full of potential for joy and fire. She loves art and dreams pursuing a career in it. The only problem? Her parents rely on her in ways they're not willing to admit, including working practically full-time at her family's pho restaurant. For years, the Mais and the Nguyens have been at odds, having owned competing, neighboring pho restaurants. Bao and Linh, who've avoided each other for most of their lives, both suspect that the feud stems from feelings much deeper than friendly competition. But then a chance encounter brings Linh and Bao in the same vicinity despite their best efforts and sparks fly, leading them both to wonder what took so long for them to connect. But then, of course, they immediately remember. Can Linh and Bao find love in the midst of feuding families and complicated histories?
Kink: Stories by Garth Greenwell and R.O. Kwon – February 9
Kink is a dynamic anthology of literary fiction that opens an imaginative door into the world of desire. The stories within this collection portray love, desire, BDSM, and sexual kinks in all their glory with a bold new vision. The collection includes works by renowned fiction writers such as Callum Angus, Alexander Chee, Vanessa Clark, Melissa Febos, Kim Fu, Roxane Gay, Cara Hoffman, Zeyn Joukhadar, Chris Kraus, Carmen Maria Machado, Peter Mountford, Larissa Pham, and Brandon Taylor, with Garth Greenwell and R.O. Kwon as editors. The stories within explore bondage, power-play, and submissive-dominant relationships; we are taken to private estates, therapists' offices, underground sex clubs, and even a sex theater in early-20th century Paris. While there are whips and chains, sure, the true power of these stories lies in their beautiful, moving dispatches from across the sexual spectrum of interest and desires, as portrayed by some of today's most exciting writers.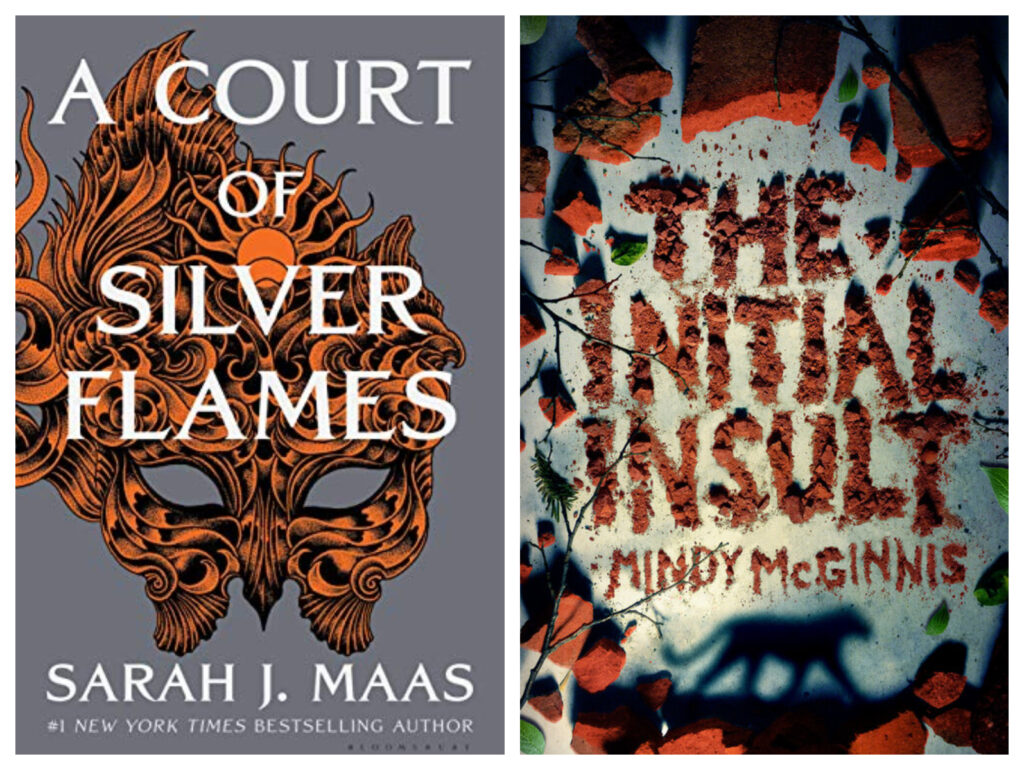 A Court of Silver Flames by Sarah J. Maas – February 16
Nesta Archeron has always been prickly-proud, swift to anger, and slow to forgive. And ever since being forced into the Cauldron and becoming High Fae against her will, she's struggled to find a place for herself within the strange, deadly world she inhabits. Worse, she can't seem to move past the horrors of the war with Hybern and all she lost in it. The one person who ignites her temper more than any other is Cassian, the battle-scarred warrior whose position in Rhysand and Feyre's Night Court keeps him constantly in Nesta's orbit. But her temper isn't the only thing Cassian ignites. The fire between them is undeniable, and only burns hotter as they are forced into close quarters with each other. Meanwhile, the treacherous human queens who returned to the Continent during the last war have forged a dangerous new alliance, threatening the fragile peace that has settled over the realms. And the key to halting them might very well rely on Cassian and Nesta facing their haunting pasts. Against the sweeping backdrop of a world seared by war and plagued with uncertainty, Nesta and Cassian battle monsters from within and without as they search for acceptance-and healing-in each other's arms.
The Initial Insult by Mindy McGinnis – January 23
Tress Montor knows that her family used to mean something—until she didn't have a family anymore. When her parents disappeared seven years ago while driving her best friend home, Tress lost everything. She might still be a Montor, but the entire town shuns her now that she lives with her drunken, one-eyed grandfather at what locals refer to as the "White Trash Zoo," – a wild animal attraction featuring a zebra, a chimpanzee, and a panther, among other things. Felicity Turnado has it all – looks, money, and a secret that she's kept hidden. She knows that one misstep could send her tumbling from the top of the social ladder, and she's worked hard to make everyone forget that she was with the Montors the night they disappeared. Felicity has buried what she knows so deeply that she can't even remember what it is… only that she can't look at Tress without having a panic attack. But she'll have to. Tress has a plan. A Halloween costume party at an abandoned house provides the ideal situation for Tress to pry the truth from Felicity – brick by brick – as she slowly seals her former best friend into a coal chute. With a drunken party above them, and a loose panther on the prowl, Tress will have her answers – or settle for revenge.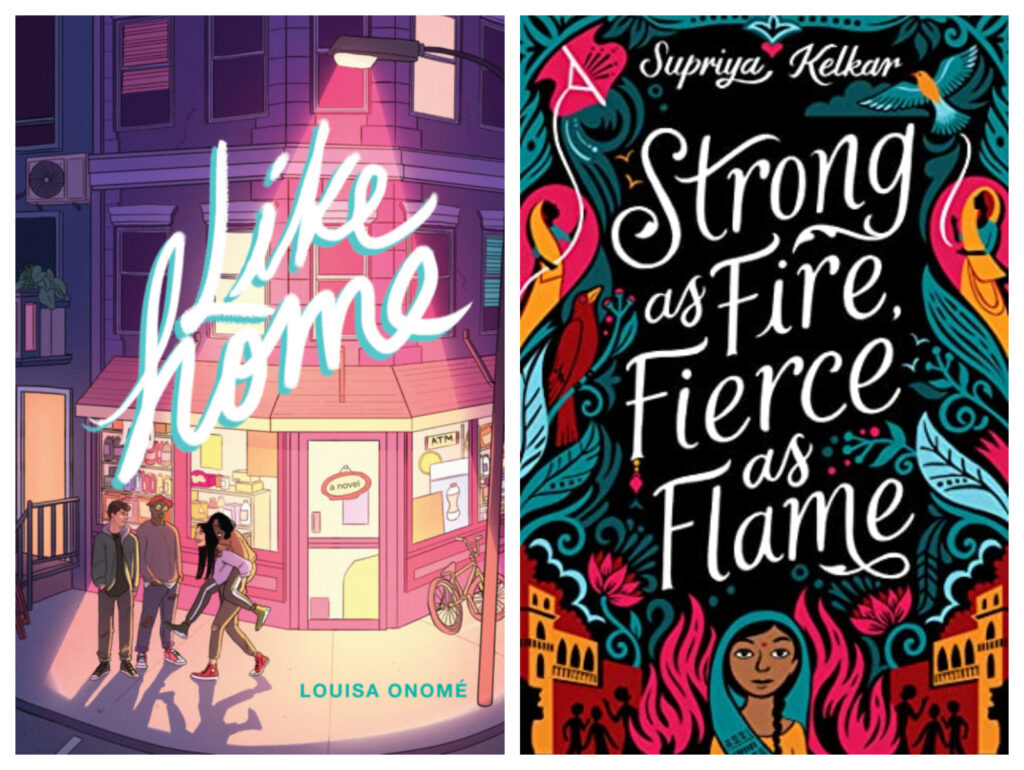 Like Home by Louisa Onome – February 23
Chinelo, or Nelo as her best friend Kate calls her, is all about her neighborhood Ginger East. She loves its chill vibe, ride-or-die sense of community, and her memories of growing up there. Ginger East isn't what it used to be, though. After a deadly incident at the local arcade, all her closest friends moved away, except for Kate. But as long as they have each other, Nelo's good. Only, Kate's parents' corner store is vandalized, leaving Nelo shaken to her core. The police and the media are quick to point fingers, and soon more of the outside world descends on Ginger East with promises to "fix" it. Suddenly, Nelo finds herself in the middle of a drama unfolding on a national scale. Worse yet, Kate is acting strange. She's pushing Nelo away at the exact moment they need each other most. Nelo's entire world is morphing into something she hates, and she must figure out how to get things back on track or risk losing everything⁠—and everyone⁠—she loves.
Strong as Fire, Fierce as Flame by Supriya Kelkar – February 24
Meera's future has been planned for her for as long as she can remember. As a child, her parents married her to a boy from a neighboring village whom she barely knows. Later, on the eve of her thirteenth birthday, she prepares to leave her family to live with her husband's–just as her strict religion dictates. But that night, Indian soldiers mutiny against their British commanders and destroy the British ammunition depot, burning down parts of Delhi. Riots follow, and Meera's husband is killed. Upon hearing the news, Meera's father insists that she follow the dictates of their fringe religious sect: She must end her life by throwing herself on her husband's funeral pyre. Risking everything, Meera runs away, escaping into the chaos of the rebellion. But her newfound freedom is short-lived, as she is forced to become a servant in the house of a high-ranking British East India Company captain. Slowly through her work, she gains confidence, new friends, new skills–and sometimes her life even feels peaceful. But one day, Meera stumbles upon the captain's secret stock of ammunition, destined to be used by the British to continue colonizing India and control its citizens. Will Meera do her part to take down the British colonists and alert the rebellion of the stockpile? Or will she stay safe and let others make decisions for her? It really comes down to this: how much fire must a girl face to finally write her own destiny?
---
* book descriptions are from goodreads
* this post may contain affiliate links.