In case you're new to my blog, hi! I hope you are doing great and thank you for being here.
It's the second month of the year and I'm here to share ten of my most anticipated new releases in February. I do this every first Tuesday of the month so if you want to be updated on new books, this is a perfect post for you. I cover books from middle grade to adult, romance to thriller, and a lot more. Most of the titles on my list are on my tbr and I can't wait to read them.
Let's get on to the books, shall we?
The Time Tider by Sinéad O'Hart | February 2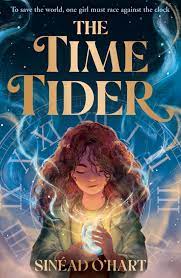 Mara and her dad have lived in their van for as long as she can remember. Whatever her father does to scrape a living has kept them constantly moving and Mara has never questioned it. That is until she uncovers a collection of notes addressed to 'the Tider', an individual responsible for harvesting lost time from people whose lives were cut short.
But before Mara can question her father he is taken by a dangerous group who want to use his power for evil. With the very fabric of time and space at stake, it's down to Mara and her new friend Jan to find him before it's too late.
A Spell of Good Things by Ayobami Adebayo | February 7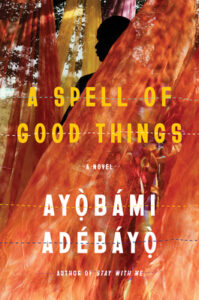 Eniola is tall for his age, a boy who looks like a man. Because his father has lost his job, Eniola spends his days running errands for the local tailor, collecting newspapers, begging when he must, dreaming of a big future.
Wuraola is a golden girl, the perfect child of a wealthy family. Now an exhausted young doctor in her first year of practice, she is beloved by Kunle, the volatile son of an ascendant politician.
When a local politician takes an interest in Eniola and sudden violence shatters a family party, Wuraola and Eniola's lives become intertwined. In her breathtaking second novel, Ayobami Adebayo shines her light on Nigeria, on the gaping divide between the haves and the have-nots, and the shared humanity that lives in between.
Big Swiss by Jen Beagin | February 7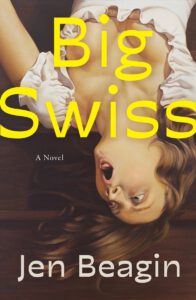 Greta lives with her friend Sabine in an ancient Dutch farmhouse in Hudson, New York. The house, built in 1737, is unrenovated, uninsulated, and full of bees. Greta spends her days transcribing therapy sessions for a sex coach who calls himself Om. She becomes infatuated with his newest client, a repressed married woman she affectionately refers to as Big Swiss, since she's tall, stoic, and originally from Switzerland. Greta is fascinated by Big Swiss's refreshing attitude toward trauma. They both have dark histories, but Big Swiss chooses to remain unattached to her suffering while Greta continues to be tortured by her past.
One day, Greta recognizes Big Swiss's voice at the dog park. In a panic, she introduces herself with a fake name and they quickly become enmeshed. Although Big Swiss is unaware of Greta's true identity, Greta has never been more herself with anyone. Her attraction to Big Swiss overrides her guilt, and she'll do anything to sustain the relationship.
VenCo by Cherie Dimaline | February 7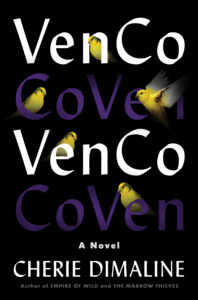 Lucky St. James, a Métis millennial living with her cantankerous but loving grandmother Stella, is barely hanging on when she discovers she will be evicted from their tiny Toronto apartment. Then, one night, something strange and irresistible calls out to Lucky. Burrowing through a wall, she finds a silver spoon etched with a crooked-nosed witch and the word SALEM, humming with otherworldly energy.
Hundreds of miles away in Salem, Myrna Good has been looking for Lucky. Myrna works for VenCo, a front company fueled by vast resources of dark money.
Lucky is familiar with the magic of her indigenous ancestors, but she has no idea that the spoon links her to VenCo's network of witches throughout North America. Generations of witches have been waiting for centuries for the seven spoons to come together, igniting a new era, and restoring women to their rightful power.
But as reckoning approaches, a very powerful adversary is stalking their every move. He's Jay Christos, a roguish and deadly witch-hunter as old as witchcraft itself.
To find the last spoon, Lucky and Stella embark on a rollicking and dangerous road trip to the darkly magical city of New Orleans, where the final showdown will determine whether VenCo will usher in a new beginning…or remain underground forever.
Nerd Crush by Alisha Emrich | February 7
Ramona Lambert is a typical shy, artistic sixteen-year-old. She has a best friend whom she's known since they were in diapers; parents who love her; a love for cosplay; and a crush on the cute boy in her class.
The only problem? Her best friend moved away; her parents don't quite understand her love of cosplay; and she is pretty sure her crush has no idea she exists.
To escape her troubles, Ramona turns to cosplay and her original character, Rel, who gives her the confidence and freedom that she lacks in real life. Embracing this confidence, she decides to strike up an email conversation with her crush, Caleb Wolfe, from her cosplay account in the hopes getting to know him . . . and maybe win his heart. Then as Caleb and Ramona are swept up in their emails back and forth to each other, and Ramona falls even harder as he opens up about his hopes, insecurities, and his own geeky loves. However, as Caleb starts to grow closer and closer to Rel, he also strikes up a friendship with Ramona, who knows she can't keep the truth about Rel from Caleb but isn't sure she is ready to risk losing him. With an important cosplay convention coming up and the anxiety of her double-life weighing on her, Ramona has to decide if she'll hide behind her cosplay character forever or take the chance and let Caleb see the real her–because he might actually like her for who she is.
Our Share of Night by Mariana Enriquez | February 7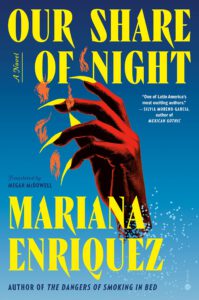 "We have children so we can continue, they are our immortality."
A young father and son set out on a road trip, devastated by the death of the wife and mother they both loved. United in grief, the pair travels to her family home, where they must confront the terrifying legacy she has bequeathed. The woman they grieve came from a clan like no other—a centuries-old secret society called the Order that commits unspeakable acts in search of eternal life. For Gaspar, the son, this vampiric cult is his destiny.
Now Gaspar is in danger. As the Order tries to possess him, father and son take flight, yet nothing will stop the Order for nothing is beyond them. Hunted by evil and surrounded by horror, Gaspar and his father attempt to outrun a powerful family that will do anything to ensure its own survival. But can any of us escape the fate that awaits us?
The Last Tale of the Flower Bride by Roshani Chokshi | February 14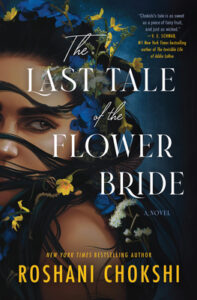 Once upon a time, a man who believed in fairy tales married a beautiful, mysterious woman named Indigo Maxwell-Casteñada. He was a scholar of myths. She was heiress to a fortune. They exchanged gifts and stories and believed they would live happily ever after–and in exchange for her love, Indigo extracted a promise: that her bridegroom would never pry into her past.
But when Indigo learns that her estranged aunt is dying and the couple is forced to return to her childhood home, the House of Dreams, the bridegroom will soon find himself unable to resist. For within the crumbling manor's extravagant rooms and musty halls, there lurks the shadow of another girl: Azure, Indigo's dearest childhood friend who suddenly disappeared. As the house slowly reveals his wife's secrets, the bridegroom will be forced to choose between reality and fantasy, even if doing so threatens to destroy their marriage . . . or their lives.
The Wife of Willesden by Zadie Smith | February 14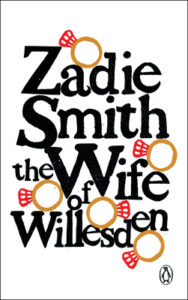 Zadie Smith's first time writing for the stage, a riotous twenty-first century translation of Geoffrey Chaucer's classic The Wife of Bath
"Married five times. Mother. Lover. Aunt. Friend.
She plays many roles round here. And never
Scared to tell the whole of her truth, whether
Or not anyone wants to hear it. Wife
Of Willesden: pissed enough to tell her life
Story to whoever has ears and eyes . . ."

In her stage-writing debut, celebrated novelist and essayist Zadie Smith brings to life a comedic and cutting twenty-first century translation of Geoffrey Chaucer's classic The Wife of Bath. The Wife of Willesden follows Alvita, a Jamaican-born British woman in her mid-50s, as she tells her life story to a band of strangers in a small pub on the Kilburn High Road. Wearing fake gold chains, dressed in knock-off designer clothes, and speaking in a mixture of London slang and patois, Alvita recalls her five marriages in outrageous, bawdy detail, rewrites her mistakes as triumphs, and shares her beliefs on femininity, sexuality, and misogyny with anyone willing to listen.
A thoughtful reimagining of an unforgettable narrative of female sexual power, written with singular verve and wit, The Wife of Willesden shows why Zadie Smith is one of the sharpest and most versatile writers working today.
On the Savage Side by Tiffany McDaniel | February 14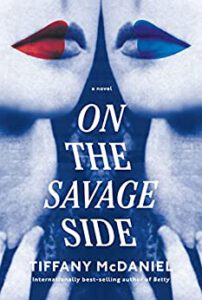 Six women–mothers, daughters, sisters–gone missing. When the first is found floating dead in the river, it reveals the disturbing truth of a small Ohio town. Inspired by the unsolved murders of the Chillicothe Six, this harrowing and haunting novel tells the story of two sisters, both of whom could be the next victims, from the internationally-bestselling author of Betty.
Arcade and Daffodil are twin sisters born one minute apart. With their fiery red hair and thirst for an escape, they forge an unbreakable bond nurtured by both their grandmother's stories and their imaginations. Together, they create a world where a patch of grass reveals an archaeologist's dig, the smoke emerging from the local paper mill becomes the dust rising from wild horses galloping on the ground, and an abandoned 1950s convertible transforms into a time machine that can take them anywhere.
But the two sisters can't escape the generational chaos that grips their family. Growing up in the shadow of the town, the sisters cling tight to one another. As an adult, Arcade wrestles with these memories of her life, just as a local woman is discovered drowned in the river. Soon, more bodies are found. While her friends disappear around her, Arcade is forced to reckon with the past while the killer circles ever closer. Arcade's promise to keep herself and her sister safe becomes increasingly desperate while the powerful riptide of the savage side becomes more difficult to resist.
Drawing from the true story of women killed in her native Ohio, acclaimed novelist and poet Tiffany McDaniel has written a powerful literary testament and fearless elegy for missing women everywhere.
She Is a Haunting by Trang Thanh Tran | February 28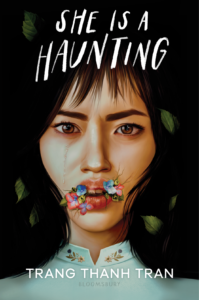 A house with a terrifying appetite haunts a broken family in this atmospheric horror, perfect for fans of Mexican Gothic.
When Jade Nguyen arrives in Vietnam for a visit with her estranged father, she has one goal: survive five weeks pretending to be a happy family in the French colonial house Ba is restoring. She's always lied to fit in, so if she's straight enough, Vietnamese enough, American enough, she can get out with the college money he promised.
But the house has other plans. Night after night, Jade wakes up paralyzed. The walls exude a thrumming sound, while bugs leave their legs and feelers in places they don't belong. She finds curious traces of her ancestors in the gardens they once tended. And at night Jade can't ignore the ghost of the beautiful bride who leaves her cryptic warnings: Don't eat.
Neither Ba nor her sweet sister Lily believe that there is anything strange happening. With help from a delinquent girl, Jade will prove this house—the home her family has always wanted—will not rest until it destroys them. Maybe, this time, she can keep her family together. As she roots out the house's rot, she must also face the truth of who she is and who she must become to save them all.