Happy First Tuesday of August! It's another month full of great new books for us to read. I narrowed it down to ten (which wasn't easy) so here are the books I can't wait to get my hands on.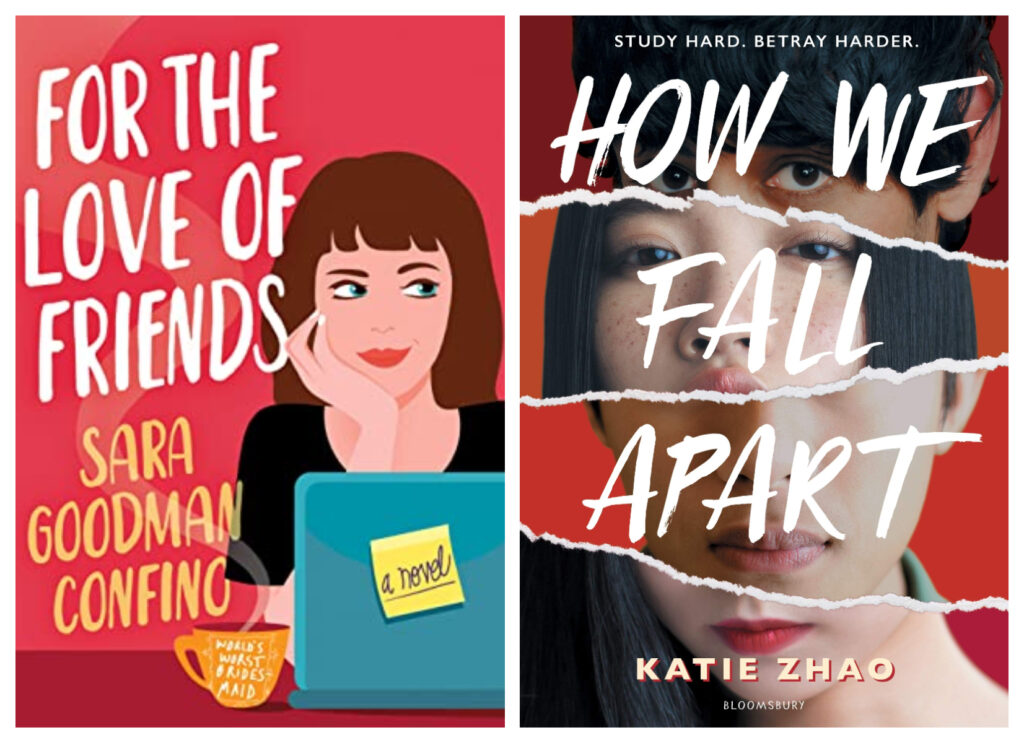 For the Love of Friends by Sara Goodman Confino / August 1
Lily Weiss is her mother's worst nightmare: thirty-two and single—the horror! She's also a talented writer but hides behind a boring job at a science foundation. To her friends, she's reliable and selfless, which is how she winds up a bridesmaid in five weddings in six weeks. Anything for her three best friends and two (younger) siblings, right? Even if her own love life is…well, she'd rather not talk about it. To keep her sanity, Lily needs a safe place to vent.
And so her anonymous blog, Bridesmania, is born. The posts start pouring out of her: all the feels about mom-zillas, her vanishing bank balance, the wicked bridesmaids of the west, high-strung brides-to-be, body-shaming dress clerks, bachelorette parties, and Spanx for days, not to mention being deemed guardian of eighty-eight-year-old Granny (who enjoys morning mimosas in the nude) for her brother's destination wedding. So far the blog has stayed anonymous. But as everyone knows, few things online remain secret forever… When all is said and done, can Lily help all five couples make it to happily ever after? And will her own happy ending be close behind?
How We Fall Apart by Katie Zhao / August 3
Nancy Luo is shocked when her former best friend, Jamie Ruan, top ranked junior at Sinclair Prep, goes missing, and then is found dead. Nancy is even more shocked when word starts to spread that she and her friends–Krystal, Akil, and Alexander–are the prime suspects, thanks to "The Proctor," someone anonymously incriminating them via the school's social media app.
They all used to be Jamie's closest friends, and she knew each of their deepest, darkest secrets. Now, somehow The Proctor knows them, too. The four must uncover the true killer before The Proctor exposes more than they can bear and costs them more than they can afford, like Nancy's full scholarship. Soon, Nancy suspects that her friends may be keeping secrets from her, too.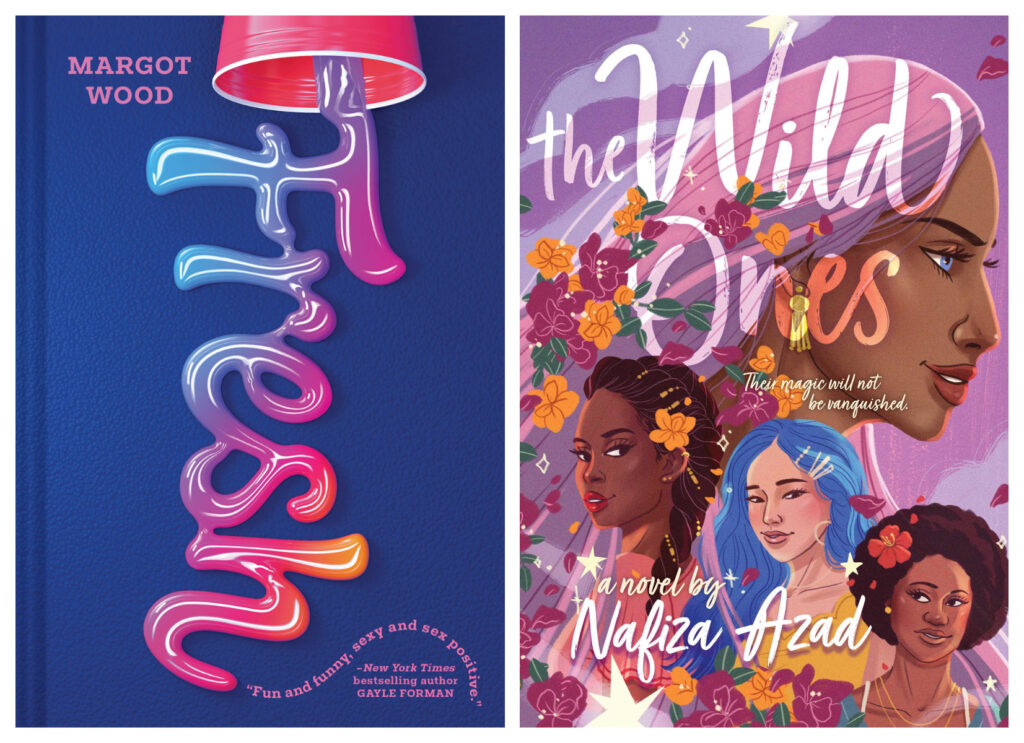 Fresh by Margot Wood / August 3
Some students enter their freshman year of college knowing exactly what they want to do with their lives. Elliot McHugh is not one of those people. But picking a major is the last thing on Elliot's mind when she's too busy experiencing all that college has to offer—from dancing all night at off-campus parties, to testing her RA Rose's patience, to making new friends, to having the best sex one can have on a twin-sized dorm room bed. But she may not be ready for the fallout when reality hits. When the sex she's having isn't that great. When finals creep up and smack her right in the face. Or when her roommate's boyfriend turns out to be the biggest a-hole. Elliot may make epic mistakes, but if she's honest with herself (and with you, dear reader), she may just find the person she wants to be. And maybe even fall in love in the process . . . Well, maybe.
The Wild Ones by Nafiza Azad / August 3
Meet the Wild Ones: girls who have been hurt, abandoned, and betrayed all their lives. It all began with Paheli, who was once betrayed by her mother and sold to a man in exchange for a favor. When Paheli escapes, she runs headlong into a boy with stars in his eyes. This boy, as battered as she is, tosses Paheli a box of stars before disappearing. With the stars, Paheli gains access to the Between, a place of pure magic and mystery. Now, Paheli collects girls like herself and these Wild Ones use their magic to travel the world, helping the hopeless and saving others from the fates they suffered. Then Paheli and the Wild Ones learn that the boy who gave them the stars, Taraana, is in danger. He's on the run from powerful forces within the world of magic. But if Taraana is no longer safe and free, neither are the Wild Ones. And that…is a fate the Wild Ones refuse to accept. Ever again.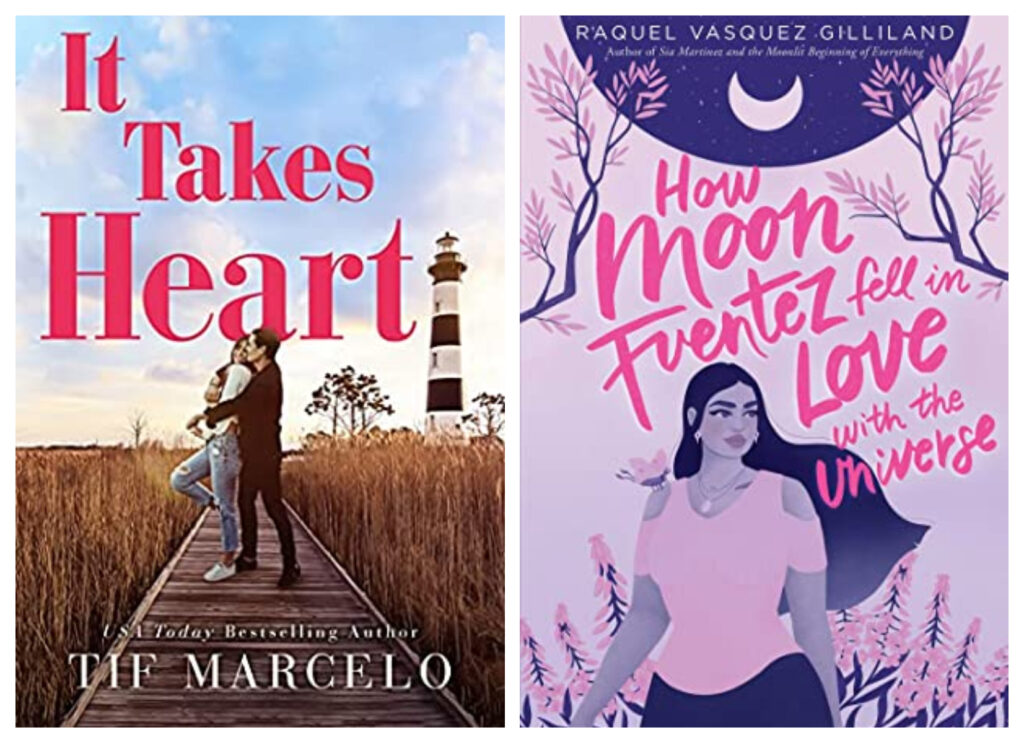 It Takes Heart by Tif Marcelo / August 10
Heart Resort, a private resort in the Outer Banks, is a romantic getaway for couples but a hotbed of family drama for its proprietors, the Puso family. Brandon Puso, the youngest of the four siblings, prefers life on his own as a licensed contractor in DC after a falling-out with his eldest brother. After a hurricane plows through the Outer Banks, Brandon has a change of heart. He returns to the resort to help with the grand reopening but encounters his big sister's best friend, designer Geneva Harris, who's there to do the same thing. But Geneva and Brandon have a secret. Years ago, they had a secret romance that ended in heartbreak. With the resort's future at stake, Brandon and Geneva decide to put the past aside and to keep peace with the family. But as their mutual attraction heats up, they have to decide if history will repeat itself—or if this time, love gets a second chance.
How Moon Fuentez Fell in Love with the Universe by Raquel Vasquez Gilliland / August 10
When her twin sister reaches social media stardom, Moon Fuentez accepts her fate as the ugly, unwanted sister hidden in the background, destined to be nothing more than her sister's camerawoman. But this summer, Moon also takes a job as the "merch girl" on a tour bus full of beautiful influencers and her fate begins to shift in the best way possible.
Most notable is her bunkmate and new nemesis, Santiago Phillips, who is grumpy, combative, and also the hottest guy Moon has ever seen. Moon is certain she hates Santiago and that he hates her back. But as chance and destiny (and maybe, probably, close proximity) bring the two of them in each other's perpetual paths, Moon starts to wonder if that's really true. She even starts to question her destiny as the unnoticed, unloved wallflower she always thought she was. Could this summer change Moon's life as she knows it?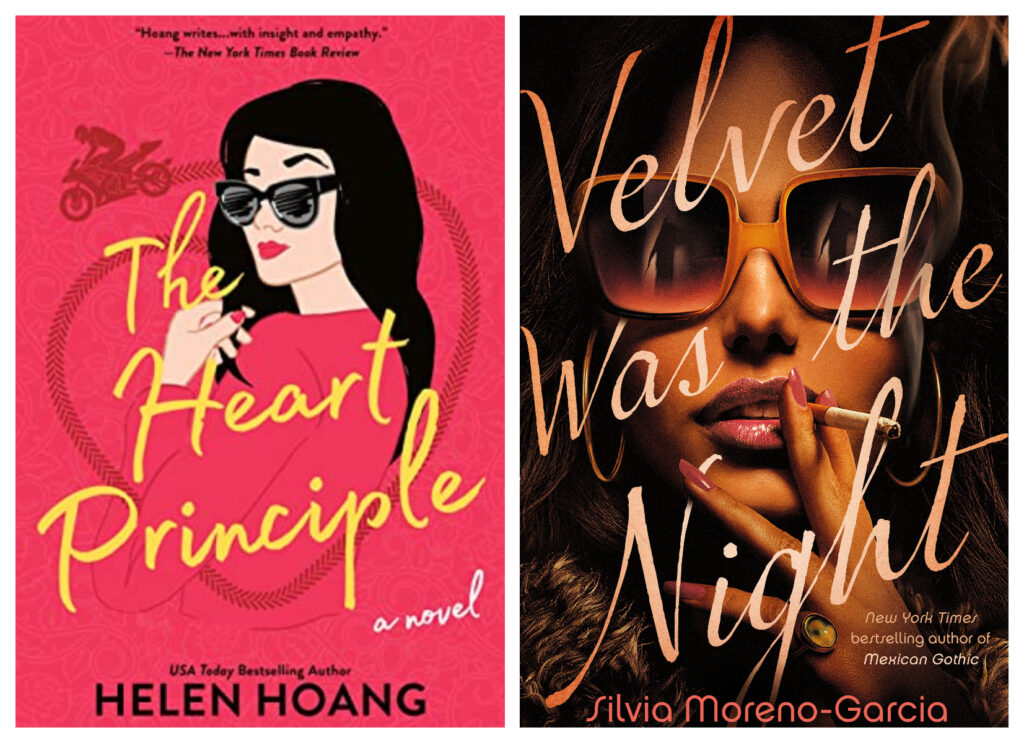 The Heart Principle by Helen Hoang / August 17
When violinist Anna Sun accidentally achieves career success with a viral YouTube video, she finds herself incapacitated and burned out from her attempts to replicate that moment. And when her longtime boyfriend announces he wants an open relationship before making a final commitment, a hurt and angry Anna decides that if he wants an open relationship, then she does, too. Translation: She's going to embark on a string of one-night stands. The more unacceptable the men, the better.
That's where tattooed, motorcycle-riding Quan Diep comes in. Their first attempt at a one-night stand fails, as does their second, and their third, because being with Quan is more than sex—he accepts Anna on an unconditional level that she has just started to understand herself. However, when tragedy strikes Anna's family she takes on a role that she is ill-suited for, until the burden of expectations threatens to destroy her. Anna and Quan have to fight for their chance at love, but to do that, they also have to fight for themselves.
Velvet Was the Night by Silvia Moreno-Garcia / August 17
1970s, Mexico City. Maite is a secretary who lives for one thing: the latest issue of Secret Romance. While student protests and political unrest consume the city, Maite escapes into stories of passion and danger. Her next-door neighbor, Leonora, a beautiful art student, seems to live a life of intrigue and romance that Maite envies. When Leonora disappears under suspicious circumstances, Maite finds herself searching for the missing woman—and journeying deeper into Leonora's secret life of student radicals and dissidents.
Meanwhile, someone else is also looking for Leonora at the behest of his boss, a shadowy figure who commands goon squads dedicated to squashing political activists. Elvis is an eccentric criminal who longs to escape his own life: He loathes violence and loves old movies and rock 'n' roll. But as Elvis searches for the missing woman, he comes to observe Maite from a distance—and grows more and more obsessed with this woman who shares his love of music and the unspoken loneliness of his heart.
Now as Maite and Elvis come closer to discovering the truth behind Leonora's disappearance, they can no longer escape the danger that threatens to consume their lives, with hitmen, government agents, and Russian spies all aiming to protect Leonora's secrets—at gunpoint.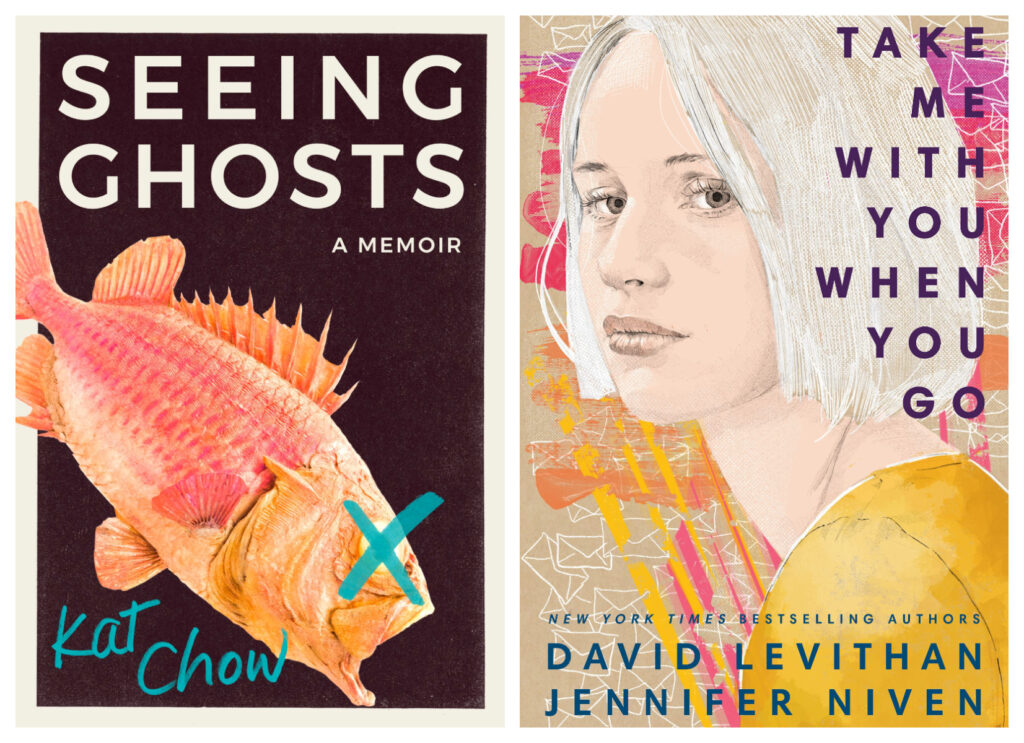 Seeing Ghosts by Kat Chow / August 24
Born two years after her parents' only son died just hours after his birth, Kat Chow became unusually fixated with death. She worried constantly about her parents dying — especially her mother. One morning, when Kat was nine, her mother, a vivacious and mischievous woman, casually made a morbid joke: When she eventually dies, she said laughing, she'd like to be stuffed and displayed in Kat's future apartment in order to always watch over her.
Four years later when her mother dies unexpectedly from cancer, Kat, her two older sisters, and their father are plunged into a debilitating, lonely grief. With a distinct voice that is wry and heartfelt, Kat weaves together what is part ghost story and part excavation of her family's history of loss spanning three generations and their immigration from China and Hong Kong to America and Cuba. This redemptive coming-of-age story uncovers the uncanny parallels in Kat's lineage, including the strength of sisterhood and the complicated duty of looking after parents, even after death.
Take Me with You When You Go by David Levithan and Jennifer Niven / August 31
Subject: You. Missing.
Ezra Ahern wakes up one day to find his older sister, Bea, gone. No note, no sign, nothing but an email address hidden somewhere only he would find it. Ezra never expected to be left behind with their abusive stepfather and their neglectful mother – how is he supposed to navigate life without Bea?
Bea Ahern already knew she needed to get as far away from home as possible. But a message in her inbox changes everything, and she finds herself alone in a new city – without Ez, without a real plan – chasing someone who might not even want to be found.
As things unravel at home for Ezra, Bea confronts secrets about their past that will forever change the way they think about their family. Together and apart, broken by abuse but connected by love, this brother and sister must learn to trust themselves before they can find a way back to each other.