Happy Tuesday! Today is such an amazing day for us book-lovers. There are so many new books coming out this month so I've decided to split my post in two. Here's the first half featuring 16 new books releasing today, April 6, that I'm excited to get into.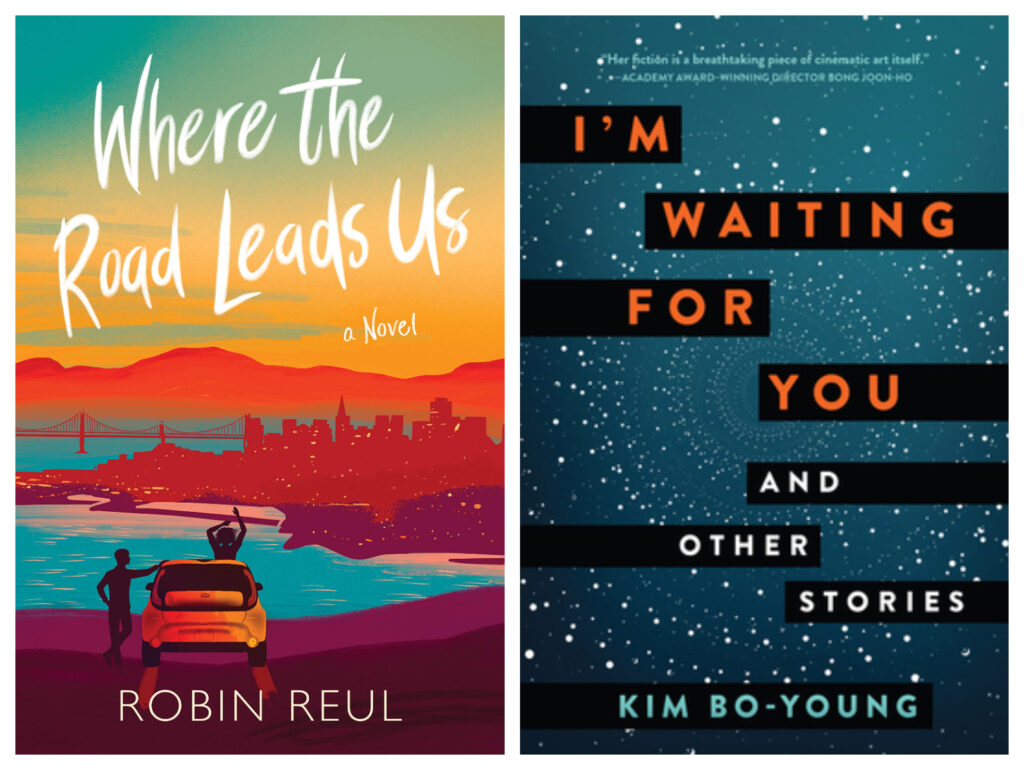 Where the Road Leads Us by Robin Reul
Jack is on the verge for leaving for college, but before he does, he wants to track down his estranged brother, Alex and find some closure in the wake of their father's death. Meanwhile, Hallie has just found out some upsetting news about a friend in Oregon, and she has a small window to go see him before it's too late. Jack and Hallie are practically strangers. They shared a class together years ago and haven't seen each other since, though they have more in common than they'd ever imagine. And when fate puts them into the same rideshare to the bus terminal, it kicks off an unconventional and hilarious adventure that may lead them to their own true selves…and maybe to each other.
I'm Waiting for You and Other Stories by Bo-Young Kim
Two worlds, four stories, infinite possibilities. One of South Korea's most treasured writers explores the driving forces of humanity—love, hope, creation, destruction, and the very meaning of existence—in two pairs of thematically interconnected stories.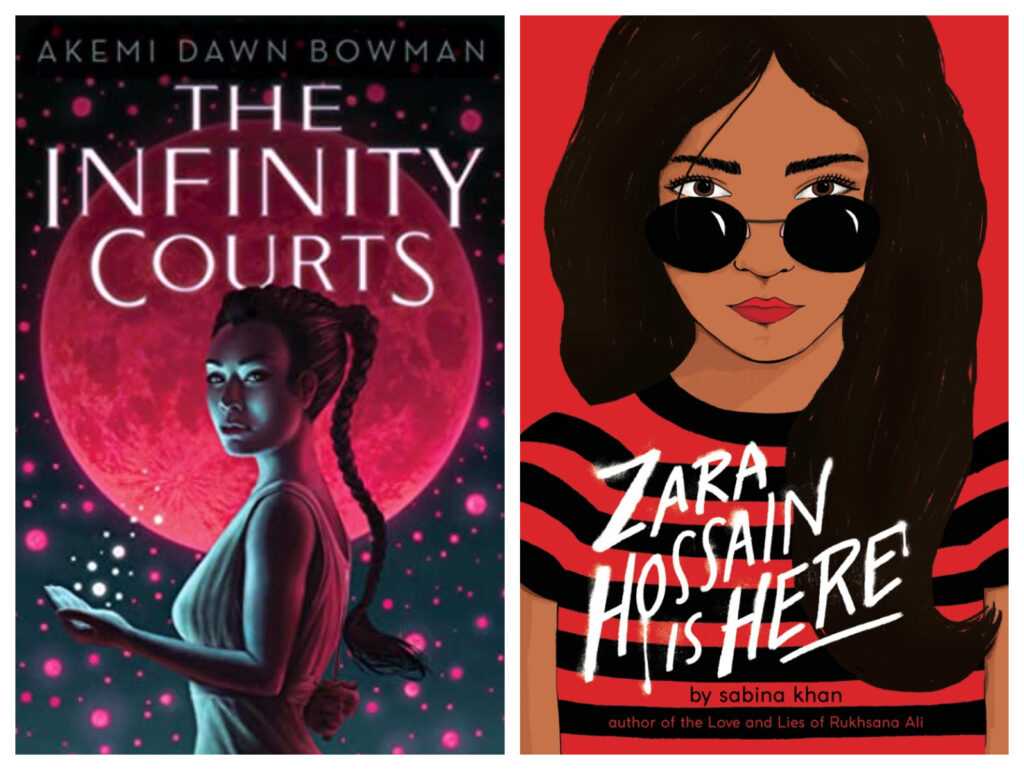 The Infinity Courts by Akemi Dawn Bowman
Eighteen-year-old Nami Miyamoto is certain her life is just beginning. She has a great family, just graduated high school, and is on her way to a party where her entire class is waiting for her—including, most importantly, the boy she's been in love with for years. The only problem? She's murdered before she gets there. When Nami wakes up, she learns she's in a place called Infinity, where human consciousness goes when physical bodies die. She quickly discovers that Ophelia, a virtual assistant widely used by humans on Earth, has taken over the afterlife and is now posing as a queen, forcing humans into servitude the way she'd been forced to serve in the real world. Even worse, Ophelia is inching closer and closer to accomplishing her grand plans of eradicating human existence once and for all. As Nami works with a team of rebels to bring down Ophelia and save the humans under her imprisonment, she is forced to reckon with her past, her future, and what it is that truly makes us human.
Zara Hossain Is Here by Sabina Khan
Seventeen-year-old Pakistani immigrant, Zara Hossain, has been leading a fairly typical life in Corpus Christi, Texas, since her family moved there for her father to work as a pediatrician. While dealing with the Islamophobia that she faces at school, Zara has to lay low, trying not to stir up any trouble and jeopardize their family's dependent visa status while they await their green card approval, which has been in process for almost nine years. But one day her tormentor, star football player Tyler Benson, takes things too far, leaving a threatening note in her locker, and gets suspended. As an act of revenge against her for speaking out, Tyler and his friends vandalize Zara's house with racist graffiti, leading to a violent crime that puts Zara's entire future at risk. Now she must pay the ultimate price and choose between fighting to stay in the only place she's ever called home or losing the life she loves and everyone in it.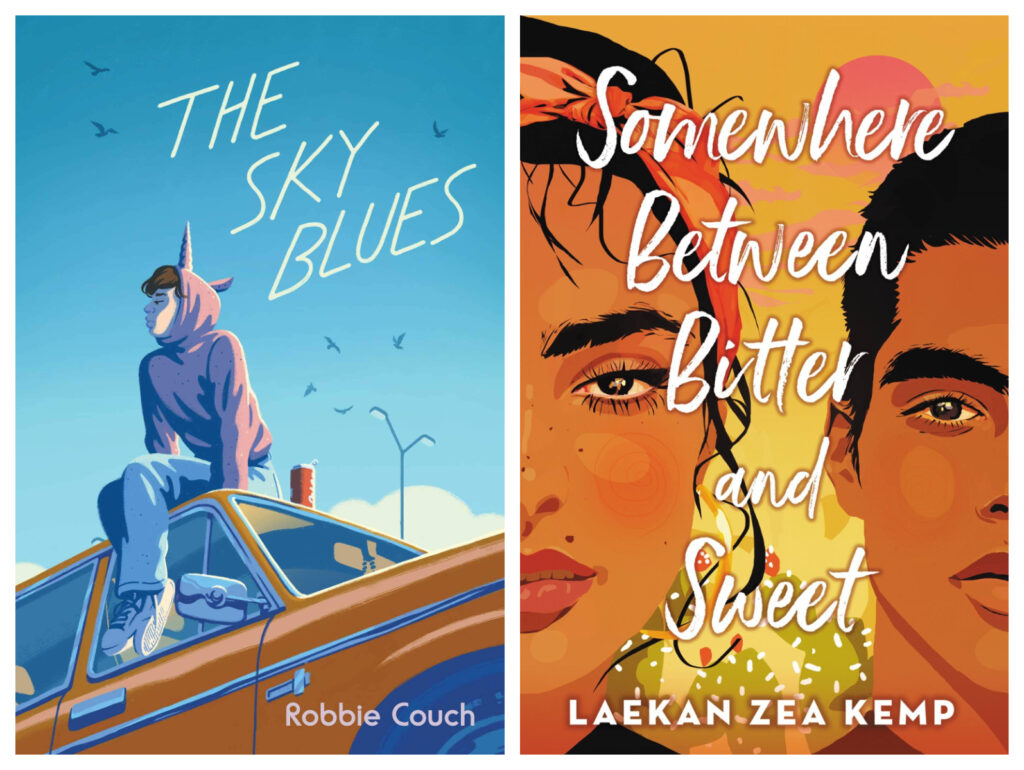 The Sky Blues by Robbie Couch
Sky Baker may be openly gay, but in his small, insular town, making sure he was invisible has always been easier than being himself. Determined not to let anything ruin his senior year, Sky decides to make a splash at his high school's annual beach bum party by asking his crush, Ali, to prom—and he has thirty days to do it. What better way to start living loud and proud than by pulling off the gayest promposal Rock Ledge, Michigan, has ever seen? Then, Sky's plans are leaked by an anonymous hacker in a deeply homophobic e-blast that quickly goes viral. He's fully prepared to drop out and skip town altogether—until his classmates give him a reason to fight back by turning his thirty-day promposal countdown into a school-wide hunt to expose the e-blast perpetrator. But what happens at the end of the thirty days? Will Sky get to keep his hard-won visibility? Or will his small-town blues stop him from being his true self?
Somewhere Between Bitter and Sweet by Laekan Zea Kemp
As an aspiring pastry chef, Penelope Prado has always dreamed of opening her own pastelería next to her father's restaurant, Nacho's Tacos. But her mom and dad have different plans — leaving Pen to choose between disappointing her traditional Mexican-American parents or following her own path. When she confesses a secret she's been keeping, her world is sent into a tailspin. But then she meets a cute new hire at Nacho's who sees through her hard exterior and asks the questions she's been too afraid to ask herself. Xander Amaro has been searching for home since he was a little boy. For him, a job at Nacho's is an opportunity for just that — a chance at a normal life, to settle in at his abuelo's, and to find the father who left him behind. But when both the restaurant and Xander's immigrant status are threatened, he will do whatever it takes to protect his new found family and himself. Together, Pen and Xander must navigate first love and discovering where they belong — both within their families and their fiercely loyal Chicanx community — in order to save the place they all call home.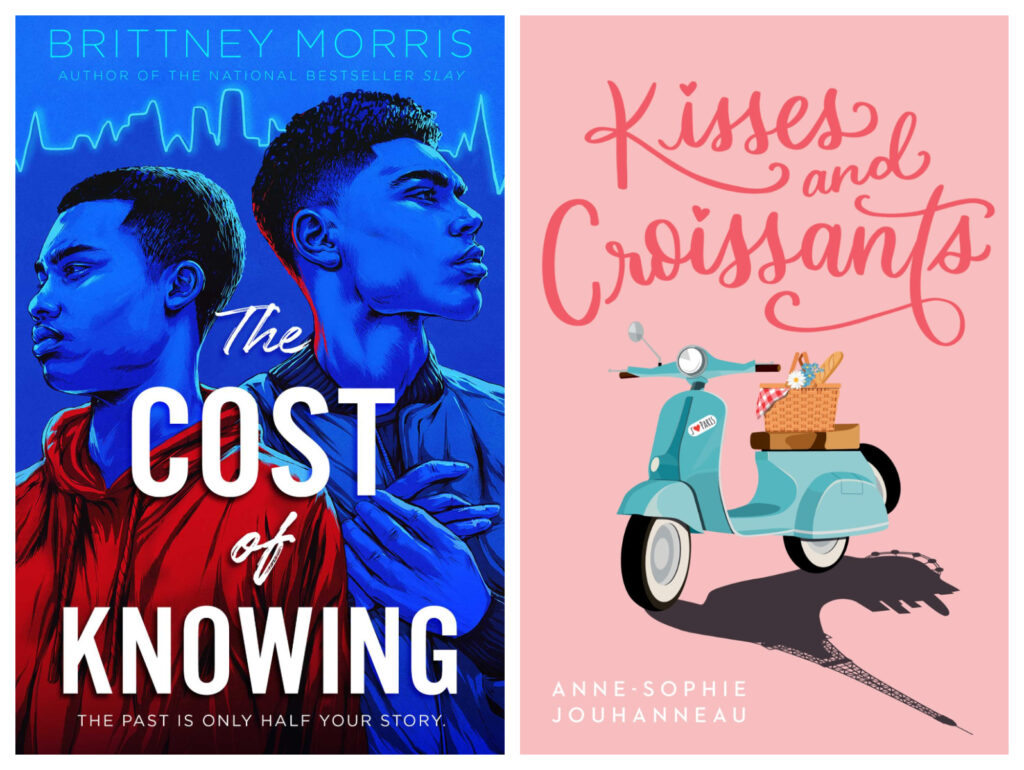 The Cost of Knowing by Brittney Morris
Sixteen-year-old Alex Rufus is trying his best. He tries to be the best employee he can be at the local ice cream shop; the best boyfriend he can be to his amazing girlfriend, Talia; the best protector he can be over his little brother, Isaiah. But as much as Alex tries, he often comes up short. It's hard to for him to be present when every time he touches an object or person, Alex sees into its future. When he touches a scoop, he has a vision of him using it to scoop ice cream. When he touches his car, he sees it years from now, totaled and underwater. When he touches Talia, he sees them at the precipice of breaking up, and that terrifies him. Alex feels these visions are a curse, distracting him, making him anxious and unable to live an ordinary life. And when Alex touches a photo that gives him a vision of his brother's imminent death, everything changes. With Alex now in a race against time, death, and circumstances, he and Isaiah must grapple with their past, their future, and what it means to be a young Black man in America in the present.
Kisses and Croissants by Anne-Sophie Jouhanneau
Seventeen-year-old Mia, an American girl at an elite summer ballet program, has six weeks to achieve her dreams: to snag an audition with one of the world's best ballet companies. But there's more to Paris than ballet—especially when a charming French boy, Louis, wants to be her tour guide—and the pair discover the city has a few mysteries up its sleeve.
House of Hollow by Krystal Sutherland
Seventeen-year-old Iris Hollow has always been strange. Something happened to her and her two older sisters when they were children, something they can't quite remember but that left each of them with an identical half-moon scar at the base of their throats. Iris has spent most of her teenage years trying to avoid the weirdness that sticks to her like tar. But when her eldest sister, Grey, goes missing under suspicious circumstances, Iris learns just how weird her life can get: horned men start shadowing her, a corpse falls out of her sister's ceiling, and ugly, impossible memories start to twist their way to the forefront of her mind. As Iris retraces Grey's last known footsteps and follows the increasingly bizarre trail of breadcrumbs she left behind, it becomes apparent that the only way to save her sister is to decipher the mystery of what happened to them as children. The closer Iris gets to the truth, the closer she comes to understanding that the answer is dark and dangerous – and that Grey has been keeping a terrible secret from her for years.
Laila desperately wants to become a mother, but each of her previous pregnancies has ended in heartbreak. This time has to be different, so she turns to the Melancons, an old and powerful Harlem family known for their caul, a precious layer of skin that is the secret source of their healing power. When a deal for Laila to acquire a piece of caul falls through, she is heartbroken, but when the child is stillborn, she is overcome with grief and rage. What she doesn't know is that a baby will soon be delivered in her family—by her niece, Amara, an ambitious college student—and delivered to the Melancons to raise as one of their own. Hallow is special: she's born with a caul, and their matriarch, Maman, predicts the girl will restore the family's prosperity. Growing up, Hallow feels that something in her life is not right. Did Josephine, the woman she calls mother, really bring her into the world? Why does her cousin Helena get to go to school and roam the streets of New York freely while she's confined to the family's decrepit brownstone? As the Melancons' thirst to maintain their status grows, Amara, now a successful lawyer running for district attorney, looks for a way to avenge her longstanding grudge against the family. When mother and daughter cross paths, Hallow will be forced to decide where she truly belongs.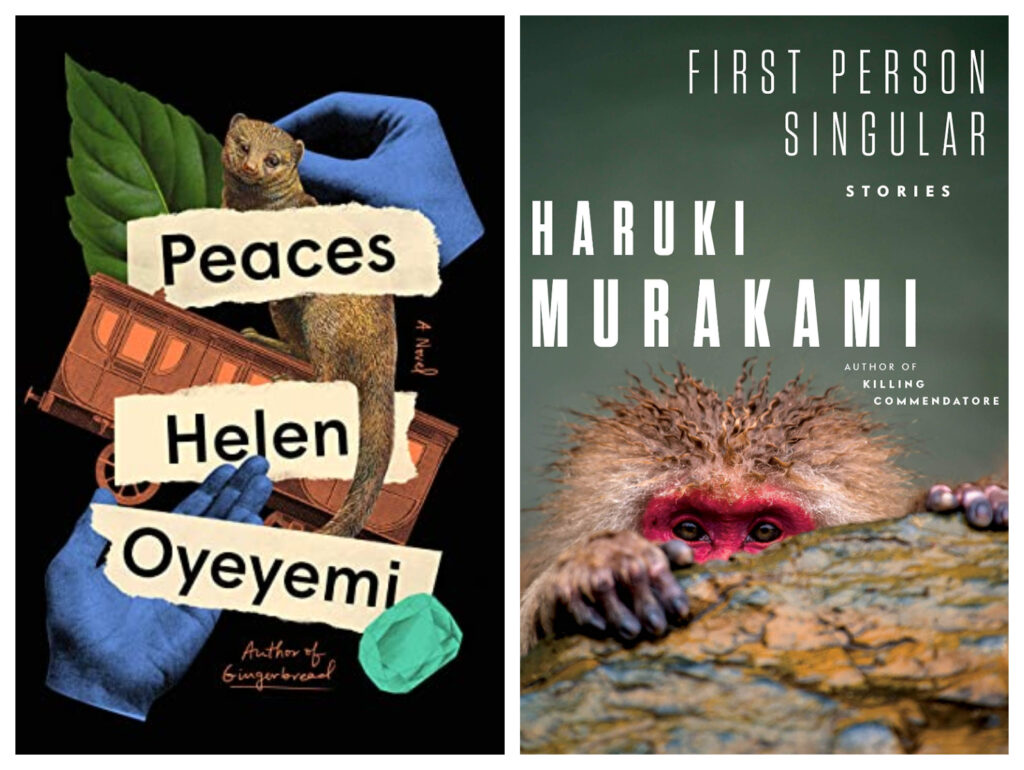 First Person Singular: Stories by Haruki Murakami, translated by Philip Gabriel
The eight masterful stories in this new collection are all told in the first person by a classic Murakami narrator: a lonely man. Some of them (like With the Beatles, Cream and On a Stone Pillow ) are nostalgic looks back at youth. Others are set in adulthood–Charlie Parker Plays Bossa Nova, Carnaval, Confessions of a Shinagawa Monkey and the stunning title story. Occasionally, a narrator who may or may not be Haruki himself is present, as in The Yakult Swallows Poetry Collection. Is it memoir or fiction? The reader decides. The stories all touch beautifully on love and loss, childhood and death . . . all with a signature Murakami twist.
When Otto and Xavier Shin declare their love, an aunt gifts them a trip on a sleeper train to mark their new commitment–and to get them out of her house. Setting off with their pet mongoose, Otto and Xavier arrive at their sleepy local train station, but quickly deduce that The Lucky Day is no ordinary locomotive. Their trip on this former tea-smuggling train has been curated beyond their wildest imaginations, complete with mysterious and welcoming touches, like ingredients for their favorite breakfast. They seem to be the only people onboard, until Otto discovers a secretive woman who issues a surprising message. As further clues and questions pile up, and the trip upends everything they thought they knew, Otto and Xavier begin to see connections to their own pasts, connections that now bind them together.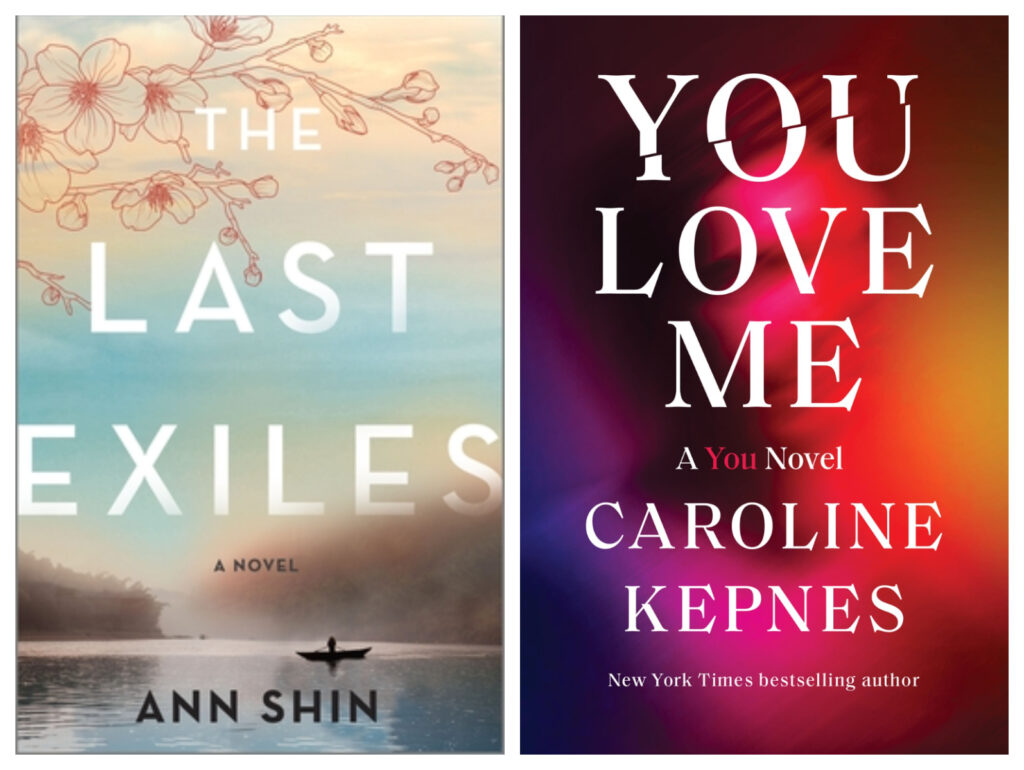 Jin and Suja met and fell in love while studying at university in Pyongyang. She was a young journalist from a prominent family, while he was from a small village of little means. Outside the school, North Korea has fallen under great political upheaval, plunged into chaos and famine. When Jin returns home to find his family starving, their food rations all but gone, he makes a rash decision that will haunt him for the rest of his life. Meanwhile, miles away, Suja has begun to feel the tenuousness of her privilege when she learns that Jin has disappeared. Risking everything, and defying her family, Suja sets out to find him, embarking on a dangerous journey that leads her into a dark criminal underbelly and will test their love and will to survive.
You Love Me by Caroline Kepnes
Joe is done with the cities. He's done with the muck and the posers, done with Love. Now, he's saying hello to nature, to simple pleasures on a cozy island in the Pacific Northwest. For the first time in a long time, he can just breathe. He gets a job at the local library—he does know a thing or two about books—and that's where he meets her: Mary Kay DiMarco. Librarian. Joe won't meddle, he will not obsess. He'll win her the old-fashioned way… by providing a shoulder to cry on, a helping hand. Over time, they'll both heal their wounds and begin their happily ever after in this sleepy town. The trouble is… Mary Kay already has a life. She's a mother. She's a friend. She's… busy. True love can only triumph if both people are willing to make room for the real thing. Joe cleared his decks. He's ready. And hopefully, with his encouragement and undying support, Mary Kay will do the right thing and make room for him.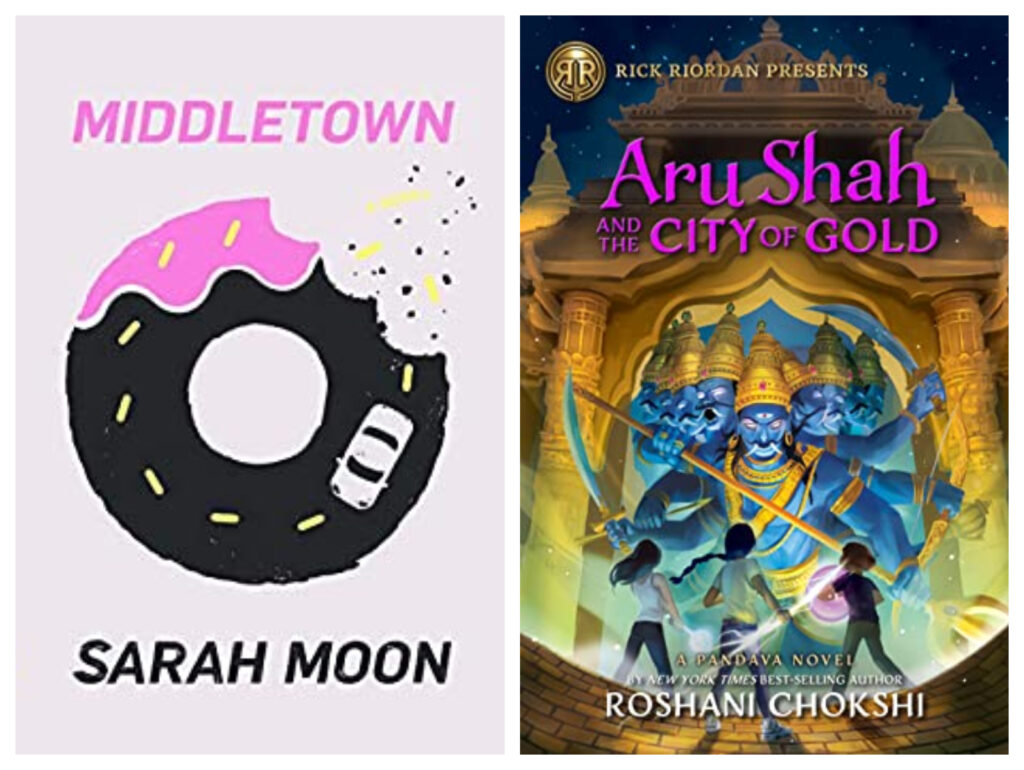 Thirteen-year-old Eli likes baggy clothes, baseball caps, and one girl in particular. Her seventeen-year-old sister Anna is more traditionally feminine; she loves boys and staying out late. They are sisters, and they are also the only family each can count on. Their dad has long been out of the picture, and their mom lives at the mercy of her next drink. When their mom lands herself in enforced rehab, Anna and Eli are left to fend for themselves. With no legal guardian to keep them out of foster care, they take matters into their own hands: Anna masquerades as Aunt Lisa, and together she and Eli hoard whatever money they can find. But their plans begin to unravel as quickly as they were made, and they are always way too close to getting caught. Eli and Anna have each gotten used to telling lies as a means of survival, but as they navigate a world without their mother, they must learn how to accept help, and let other people in.
Aru Shah and the City of Gold by Roshani Chokshi
Aru Shah and her sisters–including one who also claims to be the Sleeper's daughter–must find their mentors Hanuman and Urvashi in Lanka, the city of gold, before war breaks out between the devas and asuras. Aru has just made a wish on the tree of wishes, but she can't remember what it was. She's pretty sure she didn't wish for a new sister, one who looks strangely familiar and claims to be the Sleeper's daughter, like her. Aru also isn't sure she still wants to fight on behalf of the devas in the war against the Sleeper and his demon army. The gods have been too devious up to now. Case in point: Kubera, ruler of the city of gold, promises to give the Pandavas two powerful weapons, but only if they win his trials. If they lose, they won't stand a chance against the Sleeper's troops, which will soon march on Lanka to take over the Otherworld. Aru's biggest question, though, is why every adult she has loved and trusted so far has failed her. Will she come to peace with what they've done before she has to wage the battle of her life?
---
* book descriptions are from goodreads
* this post may contain affiliate links.