Am i the only who feels like October went by so fast? I feel like I've just posted my September Wrap-Up yesterday and now it's time again for a monthly wrap-up. Oh well,  I read a total of 6 books this month and they are all good.A MURDER IS ANNOUNCED BY AGATHA CHRISTIE – 4/5 STARS
This is the fifth book in the Miss Marple series and my second read from Agatha Christie. This book introduced me to Miss Marple and her unique way of investigating and solving a crime. She has an interesting character and maybe after reading some of the books one the series, she will become one of my favorite "detectives". My full review here.
The Murder at the Vicarage by Agatha Christie – 4/5 Stars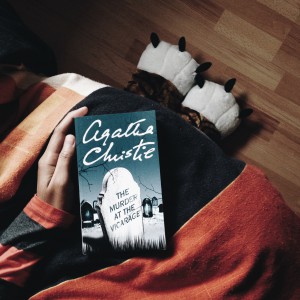 The first book in the Miss Marple series. Since I was quite disappointed with the appearance of Miss Marple on A Murder Is Announced, I expected that this book will show more of her or will tell me more about her but it doesn't. This one is quite different from the other books I've read from Agatha Christie (this is my third) because this book was written on the Vicar's (main character) POV. It shows us his thoughts about the other characters including Miss Marple. I still enjoy reading this book and guessing who the real suspect is. I actually guessed the right one but I wasn't 100% sure about it.
CRESS BY MARISSA MEYER – 4.5/5 STARS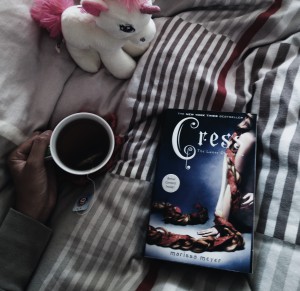 This is part of our (me and Joyce) October TBR. It's quite hard for me to write a decent review for this book because I don't know where to start. This is the kind of book (series) that you have to read and see for yourself. Cress is a fairytale retelling of Rapunzel with a twist. I think Cress is so far my favorite from the series. It's a mix of action, comedy and romance. Great characters and the world building is astounding. It is definitely a must-read. I can't wait for Winter!
Throne of Glass by Sarah J. Maas – 4/5 Stars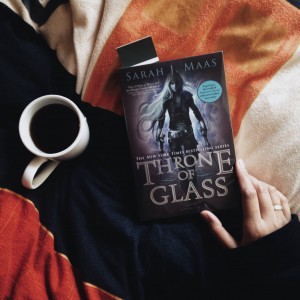 Also part of our October TBR. I finally joined the Celaena bandwagon! You can't blame me for having high expectations on this book. Blame the hype! Just kidding. Celeana is an amazing character because aside from being a badass assassin, she's also a book-lover. A perfect female protagonist! It's obvious that there'd be a love-triangle but it's fine with me. I'm Team Chaol, by the way. I like a knight-in-shining-armor compared to a beautiful prince. I didn't give a perfect five because for me there's something missing in terms of emotions. Celeana had a miserable life but I cannot seem to feel sad about her. Also there were a lot of things going on aside from the competition that leads to a lot of questions. I'm also hoping for a come back of one character who just disappeared from the story. Overall, I enjoyed reading this book and now I understand why it became so popular. I'll be reading the second book, Crown of Midnight, tonight.
The Dead Girls of Hysteria Hall by Katie Alender – 4/5 Stars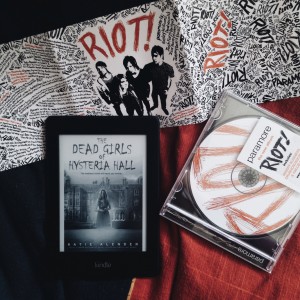 This was @wethebookdragons' book for the month of October. I didn't know what to expect because it was the first book I've read from Katie Alender. All i know is that the cover and title are both creepy and intriguing. I'm happy that I ended up liking this book even though I expected it to be much creepier/scarier. Read my full review here.
Hollow City by Ransom Riggs – 4/5 Stars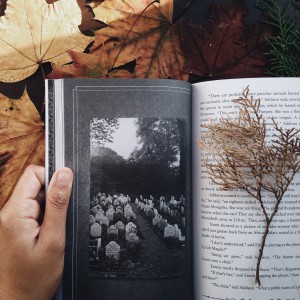 I read Miss Peregrine's Home for Peculiar Children in 2013 and I totally loved it. The idea of writing an exceptional story together with selected vintage photos is simply amazing. I love the idea because it makes my reading experience more exciting and fun. The character development on this book is superb and the writing stye is wonderful. My full review here.
My favorites this month are Throne of Glass, Cress and Hollow City.
---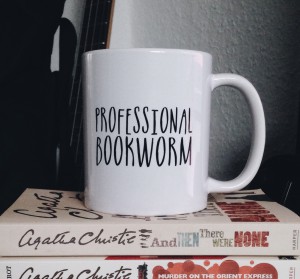 I didn't buy any books this month so I don't have a book haul post but I bought a very cool mug from the bookwormboutique.
I also won two times in two different giveaways on Instagram. I feel so lucky!
October was a great month! We went to Oktoberfest here in Hannover, we visited a cat cafe and I reached 10k followers on my bookstagram. I'm so thankful! ♥