Hi guys! Wow! Four more months and we will be saying our hellos  to 2017. How time flies! Anyway, I hope you had a great reading month. Mine was okay, i think. I was able to read 6 books in June and sadly, just 1 book in July! I know! I know! I think because I was in the "adjusting" stage in July. I started working everyday from 5am to 11am and the first few days were quite a struggle for me. I always feel sleepy when I get home. But I'm glad that I'm getting used to sleep and wake up early. So without further ado, here are the books I read in the past two months.

Books I Read in June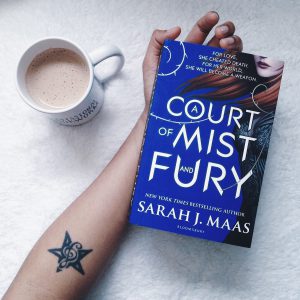 Feyre survived Amarantha's clutches to return to the Spring Court—but at a steep cost. Though she now has the powers of the High Fae, her heart remains human, and it can't forget the terrible deeds she performed to save Tamlin's people.
Nor has Feyre forgotten her bargain with Rhysand, High Lord of the feared Night Court. As Feyre navigates its dark web of politics, passion, and dazzling power, a greater evil looms—and she might be key to stopping it. But only if she can harness her harrowing gifts, heal her fractured soul, and decide how she wishes to shape her future—and the future of a world cleaved in two. x
I know there is a lot of hype going on about ACOMAF and if you'll ask me, this book deserves all the hype!
I read ACOMAF right after I got my copy and even though it took me quite a long time to finish this book, I absolutely enjoyed and loved it. It's one of my favorite reads this year! Not really more on the plot but superb writing style, as always. I love that we get to see the other Courts and their people/faeries. The Night Court is totally my favorite. New characters were introduced and they're all fierce, witty and amazing. I have to admit that Feyre can be annoying and stubborn but I really admire her determination and bravery. She really transformed into a badass faerie! I like how she stands up for herself and for the people she loves (both her family and friends). Like most of the others, I was Team Tamlin but it changed when I got to know the real Rhysand. Oh my Cauldron! This guy! Wait, I know that it might sounds like a "love-triangle" but it isn't. It's more like Feyre realizes who and what she really wants. Okay! Let's back to Rhysand. *insert heart-shaped eyes emojis here*. He's a bad boy with a big heart. He loves his friends, people and of course, Feyre. The way he shows his love to her is so much different from Tamlin. I love the twist and the last chapter! I need the 3rd book! Now!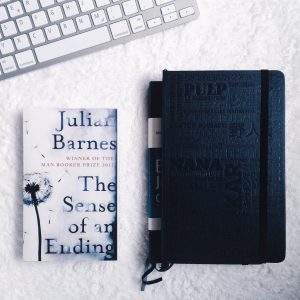 Tony Webster and his clique first met Adrian Finn at school. Sex-hungry and book-hungry, they would navigate the girl-less sixth form together, trading in affectations, in-jokes, rumour and wit. Maybe Adrian was a little more serious than the others, certainly more intelligent, but they all swore to stay friends for life.
Now Tony is in middle age. He's had a career and a single marriage, a calm divorce. He's certainly never tried to hurt anybody. Memory, though, is imperfect. It can always throw up surprises, as a lawyer's letter is about to prove. x
I'm a little sad that I didn't enjoy this book as much as I want to. It took me a month and a week to finish this 150-page book. I even forced myself to finish it. I'm not sure if I read this in a wrong time or it just didn't excite me. I didn't really connect with the main character. I enjoy reading books with unreliable narrator but this one didn't really got my attention. I like the mystery/revelation part towards the end, there were great quotes in this book and the writing is neat that's why I still gave it a 3 stars.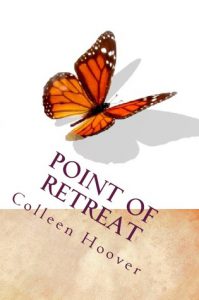 Layken and Will have proved their love can get them through anything; until someone from Will's past re-emerges, leaving Layken questioning the very foundation on which their relationship was built. Will is forced to face the ultimate challenge…how to prove his love for a girl who refuses to stop 'carving pumpkins.' x
I've read 7 of CoHo's books and Slammed is one of my favorites. So I just have to read the sequel even though I didn't know what to expect. For me, Slammed was already perfect and I thought that it can be a stand-alone. Point of Retreat is written on Will's POV which I enjoyed more than Layken's. There were new characters too and my favorite was definitely Kiersten. I'd love her to be my little sister. The slam in this book were butterflying great. I love the idea of "suck and sweet" and Julia's vase. My only problem was the too much drama between Layken and Will. Their romance can be too cheesy and they're both too childish and annoying. It's just too much. Overall, I enjoyed this book but I loved Slammed more.
HONEY GIRL BY LISA FREEMAN – 3 out of 5 stars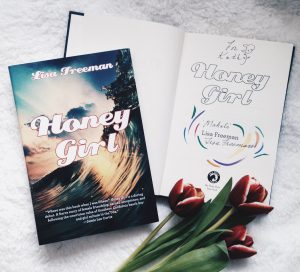 How to survive California's hottest surf spot: Never go anywhere without a bathing suit. Never cut your hair. Never let them see you panic.
The year is 1972. Fifteen-year-old Haunani "Nani" Grace Nuuhiwa is transplanted from her home in Hawaii to Santa Monica, California after her father's fatal heart attack. Now the proverbial fish-out-of-water, Nani struggles to adjust to her new life with her alcoholic white (haole) mother and the lineup of mean girls who rule State Beach.
Following "The Rules"—an unspoken list of dos and don'ts—Nani makes contact with Rox, the leader of the lineup. Through a harrowing series of initiations, Nani not only gets accepted into the lineup, she gains the attention of surf god, Nigel McBride. But maintaining stardom is harder than achieving it. Nani is keeping several secrets that, if revealed, could ruin everything she's worked so hard to achieve. Secret #1: She's stolen her dad's ashes and hidden them from her mom. Secret #2: In order to get in with Rox and her crew, she spied on them and now knows far more than they could ever let her get away with. And most deadly of all, Secret #3: She likes girls, and may very well be in love with Rox. x
I've posted my full review of this book here. Thanks to Ms. Lauen and Ms. Lisa for sending me a copy.
GIVE IT BACK BY DANIELLE ESPLIN – 4 out of 5 stars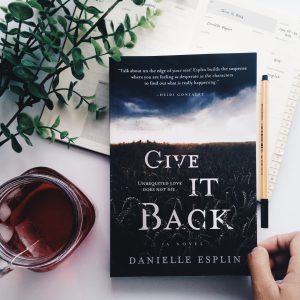 This novel follows three characters: Lorraine, Lexy, and Ella.
Lorraine: Not long ago, Lorraine lost her husband to another woman. She thought that was the worst thing that could happen to her, but soon she realizes it's just the beginning of an everlasting nightmare.
Lexy: Lexy, an au pair from London, moves to Seattle to help Lorraine with her infant son. But she didn't come for the child…she came for something else.
Ella: When Ella receives a call from her sister, Lorraine, who begs her to leave San Diego to spend time with her, she decides to take a few days off from work to visit her. Frightened to see how much Lorraine has weakened since her diagnosis eight months ago, she packs a bag and heads to Seattle with a foreboding feeling that this might be the last time she sees Lorraine.
But on her way to the airport, she learns that something shocking has happened since she last spoke with Lorraine and now. To make matters worse, once Ella arrives in Seattle, Lorraine's story keeps changing, making Ella question how reliable her sister really is.
Soon Ella is entangled in a mysterious investigation, and more so, in the lives of everyone involved. She realizes not only that she won't go home anytime soon but also that she'll never look at others the same way she did before. x
A big thanks to Ms. Danielle for sending me a copy of her debut novel. My full review here.
VALENTINA BY S. E. LYNES – 4.5 out of 5 stars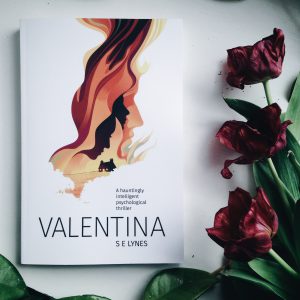 When Glasgow journalist  Shona McGilvery moves with her partner  Mikey  and their baby to an idyllic cottage in rural Scotland, they believe that all that lies ahead of them is happiness.
But with Mikey working offshore, the  frightening  isolation of the Aberdeenshire  countryside begins to drive her insane… That is, until she is rescued by a new friendship with the enchanting Valentina. 
She has the perfect home, the perfect man, and a charismatic new best friend – or does she?
As her fairytale life begins to unravel, the deep dark wood becomes the least of her fears. x
I thought the beginning was a bit slow and I had quite a hard time getting into the story but the descriptive style of writing helped a lot for me to get hook and finish this book in two days. Two days! It's very unusual for me. This book is that good! It's full of secrets, emotions, surprises, lies, deception and a lot more. Full review here.
Book I Read in July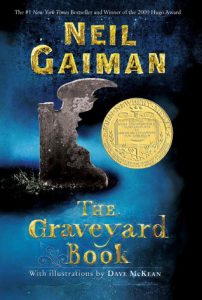 In this Newbery Medal-winning novel, Bod is an unusual boy who inhabits an unusual place—he's the only living resident of a graveyard. Raised from infancy by the ghosts, werewolves, and other cemetery denizens, Bod has learned the antiquated customs of his guardians' time as well as their ghostly teachings—such as the ability to Fade so mere mortals cannot see him.
Can a boy raised by ghosts face the wonders and terrors of the worlds of both the living and the dead? And then there are beings such as ghouls that aren't really one thing or the other. x
The opening line, "There was a hand in the darkness, and it held a knife.", caught my attention right away. I didn't have any idea what the story is all about and that this is a children's book (with that intro?) and I'm so happy that I ended up loving it! The characters are likeable, very unique and interesting. This book is like a compilation of Bod's adventures (from childhood to teenage years) both in and out of the graveyard. Each chapter shows us Bod's encounters with the living, dead and even with the ghouls. The concept is marvelous as well as the writing. I didn't give a perfect 5 because I felt like some back stories (especially of Silas – Bod's guardian, and Jack – the murderer) were missing. The ending is bittersweet but I loved it. It may be an ending for the readers but it's definitely a new beginning for Bod. I'm secretly hoping that there'll be a sequel. This book is perfect not only for young readers but also for those who are kids at heart, like me.
This was my second read from Gaiman and I now truly understand why a lot of readers love his works. Such a great author!

Quite a long post but if you're still reading this, I want to say thank you. ♥ This (post) has been on my draft folder since July 6 and I'm so glad to finally have this posted.
How many books have you read in July? Comment or leave the link of your wrap-up below. I want to see them. ♥