Hi guys! Happy 1st of August. Is it okay to say that I can't wait for Autumn? It's my favorite season, in case you didn't know.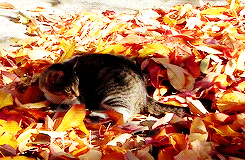 I've checked my previous posts and found out that my last wrap-up post was in January! Wow. Has it been that long already? Anyway, I'm here for my July / #Booktubeathon Wrap-Up. Yap, I joined the #Booktubeathon challenge this year and it was my first time. As expected, I wasn't able to read 7 books in one week. Haha! I wasn't disappointed at all because I know myself so well. I didn't make any (extra) effort compared to the other readers who have joined. By the way, hands down to all of you who were able to complete the challenge! I admire you so much. And to all who weren't able to complete the challenge (like me), don't worry because we can still join next year. The important thing is we had fun while reading!
For the month of July, I was able to read 5 books and listened to 1 audiobook (which I started in the middle of June). The last three books were the ones I read for the #Booktubeathon challenge. So, let's start.

Ten years ago, college student Quincy Carpenter went on vacation with five friends and came back alone, the only survivor of a horror movie–scale massacre. In an instat, she became a member of a club no one wants to belong to—a group of similar survivors known in the press as the Final Girls. Lisa, who lost nine sorority sisters to a college dropout's knife; Sam, who went up against the Sack Man during her shift at the Nightlight Inn; and now Quincy, who ran bleeding through the woods to escape Pine Cottage and the man she refers to only as Him. The three girls are all attempting to put their nightmares behind them, and, with that, one another. Despite the media's attempts, they never meet.
Now, Quincy is doing well—maybe even great, thanks to her Xanax prescription. She has a caring almost-fiancé, Jeff; a popular baking blog; a beautiful apartment; and a therapeutic presence in Coop, the police officer who saved her life all those years ago. Her memory won't even allow her to recall the events of that night; the past is in the past. 
That is, until Lisa, the first Final Girl, is found dead in her bathtub, wrists slit, and Sam, the second, appears on Quincy's doorstep. Blowing through Quincy's life like a whirlwind, Sam seems intent on making Quincy relive the past, with increasingly dire consequences, all of which makes Quincy question why Sam is really seeking her out. And when new details about Lisa's death come to light, Quincy's life becomes a race against time as she tries to unravel Sam's truths from her lies, evade the police and hungry reporters, and, most crucially, remember what really happened at Pine Cottage, before what was started ten years ago is finished.
R E V I E W
This was an engrossing and adrenaline-filled debut novel. I really enjoyed it and will definitely watch for the next books from this author. Read my full review here. / My Rating : 4 out of 5 stars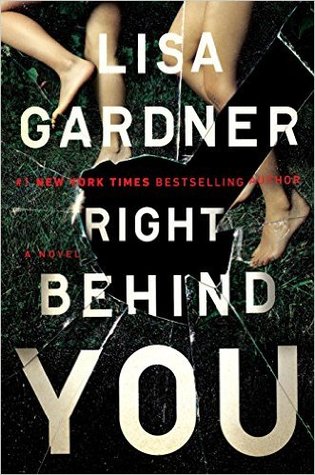 Eight years ago, Sharlah May Nash's older brother beat their drunken father to death with a baseball bat in order to save both of their lives. Now thirteen years old, Sharlah has finally moved on. About to be adopted by retired FBI profiler Pierce Quincy and his partner, Rainie Conner, Sharlah loves one thing best about her new family: They are all experts on monsters.
Then the call comes in. A double murder at a local gas station, followed by reports of an armed suspect shooting his way through the wilds of Oregon. As Quincy and Rainie race to assist, they are forced to confront mounting evidence: The shooter may very well be Sharlah's older brother, Telly Ray Nash, and it appears his killing spree has only just begun.
As the clock winds down on a massive hunt for Telly, Quincy and Rainie must answer two critical questions: Why after eight years has this young man started killing again? And what does this mean for Sharlah? Once upon a time, Sharlah's big brother saved her life. Now, she has two questions of her own: Is her brother a hero or a killer? And how much will it cost her new family before they learn the final, shattering truth? Because as Sharlah knows all too well, the biggest danger is the one standing right behind you.
R E V I E W
This is a great book. Not as dark as Find Her (my first book from the author) but I definitely enjoyed it. I haven't read any from the Quincy & Rainie series so I didn't know much about their history but it didn't felt like that. It was very interesting for me to see/know how Quincy and Rainie work together with their team. The characters are well-written and I loved all of them (especially Telly, Sharlah and even Luka). I didn't actually care about the mystery part because I was emotionally invested with the characters and their story which will surely remain with me for quite a long time. There were some repetitive parts but overall, Right Behind You is a captivating and very emotional book. / My Rating : 4 out of 5 stars
I listened to the audiobook version and the story was narrated by two different persons (a man and a woman) which was sometimes a little awkward because the book was written in multiple POVs and sometimes the narrator's voices doesn't fit the characters. It wasn't my favorite narration. / My Rating for the audiobook edition : 3 out of 5 stars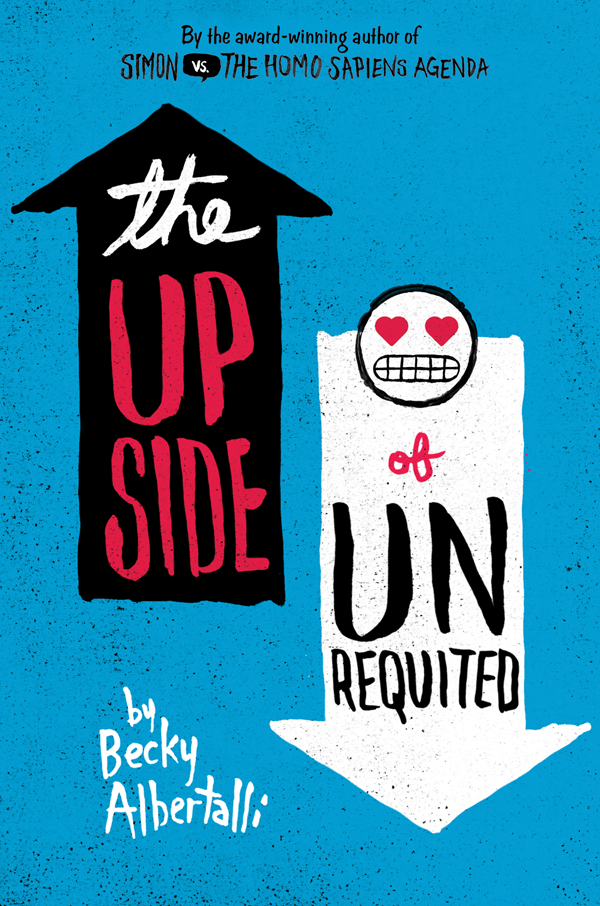 Seventeen-year-old Molly Peskin-Suso knows all about unrequited love. No matter how many times her twin sister, Cassie, tells her to woman up, Molly can't stomach the idea of rejection. So she's careful. Fat girls always have to be careful.
Then a cute new girl enters Cassie's orbit, and for the first time ever, Molly's cynical twin is a lovesick mess. Meanwhile, Molly's totally not dying of loneliness—except for the part where she is. Luckily, Cassie's new girlfriend comes with a cute hipster-boy sidekick. If Molly can win him over, she'll get her first kiss and she'll get her twin back.
There's only one problem: Molly's coworker, Reid. He's a chubby Tolkien superfan with a season pass to the Ren Faire, and there's absolutely no way Molly could fall for him.
Right?
R E V I E W
This was one of my anticipated reads this year and I think I loved this a little more than Simon vs. the Homo Sapiens Agenda.
Molly is so relatable and I enjoyed reading her inner thoughts. I used to have a lot of crushes when I was in High School and I didn't have a serious relationship even after I graduated college. So I think I can totally understand and relate to Molly. Plus, she loves DIY/Pinterest and has a crush on Lin-Manuel Miranda. The other characters are wonderful as well though I had quite a hard time remembering all their names throughout the story.
This book has the typical YA plot so prepare yourself for some YA cliches. The plot wasn't too complex but I liked the author's portrayal of what a normal teenager is. I loved the family dynamic and diversity in this book. (Molly has a lesbian twin sister and they have two incredible moms.) I loved the representation of the LGBTQ+ community in this book as well. I think I haven't read a YA book that is so diverse like this one. Also, this book has one of the most hilarious opening lines. Overall, I had fun reading this book. It's adorable and fast paced and I think a lot of YA readers will love it. / My Rating : 4 out of 5 stars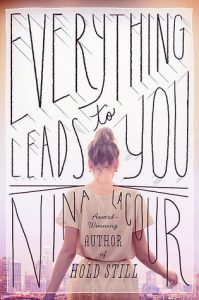 A wunderkind young set designer, Emi has already started to find her way in the competitive Hollywood film world.
 
Emi is a film buff and a true romantic, but her real-life relationships are a mess. She has desperately gone back to the same girl too many times to mention. But then a mysterious letter from a silver screen legend leads Emi to Ava. Ava is unlike anyone Emi has ever met. She has a tumultuous, not-so-glamorous past, and lives an unconventional life. She's enigmatic…. She's beautiful. And she is about to expand Emi's understanding of family, acceptance, and true romance.
R E V I E W
This was my first read from Nina LaCour and I really enjoyed it. (It was a birthday gift from a special friend) As far as I can remember, I've never read any books with lesbian main character and now, I want to read more. Emi is the protagonist but the story doesn't focus entirely on her. Honestly, she annoyed me in the beginning but thankfully her character develops throughout the story. Charlotte, Emi's bestfriend, is very loyal and talented as well and I like her more than Emi. I wished we get to know more about her. They both have an amazing jobs, by the way.
Aside from the setting, I also loved the concept of this book. It tells us more about the behind the scenes of the movies which was really impressive. Like those little details on the set which sometimes the viewers didn't even notice. They're not there for nothing. The people behind this thought really hard about it. This book made me appreciate movies more.
The writing was cinematic and I liked it. There was a bit of mystery in the story but it was very predictable and I wasn't sure if it meant to be like that. The romance was there but the chemistry wasn't, in my opinion. I still recommend this book if you're looking for a fast-paced diverse YA Contemporary. / My Rating : 3.5 out of 5 stars (#booktubeathon challenge : read a book with a person on the cover)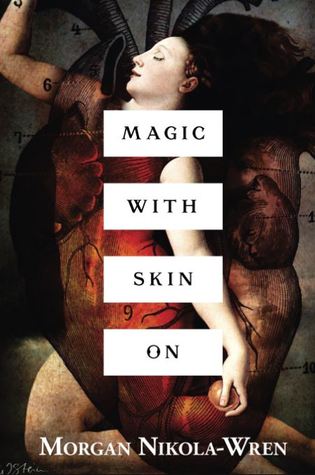 In her much-anticipated debut poetry collection, Morgan Nikola-Wren has woven her signature romantic grit through a stunning, modern-day fairy tale. Chronicling the relationship between a lonely artist and her absent–albeit abusive–muse, Magic with Skin On will gently break you, then put you back together again.
R E V I E W
This was the 10th poetry collection I've read this year and I can definitely say that this one is totally unique and brilliant. Huge thanks to Ms. Morgan for sending me a copy (though I have 2 extra copies so watch out for a giveaway) of her book.
The book is divided into seven Acts which starts with short stories followed by poetry/prose. I really loved this concept and how the author uses metaphors effectively. The book tells us a heart-wrenching story of a woman and her unconditional love to a man. She starts writing her story and later on realizes her worth and finally set herself free. There was one scene that's quite graphic that it made me cringe.
This was an excellent work of art and I highly recommend it! Plus, look how stunning the cover is. / My Rating : 4.5 out of 5 stars (#booktubeathon challenge : finish a book in one day)
Here are some of my favorites from the book:
"She is courting herself. Getting to know the twists and turns of her. Intimately. The way you can only do when you have been shattered. Running your hands up every small piece of you before you put it back into place—or even somewhere entirely different. Because it feels good to remind yourself that some changes are still within your control." – p.87
_____
perhaps you felt cheated
because i turned out
to be ten times the
woman you bargained for

i'm worth my salt
and it tastes like
stories you've never
dreamed of
– p.112
_____
never tell yourself
that because love can conquer all
it has earned plates into confetti shards
or shake a house into rubble

do not excuse the smell of smoke,
saying to yourself that some loves
simply burn so bright that every word
cannot help but spit sparks
darling, recognize an inferno
when you see one
then run like hell
– p. 118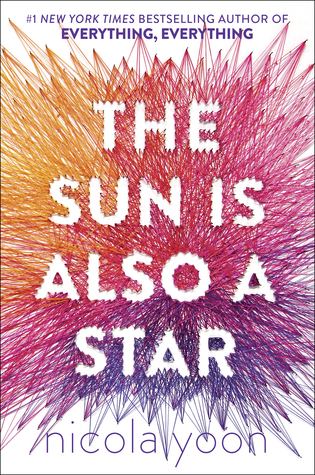 Natasha: I'm a girl who believes in science and facts. Not fate. Not destiny. Or dreams that will never come true. I'm definitely not the kind of girl who meets a cute boy on a crowded New York City street and falls in love with him. Not when my family is twelve hours away from being deported to Jamaica. Falling in love with him won't be my story.
Daniel: I've always been the good son, the good student, living up to my parents' high expectations. Never the poet. Or the dreamer. But when I see her, I forget about all that. Something about Natasha makes me think that fate has something much more extraordinary in store—for both of us.
The Universe: Every moment in our lives has brought us to this single moment. A million futures lie before us. Which one will come true?
R E V I E W
Another diverse read from the month of July. This was my second book from Nicola Yoon and I can definitely say that I loved this more than Everything, Everything.
Aside from our two main characters, Natasha and Daniel, we get to see some backstories of the side characters and how they're all connected to each other. I loved the multiple POVs and how this book was written. It was the author's style of writing that made me want to read this book and her future books as well.
The story takes place in one day, well not even 24 hours, so I was expecting for an insta-love. The romance was a bit unrealistic and in some parts, quite over dramatic. But I didn't mind it that much because I was enjoying the story. I really loved Natasha and Daniel. They're both smart, hilarious and simply amazing.
This book doesn't entirely focus on the romance part, so don't worry. Some sensitive subjects such as suicide, racism, discrimination, and depression are present in the story and the author handled these subjects really great. We get to see the real struggles of being an immigrant in the US which in my opinion, was written accurately. The book also reminds us that a lot of things (both good and bad) can happen to us and to the people around us in just one day. And that our decisions and actions (both little and big) affect not only our own lives but also the lives of others.
I wasn't that sad with how the story ends because I was expecting for that epilogue. Not exactly how it'll happen but how it will be. I based it on my experience with Everything, Everything. This was quite an educational read as well. The author included some scientific facts which were pretty interesting but science is really not a favorite subject of mine. Overall, I definitely had fun reading this book. / My Rating : 4 out of 5 stars (#booktubeathon challenge : read a hyped book)


There you go! How many books have you read in July? Feel free to leave your Wrap-Up link on the comment below. I'd love to check on them.
♥ Always,