Happy April Fool's day! I remember last year when I read a post about Daryl Dixon's death in the season 5 finale of The Walking Dead. I was so sad and worried because I thought it was true. Then after watching the episode, I realized that it was April 1st and I got fooled. Good job!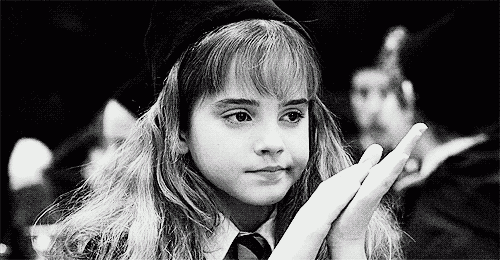 So, let's move on to my recap. March went so fast and it was a little crazy (at least for me) and exciting.
I am now a yellow belter in Karate. I passed my exam (March 17) and I'm so proud of it. Honestly, I never thought of me joining (or doing) Karate. I've been influenced by my husband (black belter) and parents-in-law (both brown belter). Oh, my sis-in-law is also a black belter. So yeah! I'm still undecided if I want to continue doing it.
Society6 hosted an awesome giveaway and I was one of the winners. I chose the Cat-stronauts throw blanket by Drew Brockington. It is so cute and huge! I love it so much. I can just stay under it forever.
I finally finished watching Game of Thrones. I can't wait for April 24.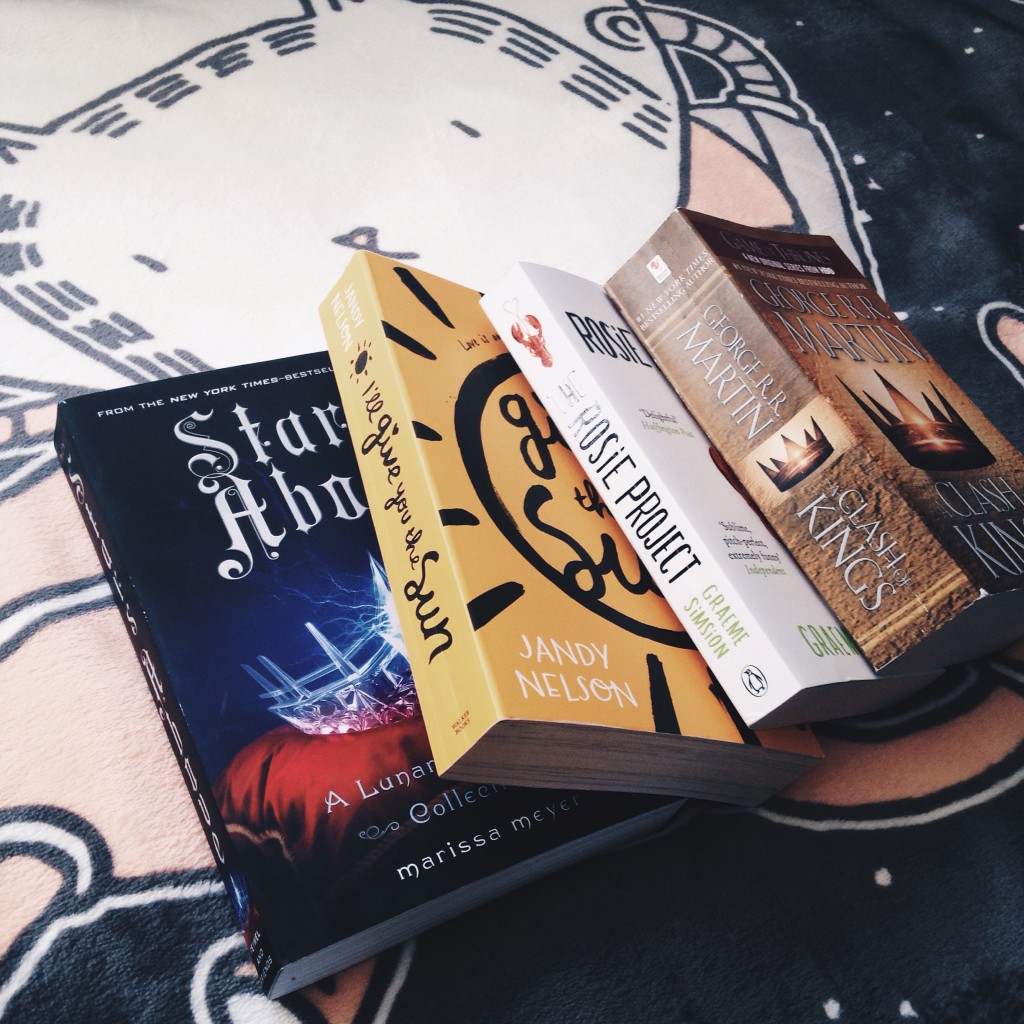 Just like last month, I read 4 books this month. Total of 2,136 pages)
To be honest, until now I cannot write a decent review of this book. If you will read the synopsis, you will think that this is just about Jude and her twin brother, Noah, and their issues/dramas in their lives. But i'm telling you, it is totally more than that. The characters are all amazing. Their imperfections make them so unique and relatable that you will love each and every one of them. I adore the relationship of Noah and Jude. They fight and do mean (bad) things to each other but deep inside they know that they cannot live without the other. The writing is brilliant and captivating. I remember telling Joyce that every word in this book is beautiful, including the grammar articles. Maybe I'm over-reacting but it really feels like that. I also love the art theme in the story and the art on the pages of the book. I like how everything unravels towards the end of the story and I also like how it ends. This book made it on my all-time favorite books list.
STARS ABOVE by Marissa Meyer / 4.5 out of 5 stars
Oh Stars! I finished this fantastic short story collection of The Lunar Chronicles yesterday and I feel like I want to read the series again. Each of the short stories are unique and outstanding. My favorites are The Queen's Army, The Princess and the Guard, and Something Old Something New. Read my full review here.
THE ROSIE PROJECT by Graeme Simsion / 3.5 out of 5 stars
This book has been sitting on my shelf since 2013 so I've decided to finally read it.
The story is about a Genetics professor named Don Tillman who comes up with the idea of the Wife Project by creating a very specific questionnaire that would help him to find the perfect wife. Don reminds me of Sheldon Cooper. They're both (too) organized, smart, quirky and (sometimes) annoying. Rosie, on the other hand, is bold and has a strong character. I have mixed feelings about this book. I enjoyed reading it and I even had some LOL moments but some parts felt dragged. I also had some issues with the characters on the last 50 pages and I got a little confused with the ending. I wish there were more dialogues between Don and Rosie because I enjoyed most of their interactions. Some of my favorite scenes were the Jacket Incident, the dinner on the balcony and the New York adventure. I'll probably read the second book but it's not really on my priority list. Overall, this was a fun read and I recommend it if you're into unusual romantic comedy.
A CLASH OF KINGS by George R. R. Martin / 5 out of 5 stars
It took me five months to finish this book. Well, I don't really read it like everyday. It's not enough just to watch the tv series, you really have to read the book. You think you know already the characters but the truth is, you just know 10-20% about them. I didn't write a review of A Game of Thrones because I don't know where or how to start but I'm so glad that I've decided to read the book.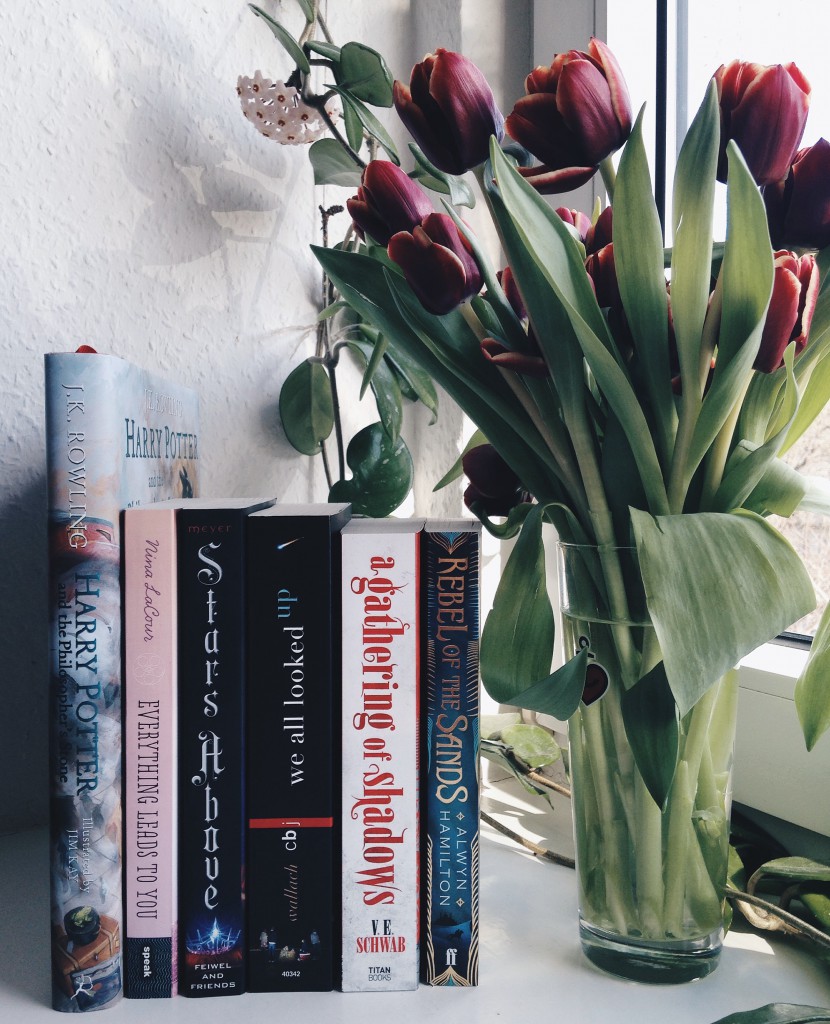 I got a total of 7 physical books and an ebook this month. Hurray! The Harry Potter and the Philosopher's Stone Illustrated Edition by J.K. Rowling and Jim Kay, Stars Above by Marissa Meyer and Rebel of the Sands by Alwyn Hamilton are from my handsome husband. Everything Leads To You by Nina LaCour is a surprise gift from Joyce. I got the German edition of  We All Looked Up by Tommy Wallach as a giveaway prize from Buchhandlung Hugendubel. A Gathering of Shadows by V.E. Schwab is the first and only book I bought (so far) this year. *not in the picture* Honey Girl by Lisa Freeman and an eARC of Sunday's on the Phone to Monday by Christine Reilly.
Enjoy Spring! ♥