It's the time of the month again, guys! Can't believe that my last book haul post was in March. Gosh! So far, I accumulated 48 books this year. More to go. 😀 I'll be sharing the books I got for the month of June and July. *click the book title for goodreads links*

June Haul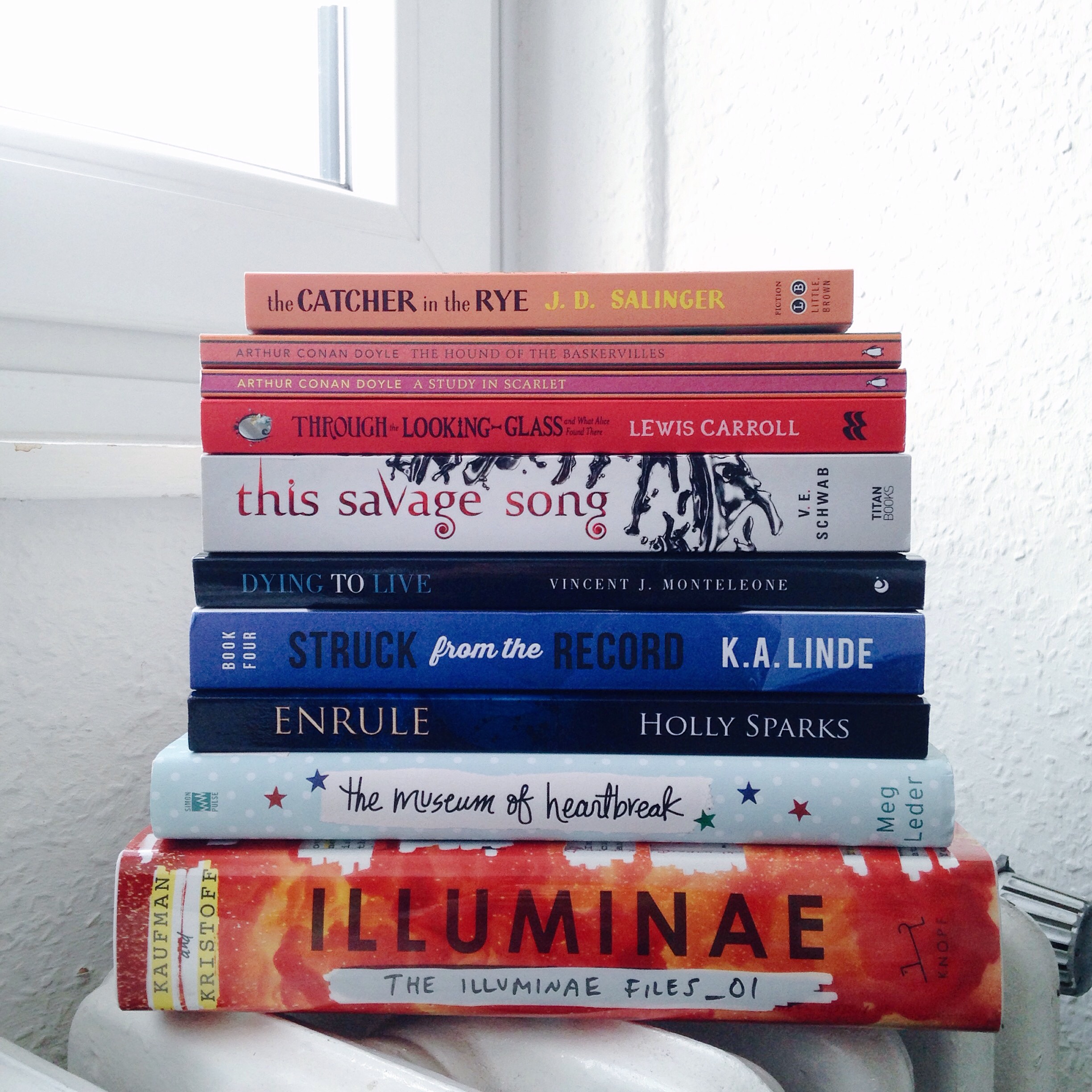 Books I Bought
The Catcher in the Rye by J. D. Salinger
The Hound of the Baskervilles by Arthur Conan Doyle
A Study In Scarlet by Arthur Conan Doyle
Through the Looking Glass and What Alice Found There by Lewis Caroll
This Savage Song by V. E. Schwab
Illuminae by Jay Kristoff and Amie Kaufman
Books For Review
Dying To Live by Vincent Monteleone
Synopsis
Dying to Live introduces Brendon Merullo, a boy with the usual childhood fantasies of winning the World Series for the Yankees, the NBA Championship for the Knicks, and the Super Bowl for the Jets. Unfortunately for the cause of New York sports, he puts away his dreams and then works-hard-and makes a success of his life, at least, according to the world's standards. The author, Vincent J. Monteleone, shares the outcome of dreams and work colliding:
The eight-year-old version of me would actually be disgusted with the man I grew up to be. I rarely do anything that I want to do during the day because I am too busy working. Then when I get home I am too tired to do anything fun or that I want to do. Usually I just end up sitting on the couch in front of the television like a zombie until I cannot keep my eyes open any longer and it is time to go up to bed to rest up for another day of the daily grind.
But then, one day Brendon goes to the doctor and hears news he never expected to hear. From that moment on, he begins to discover the deep truths about life and death.
Struck from the Record by K. A. Linde
Synopsis
Clay Maxwell is a smart, quick witted, sex-driven, manwhore with the good looks to match. Plenty of women have shared his bed, but only one has ever been constant, Andrea.
Their rules were simple. When they're together, it's just the two of them. When they're apart, anything is fair game. And it worked. For ten years.
But one of them has changed the game…
Clay must decide if his player ways are worth losing the one girl who has always been there.

Enrule by Holly Sparks
Synopsis
I remember waking to the scream.
I remember calling my sister's name.
I remember seeing the blood smeared along the staircase.
I remember the creature's green eyes.
They say there's a cure. They say there's a way to stop this madness, a way to stop the hunger.
I think they're lying.
My name is Ella, and this is my story.
In this exhilarating debut, Holly Sparks presents a horrifying dystopian world, a remarkable heroine, and an unforgettable adventure.
The Museum of Heartbreak by Meg Leder
Synopsis
In this ode to all the things we gain and lose and gain again, seventeen-year-old Penelope Marx curates her own mini-museum to deal with all the heartbreaks of love, friendship, and growing up.
Welcome to the Museum of Heartbreak.
Well, actually, to Penelope Marx's personal museum. The one she creates after coming face to face with the devastating, lonely-making butt-kicking phenomenon known as heartbreak.
Heartbreak comes in all forms: There's Keats, the charmingly handsome new guy who couldn't be more perfect for her. There's possibly the worst person in the world, Cherisse, whose mission in life is to make Penelope miserable. There's Penelope's increasingly distant best friend Audrey. And then there's Penelope's other best friend, the equal-parts-infuriating-and-yet-somehow-amazing Eph, who has been all kinds of confusing lately.
But sometimes the biggest heartbreak of all is learning to let go of that wondrous time before you ever knew things could be broken.
July Haul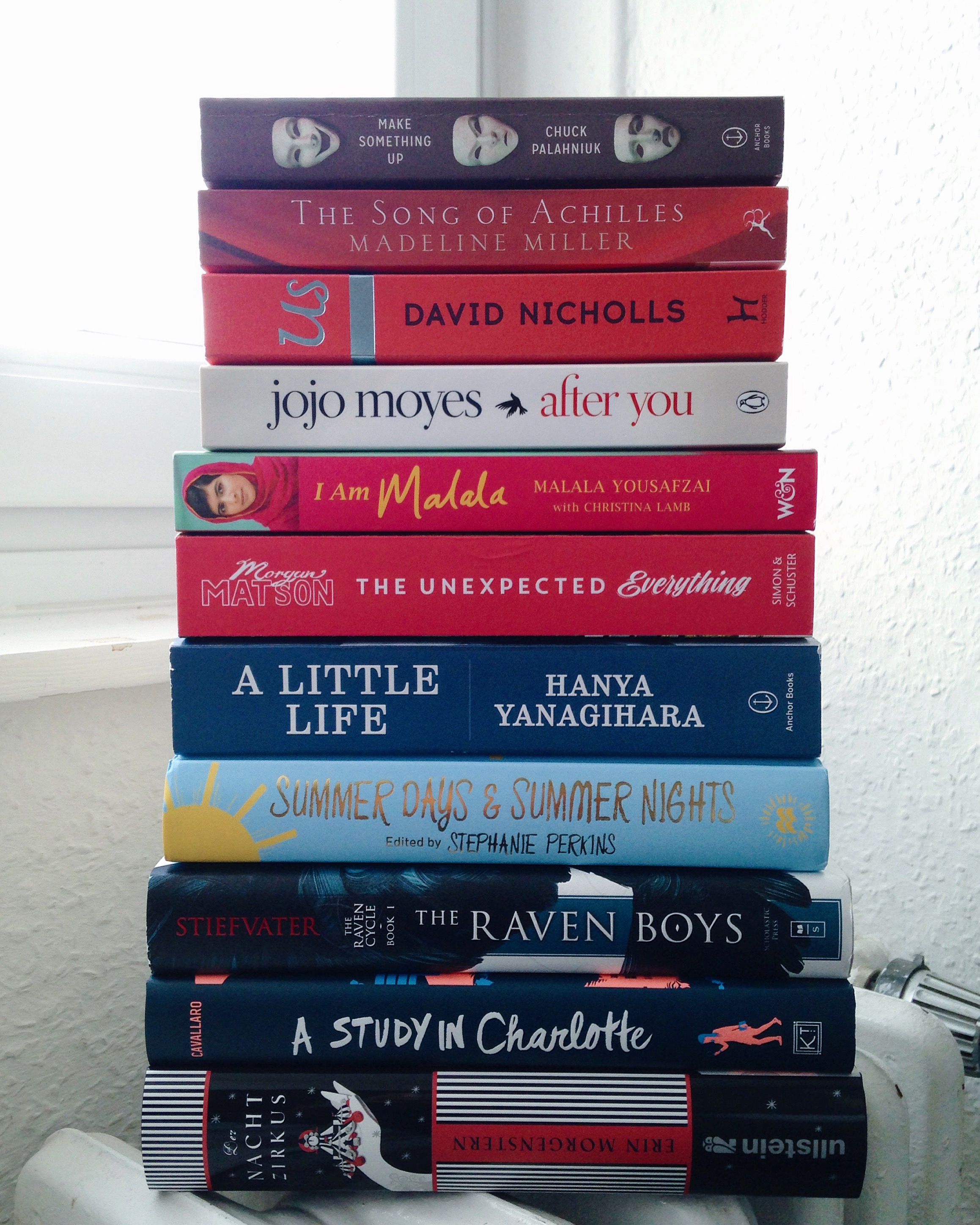 Books I Bought
Make Something Up by Chuck Palahniuk
The Song of Achilles by Madeline Miller
Us by David Nicholls
The Unexpected Everything by Morgan Matson
A Little Life by Hanya Yanagihara
Summer Days & Summer Nights by Stephanie Perkins
The Raven Boys by Maggie Stiefvater
A Study In Charlotte by Brittany Cavallaro
Der Nachtzirkus by Erin Morgenstern
Books from the Hubby ♥
After You by Jojo Moyes
I Am Malala by Malala Yousafzai
---
There you go! 21 books in two months. 😀 Have you read any from these? How many books you've got in July? Feel free to comment your links below. ♥ See you soon!