Author: Gail D. Villanueva
Published on : July 30, 2019
Publisher : Scholastic Press
Genre : Fiction, Middle Grade, Contemporary, OwnVoices
amazon | website | add to goodreads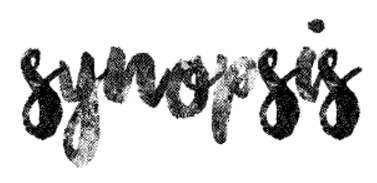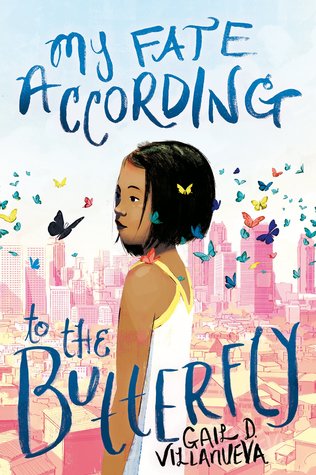 Light and deep, smart and funny, crushing and hopeful all at the same time, My Fate According to the Butterfly will open your eyes to both the world's potential for magic, and to its harsh realities.
When superstitious Sab sees a giant black butterfly, an omen of death, she knows that she's doomed! According to legend, she has one week before her fate catches up with her—on her 11th birthday. With her time running out, all she wants is to celebrate her birthday with her entire family. But her sister, Ate Nadine, stopped speaking to their father one year ago, and Sab doesn't even know why.
If Sab's going to get Ate Nadine and their father to reconcile, she'll have to overcome her fears—of her sister's anger, of leaving the bubble of her sheltered community, of her upcoming doom—and figure out the cause of their rift.
So Sab and her best friend Pepper start spying on Ate Nadine and digging into their family's past to determine why, exactly, Ate Nadine won't speak to their father. But Sab's adventures across Manila reveal truths about her family more difficult—and dangerous—than she ever anticipated.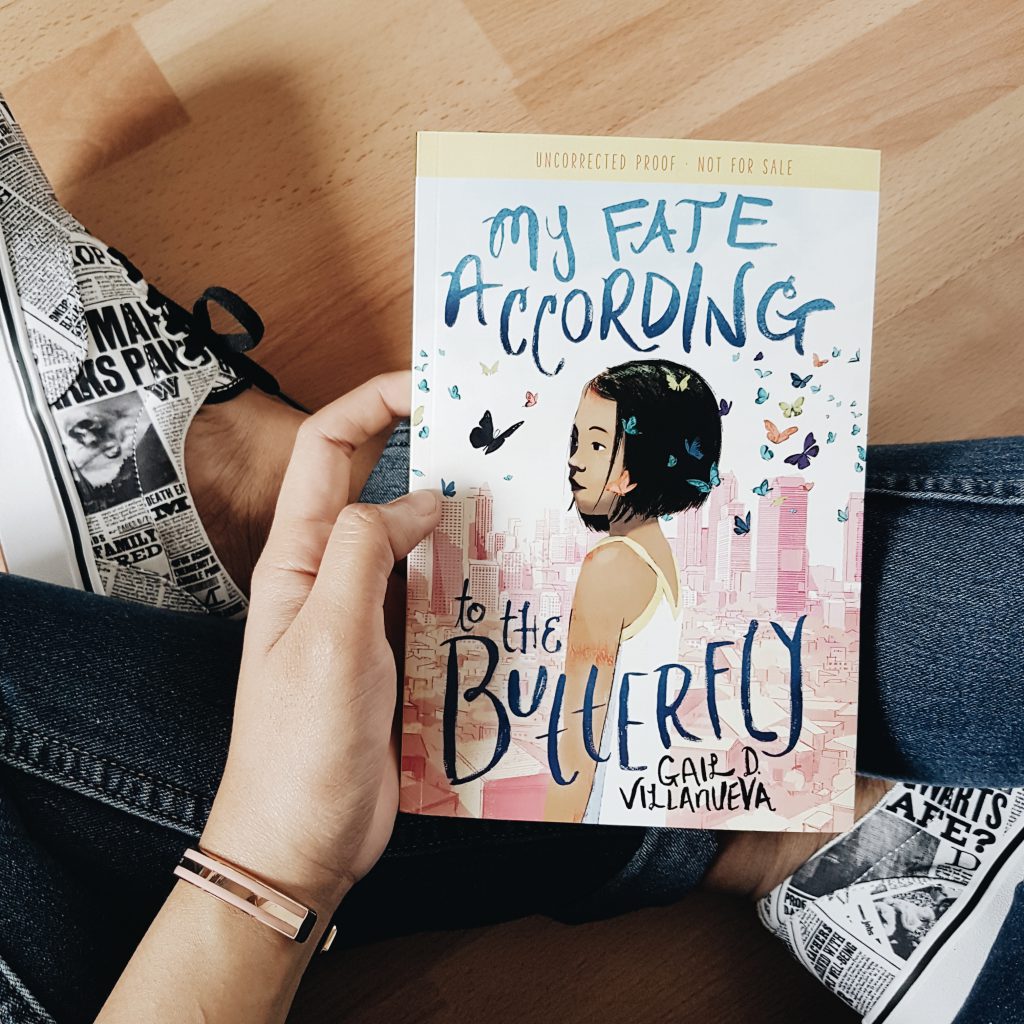 I am very delighted to share another internationally published ownvoices book written by a Filipino author! I'm really thrilled about this and I can't wait for you guys to read this incredible book. But first of all, I would like to thank Shealea @ Shut Up, Shealea, Kate @ Your Tita Kate, and Cara @ The Little Miss Bookworm, and the author itself for hosting this tour and for having me. Now let's get to the book!
My Fate According to the Butterfly is a middle grade fiction novel set in the Philippines. Sab, our main character, admires his father a lot. He inspires her to be an artist just like him. She believes everything he says including the one about the big black butterfly being an omen of death. When this butterfly appears and lands on her locket few days before her eleventh birthday, she knows that she has to make every second of her remaining life counts. She wants to celebrate her birthday with her entire family and friends but the problem is Ate Nadine, her older sister, and their father are not in speaking terms. Sab doesn't have any idea why so she and her bestfriend Pepper go on a little adventure. They start spying on Ate Nadine. Sab then discovers the real reason which turns out to be more darker than what she's expected.
I loved the characters in this book including Lawin (Sab's pet pekin duck). Sab is very brave and talented. I loved her innocence and willingness. Her friendship with Pepper (a white American) was one of my favorites. I could totally relate to Ate Nadine because I'm also the eldest and I can also be very strict to my brother especially when we were young but it's somehow one of my ways of showing how much I care and love him. Jepoy is another interesting and great character. I also loved how the LGBTQ+ was represented in this book.
Family is one of the main focus in this book which is not surprising because in reality it plays a huge part in Filipino culture. Same goes with superstitions. I know this might sound strange but sometimes these beliefs affect how we live our lives. I've been living outside the Philippines for years now but I still feel nervous whenever I see a butterfly (especially the black one) around me. I also don't cut my nails/toenails at night because it brings bad luck or death. Do I believe in this? No, but I don't want to take a risk.
Instead of focusing so much on the violence surrounding the drug war, the author highlighted more the people involved (users/victims), their struggles and recovery, and how their loved ones (especially the children) are being affected by the situation. The author reminded us that support and love from families and friends really help a lot.
The writing was impeccable! The story is written in Sab's perspective and the author successfully managed to tell a story that has sensitive and intricate topics (such as mental health and substance abuse) in a way that is honest and effective yet very light and insightful. Aside from the war on drugs and corruption, colorism and colonial mentality were also mentioned in this book. I personally think that it's complicated to explain these kind of things to children but the author did it flawlessly. I would definitely let my nephews and niece (who are in middle grade) to read this book. I wish that libraries in the Philippines can get some copies of this book as well so everyone can have access on reading it.
I almost forgot. This is definitely one fo my favorite book covers. It's like looking at my younger self. Brown, thin, short hair. Also, the mention of kwek-kwek, dirty ice cream, chicken sopas, even the traffic, and riding the MRT (Metro Manila Rail Transit) during rush hour made me miss the Philippines even more.
I still have a lot of things to say about this book but I know that my words can't give justice on how remarkable this book is. My Fate According to the Butterfly is an accurate portrayal of what is really happening in the Philippines. It's also a great introduction to Filipino culture because it shows not only the good but also the bad/ugly side. I cannot recommend this book enough!
My Rating : ★★★★★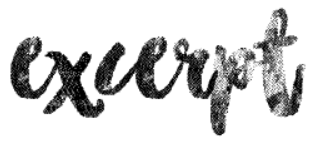 Today is one of those moments when I'm so glad I'm not allergic to peanuts. This kare-kare must be life's way of rewarding my heroism, bringing me to this carinderia. Because this canteen has the best kare-kare ever.
Swimming among the orange peanut sauce are beef chunks and pieces of ox tripe with melt-in-your-mouth texture. It also has a generous amount of soft eggplants, string beans, and pechay greens. The peanut sauce isn't too thick, nor is it too thin. It's the perfect sauce on a cup of steamed rice. Add a dash of their sweet-and-spicy shrimp paste, and you've got a saucy, savory, and slightly sweet combination that's like heaven on earth.
I wolf down thelast of my kare-kare and rice, licking the back of my spoon. The Butterfly's prediction could come true at this very momemnt, and I wouldn't mind.
"If you start licking your plate, I'm disowning you," Ate Nadine quips. She's far from being finished with her own food. Still, it seems like she's had enough to improve her mood:
Cling! Cling! Cling! There's a loud tinkling coming from the street.
"Ice cream!" Pepper pushes her empty plate away and bounces off the stool. She turns her begging eyes across the table to Ate Nadine. "Let's get some before an angry woman pelts us with skin whiteners again."
Ate Nadine rolls her eyes, but nonetheless she brings out a small wad of cash. I reach for it, but she hands it to Kuya Jepoy instead. "Don't let them have more than three small cones of dirty ice cream each. And stay away from the street. Sab's too oblivious; she might get run over by a car."
If mom's here, she probably wouldn't let me have dirty ice cream. She hasn't gotten over her impression of dirty ice cream. Mom said when she was a kid, "dirty ice cream" really was dirty until children started getting sick. The government has created laws to ensure these treats are made in clean conditions, but the name has stuck. It's still called dirty ice cream, even if it's safe to eat.
"I am not oblivious." I pout. I don't really know what "oblivious" means, but it sounds eerily similar to that Harry Potter spell that erases someone's memory. Whatever it is, it doesn't sound like a compliment.
*This excerpt was from the advance copy/uncorrected proof.*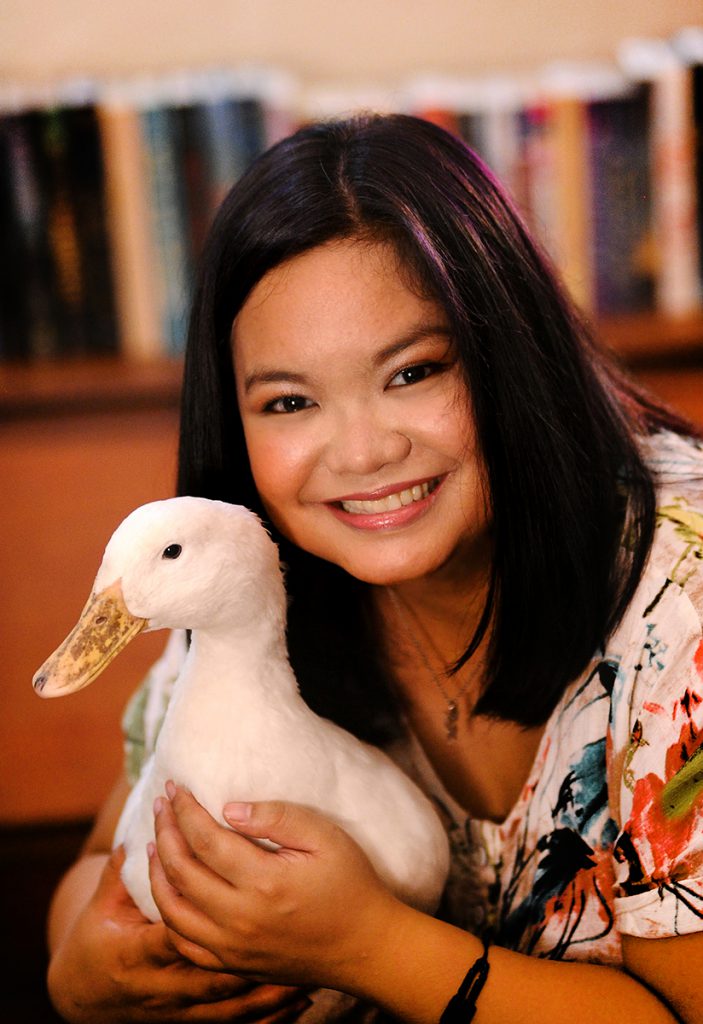 Gail D. Villanueva is a Filipino author born and based in the Philippines. She's also a web designer, an entrepreneur, and a graphic artist. She loves pineapple pizza, seafood, and chocolate, but not in a single dish together (eww). Gail and her husband live in the outskirts of Manila with their dogs, ducks, turtles, cats, and one friendly but lonesome chicken. Her debut novel, My Fate According to the Butterfly, is coming from Scholastic Press on July 30, 2019.
AUTHOR LINKS
Author website | Goodreads | Instagram | Facebook | Twitter | Pinterest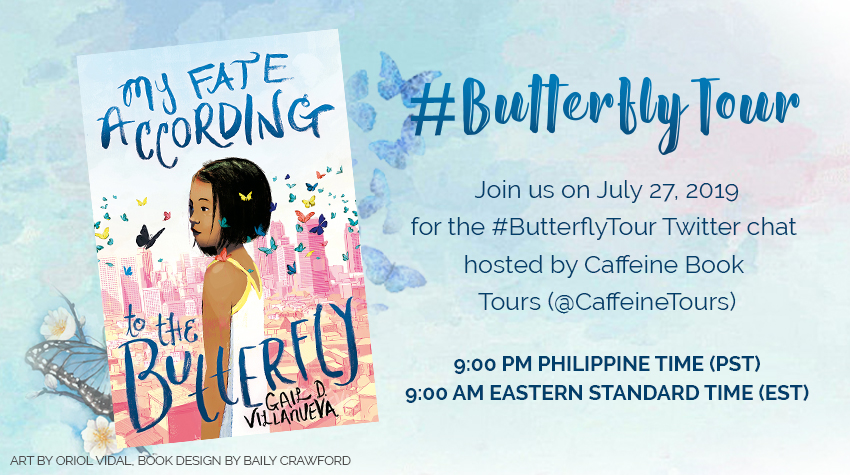 ---
Disclaimer: Thanks to the hosts, author, and Scholastic Press for providing me an early copy of this book. This did not affect my overall opinion of the book.