Hi guys! Few days ago, I received this very special box from Illumicrate. I honestly wasn't expecting for this at all so thank you so much, Daphne, for this! You are the best!
This is the Grisha Edition Box. It's Illumicrate's special one-off box that was specially curated and inspired by Leigh Bardugo's Grishaverse books. I only read one book from Leigh Bardugo and it was Wonder Woman: Warbringer so it really has nothing to do with this box. But I couldn't help not getting so much excited about it! I'm taking this as a sign to finally dive into the world of the Grishaverse.
Let's get straight to the unboxing because I can't wait for you guys to see how magical and amazing this whole box is!
Spoilers ahead!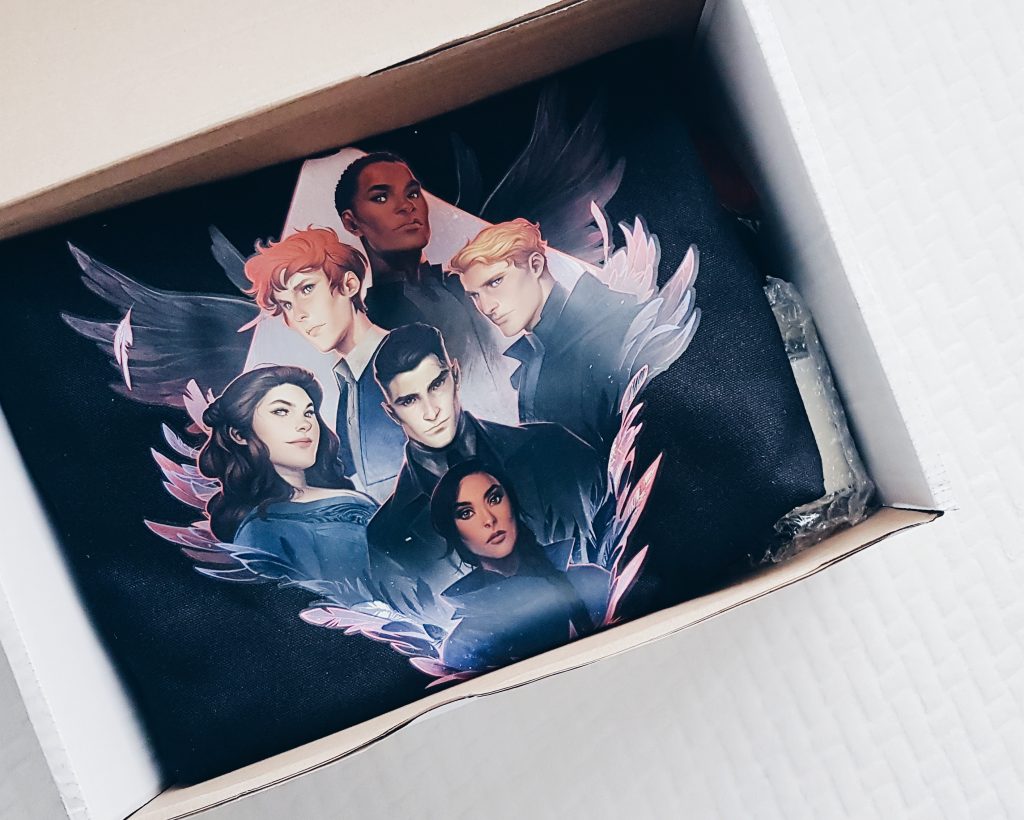 I  squealed when I opened the box and saw this! Of course I had to remove the air pillows/bubble wrap on top first.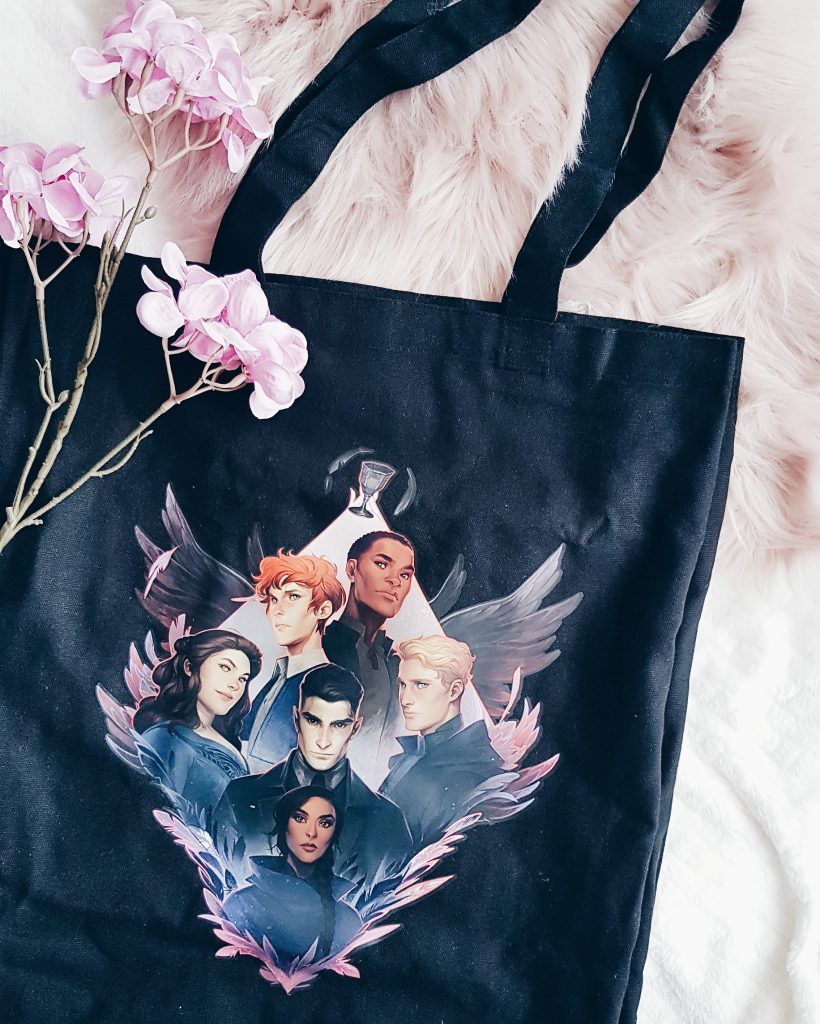 The first item in the box was this tote bag with stunning Six of Crow artwork by Charlie Bowater. I'm a fan of Miss Charlie's works and this tote bag is everything! It's huge and I love it.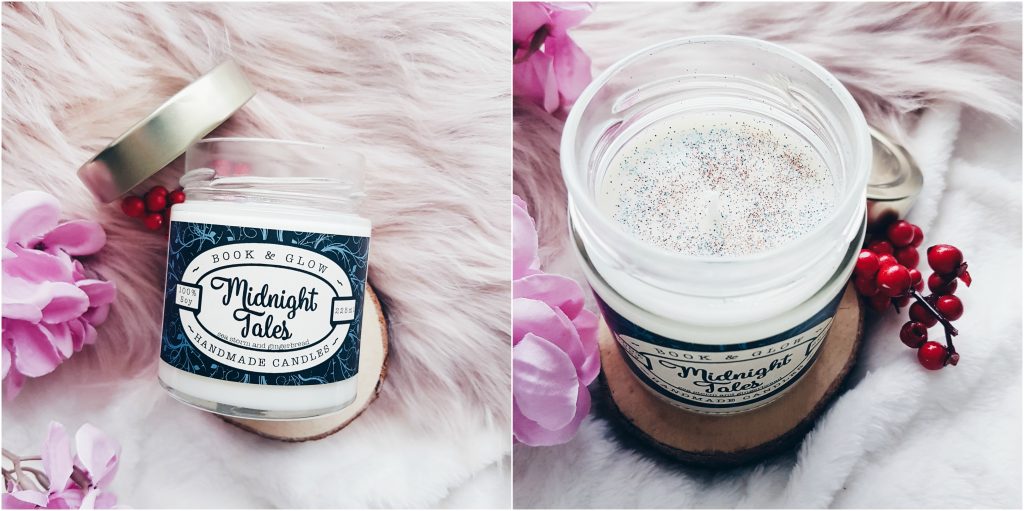 Next is this handmade soy-candle by Book and Glow called Midnight Tales. It has sea storm and gingerbread scents and was inspired by Leigh Bardugo's new book, The Language of Thorns. It smells really good and delicious at the same time.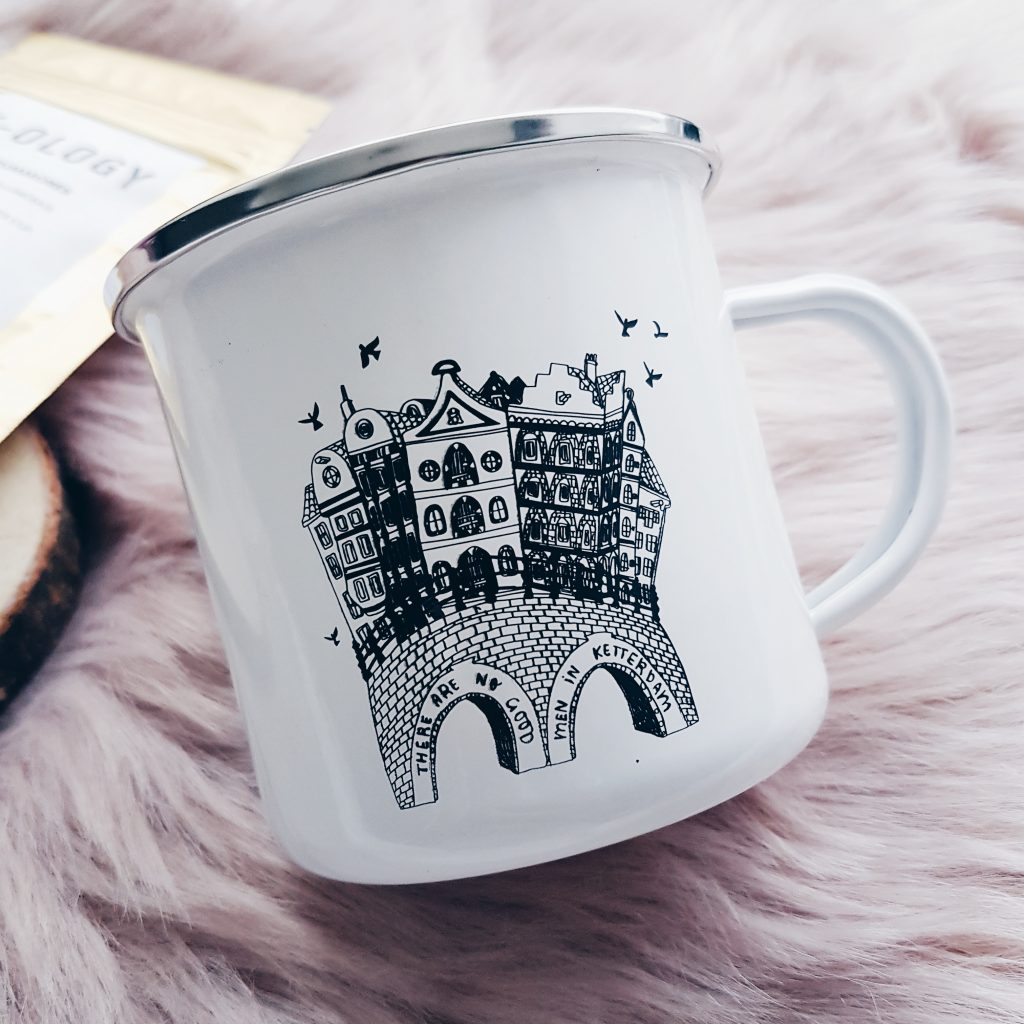 This adorable enamel mug with Ketterdam artwork by Hannah Detterbeck is definitely one of my favorite items in this box. This is my second enamel mug and I can't wait to use it!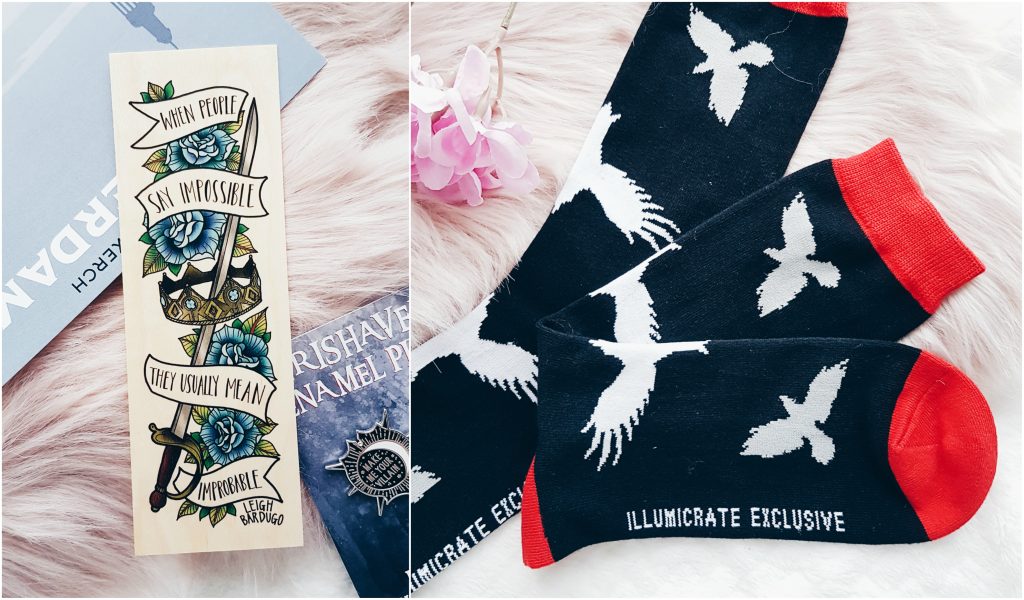 Then we have this beautiful Nikolai Lantsov-inspired woodmark by Ink & Wonder. I've been wanting to own one of these! A pair of socks designed by Illumicrate. There's no such thing as too many socks! #socksunday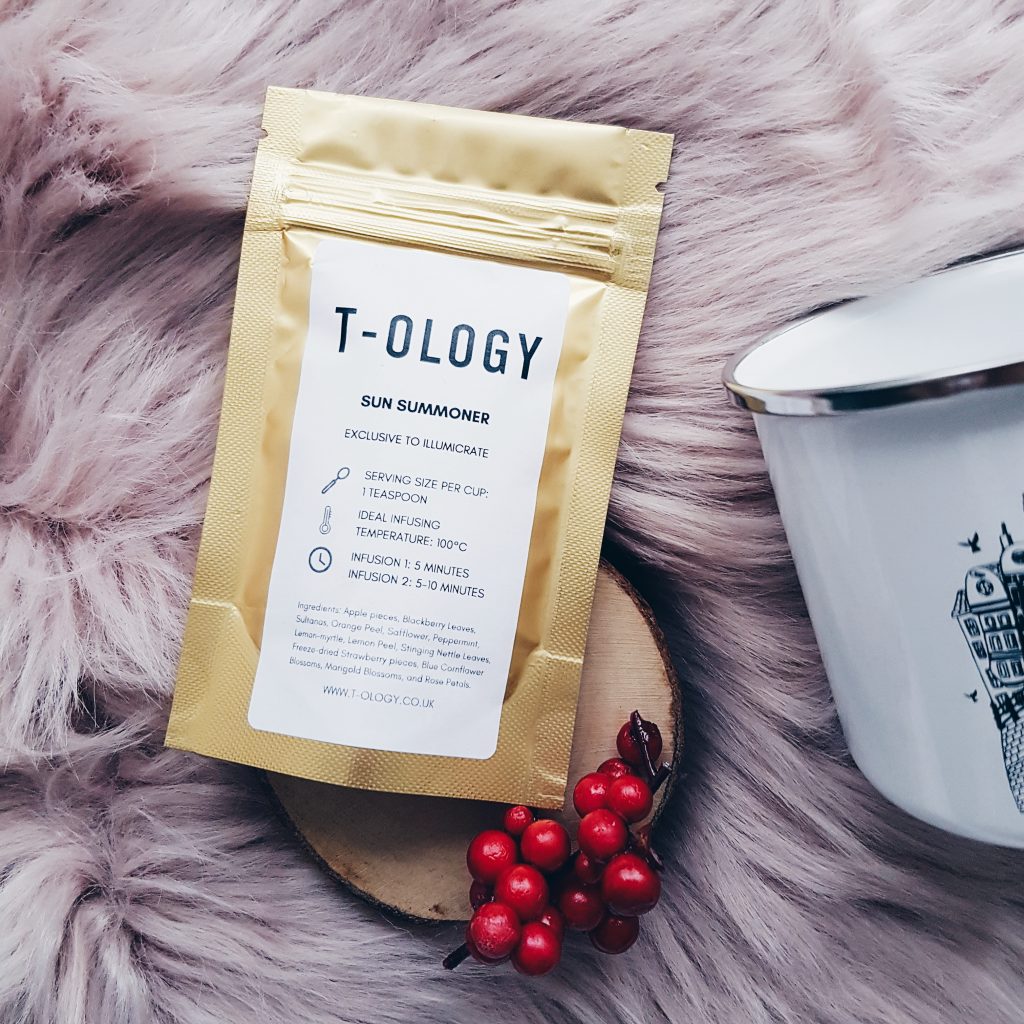 A Sun Summoner tea blended by T-ology. It has a lot of interesting ingredients such as apple and blackberry leaves, peppermint, and orange peel. Can't wait to try this one!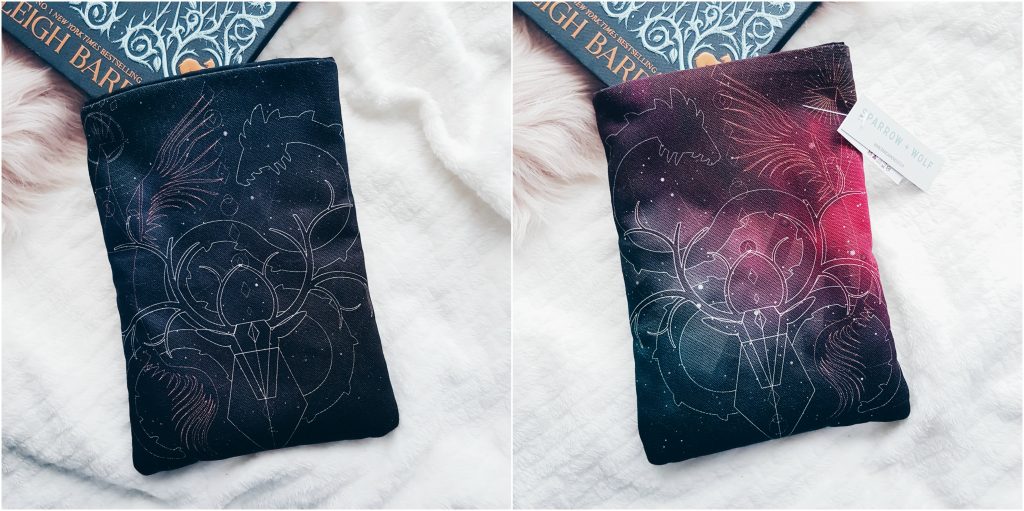 My first ever book sleeve and it's so gorgeous! The pattern was inspired by the three mythical amplifiers (in Grisha trilogy) in Sparrow + Wolf's signature geometric style. One side is the dark night and the other is the bright day. I'm actually using this already.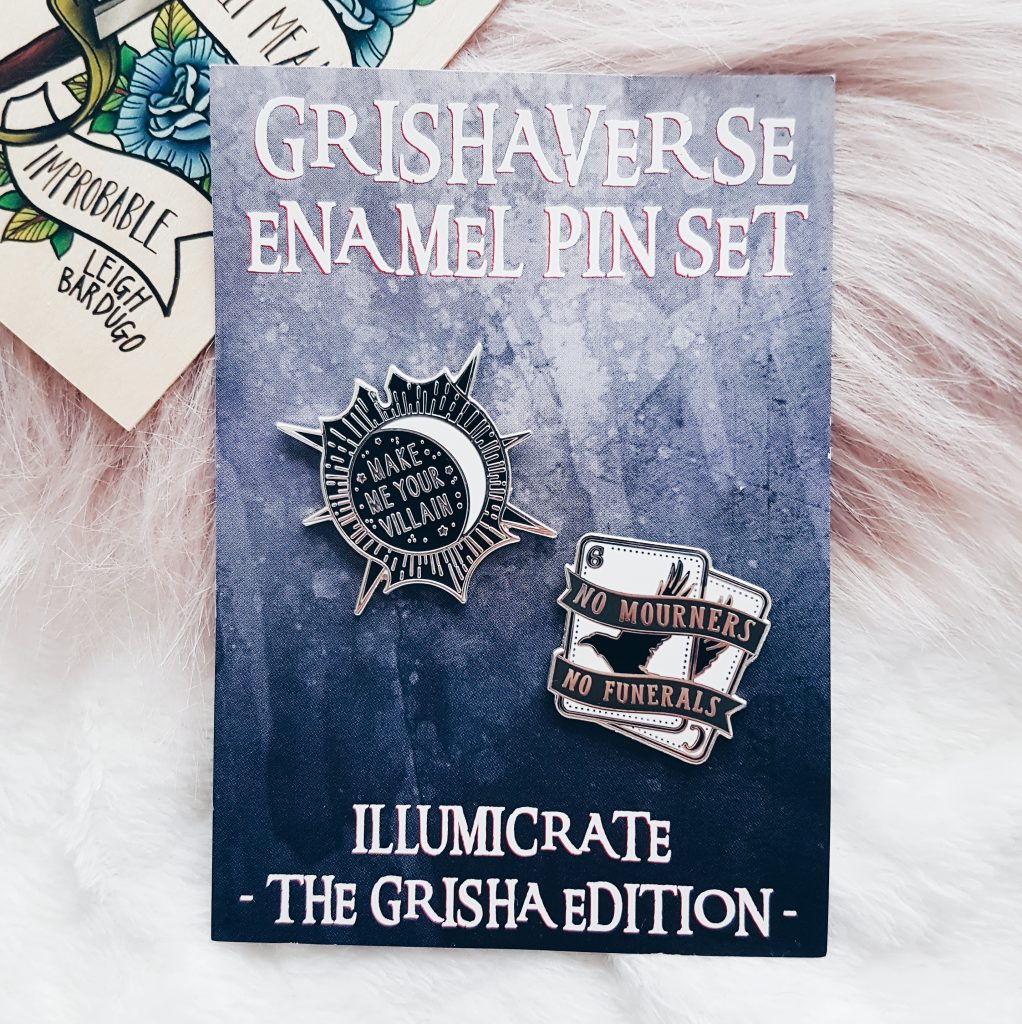 We also have this enamel set designed by Fable & Black. Again, there's no such thing as too many (enamel) pins especially if they're as cool as this!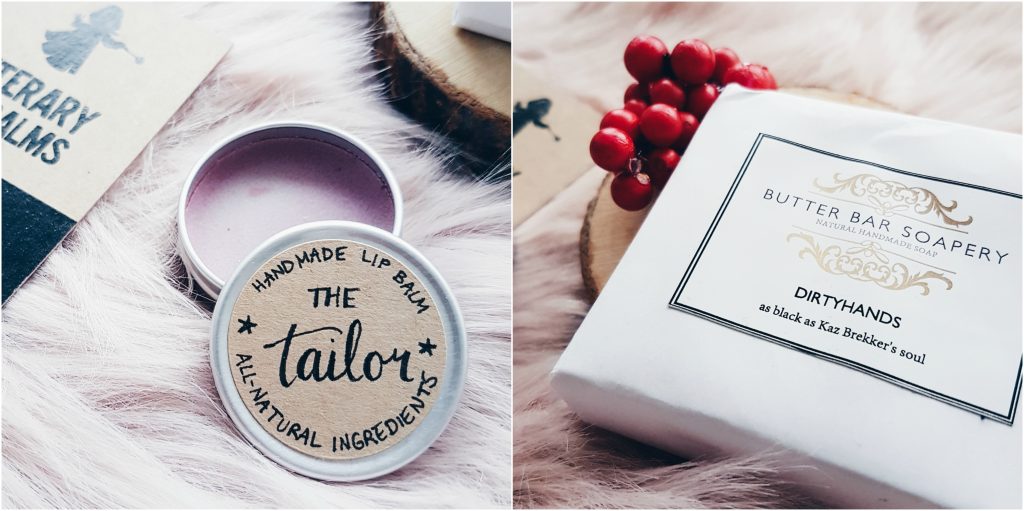 There are so many great stuff in this box, guys! It's really THE great fandom box! We still have some bookish items. Like this all natural handmade "The Tailor" lip balm by Literary Lip Balm. This smells so good! I'll save this one for winter. Then we have a special charcoal soap called Dirtyhands by Butter Bar Soapery. This is quite intriguing if you'll ask me.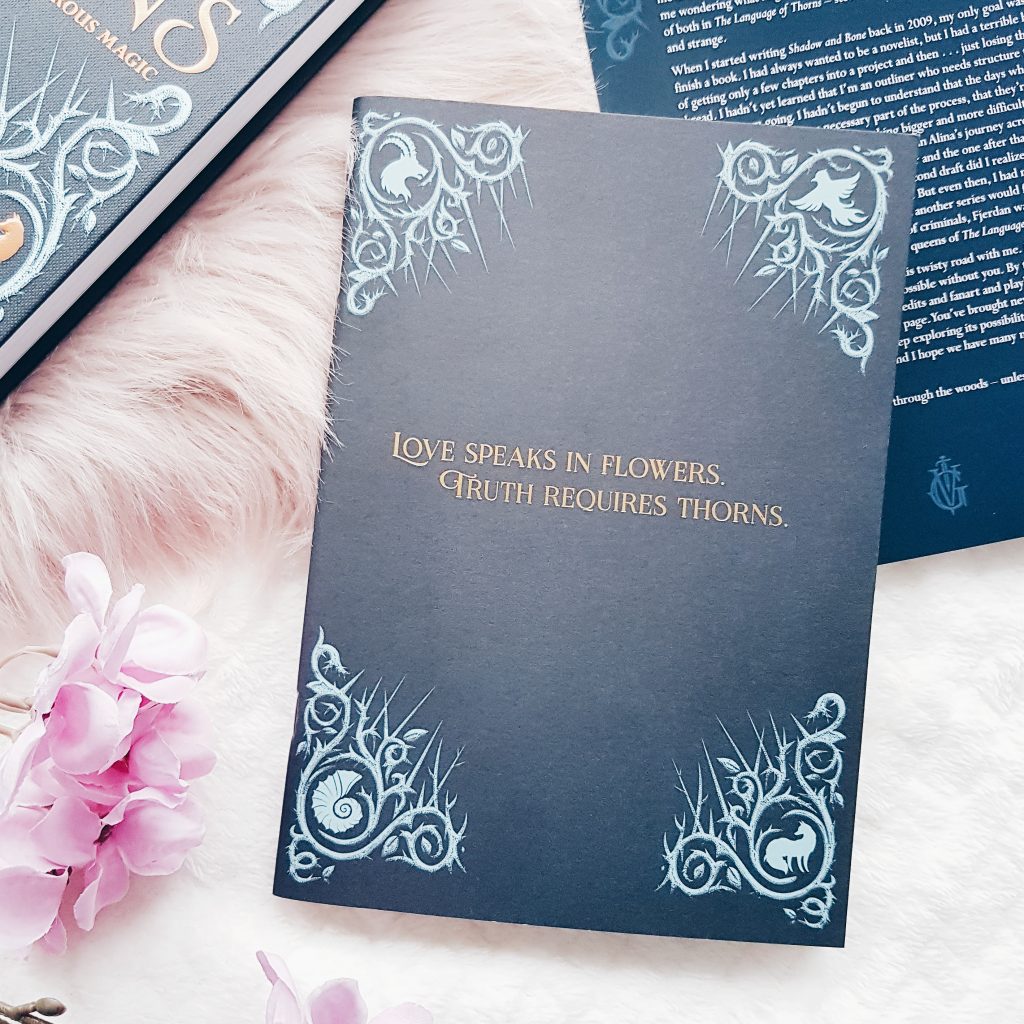 Notebook! Who doesn't love a lovely exclusive notebook? This was provided by Team Bkmrk and has foil cover. This is a perfect addition to my notebook collection.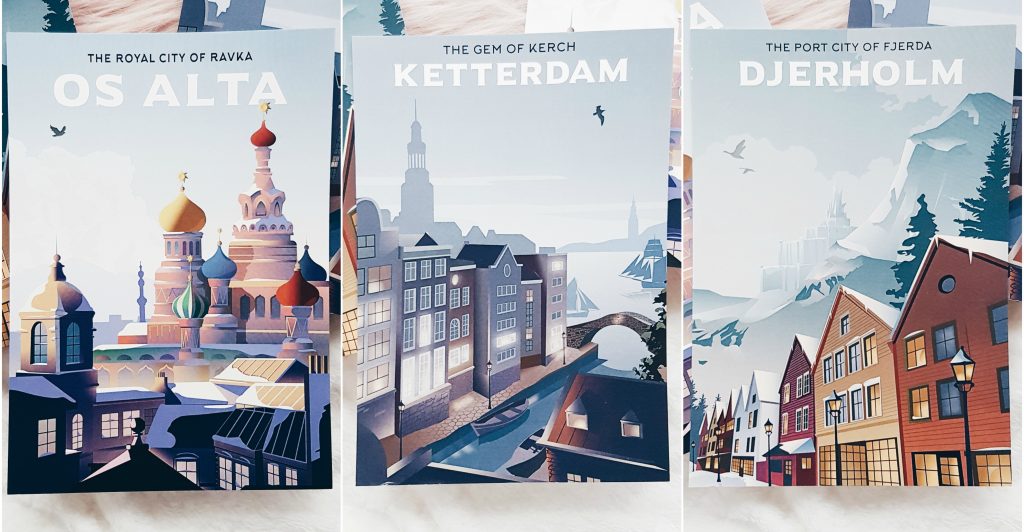 Last but not least, we have these postcards inspired by the Grishaverse's most famous cities (Os Alta, Ketterdam, and Djerholm) by Posternaut. They look so incredible!
So those are the amazing bookish items in this box and now it's time for the book!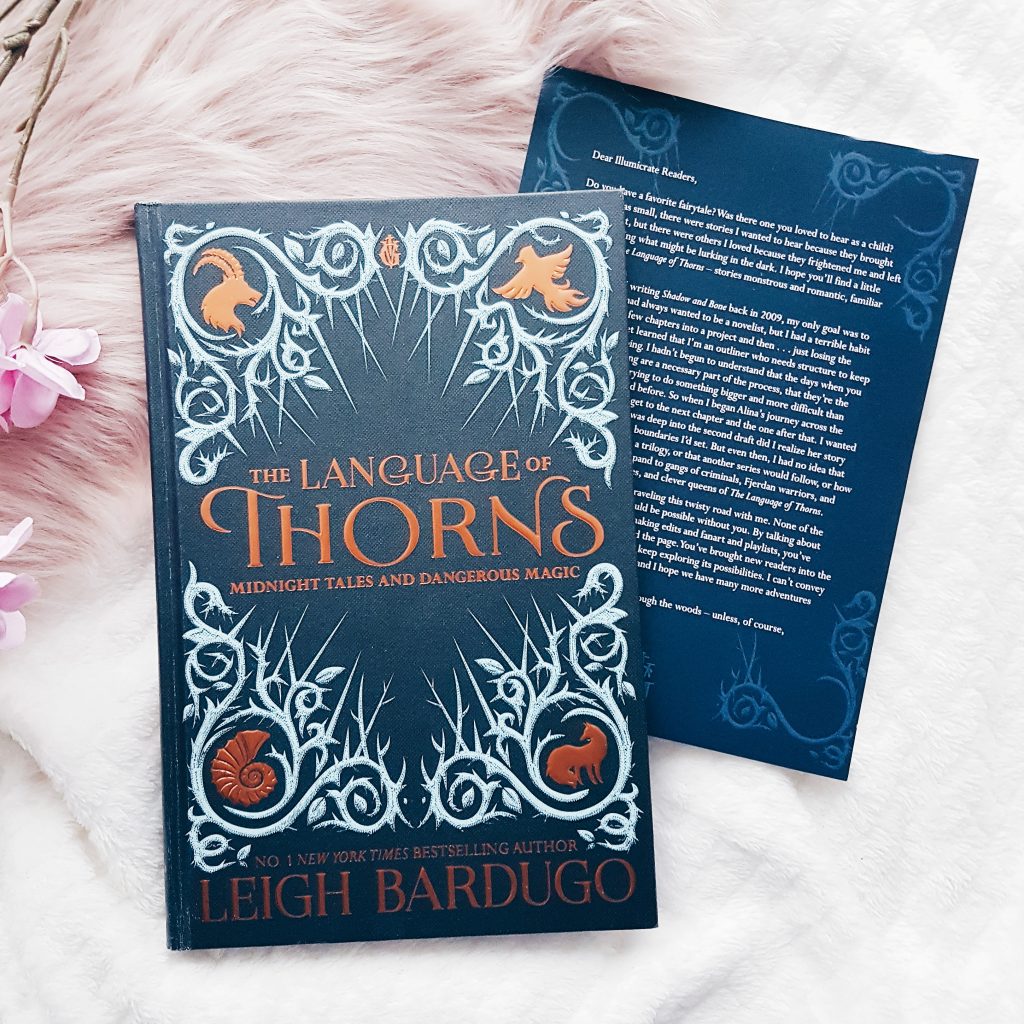 It's Leigh Bardugo's The Language of Thorns! It's extremely beautiful inside and out. I love the cover and the full-color illustrations (by Sara Kipin) inside. This is definitely one of the stunning book covers I've ever seen. There's also a letter from the author.
About the book
Love speaks in flowers. Truth requires thorns.
Travel to a world of dark bargains struck by moonlight, of haunted towns and hungry woods, of talking beasts and gingerbread golems, where a young mermaid's voice can summon deadly storms and where a river might do a lovestruck boy's bidding but only for a terrible price.
Inspired by myth, fairy tale, and folklore, #1 New York Times–bestselling author Leigh Bardugo has crafted a deliciously atmospheric collection of short stories filled with betrayals, revenge, sacrifice, and love.
Perfect for new readers and dedicated fans, these tales will transport you to lands both familiar and strange—to a fully realized world of dangerous magic that millions have visited through the novels of the Grishaverse.
This collection of six stories includes three brand-new tales, all of them lavishly illustrated with art that changes with each turn of the page, culminating in six stunning full-spread illustrations as rich in detail as the stories themselves. (via Goodreads)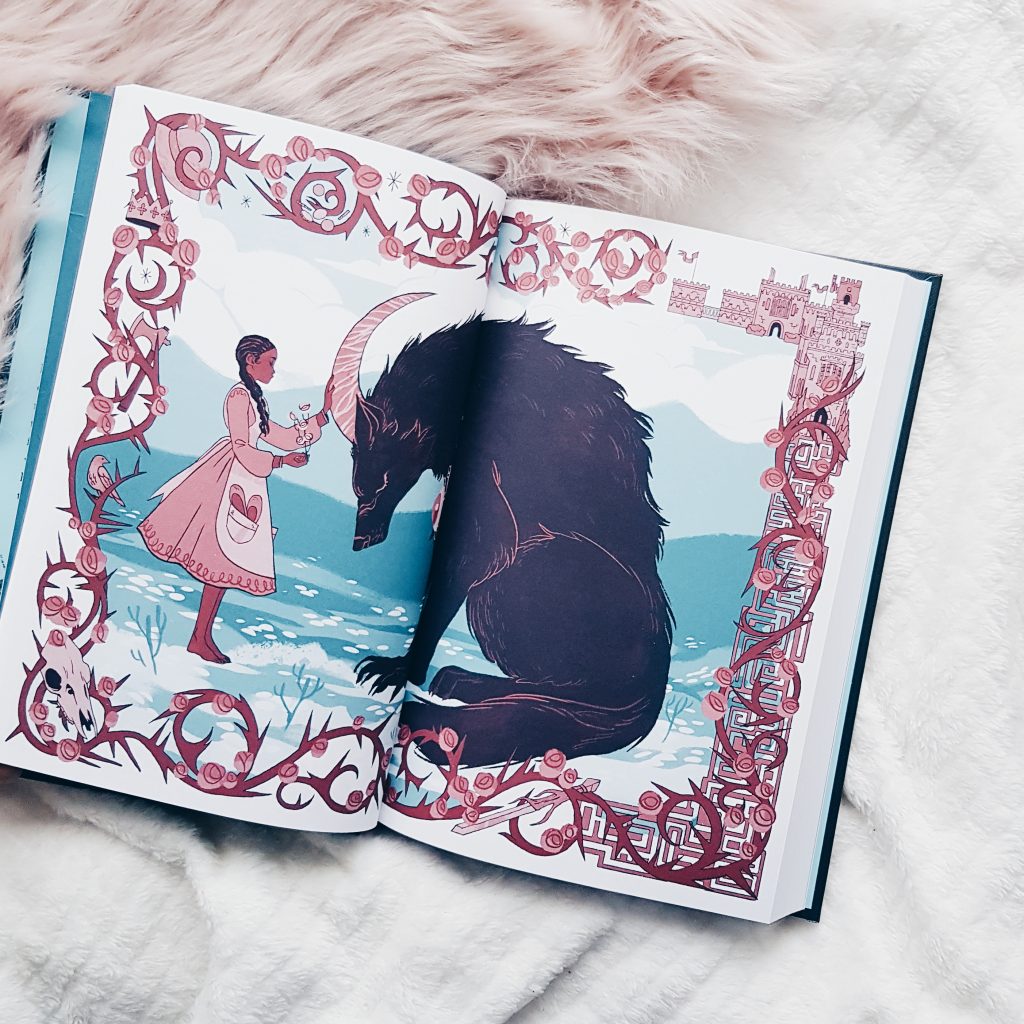 I love how the full art unravels throughout the stories/pages. I'm currently reading it and really enjoying the stories. Like I said earlier, I haven't read any books from the Grisha Trilogy or Six of Crows duology but it didn't affect my reading experience so far.

So what do you think, guys? Isn't it THE perfect Grisha (or fandom) box ever? I'm very confident to say that it is! Congratulations to Daphne for making this possible! All your hard work has paid off because I'm pretty sure that you've made everyone who received this box (including myself) very happy.
It's Illumicrate's 2nd anniversay and because of that, there will be again TWO BOOKS in the November Box. The featured book will be an exclusive hardback edition of one of the most anticipated books this year. The second book is an advanced reader copy with an exclusive cover. This book is not out in the UK until May 2018! There are only 30 boxes left (as of last night) so you better hurry, guys.
Head over to  http://illumicrate.com to subscribe and use my discount code
"kath10" to get 10% off your first box.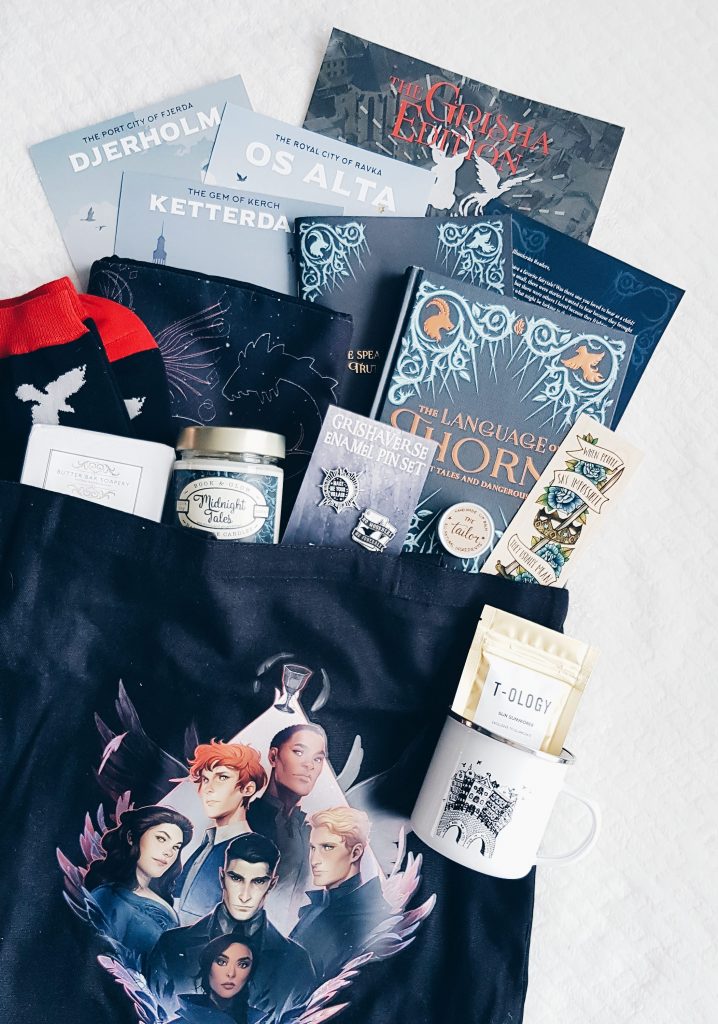 Check out Illumicrate on:
Website | Instagram | Facebook | Twitter