Another giveaway? Why not! This time, I've teamed up with Berkley Publishing Group (Penguin Randon House) to give away a galley of Francesca Hornak's debut novel, Seven Days Of Us. This book will be out on October 17, 2017 and I'm so happy to be a part of the blog tour. Don't forget to visit my blog on October 20 to check out my blog tour post.
Here's an intro of the book and also, feel free to join the giveaway below.
ABOUT THE BOOK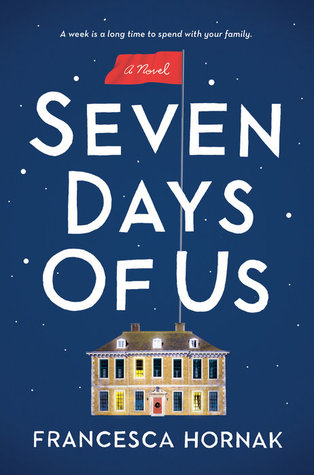 Publisher : Berkley Books
Publication Date : October 17. 2017
A week is a long time to spend with your family. Now imagine being quarantined with them over Christmas.
That's the delicious premise in SEVEN DAYS OF US, about a dysfunctional British family forced into quarantine together. Eldest daughter Olivia, a doctor, has just returned from treating a life-threatening virus in Africa and must spend seven days in quarantine. Her family, forced into lockdown with her, decides to spend the week in their crumbling and isolated country manor, Weyfield Hall. Each arrives carrying secrets and simmering resentments.
With the Birch family under one roof for the first time in years, keeping secrets is no longer an option. And when a shocking, unexpected visitor arrives, the family's pressurized state will boil over, spilling problems—and possibly the deadly virus—outside the gates of Weyfield Hall.
In residence with Olivia are her unabashedly frivolous younger sister Phoebe, fixated on her upcoming wedding; father Andrew, sequestered in his study writing scathing restaurant reviews and longing for his glory days as a war correspondent; and sweet bumbling matriarch Emma, who's hiding a secret that will turn the whole family upside down. Anyone who loves their family—in small doses—will relate to the inner thoughts of each character.
GIVEAWAY
Enter the giveaway using the Rafflecopter below. It's very easy to join. Open to all U.S. residents who are 18 years or older. Goodluck!
Update : I had to choose another winner because the first one wasn't able to response to my email (up until now).
Congratulations to Angie!
---
*Huge thanks to Berkley Publishing Group / PRH for sending me an eARC and for this giveaway collaboration.*