It's hard to believe that it's already March and here I am posting my January wrap-up. lol
It was a good reading month eventhough I read less than 10 books. I noticed in the past years that I tend to read more in January but this year was different. I'm still learning to accept that the number of books doesn't really matter as long as I'm reading and enjoying the books. Anyway, let's start.
For the month of January:
I read a total of 8 books
1,306 pages | 1,526 minutes (25h26m)
2 audiobooks, 4 ebook, 2 physical
Average rating was 3.63 stars
* This post contains affiliate links. If you choose to purchase via these links, I may receive a commission at no extra cost to you.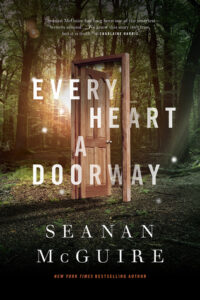 Every Heart A Doorway by Seanan McGuire
Nancy is the new girl in Eleanor West's Home for Wayward Children, a special place for children who are not fitting into the ordinary world anymore after coming back from their "magical worlds". Nancy meets the other children who, just like her, want to go back to their own fantasy worlds. But tragedy strikes shortly after her arrival. It's now up to her and her new-found friends to solve the mystery.
I've finally joined the Wayward Children bandwagon. This book caught me completely by surprise. The characters were all fascinating. It was hard to choose a favorite because I liked them all. I thought the idea of this book was unique. We are introduced to different worlds which were very interesting. I'm hoping to learn more about the world-building and the character's backstories in the next books. The author's writing was impressive. It's dark, atmospheric, and lyrical. This is a short book filled with magic and diverse representation.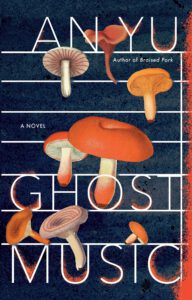 Song Yan dreams of becoming a concert pianist but gave up her career and now living with Bowen, her workaholic husband, together with his recently widowed mother in an apartment in Beijing. Shortly after her mother-in-law's arrival, mysterious boxes of mushrooms native to Yunnan begin to arrive. They have bonded over cooking but tensions rise when her mother-in-law starts criticizing her for not being a good wife and for not having a child yet eventhough Bowen is the one who doesn't want children. Song Yan receives a letter which leads her to an infamous pianist who went missing years ago.
I liked the dreamy and beautiful writing. Not everything is explained in this book and there were some parts that didn't make sense to me but the characters were interesting enough. Song Yan discovers some jarring secrets about her husband. She starts questioning her life choices while realizing what she really wants to do with her life. I also liked how mushroom played an important role in the story. Grief, loneliness, and self-discovery are some of the themes in this book.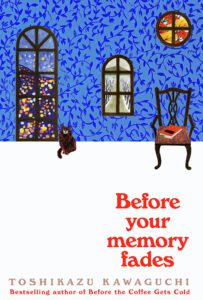 Before Your Memory Fades by Toshikazu Kawaguchi, translated by Geoffrey Trousselot
We are introduced to a new cafe, new customers and their stories. It felt good reading Kawaguchi's tales and meeting the characters again. Yukari was a very intriguing character and I would love to know more about her. Same with the old gentleman ghost. I guess I have to wait for the next book. I also loved the characters' discussions about a book called "What If the World Were Ending Tomorrow: One Hundred Questions.". I enjoyed the lovely atmosphere in Café Donna Donna. It felt new but familiar at the same time. The writing is beautiful and straight-forward. But I could do without the rules being mentioned repeatedly. Themes such as death and grief play a huge part in the stories but also hope and love. Before Your Memory Fades is a heart-warming and poignant book. You can read this book as a stand-alone but I highly recommend reading the previous books first.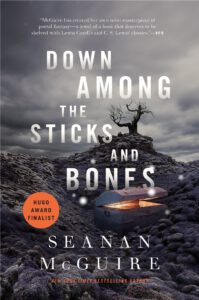 Down Among Sticks and Bones by Seanan McGuire
The second book in the Wayward Children series. I immediately wanted to read this book right after finishing the first one. Down Among Sticks and Bones tells the story of the twin sisters Jack/Jacqueline and Jill/Jillian before their arrival at Eleanor West's Home for the Wayward Children. We already knew what happened to Jack and Jill in the first book but we didn't know the full details especially their childhood and experiences in the Moors. I loved the character development, the fairy-tale style, and the eerie atmosphere. The author's writing is still impeccable. This was a perfect follow-up and I can't wait to read the third book.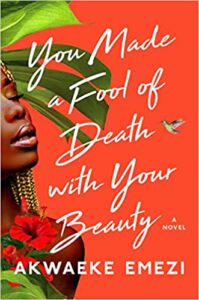 You Made A Fool of Death with Your Beauty by Akwaeki Emezi
The first book I read by Emezi was Pet and I loved it. I've been wanting to read another book by them so I thought this was the perfect choice because I was in the mood for some romance and boy I wasn't prepared for it. We have Feyi who is still grieving the loss of her husband five years ago. She begins going out but she is not ready for a serious relationship yet. But things start to change when she finds herself staying in mansion on a tropical island.
Let's start with the main reason why I didn't like this book as much as I wanted to. I wasn't a fan of the trope and the romance in this one. It's just wasn't for me. I liked that Feyi is a complex character. She is flawed, honest, and knows what she wants. I didn't agree with some of her choices but we're all different people. I also thought that the author didn't do justice with one of the characters. But maybe it's just me. The writing was amazing though. I enjoyed the art, the food details, and the luxurious setting. I liked the portrayal of the journey/process of grief in this book. It reminds us that people grieve differently.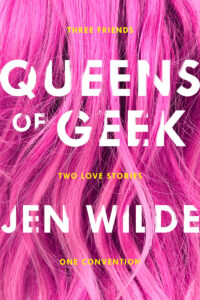 We follow the story of three friends as they travel to the US to attend SupaCon (basically ComicCon). Charlie, a vlogger and an upcoming actress, is at the con to promote her movie. She is accompanied by her friends, Taylor and Jamie.
There's really not a lot to the story which wasn't a problem for me because I enjoyed following the characters on all their activities. I loved the friendship and the f/f romance. There's a lot of representation and diversity in this book . I appreciated the messages that the author wants the readers to get from this book but it felt quite preachy at times. I'm just considering the fact that this book was published in 2017. Overall, I had a lot fun reading this book. Now I also want to go to ComicCon and BookCon.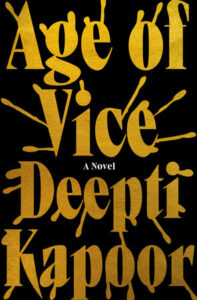 This book started really strong and I liked every bit of it. I even told myself that this is going to be an emotional and incredible read. And it was but it didn't really last long. I lost interest halfway through. We have three different perspectives and we see how their paths have crossed throughout the story. Ajay is definitely my favorite character. His story is heartbreaking and I just wanted everything to work out great for him. I honestly didn't care about the other characters except for Ajay and maybe Neda. We also have multiple timelines which honestly confused me most of the time. The book was over 500 pages so I was glad that I listened to the audiobook (almost 20 hours) which was brilliant, by the way. Vidish Athavale captured the emotions and intensity of the book. I just found out that this book is first in a trilogy. Now it makes sense that it ended on a cliffhanger.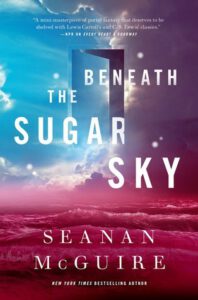 Beneath the Sugar Sky by Seanan McGuire
This is the third installment in the Wayward Children series. We see familiar faces and some new ones. Our beloved characters go on an adventure and travel through magical worlds like Underworld and Confection. I don't want to give spoilers or more details about this book so I recommend you to pick up this series if you get the chance. If you have read the first two books then i'm pretty sure you'll also enjoy this one. The author continues to amaze me with her beautiful and eloquent writing and storytelling.
Have you read any from these books? Any new favorites?
Have a wonderful weekend!

If you enjoy my content and would like to support me,
you can leave a tip via Ko-Fi. ♥