Happy Released Day! This is another impressing debut novel that will truly gives you chills.

When  Glasgow journalist  Shona McGilvery moves with her partner  Mikey  and their baby to an idyllic cottage in rural Scotland, they believe that all that lies ahead of them is happiness.
But with Mikey working offshore, the  frightening  isolation of the Aberdeenshire  countryside begins to drive her insane…
That is, until she is rescued by a new friendship with the enchanting Valentina. 
She has the perfect home, the perfect man, and a charismatic new best friend – or does she?
As her fairytale life begins to unravel, the deep dark wood becomes the least of her fears…
A hauntingly intelligent, addictive psychological thriller from debut author S. E. Lynes. x

Shona moves to the isolated countryside of Aberdeenshire together with Mikey, her husband, and their four-month old baby girl Isla. She's happy and contented with their life and their new home – a fairytale-like cottage in the woods – until she realizes that she'll be alone most of the time with Isla because of her husband's new job. Feeling lonely without anyone to talk to especially when her husband is away, she starts making new friends. She then meet the super friendly but mysterious Valentina, who also has a four-month old baby boy, and they easily become best of friends. Everything is perfect now until Shona starts having doubts about herself, especially about her new found best friend.
The characters in this book are all well written and believable. You will not only read and see their thoughts but you can actually feel it too. Shona was my favorite here. She used to be an independent and strong woman but she's changed after she gave birth. She knows that there is something wrong but she chooses not to say anything about it. Her eagerness to keep this friendship with Valentina makes her vulnerable and naive. There were a lot of times when I wanted to be a part of the story so I can just slap her and she can comeback to her senses but obviously I can't. So I just yelled at her (at the book) wishing that she can hear me. On the other hand, her actions were understandable that I felt so sorry for her. She's still a very strong character in my opinion. As for Valentina, well, she can definitely win an award for most "love to hate" character.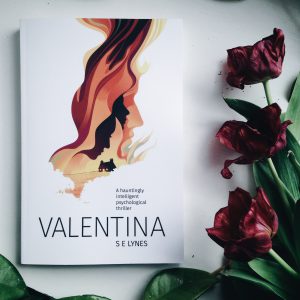 I thought the beginning was a bit slow and I had quite a hard time getting into the story but the descriptive style of writing helped a lot for me to get hook and finish this book in two days. Two days! It's very unusual for me. This book is that good! It's full of secrets, emotions, surprises, lies, deception and a lot more.
Even though the story is quite predictable, it didn't make me lose my interest. Instead, I became more and more excited on how things will turn out. Amazing and clever plot twist and the ending is very satisfying. This is a whole new level of psychological thriller novel and I can't believe that it's a debut novel. You may think that I'm over-exaggerating but Lynes is also deserving for the "Queen of Phsyco-Thriller" title.
Valentina is such an astounding read and I highly recommend it if you're up to mind-blowing thriller read or you want to try something new that will never disappoint you.


Valentina by S. E. Lynes
Edition: Paperback (280 pages)
Publisher: Blackbird Digital Books (July 1, 2016)
Genre: Thriller, Fiction
---
*Thank you to Blackbird Digital Books for sending me a ARC of Valentina : A hauntingly intelligent psychological thriller by S. E. Lynes in exchange for an honest review.