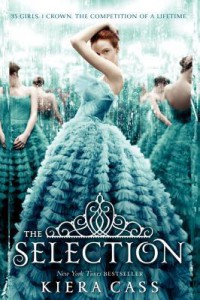 Series : The Selection #1
Edition : Paperback (327 pages)
Publisher : Harper Teen (March 2013)
First Published : January 2012
Genre : Young Adult, Fiction, Dystopia
Source : Hugendubel Buchhandlung
Date Read : August 2015
Check this on Goodreads
For thirty-five girls, the Selection is the chance of a lifetime. The opportunity to escape the life laid out for them since birth. To be swept up in a world of glittering gowns and priceless jewels. To live in a palace and compete for the heart of gorgeous Prince Maxon.

But for America Singer, being Selected is a nightmare. It means turning her back on her secret love with Aspen, who is a caste below her. Leaving her home to enter a fierce competition for a crown she doesn't want. Living in a palace that is constantly threatened by violent rebel attacks.

Then America meets Prince Maxon. Gradually, she starts to question all the plans she's made for herself—and realizes that the life she's always dreamed of may not compare to a future she never imagined.
My Thoughts
This was a read-along with my reading buddy Joyce for the month of July.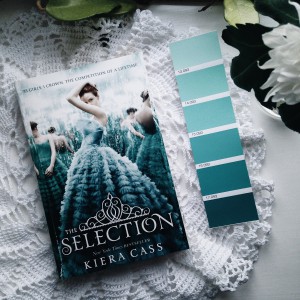 America Singer has no intention in joining The Selection, a contest where 35 girls from different parts of the country compete with each other to win the heart of Prince Maxon and become the princess of Illea. After being "forced" by her loved ones, she finally joined and was selected together with the other 34 girls.
The book's cover made me buy it. I had no idea what this book is all about and I thought this is like an "American Idol" kind of story but it's not. Maybe because America's last name is Singer and she sings. The Selection is more like "The Bachelor". I personally don't like the idea of the competition (The Bachelor) so I was a little unsure of my feelings towards the story but I'm glad that I still ended up enjoying it.
I think this is more of a romance book than dystopia. The only dystopian part is that Illea, a futuristic United States, is ruled by a monarchy and divided into caste system. Their numbers define their social statuses. The Royal Palace is being attacked by the rebels and it's not really clear why.
Obviously, the concept is not original but the characters are interesting. I like and hate America because she is kind and smart but she can be really annoying sometimes especially when it comes to her first-love, Aspen. Aspen was introduced as the loving and sweet guy but I ended up hating him.  Prince Maxon on the other hand is not the type of guy that I was expecting but I'm okay with that. I'm hoping that America will make up her mind and choose between the two guys so that the second book is not all about "love-triangle".
The writing style is simple, relaxing and enjoyable. There wasn't a lot of things happened in this book and I cannot say that the world-building is bad but it's not also that good. I was a little disappointed with the ending because I was the whole time waiting for something big. A good cliffhanger maybe.
I am still going to continue the series. As a matter of fact, my husband bought me The Elite the next day after I've finished The Selection. I'm looking forward to know more about Ilea's background and their caste system in the next book.
My Rating