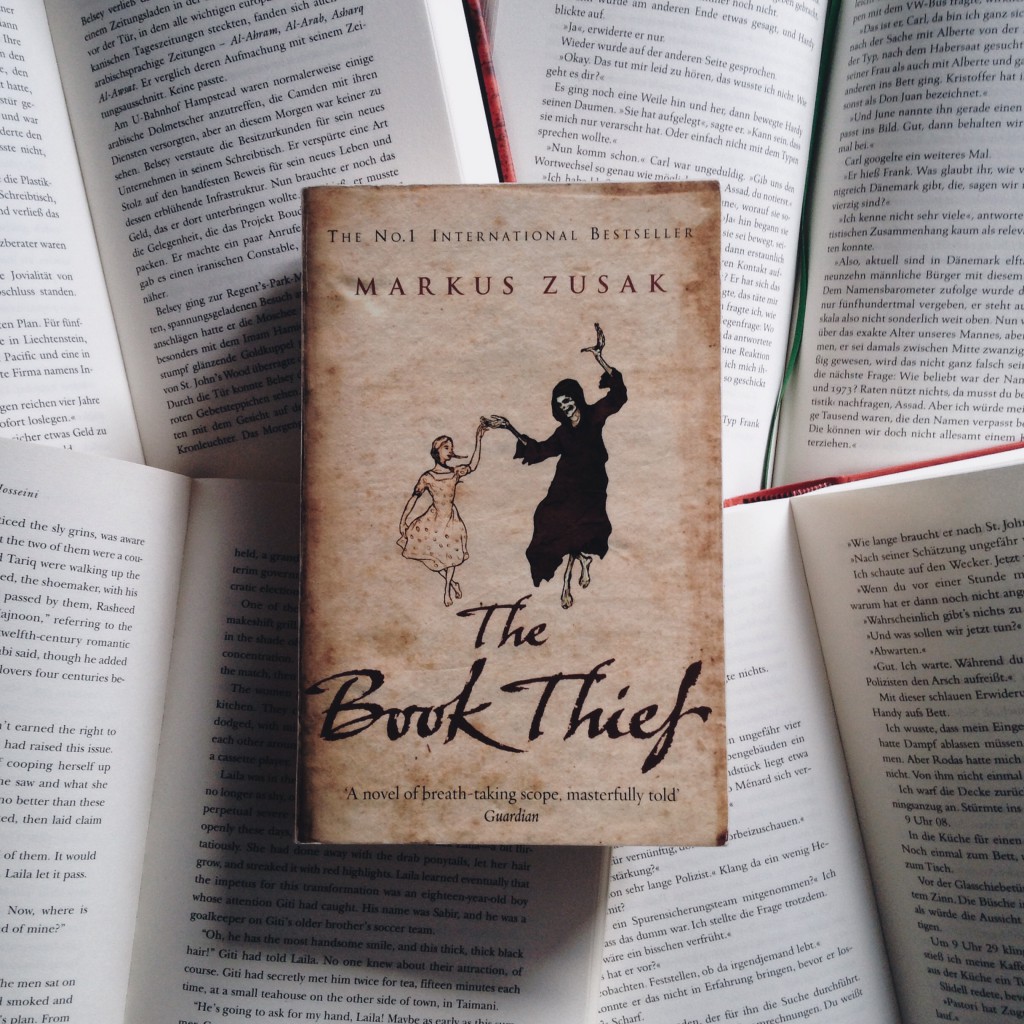 HERE IS A SMALL FACT – YOU ARE GOING TO DIE.

1939. Nazi Germany. The country is holding its breath. Death has never been busier.

Liesel, a nine-year-old girl, is living with a foster family on Himmel Street. Her parents have been taken away to a concentration camp. Liesel steals books. This is her story and the story of the inhabitants of her street when the bombs begin to fall.

SOME IMPORTANT INFORMATION – THIS NOVEL IS NARRATED BY DEATH.

It's a small story, about: a girl, an accordionist, some fanatical Germans, a Jewish fist fighter, and quite a lot of thievery.

ANOTHER THING YOU SHOULD KNOW – DEATH WILL VISIT THE BOOK THIEF THREE TIMES.
My Thoughts
I bought this book because… Aside from the title, I'm always interested in stories during the Second World War and the book description is inviting because it is narrated by Death. This is also my first book by Markus Zusak.
The Book Thief is one of the first books I bought in 2012 (the year when I got into reading novels) that remains unread until last month. I've been wanting to read it but I feel like I have to wait for the right time and I'm glad that I did.
"When Death tells a story, you really have to listen."
It took me ten days to finish reading this book because I wanted to savor and absorb every word written on the pages. Everything is perfect. I have to admit that it's hard for me to write a review about this because I'm afraid that I'll not be able to express how beautiful it is and this book is still haunting me (in a good way). There are already so many great reviews for this book (and even for the movie adaptation) so I'll just summarize how I feel.
On the day of Liesel Meminger's younger brother's funeral in 1939, she finds a book covered by snow and Death saw her stealing it. Liesel is sent off to Himmel Street to live with her foster parents and there she met Rudy who branded her as a book thief. One night, a Jewish named Max comes to their door and ends up hiding in their basement.
Death's way of narrating the story is entertaining and hilarious. When he feels like exhausted because of his job, which is of course we all know what, he watches the color of the sky. Every soul has different colors. I hate spoilers but I cannot bring myself to hate him everytime he tells what will happen in the future. He's the "Grim Reaper" so we know that someone will die everytime he appears and he tells it in a way that made me more eager to find out how it happened.
The characters are all remarkable and will touch you in different ways. Not only Liesel, Hans and Rosa Hubermann, Max, and The Steiner Family but almost all of them are relatable. My favorite is Rudy. I like his loyalty and determination. The "End of the World (Part II)" chapter broke me. I had to stop reading in some parts because I cannot see the letters anymore with my eyes filled with tears.
This book tells us not only the side of the Germans but also the perspective of the Jews during the Holocaust. It shows us that not all Germans hate Jews. There were some who were willing to risk their own lives just to express their gratitude towards other people.
Zusak has his own unique writing style which is unique, powerful, haunting but enjoyable. I also want to acknowledge the two short stories in this book entitled "The Word Shaker" and "The Standover Man". These two are exceptionally good. It shows that all of us are word shakers.
This book is definitely one of my all-time favorites even I just read it once. It's just not about Liesel's life experiences during one of the hardest times in history. Not even about Max's miserable life being a Jew. This is a story about being brave and never losing hope even during the darkest days of our lives.
"I have hated the words and I have loved them, and I hope that I have made them right."
---

THE BOOK THIEF
by Markus Zusak
EDITION: PAPERBACK (560 PAGES)
PUBLISHER: BLACK SWAN (2007)
GENRE: HISTORICAL FICTION
SOURCE: BOUGHT FROM THALIA BUCHHANDLUNG
Date read: November 2014