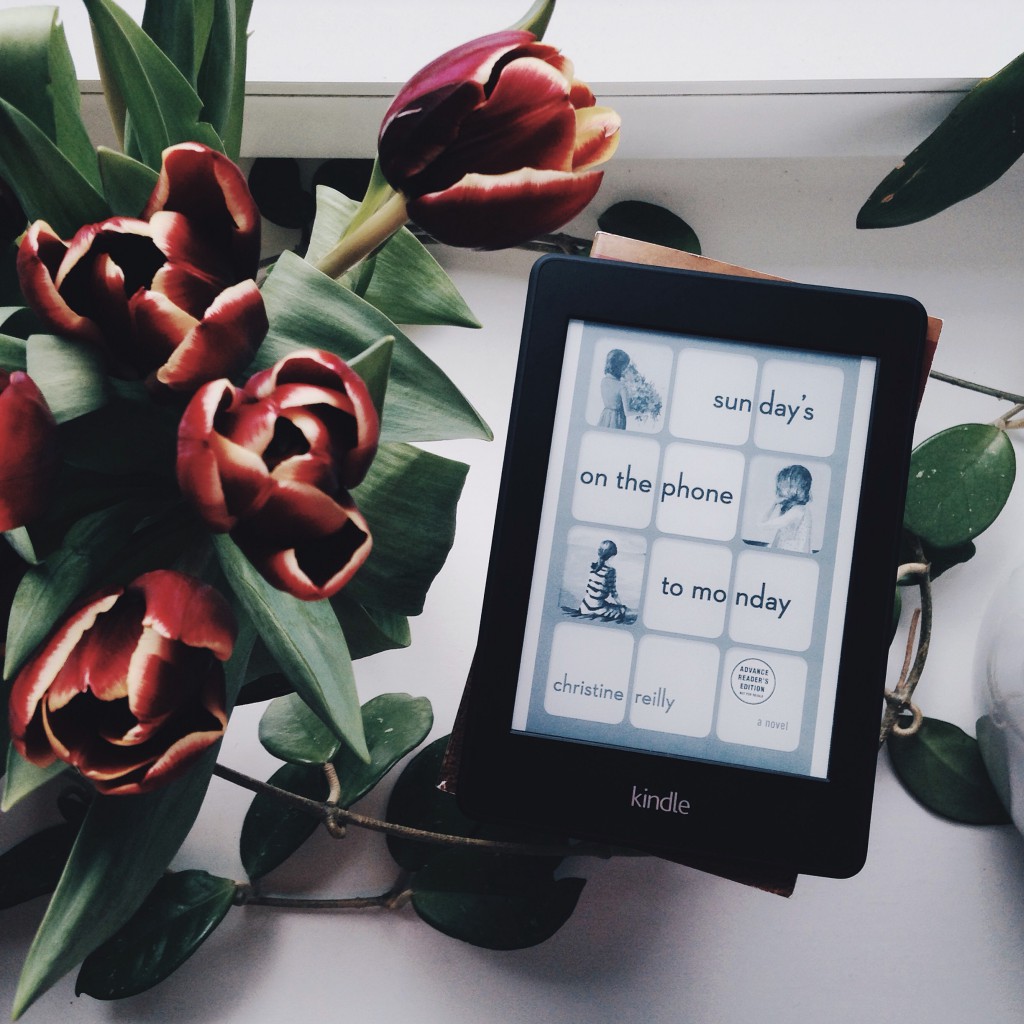 "So, this won't be a love story. Nobody is trying to tell you something about love. This will be a story about a family."

Claudio and Mathilde Simone, once romantic bohemians hopelessly enamored with each other, find themselves nestled in domesticity in New York, running a struggling vinyl record store and parenting three daughters as best they can: Natasha, an overachieving prodigy; sensitive Lucy, with her debilitating heart condition; and Carly, adopted from China and quietly fixated on her true origins.
With prose that is as keen and illuminating as it is whimsical and luminous, debut novelist Christine Reilly tells the unusual love story of this family. Poignant and humane, Sunday's on the Phone to Monday is a deft exploration of the tender ties that bind families together, even as they threaten to tear them apart. x

Mathilde Spicer, an aspiring actress and Claudio Simone, a record store owner, meet in a party and fall in love instantly. Within a year of dating, Claudio proposed and they get married. They raise three wonderful and unique daughters namely, Natasha (the eldest), Lucy (who is suffering from a rare heart condition) and Carly (adopted from China). Dealing with both physical and mental illness, the Simone family continues to overcome life's changes and challenges and continue to stay strong for each other.
The book is divided into two chapters with siwtching POVs and short chapters. The characters are very interesting and real. Although I felt like I didn't get to know them better, I still enjoyed reading their point of views. It didn't really affect my reading experience so it's okay. The thing that got my attention was the author's writing style. It is different but in a beautiful way. I have to admit that I struggled in the beginning but later on, as I got used to the style, I couldn't stop myself from reading. Each words/sentences are perfectly crafted and reading this book feels like reading a long poem or lyrics of a song. I highlighted quite a lot of passages. Music plays a big part of the story so it's a big plus for me. Some random facts, the book's title is from a Beatles song. The author also did a great job on presenting some serious issues like same-sex marriage, mental illness and racism.
I'm so glad that I ended up loving this book. I was reading it in bed and I got so emotional I fell asleep crying. I cried while reading the last few chapters because I was expecting for a different scenario. But just like in real life, you'll never know what will happen. You just have to accept it and move on.
"Some things don't get better, said Mathilde. But you can make yourself better."
Sunday's on the Phone to Monday is a very compelling story with a unique style of story-telling. Kudos to Ms. Christine for an amazing debut novel.


Sunday's on the Phone to Monday
by Christine Reilly
Edition : eBook (336 pages)
Publisher : Touchstone (April 5, 2016)
Date Read : April 2016
---
Disclaimer : An e-copy was sent by the author in exchange for an honest review.