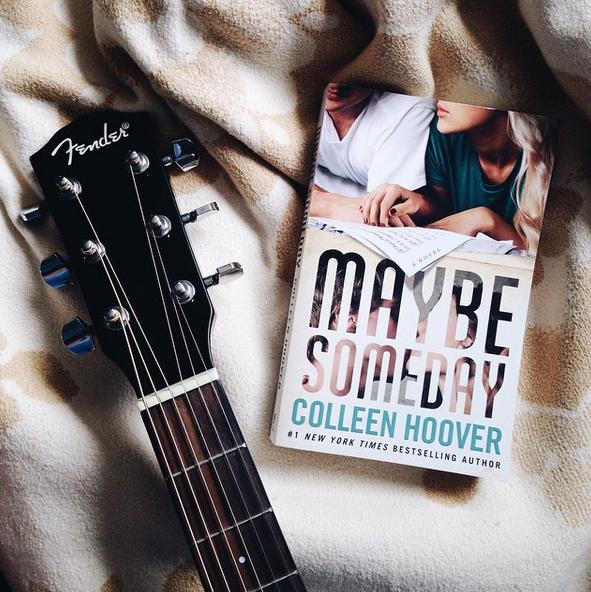 At twenty-two years old, Sydney is enjoying a great life: She's in college, working a steady job, in love with her wonderful boyfriend, Hunter, and rooming with her best friend, Tori. But everything changes when she discovers that Hunter is cheating on her—and she's forced to decide what her next move should be.

Soon, Sydney finds herself captivated by her mysterious and attractive neighbor, Ridge. She can't take her eyes off him or stop listening to the passionate way he plays his guitar every evening out on his balcony. And there's something about Sydney that Ridge can't ignore, either. They soon find themselves needing each other in more ways than one.

A passionate tale of friendship, betrayal, and romance, Maybe Someday will immerse readers in Sydney's tumultuous world from the very first page.
I won this book in an Instagram giveaway hosted by El (@bookishnessandcoffee) in January this year. I chose this book because I've been wanting to read (and collect) Colleen Hoover's books.
My expectations on this book were so high (because of the hype) that's why it made me sad that I was quite disappointed even before I finish reading it.
I can totally say that I love her writing style. It's simple yet captivating.
My problem was I didn't enjoy the romance between Sydney and Ridge. Probably because of their "situation", their actions and personalities. Yes they have a beautiful chemistry but i didn't connect with them. They annoyed me most of the time. Warren is definitely my favorite. He is funny and straight-forward. I also liked Maggie more than Sydney.
The first 100 pages caught my interest especially the surprising talent of Ridge. But the ending felt rush for me and I think that I would have enjoyed it more if it ended differently. Honestly, I would like it more if they didn't end up together. I think I'm not spoiling the story because romance books usually have happy endings.
One thing I like about this book is the music, and it's not just simply music but also the process of creating the songs. The idea of this book with a soundtrack is pretty unique and wonderful. My favorite songs are Hold On To You, Something and of course, Maybe Someday.
My next read from Hoover is Ugly Love and again, I have high expectations on it and hopefully I will love it.
---

Edition : Paperback (367 pages)
Publisher : Atria Books (March 2014)
Genre : New Adult, Romance, Fiction
Source : Giveaway prize
Date Read : May 2015
Check this on Goodreads