Before anything else, I'd like to inform you guys that Give It Back is still $0.99/€0.99 on Amazon kindle. I hope that you'll get your copy after reading this review.

This novel follows three characters: Lorraine, Lexy, and Ella.
Lorraine:
Not long ago, Lorraine lost her husband to another woman. She thought that was the worst thing that could happen to her, but soon she realizes it's just the beginning of an everlasting nightmare.
Lexy:
Lexy, an au pair from London, moves to Seattle to help Lorraine with her infant son. But she didn't come for the child…she came for something else.
Ella:
When Ella receives a call from her sister, Lorraine, who begs her to leave San Diego to spend time with her, she decides to take a few days off from work to visit her. Frightened to see how much Lorraine has weakened since her diagnosis eight months ago, she packs a bag and heads to Seattle with a foreboding feeling that this might be the last time she sees Lorraine.
But on her way to the airport, she learns that something shocking has happened since she last spoke with Lorraine and now. To make matters worse, once Ella arrives in Seattle, Lorraine's story keeps changing, making Ella question how reliable her sister really is. Soon Ella is entangled in a mysterious investigation, and more so, in the lives of everyone involved. She realizes not only that she won't go home anytime soon but also that she'll never look at others the same way she did before. x

I started Give It Back without any expectations (which I think is fair because this is a debut novel) and I'm so happy that I ended up loving it.
"You know, sometimes when you're really hurt it's hard not to get dictated by it. It makes you do things you never would."
The story begins as Elle decides to finally visit her terminally ill sister, Lorraine, in Seattle. On her way to the airport, she receives a call from a nurse saying that her sister is in a hospital because of an accident. Elle was surprised especially when she finds out that Lorraine's 16-year-old son and the au pair were not at home with her during the accident. Where were they? What happened to Lorraine?
I don't want to spoil a lot so I'll stop there. This book got me hooked from the very first page up until the last.
The book was written from three different POVs in a shifting timeframe. Elle's POV is from the present while most of Lorraine's and Lexy's are in the past (couple of months to be exact). Sounds a little confusing? Yes! But the author did an amazing job on this part. The transition was smooth and each character has their own unique voice. And because of the strong element of suspense in every chapter, you'll find yourself constantly saying "just one more chapter" without noticing that you've already reach the end.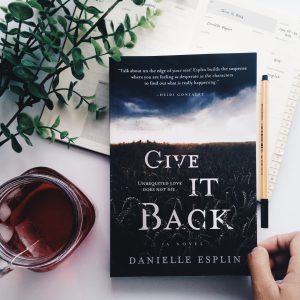 I personally like the author's style of writing. The character's emotions, their actions and thoughts felt so real. Even their dialogues including the f words. There were some emotional scenes and I found myself a bit teary eyed and worried for some of the characters (like Sam).
There was one thing that I had guessed correctly (because it's a little predictable I think) but the rest of it, I had no idea. The author did a great job on adding the right amount of mystery in every chapter. The twists were clever and nicely done. They were "WOW" moment for me because I didn't see them coming.
Why I gave 4 instead of 5 stars? It's because of the ending! Don't get me wrong. I thought it was clever and absolutely creepy that it even gave me goosebumps while reading it but it's like "What the fudge?". It left me with so many questions. I want to ask the author but on the other hand, I'm thinking that she wrote the ending like that for a reason. I hope not because she's planning a sequel. I'm totally okay with this book as a stand-alone.
Overall, I absolutely enjoyed reading Give It Back and I was very impressed. This is such a great debut! If you're looking for a fast-paced, entertaining and gripping psycho-thriller novel, then this book is perfect for you.


Give It Back by Danielle Esplin
Edition: Paperback (302 pages)
Published: April 7, 2016
Genre: Physcological Thriller, Mystery, Fiction
---
*A huge thanks to Ms. Danielle Esplin for sending a copy of her novel in exchange for an honest review.