I remember waking to the scream.
I remember calling my sister's name.
I remember seeing the blood smeared along the staircase.
I remember the creature's green eyes.
They say there's a cure. They say there's a way to stop this madness, a way to stop the hunger.
I think they're lying.
My name is Ella, and this is my story. x

Ella is one of the very few survivors after the zombie virus invaded their neighborhood. They were taken to a place called Underground where they are trained to fight and defend theirselves against the zombies. Saving the other survivors who were trapped outside is their main objective. Just when she thought that everything is finally getting better, a shocking incident happened that made Ella and her new found friends to take a very dangerous step.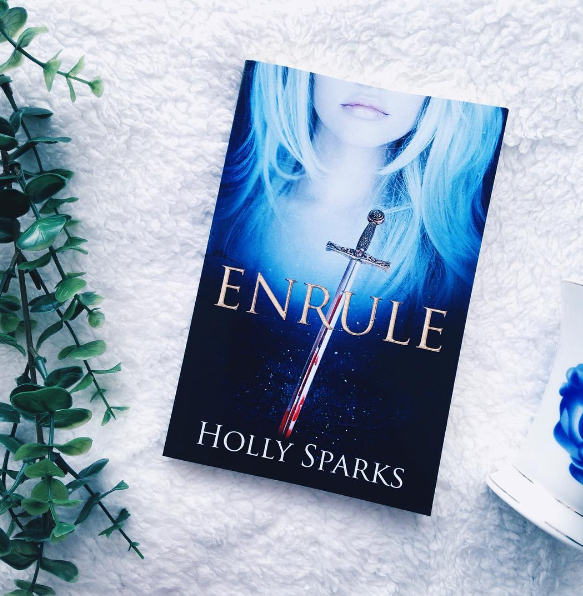 I want to start with what I love about Enrule and obviously, it's the gorgeous cover. I haven't read the book description so I had no idea what the story was all about. I thought it's a fantasy novel with warriors or magic on it. I was totally surprised that this is about zombie apocalypse which was so perfect because I'm a zombie fiction fan.
Ella is the main character in this book and honestly, I didn't really like her that much. She can be really stubborn and sometimes, annoying. She made me roll my eyes especially during those instances when she meets a new guy. But I do admire her braveness, dedication and willingness to save and protect her friends and other people.
Zoe is definitely my favorite character. She is a certified badass. Just like Ella and the others, I was also amazed by her assassin/ninja-like skills. Sadly, I wasn't able to connect with the characters because I didn't get to know much about them. I hope we'll get to see more about their background stories on the next book. There is romance and probably a love triangle but I didn't care much about it. I was more intrigued with the mystery part of the story.
Action-packed! This book has a great deal of well-executed fighting scenes and I love it. Aside from the engaging story, the writing is easy to understand and it flows smoothly which made this book a quick and fun read.
Overall, I enjoyed reading Enrule. This is perfect for zombie fiction lovers out there and for those of you who wants to read something which is outside your comfort zone. I'm pretty sure that you'll love this.
A very outstanding debut novel. Congrats to Ms. Holly and please don't let us wait too long for the second book. 😀


Enrule by Holly Sparks
Series : The Enrule Series #1
Edition: Paperback (283 pages)
Publisher: Createspace Independent Publishing
Platform (December 9, 2015)
Genre: Fantasy, Fiction, Zombie Apocalypse
---
*Disclaimer: A physical copy was sent by the author in exchange for an honest review.*