Happy 1st of May, guys!
In case you didn't know, May is Asian Pacific American Heritage Month and in case you haven't noticed yet, I'm Asian. So technically it's our month, right? lol
To celebrate our month (yes), i'll be joining the Asian Readathon! It's a month-long readathon hosted by Cindy of Read with Cindy together with other four amazing Booktubers. Cindy instantly became my favorite after watching one of her videos. She's incredible and very talented. You can check all the details of the readathon such as the hosts, challenges, and book recommendations in a google doc here.
I'll be sharing my TBR below as well as my book recommendations.
1. Read any book by an Asian author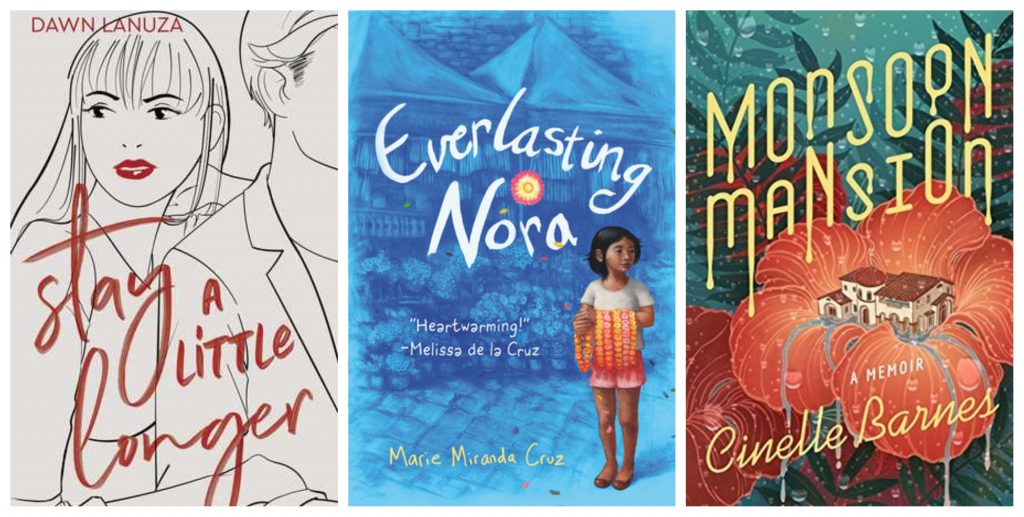 I've decided to read a book (or books) written by Filipino authors. I haven't really read a lot of Filipino books except the ones that were required in school like Noli Me Tangere and El Filibusterismo both by Dr. Jose Rizal. Most of the Filipino books I have read were from Bob Ong, Pol Medina Jr., and Manix Abrera which are all written in Taglish (mix of Tagalog and English). For this challenge, I've chosen Stay A Little Longer by Dawn Lanuza, Everlasting Nora by Marie Miranda Cruz, and Monsoon Mansion by Cinelle Barnes.
HERE ARE SOME OF MY PERSONAL FAVORITES
2. Read a graphic novel featuring an Asian character or written/drawn by an Asian author
I love reading manga so this isn't really a problem. I'll be reading Tokyo Ghoul:re Volume 1 by Sui Ishida, Attack on Titan Volume 1 by Hajime Isayami, and In This Corner of the World by Fumiyo Kouno.
HERE ARE SOME OF MY PERSONAL FAVORITES
3. Read a book featuring an intersectional Asian character or written by an intersectional Asian identity
I think I haven't read any books with this kind of theme and I feel quite embarassing. This is actually one of the reasons why I like joining readathons and reading challenges. For this challenge, I'm planning on reading these three *fingers cross* books. I have an advance copy of On Earth We're Briefly Gorgeous by Ocean Vuong (Vietnamese) and I really cannot wait to read it. I still need to borrow America is Not the Heart by Elaine Castillo (Filipino) and In The Vanisher's Palace by Alitter de Bodard (Vietnamese) from the library.
4. Read a book by Asian author that was originally written in their native language
Most of the translated books I read are from Japanese and Korean authors. I just love how they write. I have some unread Haruki Murakami books in my shelves and one of them is Colorless Tsukuru Tazaki. I also loved The Vegetarian by Han Kang (Korean) so I want to read her other book Human Acts. I haven't heard about No Longer Human by Osamu Dazai (Korean) so I thought of adding it on my tbr. I still have to borrow a copy from the library.
HERE ARE SOME OF MY PERSONAL FAVORITES
5. Read the group book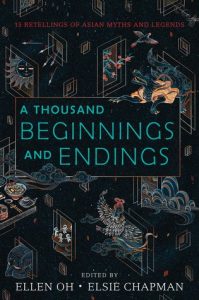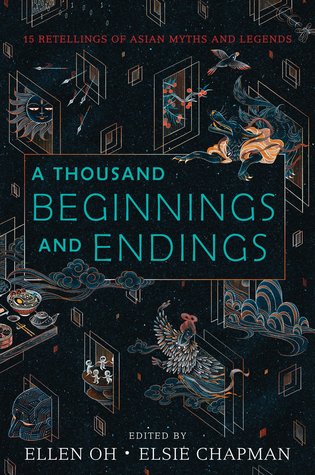 The book is A Thousand Beginnings and Endings by Ellen Oh. This was one of my most anticipated book releases last year and I wasn't able to read it. I bought my copy few weeks ago and I'm really happy when I've found out that this is the group book.
"Star-crossed lovers, meddling immortals, feigned identities, battles of wits, and dire warnings. These are the stuff of fairy tale, myth, and folklore that have drawn us in for centuries. Fifteen bestselling and acclaimed authors reimagine the folklore and mythology of East and South Asia in short stories that are by turns enchanting, heartbreaking, romantic, and passionate.
Compiled by We Need Diverse Books's Ellen Oh and Elsie Chapman, the authors included in this exquisite collection are: Renee Ahdieh, Sona Charaipotra, Preeti Chhibber, Roshani Chokshi, Aliette de Bodard, Melissa de la Cruz, Julie Kagawa, Rahul Kanakia, Lori M. Lee, E. C. Myers, Cindy Pon, Aisha Saeed, Shveta Thakrar, and Alyssa Wong."
This book will be covered in a live show on Saturday, May 25 at 6pm EST on Cindy's channel.

Have you read any from these books? Are you also participating? Let me know.