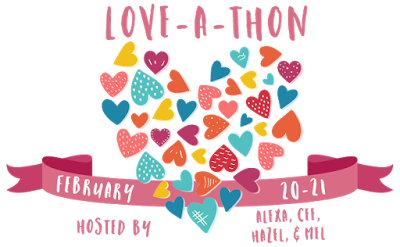 The Love-a-Thon is an event dedicated to spreading positivity and love. It's time dedicated to visiting other bloggers/Instagrammers/BookTubers, leaving a comment or two, making new friends and fostering positivity among the members of our amazing community. Hosted by Alexa of Alexa Loves Books, Cee of The Novel Hermit, Hazel of Stay Bookish, Mel of The Daily Prophecy.
This challenge is specifically for BookTubers but it looks fun so why not try it with a normal blog post. Also, Cee at The Novel Hermit posted one too. All you have to do is to pick books based on their spine colors and then follow the prompts. Let's do this.
RED


Flip to page 119, and find the first line of the third paragraph.
This line is the first sentence of a book about you.
"She put her hands on Yael's shoulders."
– Wolf by Wolf by Ryan Graudin
I had a crush before named Yael. He's the vocalist of Spongecola. I haven't read this book yet but it's on my 2016 TBR.
ORANGE


Flip to page 3. The first name you see when you
crack open the book is your book BFF.
Fudge
– Harry Potter and the Half-Blood Prince by JK Rowling
Ugh. No. Haha!
YELLOW
Flip to page 185. The first body part mentioned
is where your superpower is.
Forehead
– I'll Give You The Sun by Jandy Nelson
This is fun. Can't think of a possible superpower using my forehead.
GREEN
Flip to page 238. The first place mentioned
is where your book is set.
Home
– Since You've Been Gone by Morgan Matson
Where I'm always comfortable is.
BLUE
Flip to page 45. The first name you see when you crack open the book is your book boyfriend/girlfriend.
Cap
– Ugly Love by Colleen Hoover
I personally like Cap because he's wise and funny but he's like a grandfather to me.
Not book boyfriend.
PURPLE
Flip to page 77. The first adjective used
describes your book boyfriend.
Difficult
– Harry Potter and the Deathly Hollows by JK Rowling

Okay? Well if my book boyfriend is Cap then it would be difficult.
PINK
Flip to page 94. The first name you see
is your fictional nemesis.
Hamilton
– Girlfriend in a Coma by Douglas Coupland
I have no idea who is Hamilton because I haven't read the book yet. Haha.
BROWN
Flip to page 216. The first object you see
is your weapon of choice.
Sword
– The Sea of Monsters by Rick Riordan
I love this.
BLACK


Flip to pages 198, 228 & 146, and find one name
on each page. These people will be your apocalypse squad.
MIss Peregrine (Miss Peregrine's Home for Peculiar Children)
Jacin (Winter by Marissa Meyer)
Annabeth (PJ and the Last Olympian by Rick Riordan)
This would be an exciting squad.
WHITE


Flip to page 28, and find the second sentence of the fifth paragraph. This is the last thing you will ever say in your book. (Or is it?)
"It was a truly terrible thought."
– The Rosie Project by Graeme Simsion
Quite accurate.
Did you also join Love-A-Thon? Which challenge did you make? Feel free to share your link below. ♥