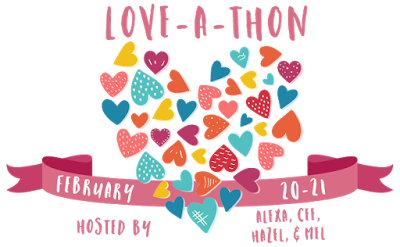 The Love-a-Thon is an event dedicated to spreading positivity and love. It's time dedicated to visiting other bloggers/Instagrammers/BookTubers, leaving a comment or two, making new friends and fostering positivity among the members of our amazing community. Hosted by Alexa of Alexa Loves Books, Cee of The Novel Hermit, Hazel of Stay Bookish, Mel of The Daily Prophecy.
The second mini-challenge is Love-A-Thon Book Bingo. The rules are simple:
• Make a post to sign-up for this challenge.
• Showcase the bingo card and keep track of your progress.
• Add your link to the Linky to enter the giveaway.
• Cross AT LEAST 3 squares off to have a shot at the giveaway. (And yes, we will check) It is up to you how many you aim for in the end.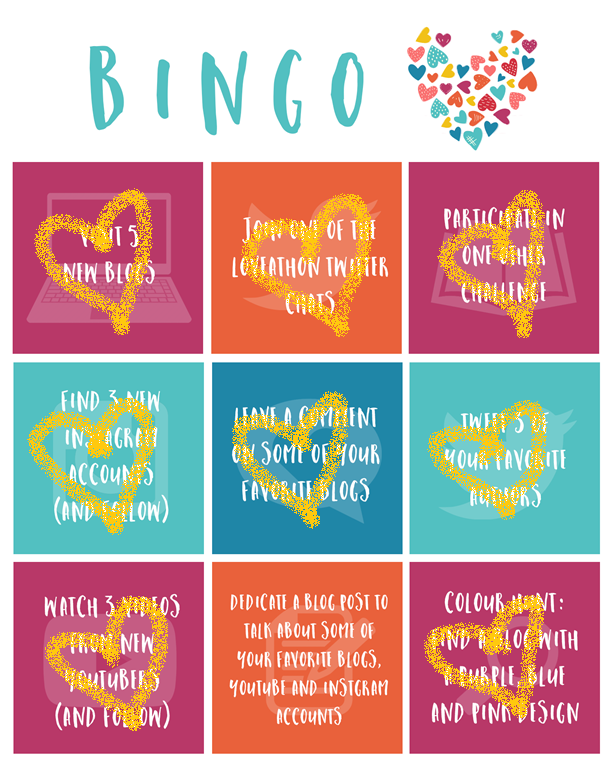 Visit 5 new blogs
Bhavya at booksncalm
Eileen at bookcatpin
Ezrah at eyeheartromance
Cee at thenovelhermit
Inah and Jem at thebibliophileconfessions

Join one of the loveathon

twitter

chats
Participate in one other challenge
Bookshelf Colors Challenge
– This is normally for YouTubers so I'm not sure if it's counted.
Bookstagram Challenge
Find 3 new Instagram accounts (and follow)
Mel (@mel_1704)
Cee (@zyxcee)
Genesis  (@lattenightsbooks)
Leave a comment on some of your favorite blogs
Stay Bookish
Word Revel
Twirling Pages
Tweet 3 of your favorite authors
My new found favorite authors.
@dela_52, @CandiSary and @veschwab
Watch 3 videos from new youtubers (and follow)
Top Ten Books on My TBR by In The Book Corner
Love-A-Thon Book Challenge by Mel S
Best Suggested Books You've Loved by Alexa Loves Books
Colour hunt: Find a blog with a purple, blue, and pink design
Purple : The Girly Geek
Blue : Stay Bookish
Pink : What Georgie Did
Feel free to share yours. I'd love to see them. ♥