Hi everyone! Can you believe that three months have already passed? Not that I'm complaining because, oh boy, 2020 has been pretty crazy! I'm not even sure what to expect anymore in the next months. I just wish that everything will gradually, if not soon, be okay again.
So today's post is quite a long one, I think. Instead of sharing monthly wrap-up posts which I often do, I've decided to make it quarterly. This entry has been on my draft folder for almost three weeks now. I originally wanted to include book haul and reading challenges updates but I changed my mind. I'll probably post them seperately. But I've added photos of my reading tracker. I've also included my ratings and short summaries (non-spoiler) on each books.
You can click the book title to read my review or add them on your Goodreads to-read shelf.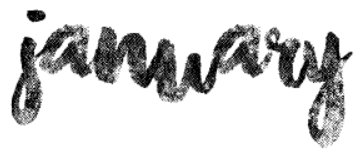 I read six books this month. Three of them are physical copies, two are audiobooks and one ebook. I also read my first 5-star book for this year!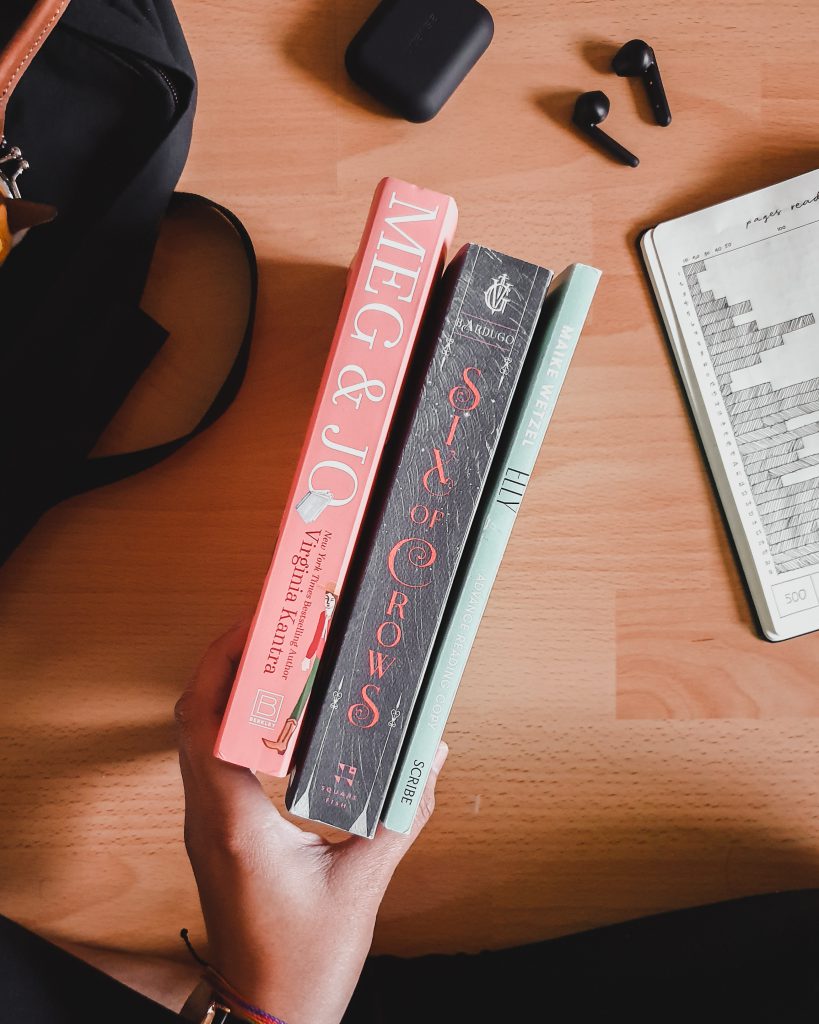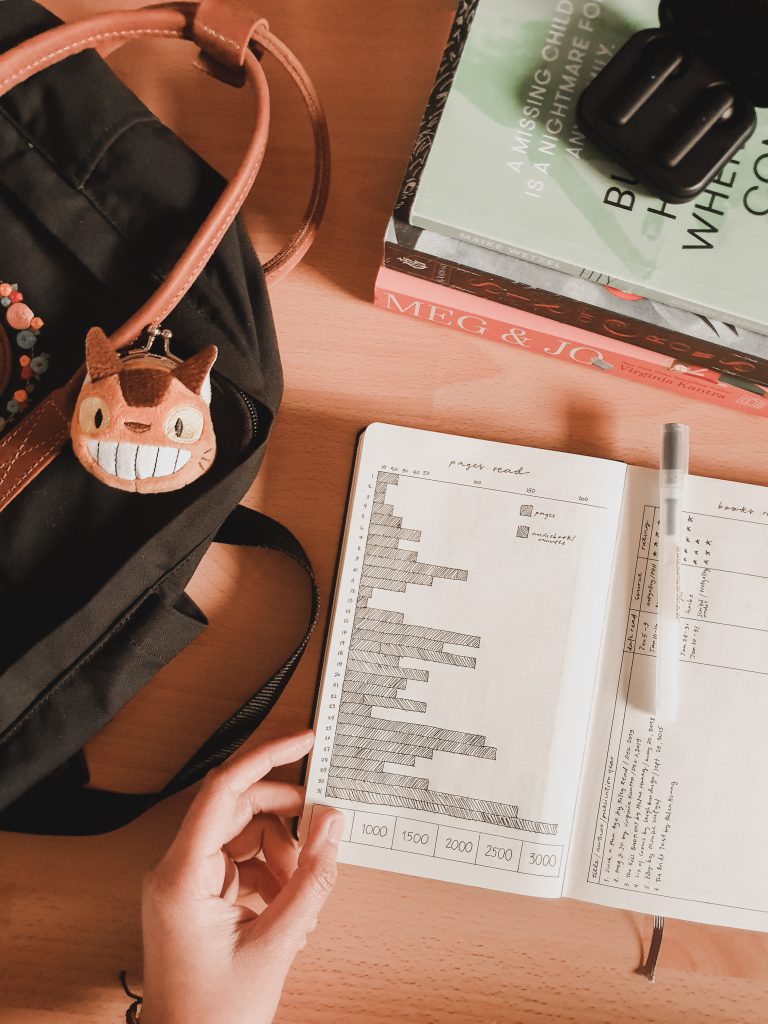 Meg & Jo by Virginia Kantra – ★★★☆☆
This book is inspired by the classic novel Little Women by Louisa May Alcott focusing on the two March sisters – Meg and Jo. Meg is married and a stay-at-home mom while Jo is a food blogger and a prep cook in New York. They come home to North Carolina after hearing about their mother's illness.
Six of Crows by Leigh Bardugo – ★★★★★
Six unique and skilled teenagers teamed up to pull off a deadly heist. That's all you have to know.
Elly by Maike Wetzel – ★★★☆☆
Elly is about an 11-year old girl who went missing. She is presumed dead by the police after getting no single trace of her disappearance. Then four years later, she returns. Her family is beyond ecstatic about her come back but it didn't last long. They soon start to have doubts about her.

Such a Fun Age by Riley Reid (earc) – ★★★☆☆
In this book we have Alix and Emira. Alix is a wealthy and successful woman but she still wants more and will do everything to get it. Emira is an African-American woman in her mid-twenties who works as a part-time babysitter to Alix's eldest daughter Briar. Emira is being accused of kidnapping Briar by a security guard while they're at the grocery store late at night. Emira wants to forget about the incident but Alix and a bystander who has filmed everything are not willing to let it go.
The Kiss Quotient by Helen Hoang (audiobook) – ★★★★☆
Stella Lane, a 30-year old brilliant econometrician with Asperger's syndrome, is being pressure by her mother to settle down. So she hires a male escort to learn more about dating and sex. He then meet Michael Phan, the perfect person for the job. Stella has laid out her terms and Michael has accepted all even it means breaking his personal rule.
The Bride Test by Helen Hoang (audiobook) – ★★★☆☆
Esme Tran, a Vietnamese-American single mother living in Vietnam, struggles to support her family. So when an opportunity of flying to America comes, she grabbed it. Her job? Seducing Khai and eventually become his bride. Khai is autistic and he is often misunderstood by other people and sometimes by his own family. He is having a hard time dealing with emotions like grief and love. He agrees to give Esme a chance eventhough he's sure he can never love her.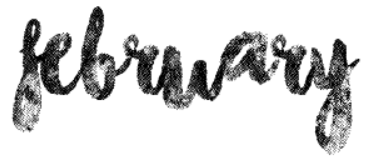 I read 8 books. Six physical copies, one audiobook, and one ebook. Most of the books I read this month got 4-star rating which was really great and one got a 5-star.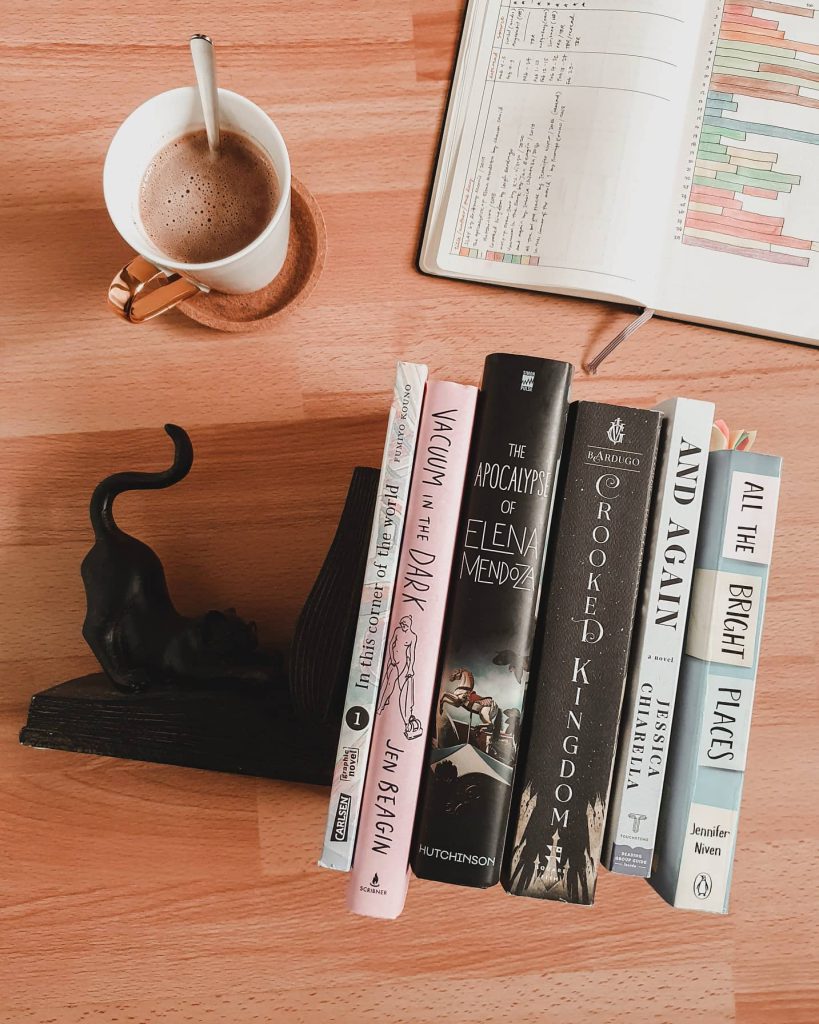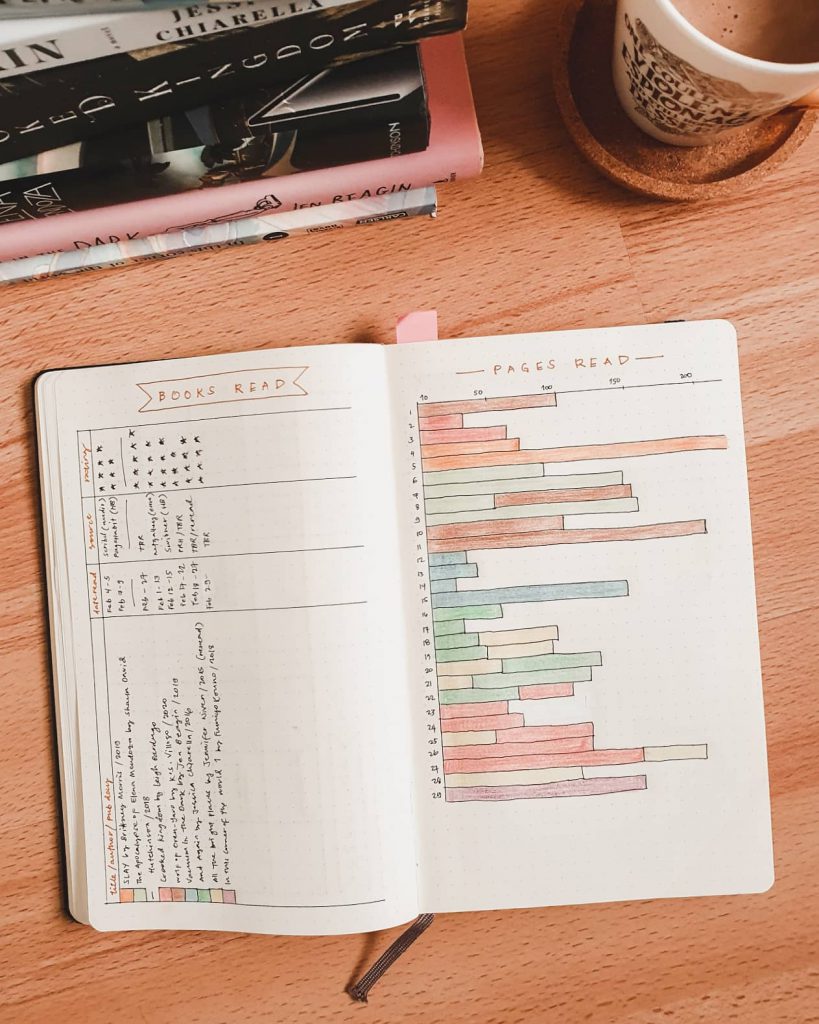 Elena Mendoza, a Cuban-American teenager, is a product of virgin birth. It's scientifically called parthenogenesis. One day, her long-time crush, Freddie, is shot and the voices she's been hearing her whole life told her to heal her. She doesn't know she can heal so it's a huge surprise to her. Meanwhile, the boy who shot Freddie disappeared under a beam of light. Elena learns later on that the world is coming to an end and she is the one who can stop it.
In this book, we continue following the story of Mona who works as a cleaning lady in New Mexico. She is still doing her "photography project" wherein she takes pictures of herself while cleaning or while wearing/using some of her clients' valued possessions. She got herself involved in a bad relationship again and has encountered new and very strange clients.
And Again by Jessica Chiarella – ★★★☆☆
Four individuals who are suffering from terminal illnesses have been selected for a pilot program called SUBlife. Their brain cells were transferred to a perfect clone of their bodies before they got sick. All their imperfections and illnesses are now gone.
Okay. So I'm not really sure how to write the synopsis without giving Six of Crows spoilers. That means, you need to read Six of Crows.
Violet is in grief and feels guilty for losing her sister in an accident. She is crossing out the days on her calendar until she can graduate from highschool, move out and leave all the painful memories behind. Finch fascinates death. He reads and writes about suicide. He knows the different methods and attempts to try them but some things always keep him from doing it. They met unexpectedly at the ledge of their high school's bell tower. Later on, they became partners in a school project named "Wander Indiana".
Set in 1940's Hiroshima, the book tells the story of a young woman named Suzu. She helps with her family business until she was sent to Kure to get married. She stays with her in-laws while her husband is away. In this volume, we see her talent and creativity that will make her new family proud. p.s. I highly recommend the movie adaptation!
Talyien aren dar Orenar is the daughter of a warlord who started a civil war that nearly break their kingdom, Jin-Sayeng. Marrying the heir of their rival clan, Rayyel Ikessar, will bring unity to their nation. But he leaves the night before the coronation. Talyien is left alone with their son and a kingdom to rule. Five years has passed, Talyien receives a letter from Rayyel asking her to meet him. She travels across the sea hoping to finally reconcile with her estranged husband and to fulfill her promise to their son. But life isn't always easy for Talyien. She ends up being alone in a foreign land after an assassination attempt. She will do everything to survive and return home to her son alive.
SLAY by Brittney Morris (audiobook) – ★★★★☆
Kiera Johnson, seventeen, is the game developer of a multiplayer online role-playing card game called SLAY and no one knows about it. Not even her family and especially her boyfriend who is against video games. But things get pretty real and bad when SLAY became a huge part of a teen's murder.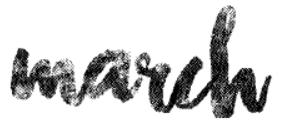 I managed to read eight books. Six are physical and two audiobooks. I also gave one book a 5-star rating!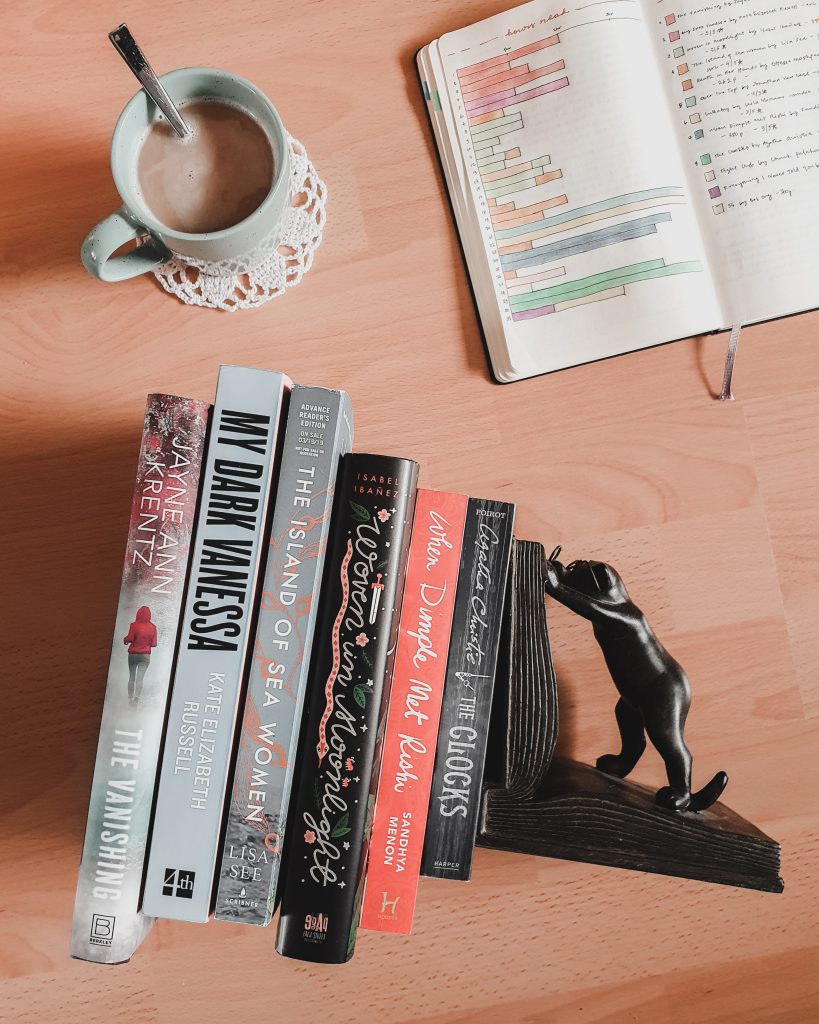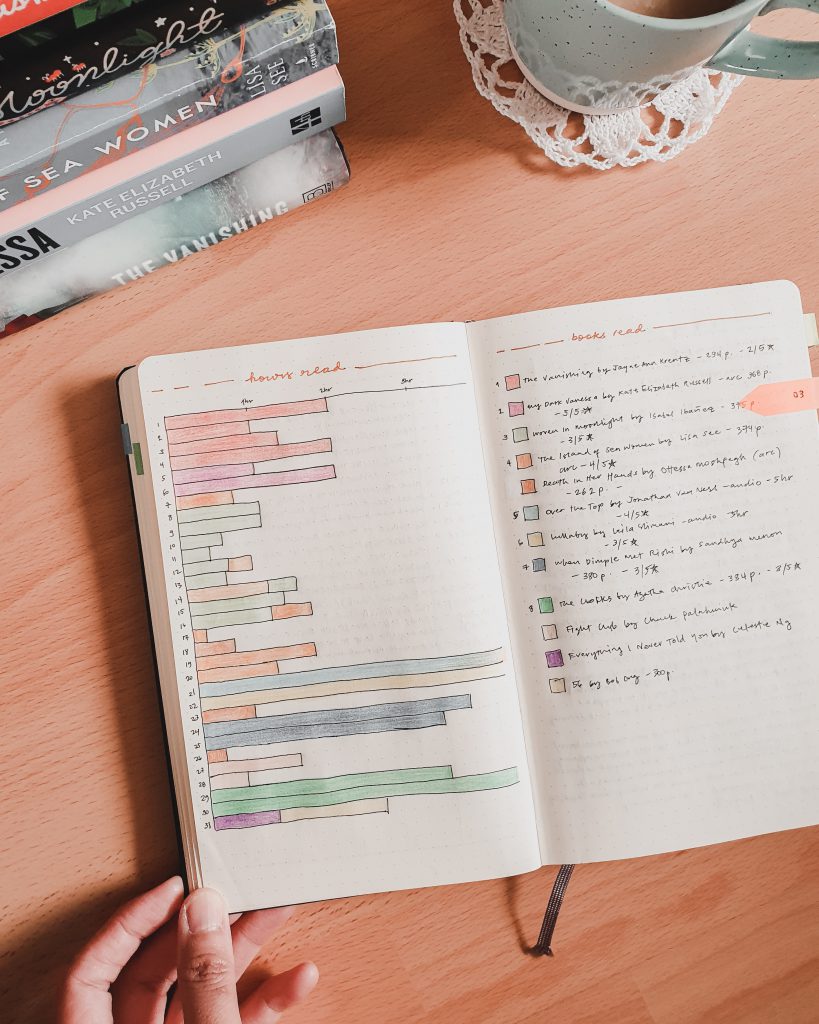 The Vanishing by Jayne Ann Krentz – ★★☆☆☆
Catalina and Olivia witnessed a murder when they were teens back in Fogg Lake but were convinced that it was just hallucinations. They are now living in Seattle and own a successful private investigation business. Olivia goes missing one night and Catalina is left to find her bestfriend. She found out later that someone is hunting for the witnesses of a murder in Fogg Lake. The one that she and Olivia thought was not real.
My Dark Vanessa by Kate Elizabeth Russell – ★★★★★
Vanessa is horrified when she heard that her former teacher, Jacob, has been accused of sexual abuse by one of his former student. This news made her questioned what she had with him over the years. Vanessa was fifteen when she started a relationship with Jacob, her 42-year old English teacher.
The Illustrians lost everything when Atoc attacked them using a powerful ancient relic that can summon ghosts. Atoc became the (fake) King of Inkansisa and the rest of the Illustrian people have been driven out of La Ciudad. They are planning on how to take back the throne so Catalina, the Condesa and the only survivor of the Illustrian royalty, can rule Inkansisa. In order to protect the Condesa, Ximena acts as her decoy. And when Atoc demands Condesa's hand in marriage, it's Ximena's duty to go.
This book follows the story of Mi-ja and Young sook. They're both "haenyeo" – female divers on Jeju Island – and despite of their different backgrounds they still became best of friends. They shared a lot of great memories and went through a lot of life-changing experiences that tested their bond and threaten their friendship.
Dimple wants to attend a summer program for aspiring web developers but first, she needs her parents' permission to go especially her mother who is pressuring her to find her Ideal Indian Husband. To her surprise, they agreed. Without her knowledge, her future husband Rishi is waiting for her in the summer program.
The Clocks by Agatha Christie – ★★★☆☆
This is part of the Hercule Poirot series. A stenographer is requested by an elderly blind woman to come to her house. She is instructed to enter the house and wait in the living room if the woman is not home. She then finds a man stabbed to death on the floor surrounded by six clocks.
Over the Top by Jonathan Van Ness (audiobook) – ★★★★☆
This book tells the story of Jonathan Van Ness before he became part of Netflix's Queer Eye and Fab Five. The trauma, pain, and ridicule he endured throughout the years which made him more stronger, unique, and radiant than ever.
Lullaby by Leila Slimani (audiobook) – ★★★☆☆
Myriam decides to return to her career but she will need someone to look after her two young children since her husband is also working. Enter Louise, the perfect nanny. She does her job very good and even goes the extra mile at times. She soon became part of the family and that's when Myriam starts to see that "too perfect" doesn't exist.

Have you read any from these books? How was your previous reading months?
I hope you're doing great! Stay safe and please be kind to yourself and to others. ♥
Always,