Hey guys! I'm finally back with my January and February Wrap-Up post! Better late than never, right? (That's my favorite motto these days. Haha!) Anyway, I am so happy to be back here and hoping that you guys are still looking forward to read my new posts. I included my mini reviews of the books I read in this post and also my book haul. So it's a little long but I hope you enjoy reading it. So without further ado, let's begin.
Books I Read in January

"This is a book about the journey of healing from trauma and becoming whole again. 
Directions: apply to your soul gently, whilst sitting under the stars."
My very first read this year. I enjoyed this poetry collection. I thought the astronomical theme was brilliant. My only problem was some words and messages were used repetitively and it loses the poem's meaning. Overall, Nikita Gill's writing is beautiful and her poems are heartfelt and inspiring. My Rating : 3.5 / 5
Here is one of my favorites:
THE SOUND OF HEARTBREAK
It is eerily terrifying that there is no sound when a heart breaks. Car accidents end with a bang, falling ends with a thud, even writing makes the scratching sound of pencil against paper. But the sound of a heart breaking is completely silent. Almost as though no one, not even the universe itself could create a sound for such devastation. Almost as though silence is the only way the universe could pay its respect to the sound of a heart falling apart.
*Thanks to the lovely guys of Thought Catalog for sending me a copy.
"Before he was Batman, he was Bruce Wayne. A reckless boy willing to break the rules for a girl who may be his worst enemy."
When someone says Batman, the words that first come to my mind are Alfred, Dark Night, Gotham and of course, Robin. I am not really a fan of Batman so I didn't have any idea about his private life or how he became "the" Batman. In this second book in the DC Icons series, we get to know Bruce Wayne who has just turned eighteen and about to inherit his family's fortune. Bruce is a very likable character and has already the superhero quality in him. But my favorite character in this book aside from Alfred, was Madeleine. Read my full review here. My Rating : 3.5 / 5
"Sometimes you need to scorch everything to the ground, and start over. After the burning the soil is richer, and new things can grow. People are like that, too. They start over. They find a way."
This was my very first read from Celeste Ng and I loved it so much! There are quite a handful of characters but they're all very distinct and interesting. The author covers pretty much all of their backstories and it wasn't confusing for me at all. My favourite is definitely Izzy. Aside from her good taste of music (*ahem* Tori Amos), I admire her determination and beliefs at a very young age. The writing is just wow! Simple yet effective and convincing. The narration/changes of POVs was perfectly done as well. The author beautifully handled some important topics in the story such as racism, abortion, and adoption. The ending felt a little convenient in my opinion but overall, this was a brilliant and very thought-provoking read. It's really important to get in to this book without reading the synopsis. Highly recommended. I'm also excited about the TV adaptation of this book! My Rating : 4.5 out of 5
*Huge thanks to Penguin Press for sending me a copy of this book.
January Book Haul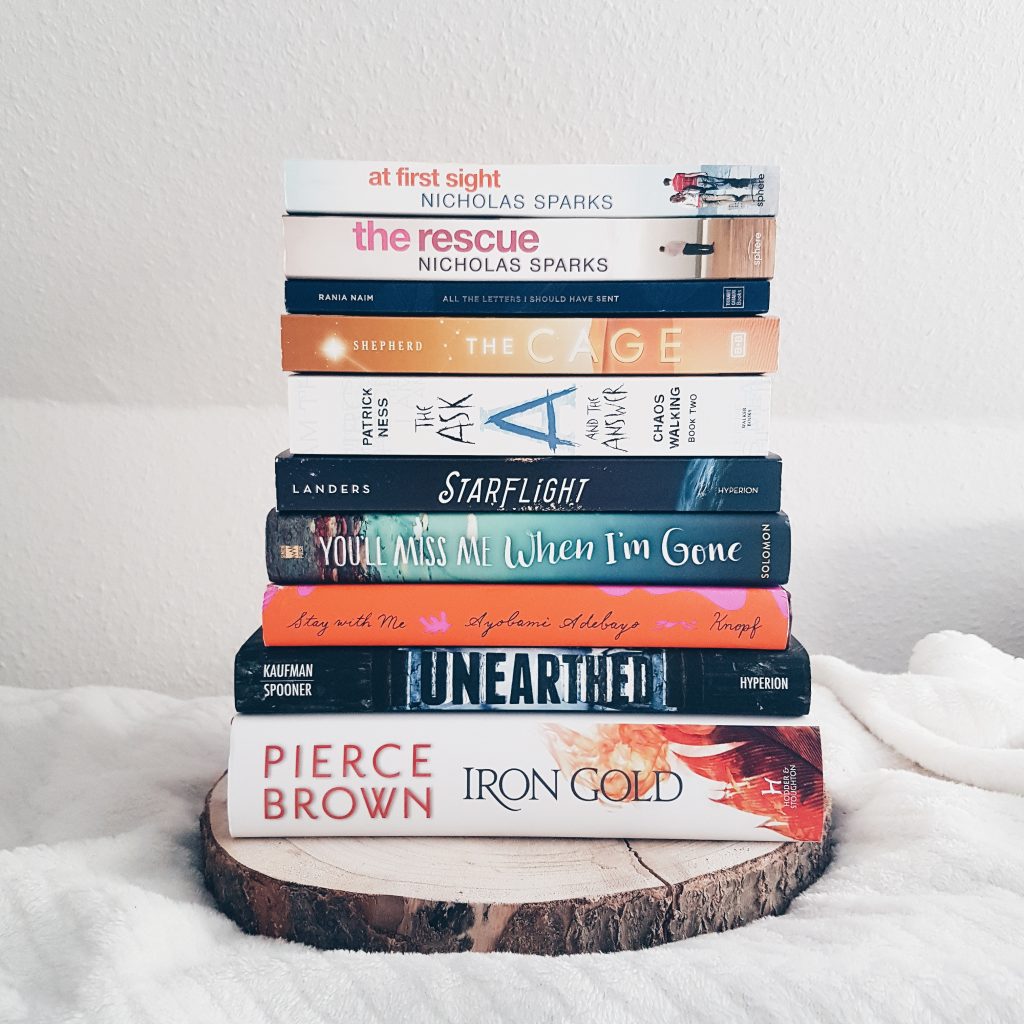 I am currently on a book buying ban but that doesn't stop me from acquiring new books. I am so lucky to have received these books and will be forever grateful. A friend of mine bought At First Sight and The Rescue by Nicholas Sparks for me during her stay in Dubai last year. All The Letters I Should Have Sent by Rania Naim was a surprise bookmail from Thought Catalog. I got The Cage by Megan Shepherd, Starflight by Melissa Landers and Unearthed by Amie Kaufman and Meagan Spooner from Page Habit's Quarterly Box. Here's my unboxing video if you're interested to watch. My lovely friend Sarah (of BooksForTea) sent me her copy of The Ask and the Answer by Patrick Ness. The book Stay With Me by Ayobami Adebayo was a prize I won in a giveaway. You'll Miss Me When I'm Gone by Rachel Lynn Solomon was sent to me by Storygram Tours and lastly, my hardcover copy of Iron Gold by Pierce Brown was from Illumicrate's The Howler Edition Box. You can watch my unboxing video here.

Books I Read in February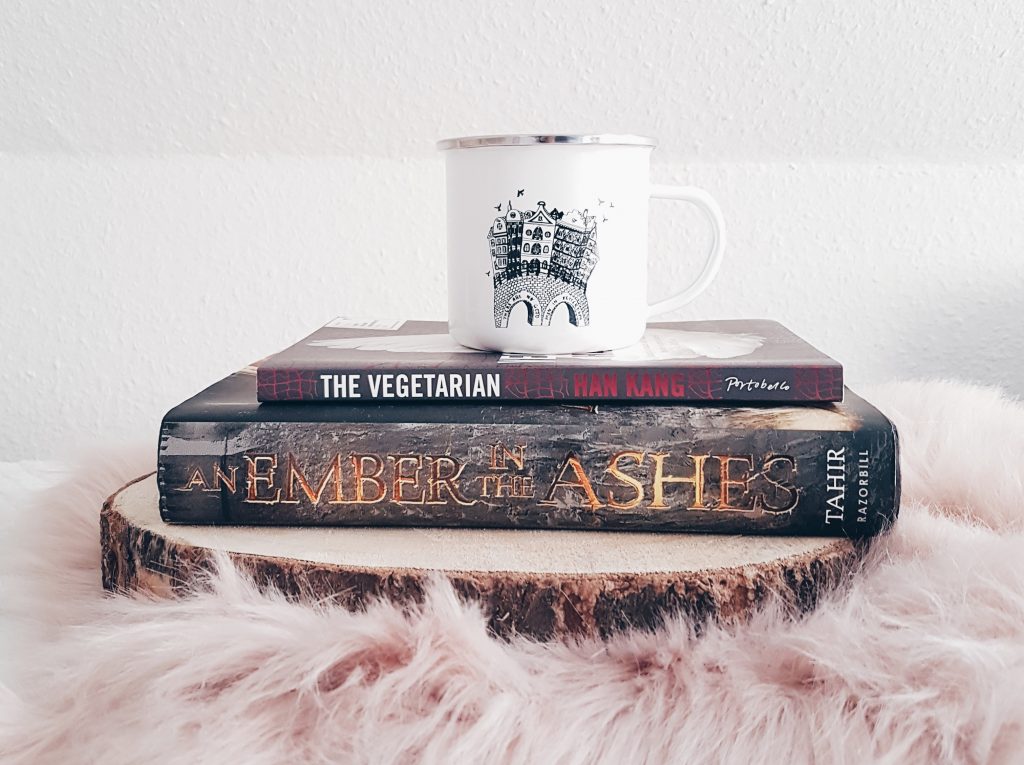 "Fear can be good, Laia. It can keep you alive. But don't let it control you. Don't let it sow doubts within you. When the fear takes over, use the only thing more powerful, more indestructible to fight it: your spirit. Your heart."
I honestly wasn't expecting much from this book despite of all the hypes surrounding it. I have it in my shelves for like 3 years already so Joyce and I decided to finally get to it. We bought the book at the same time and I couldn't believe that I waited that long to read it. I was hooked right from the start. The characters live in a brutal world inspired by the ancient Rome. Although the world building seems promising, I felt like there were something missing and I'm hoping to learn more about it in the next books. As for the characters, this book has interesting ones. I personally didn't connect that much with Laia. She somehow reminded me of Juliette (from Taharah Mafi's Shatter Me series) which I found a little annoying. Elias and Helene were definitely my favorite characters in this book and yes, I ship them. The Commandant freaked the hell out of me! Her character is very well-written, in my opinion. The author's writing style is pretty impressive. I wanted to say that this book was an easy read because it was a real page-turner but there were some scenes (especially the brutal ones) that were quite hard for me read so I ended up putting it down and take a break. My least favorite would be the "love-square" (yep, not triangle) in this book. I personally am not a fan of it. Overall, this was an exciting and a gripping YA Fantasy novel. My Rating : 4 out of 5
"Life is such a strange thing, she thinks, once she has stopped laughing. Even after certain things have happened to them, no matter how awful the experience, people still go on eating and drinking, going to the toilet and washing themselves – living, in other words. And sometimes they even laugh out loud. And they probably have these same thoughts, too, and when they do it must make them cheerlessly recall all the sadness they'd briefly managed to forget." 
I've been meaning to read this book for quite some time now and I finally did. I signed up for this book at Traveling Book Project Germany eventhough I have my own copy. I love the idea of TBPG, by the way.
I was acually expecting to read a story about a person who turned Vegetarian and the experiences throughout the transition. But this book is so much more about that! This book is told in three parts with three different perspectives. I was a little confused in the beginning of the second chapter because of the change in POV and thought that this book has three different short stories. My fault because I don't read book synopsis. I honestly don't know what to say or how to describe my feelings about this book up until now. It is beautifuly disturbing! Is that even possible? Well, yes! Han Kang's writing is undeniably brilliant. You might end up lost after reading this book (which what I still am right now) but I don't feel any regrets. Instead, I am happy and thankful that I have read this book. This is a very moving and thought-provoking read. My Rating : 4 out of 5
"You may look normal like everyone else, but you're not. Not on the inside." 
I read the German edition (Anyas Geist) when I went to the library and finished it in one sitting. This was my very first graphic novel read this year. It tells us the story of Anya Borzakovskaya, a Russian immigrant living in the U.S. with her mother and little brother. She is self-conscious and embarassed by her culture. One afternoon, Anya falls into an old huge well and finds a ghost with its ninety-year old skeleton at the bottom. They become best of friends until this unexpected and creepy turn of events.
The story is simple yet very entertaining with a right mix of eeriness. I personally love the illustrations especially the violet palette. It added more intensity to teh story. Overall, this was a fun and probably one of the best coming of age stories I have read. I recommend this book if you are also like me who are starting to read more graphic novels. My Rating : 4 out of 5
February Book Haul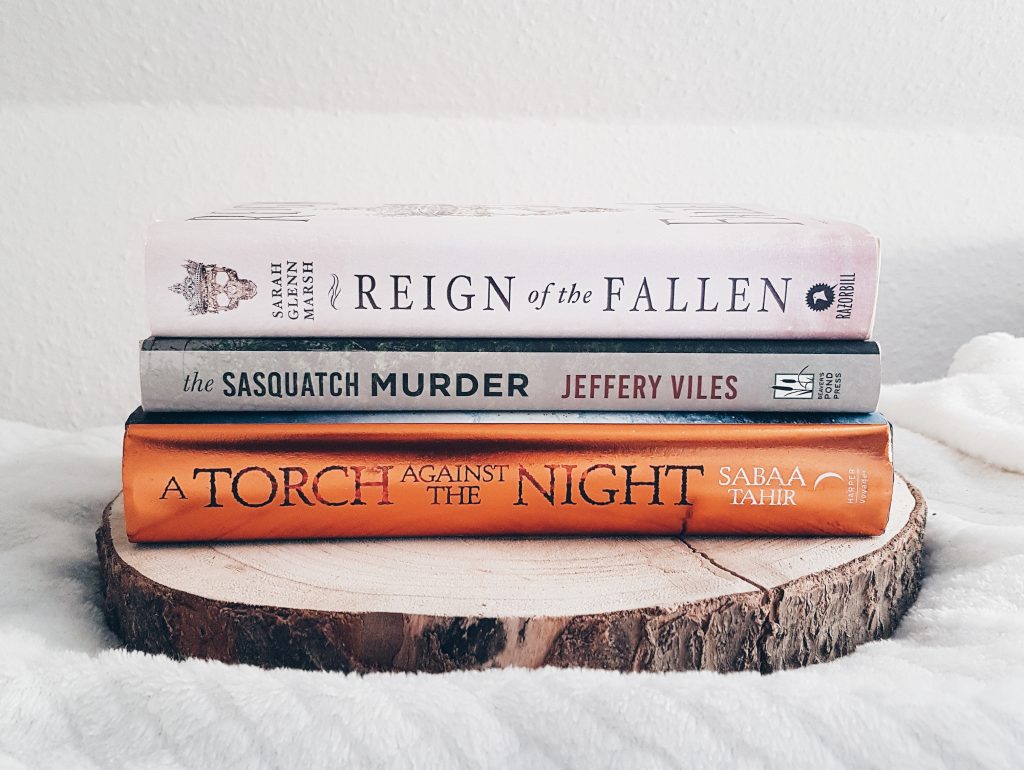 I received The Sasquatch Murder by Jeffery Viles from JKS Communications. The Reign of the Fallen by Sarah Glenn Marsh was from Page Habit YA Fiction January Box and my husband bought me Sabaa Tahir's A Torch Against the Night.
---
There you have it! Sorry it was quite a long post but if you're still reading this, thank you so much! It really means a lot! ♥
Always,